So much for the greatest team of the century of the year of the week. The grand recap of our (Todd and my) adventure to Corvallis to watch a little Trojan - Beavers action is below. Let the innuendo begin.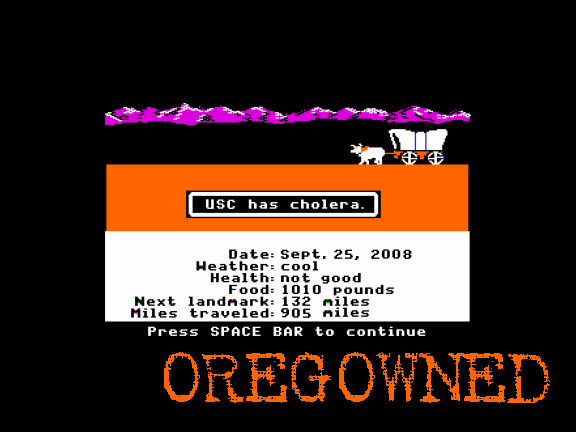 ACC
Virginia Tech packed up the proverbial truck and made the trek to Lincoln for an intersectional matchup. If I had mad photoshop skilz, I would photoshop Frank Beamer's begoitered noggin on Granny's face (from Beverly Hillbillies) atop a rickety pickup truck. But I don't, so I'll drop some football knowledge: the key to the Hokies' 35-30 victory can be found in the rushing stats. Virginia tech ran for 206 yards on 55 attempts. The Children of the Corn ran the ball for 55 yards on 25 attempts. ... Wake Forest lost to Navy. I'm sure the Demon Deacons are all for supporting the military, but that is taking things a little too far. ... Boston College pitched a shutout, and Duke (yes, Duke) rolled over Virginia. Cavalier fans have all but given up on their team and are amusing themselves by creating fake Facebook profiles of Al Groh.
Former Miami coach Butch Davis led his North Carolina Tar Heels to a 28-24 victory over the Hurricanes in Chapel Hill. The Tar Heels sealed the win with an end zone interception in the 4th quarter. ... Clemson fans should start a countdown clock for the end of Tommy Bowden's coaching career. The Tigers lost at home to Maryland and tumbled out of the Top 25. Tommy's old man took his Seminoles to Boulder for a contest with Colorado. I've spent the last 20 minutes trying to think up a joke tying Bobbah's age to a time when buffalo roamed the prairies. I can't think of a good one, so just know that FSU defeated CU by a 39-21 tally.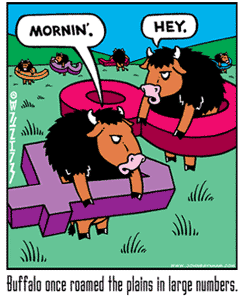 Big Ten
Illini linebacker Martez Wilson will sack your quarterback then your groceries. Unless he's playing in front of 108k+ on a Saturday night in Happy Valley. Then he will just lolligag after your running back as he strolls into the end zone. Rejus Christ SuperStar had two touchdown receptions and over 100 yards receiving, but it wasn't enough to overcome Penn State's dynamic offense. The Nittany Lions controlled the lines of scrimmage and won the turnover battle en route to a 38-24 victory. Illini fans drowned their sorrows by watching video of the Zooker doing some water skiing.

Zooooooooooooooooooooook!
If you listen really closely, you can still hear giant choking sounds emanating from Ann Arbor, where the Badgers barfed away a 19-0 halftime lead in a 27-25 loss to the Wolverines. Years from now these sounds will still be able to be extracted from the background, much like Hawking and his homies capturing microwave radiation to study events from the Big Bang. A little Ph.D. humor from your good Dr. T. Take two Valtrex and don't call me in the morning. Seems the fine young cannibals Theta sorority sisters at UM feel the same way about their Michigan undergrad coed counterparts. Ouch.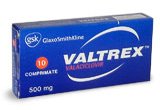 Game two of the Terrelle Pryor experience in Columbus produced a 34-21 victory over Minnesota. If Coach SweaterVest tries to play TresselBall with this kid at QB I am going to drive to Ohio and personally kick him square in the 'nads. ... Javon Ringer rang up (Ringer'd up?) 198 yards on 44 carries against Indiana. Here's to hoping the Hoosiers enjoyed last year's bowl game; it will be there last one for the next 10-15 years. ... Northwestern improved to 5-0 with a come-from-behind win against Iowa at Kinnick Stadium. The Hawkeyes fall to 3-2 on the year. Good to see Kirk Ferentz earning that multi-million dollar salary. ... Purdue continued their train-wreck-of-a-season by making Notre Dame look like an offensive juggernaut. The Domers had 275 yards passing and 200 yards rushing in their 38-21 defeat of the Boilermakers. Coach WilfordBrimley is gone next year, but the replacement is already on the staff. Too late to reconsider?
Big 12
After giving up 35 points to an anemic Virginia Tech offense, Nebraska head coach Bo Pelini thought it would be a grand goal to try to pitch a shutout against Missouri. Yes, Missouri. I had to pick myself up off the floor after hysterical fits of laughter induced by paragraph #2. Now seems like a good time to insert the drunken Pelini party picture (henceforth known as Triple P).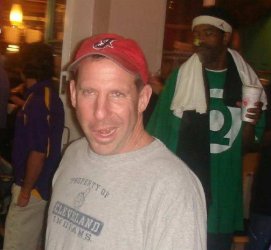 Beaux is blitzed
Other than former Big 8 powers Colorado and Nebraska, the rest of the conference fared quite well in intersectional matchups. Texas A&M struggle but ultimately defeated Army in College Station. Why do you hate America, Aggies? ... Texas throttled Arkansas. There's a noticeable silence in the air without all the "Woo pig sooey!" and "SEC! SEC! SEC!" chance that would have followed a Razorbacks victory. The fans in Fayetteville should have used the Freedom of Information Act to subpoena Bobby Petrino's job history and propensity for backstabbing and job-hopping. ... Oklahoma handled a good TCU squad, and Oklahoma State beat Troy. Here is where I'm contractually obligated to say "You're watching Troy football!" ... KSU downed Louisiana-LaFayette 45-37. Wildcats QB Josh Freeman broke the Kansas State career yardage record during the game. And just because I like to say it - "Ragin' Cajuns" - what a great team name. However, if Richard Simmons is your most notable alumni then you have an image problem.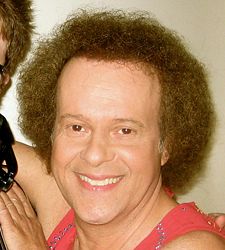 Ragin' Cajun, people!
Big East
Pittsburgh defeated Syracuse and UConn defeated Louisville. Everyone else battered overmatched out-of-conference foes. Can you feel the excitement? I wonder how bowl games with tie-ins to the fourth and fifth place teams in the Big East feel when watching some of these games. Depressed? Despondent? Suicidal? I don't want to traumatize you (or them) any further, so let's move on to more exciting events from the previous week.
Pac-10
Only one game of note, but it was a doozy. Todd and I skipped out of work early on Thursday to cruise down to Corvallis for the USC @ Oregon State contest. I donned my orange sweatshirt and black vest to fit in with the crowd. Todd wore a blue California sweatshirt and got a lot of confused looks and comments from inebriated Pac-10 fans. We rolled into town around 4 p.m. and parked in some random yard near the stadium for $10. Shortly thereafter we stumbled across a convenience store (Western Market) that served corn dogs and burritos. Surprisingly, the place wasn't being mobbed by random LSU fans. The girl behind the counter gave the thumbs-down to the food, so we grabbed some sunflower seeds and a couple of cervezas before embarking in search of a tailgate to crash. While making the podiatric trek to Reser Stadium we came across the USC team buses being escorted to the stadium by police. This has to be the real reason for the upset. If casual fans are boozing at the stadium before the visiting team even bothers showing up, it's going to be a long night.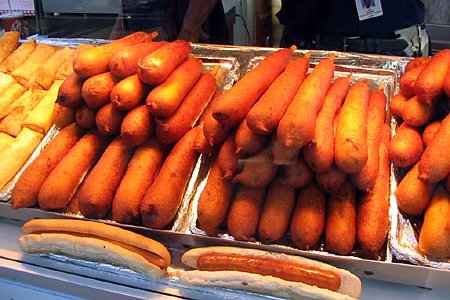 Our tailgating at Reser Stadium was filled with football conversation amongst the folks from whom I purchased our tickets (50 yard line, row 26 - WooHoo!). Todd scared the hell out of Chris Fowler as he was exiting his rental car and outran a bunch of girls to talk to Jessie Palmer (who played with Todd's brother Michael at Florida in the late 1990's). He was unable to accost Craig James. Erin Andrews was in the house but not taking visitors. And by not taking visitors I mean having a security guard keep her the legal minimum distance away from me internet stalkers as required by law. With about 30 minutes until kickoff, we hit the Honey Buckets (what an unfortunate name) to dispose of the beer we had "rented" hours earlier. Once inside the stadium, we were sorely disappointed to discover that Reser Stadium did not sell potato salad or other Reser Foods delectables.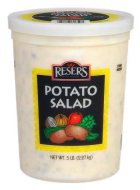 The game was a national coming out party for Oregon State freshman Jacquizz Rogers, who rushed for 186 yards on 37 carries against a USC defense filled with pro prospects. Beavers QB Lyle Moevao threw two TD passes, did not turn the ball over, and managed the game flawlessly. The Orange & Black defense held the Trojans to 86 yards rushing. Oregon State security had less success containing the student section at the end of the game, as students pored over the walls to celebrate on midfield, nearly knocking Pete Carroll on his ass in the process. Celebration screenshot below (not pictured: SEC and Big 12 fans).

Erin Andrews
K-Y
time?
SEC
Tennessee and Auburn set back the game of football by about two decades in the Tigers' 14-12 win over the Volunteers. The Vols managed just 191 yards of total offense and - surprise, surprise - an Arian Foster fumble near the goal line (this time his own) led to points for the opponent. Auburn didn't fare much better, managing just 226 yards of total offense. If only they could get access to Tony Franklin's version of the spread.... Some say good defense. Some say bad offense. I say both teams stink, and both head coaches will be on the hot seat by year's end if things don't improve.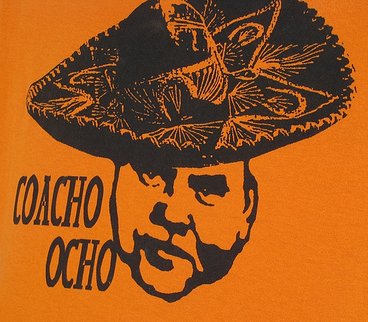 I have no idea what this means
Big upset in Gainesville as Count Giggity led the Ole Miss Rebels to a 31-30 triumph. The Gators outgained the Rebels by over 100 yards but coughed up three turnovers in the loss. At the end of the game when Florida needed a yard, did they A) Run one of their five-star running backs off left tackle, B) Hand the ball off to the running back who followed the fullback through a hole, or C) Let Tebow try to gut out a first down despite the entire Northern Hemisphere and parts of Australia and Antarctica knowing he was likely to get the ball? If you guessed "C" then congratulations - you're now qualified to coach Florida's short-yardage offense. I can't stand Urban Meyer yet this pisses me off to no end. Let us all pray for Tebow.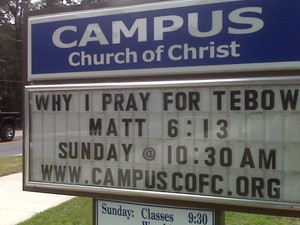 I'm telling you, he's the AntiChrist
Finally, the marquee matchup of the day was a tad bit anticlimactic. Alabama rolled into Sanford Stadium and dominated Georgia on their way to a 31-0 halftime lead. The "blackout" in Athens quickly turned into a funeral session as fans headed for the exits. The Bulldogs made a valiant second half rally but fell short 41-30. Not much to say other than it was a good ol' fashion ass-whooping. Alabama has clearly established itself as the class of the SEC and a national title contender. That's what $4 million per year buys nowadays. Bet the Tide faithful are breathing a huge sigh of relief that DickRod didn't jump from West Virginia to Tuscaloosa two years ago.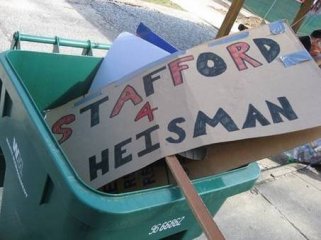 Down the drain like Drano
Even the traffic can't stop (former) Georgia running backs
Good to see Alabama fans remaining humble
Dulces sueños, Buena suerte to all, and Go Illini!
Dr. T