You're looking live at ... the "FASTEN SEAT BELT WHILE SEATED" stitching on the back of the seat on American Airlines Flight 1844 with service from Seattle to St. Louis, currently cruising at 500 knots 37,000 feet above Billings, Montana. Kudos to the AA entertainment director who set up a radio channel with timeless classics from Twisted Sister, Billy Squier, and .38 Special. It's like I've been transported back to a time when Florida State, Miami, and Nebraska were relevant on the national football stage. While I'm busy rockin' with Dokken, check out the best catch you haven't seen and then get ready for our weekly rundown of "newsworthy" items from the six BCS conferences.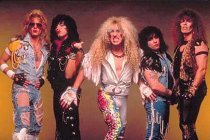 Hermana Torcida
ACC
Georgia Tech continued Mississippi State's misery with a 38-7 victory over the Bulldogs. Sylvester's team looks to have taken a step backward and has yet to Croom anybody this year. Maryland appears to have snapped out of their early season funk. A 51-24 defeat of Eastern (Directional!) Michigan should prep them for their upcoming clash with Clemson. Miami looked like the Miami of old in e 41-24 dismantling of Texas A&M. Somebody explain to me again why Mike Sherman was hired by the Aggies. Then explain to me why Bobby Bowden is wandering around the Florida State sideline like a lost Alzheimer's patient. The Seminoles celebrated their return to the Top 25 with seven turnovers in dropping a 12-3 decision to Wake Forest. "Lost" (image below courtesy Losers With Socks) doesn't even begin to describe their offense, especially the play at quarterback.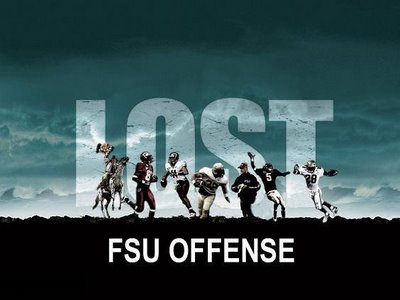 Boston College defeated UCF, Clemson throttled South Carolina State, and Virginia Tech snuck out of Chapel Hill with a win against the Tarheels. East Carolina rode a wave of two big wins and a Top 15 ranking all the way to a 30-24 overtime loss to NC State. Seriously, the Wolfpack. I snoozed through most of this game, but long-time listener, first-time caller Balijeet informed me that the Pirates blew a chance to ice the victory by eschewing a chip shot field goal in the fourth quarter. Bad decision. Always take the easy points. It could be worse, Pirate fans - for instance, you could be a Virginia football fan.
Big Ten
First Playboy puts a Florida lass on the cover of the Girls of the Big 10 issue. Then they invite Michigan State Spartan talent to a Michigan promo party. What the hell is going on, Hugh? I know you're busy sleeping with fake-breasted 20-year-olds, but can we get a little more attention to detail. Speaking of Michigan State, they ran Javon Ringer ad nauseum in a victory over Notre Dame. I guess if it ain't broke, don't fix it. The Golden Domers can't even cheat correctly. Perhaps that is how Charlie Weis has been coming up with his "decided schematic advantage".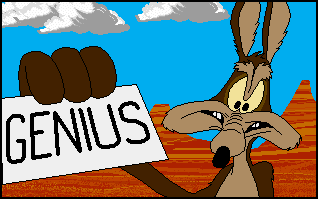 Weis E. Coyote
with the decided schematic advantage
Northwestern and Minnesota are currently tied atop the Big Ten standings. Of course they haven't really played anyone yet, so expect a crash back to reality in short order. Purdue rebounded from last week's Oregon debacle with a triumph against a MAC team. Indiana could not do likewise, as they sucked up and down the field on their way to a loss to Ball State. Way to do Big 11 nation proud, Hoosiers. The only good thing I can say about Indiana - at least they're not Iowa. The Hawkeyes played their part in further flushing the conference reputation down the toilet by losing 21-20 to Pittsburgh. Overrated, overpaid, in-over-his-head coach Kirk Ferentz was outcoached by Dave Wannstedt. Think about that for a minute.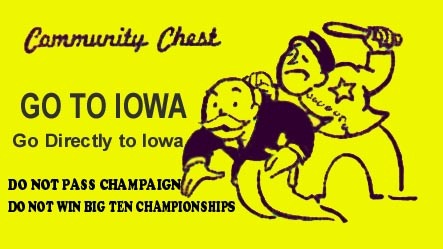 Do not pass Go. Do not ride your tractor to town.
JoePa spent 2nd half of the Nittany Lions 45-3 victory over Temple in the press box. He wasn't there due to it being nap time or intestinal distress. The old codger suffered an injury while trying an onside kick during practice. ... The Terrelle Pryor (no relation to Richard) era is underway in Columbus. He split time (and by Coach SweaterVest's definition of split time, that means he played all but one series) in a 28-10 win over Troy. You're watching Troy football!
Big 12
A slew of weeknight games kicked off the Week 05 Big Twelve festivities. Kansas State's junior college squad (literally, considering the number of JC recruits on their roster) made Louisville look like a title contender with their matador defense. It only gets rougher for the Wildcats when conference play begins. ... Connecticut defeated Baylor. I'm not sure if anybody watched. It's less than one month until the kickoff of college basketball season, you know? ... All the ranked teams in the conference rolled up 400+ yards in victories over unranked teams. ... West Fuckin' Virginia mosied out to Colorado for a contest with Fighting Ralphies. Check out this old video of Ralphie V running wild. Bill Stewart's second straight coaching debacle (with his end game clock management earning him a Lloyd Carr Coaching Move of the Week) led to a 17-14 loss to the Buffaloes. Vegas should be taking odds on whether Pat White or Noel Devine will be the first one to strangle BS for flushing their NFL draft potential down the proverbial toilet.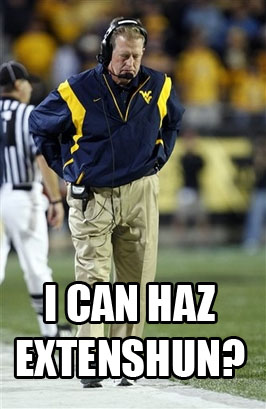 LOLcoach
Big East
All items of note have been discussed already, with the notable exception of South Florida's methodical deconstruction of FIU. Since Notre Dame is in the Big East for every sport except football, let's show a clip from their most recent game. Pay attention to the guy with the kid on the sideline.

Shake baby, shake shake
Pac-10
Arizona waltzed over UCLA, Wazzu hammered Portland State, and Stanford defeated San Jose State. Nice to see the Pac-10 helping out the poor and needy. :) Oregon definitely ayuda'd Boise State. The Quack Attack fell flat in the 37-32 loss. The Broncos, led by a freshman quarterback and young offensive line, matriculated the ball up and down the field against the Ducks. It should be duly noted that Oregon is down to their third-string QB. Not good. Surprisingly, Pac-10 officiating did not strike down Boise State. They were too busy trying to screw Georgia in Tempe. Maybe this can explain some of the instant replay officiating atrocities that have taken place over the last few years in the conference.
Georgia left the friendly confines of the Peach State for an intersectional matchup with Les Diables du Soleil in Tempe, Arizona. MCF welcomes the Bulldogs to big-boy, non-conference football. The Arizona State hotties must have worn too much clothing, as they were not distracting enough to prevent a 21-point second quarter outburst by the 'Dawgs. Georgia then used a balanced attack to cruise to a 27-10 win. The triumph was highlighted by the coming out party of freshman receiver A.J. Green and another Knowshon leap. Witness.
SEC
A moment of silence for the retirement of Larry Munson. And don't look now but Vanderbilt is within striking distance atop the SEC eastern division. How long before someone lures Bobby Johnson away from Nashville?
Two big marquee matchups in the conference this week. LSU invaded Auburn and came away with a 26-21 victory. No smartass comments for this game. It was a classic SEC battle, and the Bayou Bengals used their depth and an impressive 2nd half performance from QB Jarrett Lee to come out on top. Kudos to Coach TruckerHat for rallying the troops back from a halftime deficit. ... The other game of interest was Florida's ass-whoopin' of Tennessee in Knoxville. Just when you think the Volunteers can't screw up any worse than they have before, along comes another Arian Foster fumble or Jonathan Crompton interception. It's only a matter of time before Phil gets the boot in favor of another more popular figure amongst Vol fanaticals.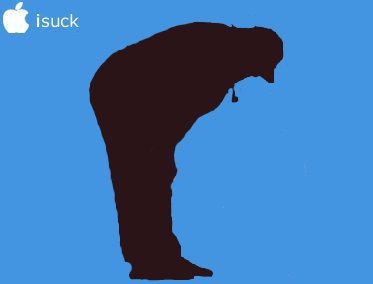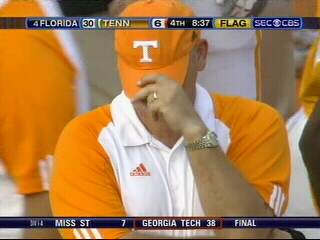 Dulces sueños, Buena suerte to all, and Go Illini!
Dr. T