The theme of the marching band's halftime show for the Illinois vs. Michigan contest was "Jersey Boys", featuring classic tunes from Frankie Valli and the Four Seasons. First up was "Big Girls Don't Cry." This is true, because it is quite clear after a trip to Ann Arbor that they go to Michigan to become cheerleaders and graze on the grass at the Big House. I'm kidding, of course - Michigan Stadium has artificial turf on the field. Zing! Thanks and good night. I'll be here all season. On to the by-the-numbers recap of my Illinois @ Michigan experience:
0 - Number of donuts available at the Dunkin' Donuts near my hotel on Saturday night. WTF?! Krispy Kreme never runs out of donuts. I was so desperate for sweets that I actually ate a baked apple pie. Anything causing me to support that travesty of a pastry is, quite frankly, an unmitigated, anti-American disaster. When I can't get a donut at a donut shop, that means the terrorists have already won.

2 - Illinois football ties with Michigan since I was born in 1974.
2 - Turnovers by the Wolverines. That number would have been larger had Michigan players not covered two or three more fumbles.
3 - "Muck Fichigan" shirts I saw being sported by Illini fans. I would call that embarrassing, but I saw just as many "Buck the Fuckeyes" shirts being worn by Wolverine fans.
4 - Illinois football victories over Michigan since I was born in 1974.
7 - Times I heard Juice Williams' name being taken in vain. This usually coincided with the 230-pound quarterback waltzing his way past Michigan's safeties or carving up the Wolverines' secondary like hot butter.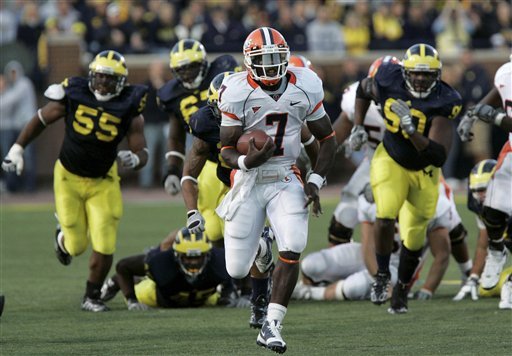 With a wide angle lens this could have been the 2008 Michigan team photo
16.99 - Cost, in dollars, of the all-you-can-eat Mongolian Grill at BD's. Next time I need to remember to bring my own Hoisin sauce.
20 - Points scored by Michigan.
25 - Illinois football losses to Michigan since I was born in 1974.
45 - Points scored by Illinois, the most by a Wolverines opponent since another set of Indians invaded the Big House and scalped the Gulo gulos.
59 - Temperature, in degrees Fahrenheit, under blue skies at the Big House on a beautiful Fall afternoon - perfect football weather.
89 - Minutes I was on the ground in the Motor City before hearing a Kid Rock song (Bob Seger or Eminem would have also won you a prize).
122 - Receiving yards for Rejus Christ SuperStar.
431 - Total yards offense for Juice Williams (Juicy Christ SuperStar?), a Michigan Stadium record.
501 - Total yards offense for Illinois, the most surrendered by the Wolverines all season.

ACC
I am convinced there is a conspiracy for everyone in the ACC to go 7-5 so they can brag about all 12 teams being bowl eligible. Two games of consequence in the league that defines mediocrity. Maryland continued their Jekyll and Hyde ways with a 31-0 loss to Virginia. Seriously, Terps, what the hell? You just got blanked an Al Groh coached team. Perhaps the Middle Tennessee State loss was more indicative of the team's true colors than the victory over Cal. ... After years of defensive struggles and wide rights, Miami and Florida State decided it would be fun to see what happens if you actually matriculate the football up and down the field for four quarters. The result? 696 yards of total offense (or an average day for Oklahoma or Texas Tech), seven turnovers, and a 41-39 Florida State victory. Even though his defense gave up only 256 yards to the Hurricanes, Florida State defensive coordinator Mickey Andrews was flat out ready to start mowing people down. Didn't matter who. Hurricanes, Seminoles, gynecomastia sufferers, Depends wearers, men, women, children - just for the love of God tackle somebody.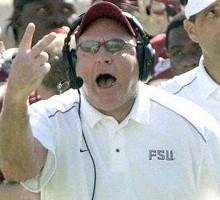 Two. Two measly championships for which my defenses get
credit because some sissy-footed kicker can't split the uprights
Big Ten
My fourth-in-a-lifetime Illinois triumph over the Wolverines has already been covered. The other game of significance on the Big 11 Saturday ledger was Ohio State @ Wisconsin. Buckeyes vs. Bucky. Coach SweaterVest vs. Coach AnkleTattoo. Ohio State offensive lineman Steve Rehring's desire to play vs. the desire to evacuate his bowels. The game featured a lot of Beanie Wells, Beanie Wells, and more Beanie Wells. The junior running back racked up 168 yards rushing, but it was Terrelle Pryor's fourth quarter scamper with 1:03 remaining that gave the Buckeyes the lead for good. A Malcolm Jenkins interception sealed the victory, as the Badgers fell to 0-2 in the Big Ten. There would be no 5th quarter, because the Wisconsin band was, once again, suspended following antics during a trip to Michigan.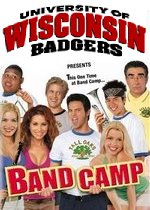 Big 12
Iowa State was up 20-0 on Kansas at halftime. They decided to go ahead and play the second half anyway, and the Cyclones promptly coughed up that lead on the way to a 35-33 defeat. All five ranked teams from the conference (Oklahoma, Missouri, Texas, Texas Tech, and Oklahoma State) cruised to easy victories. It's no coincidence that those five teams are led by outstanding, Heisman-worthy quarterbacks. Let me take a moment to single out Missouri's Chase Daniel, who led the Tigers to their first victory in Lincoln, Nebraska, in over 30 years. That game was ABC's featured prime time matchup, so the media slobberfest over the pudgy passer was in full force. Understandable, given Missouri's offensive dominance thus far. But the picture below? It's just screaming out for schadenfreude. I cannot even begin to described how thrilled I am about being able to give that caption a Lil' Troy reference.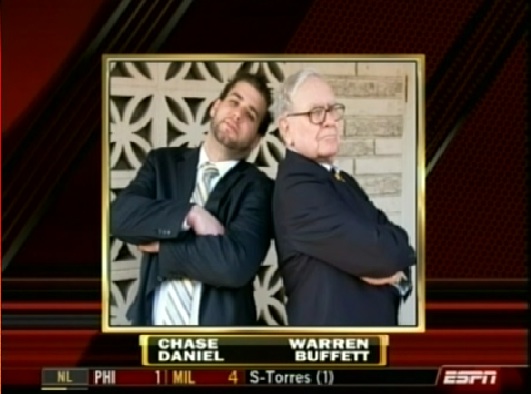 Baller, Stock Caller
Big East
Once again I am struggling to come up with meaningful and/or witty commentary about the Thursday night football league. So let's just stick to the facts, ma'am. Pittsburgh's LeSean McCoy had a coming out party (of the football sorts) in the Panthers' weeknight victory over then #10 South Florida in Tampa. The Pitt RB had 142 yards on 28 carries in the 26-21 upset. ... The following evening Cincinnati beat Marshall, Marshall, Marshall by a 33-10 tally. Given the rash of Bearcat injuries this Fall, Cincy head coach Brian Kelly is pulling off quite the miracle by keeping the 'Cats from sinking into oblivion. He would be on my short list of coaches to hire were I athletic director at a Rust Belt school in need of a new coach (cough, Penn State, cough). ... In more traditional Saturday action, West Fuckin' Virginia upended SUNJ(!) and North Carolina took down previously undefeated Connecticut. Welcome to big boy football, Huskies.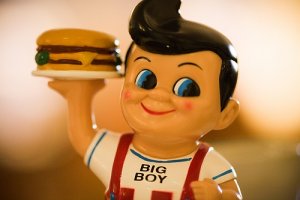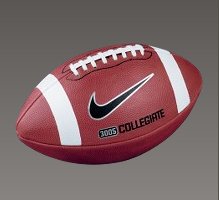 Pac-10
Stanford offensive lineman Chris Marinelli is not a big Notre Dame fan. I'm guessing he's even less of a fan after the Cardinal took it on the chin 28-21 in South Bend. Chris did score two sacks, one interception, and a fumble recovery, though. Notre Dame anointed savior turnover machine quarterback Jimmy Clausen had a career day, completing 29-out-of-40 passes to lead the Domers to victory. ... California further flushed Les Diables season down the proverbial toilet with a 24-14 triumph in Berzerkely. If you are looking for an investment during these trying times, might I suggest a liquor store near Dennis Erickson's house. Stock up on scotch. It's going to be a long season for Arizona State. ... College football in the state of Washington appears to be going nowhere fast. The Huskies fell to Arizona 48-14 and the Cougars lost to UCLA 28-3. Not. Good. ... How did former #1 USC bounce back from last week's loss in Corvallis? By pasting the University of Oregon Hippies 44-10 in Los Angeles (shout out to the LBC). How did the other state school (Oregon State) from Granola Land celebrate? By going on the road to Utah and blowing a 28-20 lead in the 4th quarter to lose by a final count of 31-28. Fail.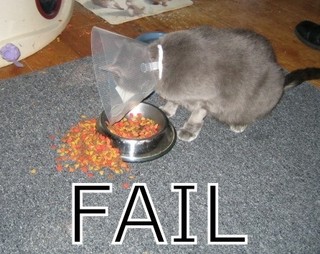 SEC
College GameDay invaded Nashville, TN, on Saturday to cover the Auburn-Vanderbilt contest. Seriously. The Tigers bolted to an early 13-0 lead but could not hold on for the win. The Commodores scored touchdowns in the second and third quarter to inch ahead 14-13. That was enough to seal the victory, because Auburn's offense might best be described as "a grab bag of pseudo-spread garbage." Not exactly a ringing endorsement for offensive coordinator Tony Franklin. A few days later Coach RiverboatGambler fired Tony the Tiger. At least he's got a side gig to fall back on. And since no one really wants to look at a scruffy, washed up offensive coordinator, here's a pic of some Vandy talent on hand for the game in Nashville.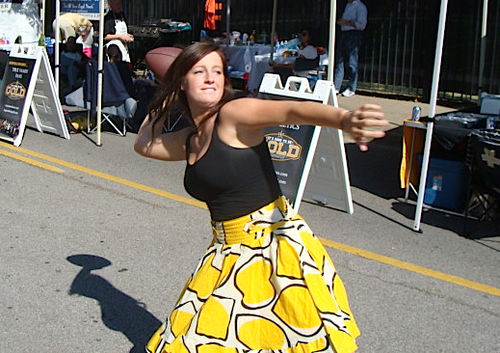 Check out the
guns
arm of the Vandy QB
In Fail, Part Deux, Mississippi celebrated last weekend's stunning upset of Florida in the Swamp with a home loss to South Carolina. Eh, problem. ... Alabama outlasted Kentucky 17-14 in Tuscaloosa. The Tide seem to play at a level slightly above their competition, no matter the talent level of their opponent. But Coach MoneyBags keeps 'em winning, and points for vs. points against is all that matters after the final gun sounds. ... Tennessee edged past Northern (Directional!) Illinois 13-9. Surprisingly, Vols running back Arian Foster did not fumble. He did, however, go off the deep end during an interview session with reporters.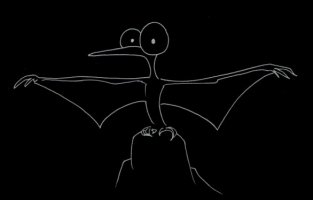 Five bucks says it holds on to the ball better than Arian Foster
Florida bounced back from last week's Ole Miss debacle with a workmanlike 38-7 thrashing (if there is such a thing) of Arkansas. Jesus AntiChrist TebowStar's performance was not quite as bad as his singing during a stint onstage with country crooner Brad Paisley. I find his choice of songs amusing given all the man-crushes on Double T in Central Florida. Not everyone is a Tebow worshipper, though. Let the Cocktail Party preparations begin!

I'm guessing this hits a little too close to home for some Georgia fans
Dulces sueños, Buena suerte to all, and Go Illini!
Dr. T