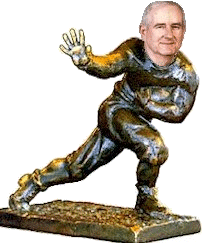 Carroll Hoff Cook Trophy
Way back in 2003, young whippersnappers, my friends and I started a weekly college football pool. We pick the winners for games involving Top 25 teams throughout the year and tally up the points at the end of the season. No money is exchanged. The contest is for bragging rights only. We tried playing for a measly $1 grand prize, and only two people were willing to cough up the cash to the winner. That should tell you something about the quality, or lack thereof, of our pool. In lieu of fame and fortune, the winner of the pool receives the coveted Beano Trophy, so named for Beano Cook's oh-so-incorrect prediction that Ron Powlus would win multiple Heisman Trophies while playing QB at Notre Dame. As a constant reminder of that glorious ridiculousness, a fictional Beano Cook picks every game correctly in the pool - his score thus serving as the highest possible tally that can be obtained in pool play.
Below is the list of winners and losers (as well as their chosen home team) from years gone by. I seem to have a penchant for second place finishes. Buena suerte to all, and Go Illini!
| | | | |
| --- | --- | --- | --- |
| Year | Winner | First Place Loser | Third Place |
| 2017 | Christopher | Andy | Steve K |
| 2016 | Andy | Christopher | Daryl |
| 2015 | Balijeet | Steve C | Steve K |
| 2014 | Steve C | Andy | Balijeet |
| 2013 | Steve K | Christopher | Steve C |
| 2012 | Balijeet | Andy | Steve K |
| 2011 | Callan | Balijeet | Jasy |
| 2010 | Steve K | Christopher | Balijeet |
| 2009 | Christopher | Steve K | Todd |
| 2008 | Steve K | Christopher | Steve C |
| 2007 | Balijeet | Christopher | Jasy |
| 2006 | Steve C | Christopher | Todd |
| 2005 | Todd | Raj | Steve C |
| 2004 | Joel | Andy | Wendy |
| 2003 | Balijeet | Christopher | Todd |