Brief update this week. Instead of spending all of my free time tracking down the latest news from around the college football world, I've been researching ballot initiatives, voting records, spotted owl habitats, meth labs, underfunded schools, tax increases, and everything else of critical importance to Oregon voters. This state is so blue that I expect Papa Smurf to be elected Governor. There are a few local offices up for election that have no candidate listed on the ballot. Mötley College Football endorses write-in votes of Beano Cook or Brent Musburger for those positions. Both of these candidates clearly support the excesses in life that lead to things like Colorado State coeds striving to set a world record for streaking after a Saturday night football game. On with the show!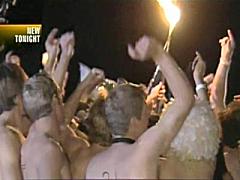 We're going streaking! Sorry, sorry, we're goin' streaking through the quad and
then to the gymnasium. Come on everybody! Come on! Snoop! Snoop-a-loop!
ACC
Virginia Tech rained all over Clemson's Top 10 parade with a dominating 24-7 victory in Blacksburg. Fowler and Herbstreit called the Thursday night game from the booth and got into a bit of a hissy fit with each other. Nice. Corso did not intervene, apparently because he was too busy workin' the merkin. ... Florida State was beaten by Maryland in College Park. Oh how the mighty have fallen. If it weren't for Bobby, offensive coordinator (and son) Jeffy would be lucky to get a job pumping gas on a service road off I-10. I get the feeling he is equally qualified for both positions. ... Superfreak Calvin Johnson and the Ramblin' Wreck pulled out a victory over the U. Not looking good for Coach Coker. ... Another coach it's not looking good for is North Carolina's John Bunting. He was axed following North Carolina's loss to Wake Forest. Folks in Chapel Hill are already endorsing replacement candidates.
Big 11
A moment of silence for Michigan State coach John L. smith. A blowout loss to Indiana sealed his fate, and he was fired (he can say resigned all he wants, he was F-I-R-E-D fired). While I think JLS was a grade-A asswipe, his absence on the sidelines will be missed. It will be much harder to come up with material for this site on a weekly basis. Thankfully the JLSIJOTW award will allow his name and reputation to be appreciated by future generations. Steve Mariucci is trendy rumor flying around as a successor. Forget that - why not go with someone who bleeds green. Like, say, Kermit the Frog. Nevermind that he dates a pig. Why didn't anyone tell me he was the Grand Marshall for this year's MSU homecoming festivities? Here's the official press release from the MSU newsroom.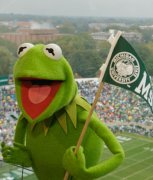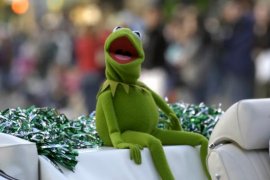 John L. Smith's successor?
Michigan outlasted Northwestern 17-3 at the Big House. They need Super Mario Manningham to return before the offense can fire on all cylinders. According to Kirk Herbstreit, Steve Breaston just isn't getting it done. Nice to see that Kirk can put aside his impartiality to get in a few cheap shots at tOSU's rival. The Fighting SweaterVests, by the way, rolled to a 44-0 victory over Minnesota.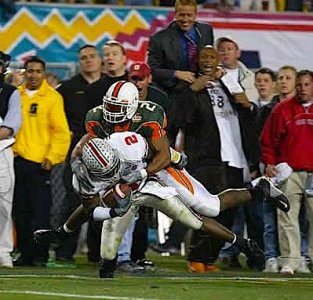 Completely, totally unbiased analysis
In Madison, the Illini put a scare into the Badgers before their traditional 4th quarter collapse. Up next for the Communists from Mad-town are the Nittany Lions (12-6 winners over Purdue last weekend). Kickoff time for the contest is 12:00 p.m. EST, because any starting time later than that might encroach upon JoePa's bedtime.
Random leftover links from around the Big Ten
Could've used these at the Michigan - Penn State game
Not that there's anything wrong with that (via Deadspin)
I suddenly have a newfound respect for the Red Hot Chili Peppers (via Mzone)
Looks about right (via Mzone)
Big 12
No major news stories caught my eye in the Big South + 6 other teams. Texas outlasted Texas Tech in Lubbock. TT coach Mike Leach could replace JLS as college football's least likeable asshat. ... Nebraska fell to Oklahoma State in Stillwater. Big Red was probably still reeling from the previous week's loss to Texas. ... Oklahoma handed Missouri their second loss of the season. Les Tigres are already bowl eligible, however, and could finish the season with 9 or 10 victories. Quite impressive for a team that has struggled in recent years.
Big East
It was a light week in the Big East. SUNJ remained undefeated with a victory over UConn. The Scarlet Knights are looking forward to their November 9 matchup against Louisville. Big game for the conference this week when West Virginia invades Louisville on Thursday, November 2. In preparation for the event, WVA fans moved their couches from the front yard to the street and set them ablaze.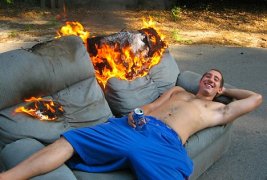 Mountaineer pr0n
Pac-10
Wazzu hammered UCLA in Pullman, heating up the hot seat even more for Bruins coach Karl Dorrell. I'm looking forward to the day when the USC grad who owns firekarldorrell.com unveils the plans for his web site. ... Les Diables du Soleil took down the Washington Huskies by a 26-23 count. So much for the Purple & Gold turnaround. With bowl game hopes slipping away, Ty should have plenty of time in the offseason to work on his golf game. ... In Eugene, the Ducks blasted Portland State 55-12. I guess Oregon was not able to schedule ITT Tech or a local high school team. ... Perhaps the biggest news of the Week 09 college football weekend was USC's loss to Oregon State (I'll repeat that again - loss to Oregon State) in Corvallis. That opens up the chase for the #2 spot in the BCS poll / national title race. It's pretty clear to most folks that the Trojans are feeling the expected effect of losing two Heisman Trophy winners and a boatload of talent. And just because I wanted to show a picture of the Song Girls, below is their response when asked by a partisan bystander to demonstrate the number of points by which USC lost to OSU.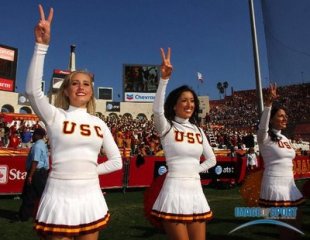 How many in the pink?
SEC
FIU, with a ridiculous number of players suspended from the brawl during the Miami game, led 3-0 after the 1st quarter against Alabama. Then reality set in. The Crimson Tide rolled to a 38-3 victory. ... Auburn struggled to a 23-17 win over Ole Miss. Not sure what in the name of Ed Orgeron the Tigers were doing in that game. Maybe Mississippi QB Brent Schaeffer finally realized what color jerseys his receivers were wearing and stopped chucking the ball directly to opposing cornerbacks and safeties. ... Tennessee invaded Columbia for a night game, and Phillip Fulmer exorcised his Steve Spurrier demons with a 31-24 win over the Gamecocks. The SEC warned South carolina to tone down that damn annoying chicken squawk between downs, deeming it unnecessary artificial crowd noise. Now if we could only get them to do something about the feline audible assault that takes place in Happy Valley and Evanston every weekend. ... The marquee matchup in the SEC last weekend was The World's Largest Outdoor Penistail Party in Jacksonville. Florida struggled to put away a below average Georgia team. But a win is a win. The 21-14 victory moved the Gators to 7-1 on the season and kept them atop the SEC standings.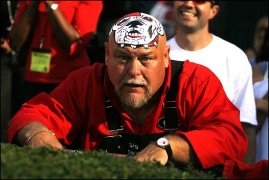 People who look like their pets
That's all for this week's update. Plenty of Top 25 matchups on tap for this weekend, so sit back & relax, open up a cold one, and enjoy the games.
Dr. T