Greetings Rutgers fans! The season is winding down but my college football addiction is in full swing. This Saturday brings us a complete slate of college football games, and to celebrate I'm breaking out the live footblog to track my minute-by-minute thoughts/activities as I sit on the couch and ponder if Pam Ward is the most masculine announcer working games today. Feel free to e-mail me your musings. All times listed are Pacific Standard Time. Here we go!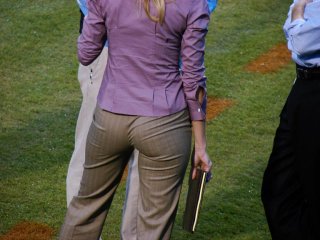 I'd be in a lot better mood waking up to this in the morning
06:59 - You're looking live at ... me on the couch in my Scooby-Doo boxers with bedhead and sleepy eyes. It's not a pretty sight.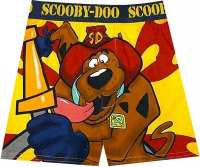 Eee Hee Hee Hee Heee
07:00 - College Football GameDay begins. Today Chris, Lee, Kirk, & crew are on location for the Tennessee-Arkansas game. They should just set up shop in SEC country. Last year the show started at 7:30 a.m. This year it starts 30 minutes earlier. I need to move to the Eastern Time Zone. At least you crazy fools get to sleep until 10:00 a.m. That's late enough that you can play the College Football GameDay drinking game and not feel too bad about it.
07:04 - Fowler just called Fayetteville a beautiful city. OK, ass-kisser.
07:08 - Why is it that every time USC's starting QB is mentioned I want to start singing Bubba Sparxxx / Ying Yang Twins "Ms. New Booty". And while we're talking about Bubba, can somebody please boot Big, Rich, & Cowboy Troy out of the Citay and bring back Mr. Sparxxx's "Back in the Mud Again" as College Football GameDay's theme song.
07:10 - JoePa won't be coaching today after getting run over last week on the sideline of the Wisconsin-Penn State game. If only he could have moved as fast as he did while running off the field at the Ohio State game because of, umm, intestinal discomfort.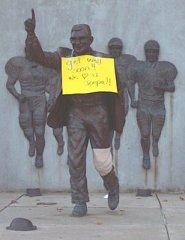 JoePa live action photo
07:11 - "Cat got your tongue? Earl got your tongue?" While this Verizon commercial is slightly amusing, I'm extremely disappointed that it has replaced entertainment icons Ed and Jill from the Nokia commercials.
07:17 - "This is our country." Sellout.
07:28 - Tom Rinaldi reporting from Gainesville, filing a story on Spurrier's return that was supposed to be touching/suspenseful but came off more like a high school drama project. I guess I should be thankful that he's not up in South Bend polishing Charlie Weis' knob.
Q: How do you make Notre Dame cookies?
A: Put them in a big bowl and beat them for 3 hours.
07:30 - Time for breakfast. On the menu are Krispy Kreme Chocolate Fling donuts, Flintstones vitamins, aspirin, orange juice, and chocolate milk. Not quite sure, but I think I'm covering most of the vital food groups. I'd consult a nutritionist but am too distracted by Erin Andrews ass at the top of the page.
07:31 - Fowler busts out a Borat reference.
07:44 - Herbstreit thinks Texas should go to the title game if they win out. If, and that's a big if, tOSU beats Michigan, then I want to see somebody else play the Buckeyes. Texas already had their chance and laid a Big Bird-sized egg on national television.
07:44 - I'm now wearing shorts and a sweatshirt, so you can erase from your mind the image of me blogging in my boxers. Or, for the ladies, maybe not. <Borat>High five!</Borat> :)
07:54 - Not sure if you heard, but this is our country.
07:56 - Bond. James Bond.
07:58 - Why in the name of ??oyd Carr didn't Tyler Ecker pitch the ball to Steve Breaston at the end of the Nebraska-UM Alamo Bowl debacle last year? Why? Why? Why? Idiot. ... Michigan as a Cinderella story? I'm not buying it, and ESPN shouldn't be selling it. Cry me a fucking river because the Wolverines lost five games last year. That's a good half-season at my alma mater, so let's STFU about UM being some sort of underdog. Maybe they could change their moniker to the University of Michigan Cinderellas.
08:03 - Fowler just called Herbstreit "Sparky". OK.
08:04 - Wow, back-to-back-to-back AAU national championship teams. This commercial is a bit dated. And as somebody who was fairly decent at baseball, I'm not sure how those clowns in the instructional video ever won anything. Does anybody else think that Tom Emanski doubles as a Catholic priest in his spare time?
08:05 - Jimbo. Jimmy Boy. The Jimster. Jimmy crack corn and I don't care. Announcers should make this crack every time over the next four years that Jimmy Clausen takes the field at Notre Dame.
08:18 - ESPN just showed a brief video clip of Boise State sophomore RB Ian Johnson. He was knitting. Knitting? Hope Ian is of the belief that any publicity is good publicity, because he's going to catch a lot of grief for his little hobby.
08:35 - Why are they picking the winner of the Princeton-Yale game? Corso just busted out a "not so fast my friend." Fowler just made a wisecrack about THE Ohio State University's academic reputation, or lack thereof. Meanwhile, Arkansas fans are chanting "Wooooo, Pig Sooieee!" in the background.
08:38 - It's freezing in Evanston. That's bad news for Erin Andrews fans. She's all bundled up in warm clothing.
08:57 - Notre Dame going for the Commander-in-Chief trophy today. I hope USC hammers them in a few weeks. Given my dislike for the Trojans, that's a pretty strong statement for my hatred of the Domers.
08:59 - Corso puts on a Razorbacks mascot head and is doing the "Wooooo, Pig Sooieee!" chant. In spite of this, it looks like they gave him the correct dosage of medication this morning.
09:10 - Purdue @ Illinois. Senior Day. Wilford Brimley vs. the Zooker. 35 degree weather with sustained winds of 15 mph. Welcome to Big Ten football. Wayne Larrivee is the play-by-play announcer. He is a welcome change of pace from Pam Ward, who is torturing Cincinnati and West Virginia fans today.
09:18 - Reverse! A little trickeration from the Illini.
09:20 - Touchdown Juice Williams! 7-0 Illinois. Time for a shower.
09:44 - Back and dressed in Illinois gear. Score of the game is now 10-7.
10:00 - Georgia is leading Auburn 7-0 in the 1st quarter. The same Georgia team that lost to Vandy and Kentucky earlier in the season. This matchup had a lot more meaning last year.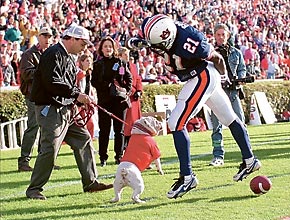 UGA takes offense to an Auburn receiver
10:02 - Same old Illinois. A sack and subsequent fumble recovery in the end zone gives Purdue a 14-10 lead. I'll just just assume they did that for field position.
10:13 - The sun is out in Beaverton. Seriously. I went outside to check it out since it may not reappear until next May.
10:20 - 14-13 Purdue after a stalled Illinois drive and subsequent field goal in the red zone. Wisconsin up 17-14 at half despite John Stocco being out for the game with an injury. West Virginia is pounding Cincinnati.
10:34 - 16-14 Illinois. Field goals do not win football games, unless you're 2002 Ohio State. Touchdowns win football games.
10:54 - A fighter jet just buzzed my apartment complex. It's just like being at a big football game, minus the idiots hurling four-letter expletives about my beloved alma mater.
11:01 - Georgia is leading Auburn 30-7 at halftime. At Auburn. Wow. I'm not even a Tiger fan and I need a beer after seeing that score. Nevermind that I'm drinking before noon. It's 12 o'clock somewhere.
11:14 - Purdue just went for a first down on 4th & 22. Brilliant coaching Tiller. Stick to oatmeal and diabetes commercials.
11:15 - I'm about ready for lunch. Balijeet - if you're reading this - bring me a 20 piece McNugget, medium fries, and a large addictive-as-crack McDonald's Coca-Cola. For those of you blissfully unaware, it's McNugget Mania Month at the McDonald's near my apartment. 20 McNuggets for $4. Good times for everyone (except my arteries).
11:17 - Pierre Thomas has logged on and is now part of the gone network. Rashard Mendenhall finished it off with an 8-yard touchdown gallop. Illini now up 23-14. WooHoo!
11:25 - Illinois has the ball back, and Pierre Thomas is still logged on.
11:27 - I'm confused about whose country this is. Can I please get a John Cougar Mellencamp update?
11:37 - If Curtis Painter scampers 42 yards untouched for TD, your defensive scheme might need an adjustment. Nice job, Okruch. 23-21 Illinois.
11:40 - And now an interception on the Illini's first play from scrimmage after last series' debacle. Sigh. Where have I seen this before?
11:43 - Touchdown Boilermakers. 28-23 Purdue. I could have written this entry three minutes ago.
11:45 - And Purdue football again. Can't turn away now; it's a train wreck in progress.
11:47 - Georgia tight end Milner actually caught a pass. Where was that during the Cocktail Party game?
11:53 - Shank you very much. Missed FG by the Boilermakers' freshman kicker.
11:55 - Another Illinois fumble. Dammit. Rashard should change his last name to Fumblehall.
11:57 - Touchdown Purdue. 35-23 in the 4th quarter. I'm done, and so are the Illini. Switching over to the Georgia-Auburn game.
12:06 - 37-15 Georgia after a Matthew Stafford rushing TD. Not looking good for the War Eagle crowd. Illini now down 42-23 after yet another turnover. Nothing like playing to the level of your competition. Also, my lunch has not yet arrived. I'm getting cranky.
12:30 - Georgia in the victory formation. Good win for the Dawgs. Auburn's national title hopes just went down the drain. Probably doesn't help Florida much, either. Morning games are wrapping up. On the afternoon slate are South Carolina @ Florida, Miami @ Maryland, Texas @ Kansas State, Michigan @ Indiana, and Ohio State @ Northwestern.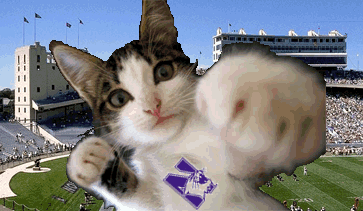 Purple Power!
12:35 - Only two seconds into the Florida highlights during the CBS intro, and we've already seen Urban pointing at someone.
12:42 - How come Tracy Wolfson wasn't hanging around outside of Gate 8 at Benny Hill Griffin Stadium when I was at the LSU-Florida game? Additionally,the fans they interviewed regarding Spurrier's return to ... The Swamp are doing nothing to refute the perception of education in the South.
12:42 - 7-0 Meeeeshigan. If Balijeet doesn't arrive soon with comida, I might be having a liquid lunch. With all the rain out here, it seems like a good time to go sailing with the Captain.
12:50 - 7-0 Buckeyes. I've got the feeling it's going to be a long day for Northwestern. At least that will limit the number of times we have to hear that damn annoying wildcat sound.
12:53 - Did you know that Steve Spurrier played and coached for Florida? Superb research by CBS.
12:58 - Urban just had Chris Leak run the option, then decided to bring Tim Tebow Christ Superstar on the field for his predictable run off left tackle. <Guiness beer commercial voice>Brilliant!</Guiness beer commercial voice> Maybe if you pound the square peg hard enough it will fit into the round hole.
13:04 - Yet another miss for the Florida field kicker. He's now 2-9 on the year. Keep running him out there, Urban. He'll make one eventually.
13:06 - Tech rules! Funny All-State commercial. Not quite as good as the "I'm still going to touch him" Bobby Bowden All-State ad.
13:12 - Balijeet is here with lunch. Booyeah! Gimme my McNuggets.
13:37 - McNugget coma is setting in. tOSU and Michigan are up 21-3. The Nebraska blackshirts are swarming and the 'Huskers lead Texas A&M by a 21-7 count. Gamecocks are up 7-0 on the Gators.
13:37 - We need more live shots of Tracy Wolfson. Speaking of Tracy, check out her interview of LSU head coach Les Miles during halftime of last week's Tennessee game. Les wins our JLSIJOTW (John L. Smith Interview Jackass Of The Week) award for his performance.
13:46 - Minnesota knocked off Michigan State in East Lansing. Vote for John L.! (link courtesy Deadspin)
13:46 - A 55-yard field goal by South Carolina's kicker was nullified by a delay of game penalty. That sUX0rs for SC.
14:00 - 7-7 after a TD pass by Chris Leak. Halftime. Hello, Tracy. How you doin'?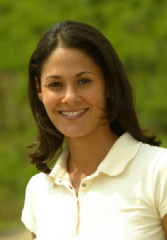 Tracy Wolfson
14:22 - Michigan's Steve Breaston just ran back a punt for a touchdown. That puts him atop the list of career punt return leaders for Big Blue. Not too shabby. Now if he could just catch a slant pass for a first down, the Michigan offense might get back on track.
14:31 - 4th & inches for the Gators. Tebow Time. 1st down on a TT run to the left. Big shocker.
14:32 - Interception Chris Leak. I thought all-SEC QBs were supposed to progress under the tutelage of offensive geniuses.
14:41 - Golf clap for the field goal blocking by the Gamecocks. Ballgame still tied at 7 apiece.
14:44 - Kentucky defeated Vanderbilt today and is now bowl eligible. Petro Sun is now the Independence Bowl sponsor. I want Poulan Weed Eater back. ... Another nice call by Urban. Gators march down to the 30 with Leak at QB, then Jesus Christ Tebowstar comes in for a series that can be best described as "sketchy". South Carolina ball at their own 20 after the Florida punt went for a touchback.
15:02 - Field goal by the Gamecocks. 10-7 SC with plenty of time left in the 4th quarter.
15:14 - Field goal for the Gators. No, seriously. I'm surprised Gator fans didn't execute the kicker on the sidelines after his first kick. He's now 3/10 on the season and has yet to make one beyond 30 yards. Score is now 10-10 in the 4th quarter. You're watching Florida football!
15:17 - A Pick Rix by Cal's Nate Longshore leads to a 24-17 Arizona lead over Cal. Wow. Top teams are shooting themselves in the foot today.
15:22 - Touchdown South Carolina. That looked way too easy. ... Then the Gators blocked the extra point. They should show this game as a "how not to" instructional video at special teams clinics.
15:35 - Touchdown Gators. They're up 17-16. ... Final from College Park - Maryland over Miami 14-13. Tough week for the U.
15:38 - Texas A&M just intercepted Zac Taylor. The Aggies will beat Nebraska if they can run out the remaining 02:50.
15:44 - South Carolina is marching. This is game is going to come down to a last-second field goal attempt.
15:54 - Another blocked kick. Unbelievable. Gators win 17-16. ... Nebraska just tied Texas A&M. I'm kicking ass in the pool this week.
15:55 - Extra point good. Cornhuskers up 28-27. You're missing it, Joel. The only good excuse for not being here is a booty call. We'll need someone later to critique Holly Rowe's ensemble. ... Cal just had a touchdown called back. What an exciting two minutes in the college football world. This is why no one should question my desire to build a man cave with three TVs.
16:00 - Interception Arizona. That should seal the victory for the Wildcats. ... Nebraska clinched the Big 12 North with their win over Texas A&M. That and a quarter will get you an ass-kicking at the hands of Texas in early December.
16:09 - We've made it over 9 hours into the blog without a Jenn Sterger mention or photo. So without further ado:
Jenn completes the Andrews, Wolfson, Sterger trifecta
16:10 - Kickoff for the Tennessee-Arkansas game. Ron Franklin announcing. All would seem right with the world, but it's been hours since JCM has reassured me whose country this is.
16:30 - I wonder if Dr. Jerry Punch introduces himself as "Dr. Jerry Punch" when meeting people. That is the kind of hard-hitting issue that ESPN needs to tackle.
16:35 - Todd has arrived with a bag of ice and some cookies. Time to get my drink on.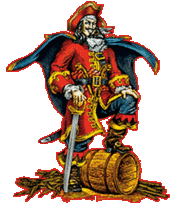 Better get one of the Captain
16:47 - We have our first Holly Rowe sighting. Where is her hat? Very disappointing. She's in Baton Rouge for the Alabama-LSU game.
17:04 - Todd is filling in for Joel with the Holly Rowe comments - says she needs to reapply her lip gloss.
17:09 - Mmmmm, cookies.
17:13 - 21-7 Arkansas. McFadden has rushed for one touchdown and thrown for another. This guy deserves serious Heisman consideration. Razorbacks looking mighty impressive vs. the Vols. Expect them to make a major move up in the polls this week.
17:20 - Another McFadden touchdown. 28-7 Arkansas leading Tennessee. As much as I hate to switch over from Ron Franklin, the Alabama-LSU game will now be our primary game. At least that game has spunky, chunky Holly Rowe.
17:20 - Loveline call for Balijeet. "Hola. Coma estas. Bien? Bien."
17:32 - "Cat got your tongue? Earl got your tongue?"
17:34 - Balijeet explaining the finer points of 4th down strategy to his lady friend. I'm sure that will end well.
17:40 - The great thing about friends talking to their significant others during the game is that you can document the conversation online.
17:41 - A big uh-oh from Manhattan, KS. Texas QB Colt McCoy just went down with an injury against Kansas State. Not good. 7-7 score in that game.
17:53 - Gutsy call by Mike Shula. Alabama just recovered an onside kick but still trails 21-14 in the 2nd quarter.
18:10 - Am I the only one amused by the fact that the Crimson Tide have a running back named Jimmy Johns?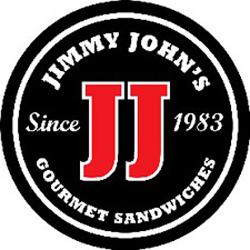 Alabama's 2nd string running back
18:17 - We're into hour 11 of this Saturday college football adventure, and I'm gettin' my buzz on. Woooooooooo!
18:23 - Alabama was marching to tie the game before halftime until John Parker Wilson remembered that he was, in fact, John Parker Wilson and not the second coming of Joe Namath or Kenny Stabler. 21-14 LSU at the half. ... Texas is losing 21-14 with 04:00 left in the 2nd quarter. Jevan Snead is in at QB for the Longhorns.
18:38 - I managed to make it to the 4th quarter without making a Houston Nutt joke. What an unfortunate surname.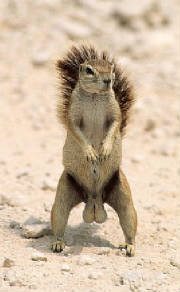 Nuts
18:47 - Good news - Holly fixed her lip gloss. I'll withhold the BJ comments from the peanut gallery. Joel wants to know why Holly has clown lips. Somebody needs to send me a screen capture.
19:00 - 12 hours and counting. It takes years of training and incredible stamina to reach this level. A lot of liquor helps, too.
19:20 - They just showed some old fart at the Alabama-LSU game who has been to 698 straight Crimson Tide games. That's impressive. I'm not even going to bother striving for a goal like that; with McNugget Mania Month in full swing I'll be lucky to make it to December.
19:27 - AFLAC!
19:28 - More trouble in Manhattan. Texas is down 35-21 in the 3rd quarter
19:45 - Wake Forest is leading Florida State 30-0. Ouch. The 'Noles are in danger of not making a bowl game this year. Time to give Jeffy the boot. In their defense, 17 true freshmen have started at one time or another during this season. They'll be good again in a few years, assuming the players can avoid another shopping spree at Dillard's.
19:52 - Dibs on your Mom. Cut me some slack - we're almost 13 hours in and I am running out of material.
20:06 - LSU defeats 'Bama by a 28-14 tally. Kansas State is in the midst of a 2nd half collapse against Texas. They were up 42-21; that lead is down to 42-35 with 08:30 left in the 4th quarter. USC is up 7-0 on the Quack Attack.
20:21 - The Wildcats just kicked a 51-yard field goal and now lead 45-35. Less than 4 minutes left to play; UT is in trouble. The only one loss team I've been impressed with today is Arkansas. Wooooo, Pig Sooieee!
20:31 - Big 4th down toss and catch for Texas. 1:50 left and Texas on the doorstep. Still down 10.
20:34 - Touchdown Longhorns! 45-42 with 1:36 left to play. Onside kick coming up. Great game, if you like the Pac-10 style of play.
20:36 - Todd has been summoned home by a higher power, i.e. Wendy. Vaya con pollos, amigo.
20:42 - Victory formation for Kansas State. Wow. Switching over to the Oregon-USC game.
20:49 - 14-0 Trojans at halftime.
21:09 - Now into the 14th hour of this glorious Saturday. Below is what happens after the games when you are a Fighting Illini fan. Thanks to Wizard of Odds for the photo.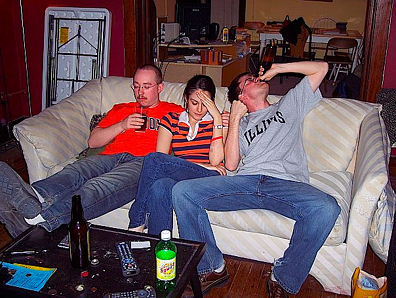 Illinois football will drive you to drink
21:13 - Some good bedtime reading - Porn Name All-Stars: SEC Edition. (link courtesy Deadspin)
21:21 - Getting hungry and feeling a little queasy. Perhaps that liquid dinner wasn't such a good idea.
21:24 - Balijeet thinks Oregon would start winning if they would switch back to normal uniforms. I agree and think they should change unis in the middle of the 3rd quarter to verify the veracity of that theory.
21:25 - Fumble! Where's Keith Jackson when you need him?
21:27 - Brady Leaf just came off the bench and choked away 3 downs in the red zone. He looks as dumb as his brother. We might have to give out a LCCMOTW to Mike Bellotti for that move. 14-3 Trojans in the 3rd quarter.
21:41 - Joel, your Saturday night dating schedule is crimping my & Balijeet's style. Who else is going to drive our drunk asses out for a late dinner?
21:53 - 28-3 USC at the end of the third quarter. Krispy Kreme leftovers are quickly becoming a viable option for dinner.
21:56 - Balijeet out. Hasta, amigo. It's down to one man with one quarter of football remaining.
22:00 - We've passed hour 15 in today's college football adventure. Surprisingly (o.k. not really) no ladies have made a cameo at Casa de Treadway today. Perhaps it's time to rethink my priorities. Or not.
22:02 - What kind of world do we live in when I can't get the Louisiana Tech - Hawaii game on TV? The Rainbows are up 26-10 in the second quarter.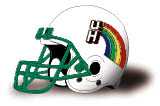 Fear the Rainbow!
22:08 - Oregon is challenging the review. A potential touchdown that was nullified upon further review, and Mike Bellotti is calling for a review of that review. WTF!?! Is this some sort of "Twilight Zone" episode? Only in the Pac-10. Take your beating and go back to Eugene without making a Treveshamockery (for the uninitiated, that term refers to Trev Albert's demeanor on ESPN's College Football Final before being fired combined with the famous term from a Miller Brewing Co. commercial) of the game.
22:14 - A reversal of the reversal. Unreal. Please let USC challenge the review of the review.
22:15 - No such luck. 28-10 USC. That sequence of events should make for some interesting material this week.
22:24 - 35-10 USC. Nice to see the Oregon defense stepping it up.
22:46 - The official dinner menu for this evening: Doritos, Krispy Kreme, 7Up, and another Flintstones vitamin. That should just about cover most of the major food groups.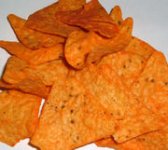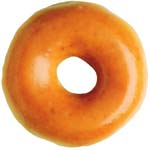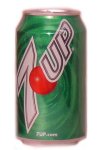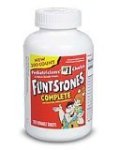 Keys to a balanced meal
22:50 - The FSN announcers are openly mocking Brady Leaf's brother Ryan. And the referees are holding a round table after every play to determine the correct call.
22:51 - Our first (and likely only) CalTech reference of the day.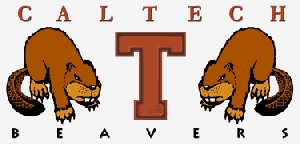 Go Beavers!
22:54 - Another CalTech mention. Sing it, sister. Need one more to complete the trifecta.
23:06 - 16 hours and counting. The Oregon-USC game is finally over. Final score: 35-10 Trojans. Hawaii is leading Louisiana Tech 61-10 halfway through the fourth quarter. That score is not a misprint.
23:31 - We have a final from Honululu: 61-17 Hawaii over Louisiana Tech.
23:37 - 6 days, 15 hours, and 53 minutes until Michigan vs. Ohio State. (image courtesy Mzone)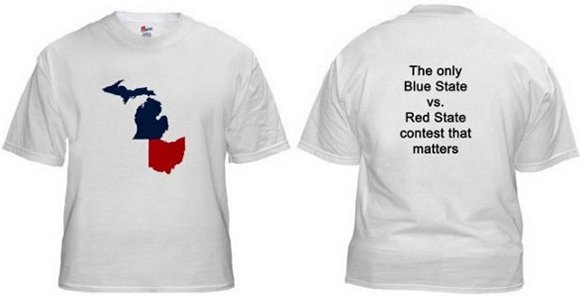 23:40 - And with that it's time to shut it down. 16-1/2 hours of college football action should be enough to tide me over until Tuesday's Ball State @ Toledo matchup. Hope everyone enjoyed the running commentary. And please remember, this is our country.

This is our country
Dr. T