A moment of silence for the Crocodile Hunter before we dive right in to the conference recaps.
ACC
Week 1 is officially in the books. Due to this thing called a "job", I was only able to watch 12 hours of football on Saturday. Weak. I did manage, however, to watch the FSU-Miami game twice on Monday. Not sure if that is a punishment or a reward. Florida State's patented 6'5" roboreceivers were held in check, and my walk to the refrigerator and back to the couch covered more rushing yards than FSU & Miami combined (3 yards total). It appears Jeffy Bowden has met his offensive offensive coordinator (OOC) match in Miami assistant Dan Werner. One important thing we did learn Monday night - Jenn Sterger's 15 minutes have been extended into a full-blown (wow, the pun opportunities are endless) 30 minutes. Stay classy, Clown College, stay classy.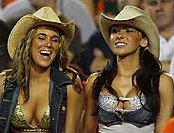 15 minutes and counting

Photographic representation of the FSU & Miami offenses
Big 11
The conference held serve this week, beating up on a variety of MAC and Directional opponents. Illinois defeated Eastern Illinois, ensuring my beloved team will not finish last in the Illinois Cup standings. ... The Ohio State University busted out the Troy Smith / Ted Ginn Jr. Heisman campaign highlights early and often in defeating The Northern Illinois University. Of concern to Buckeye fans was Garrett Wolfe's performance; he rumbled and received his way to 285 total yards for the day, one more than the Red & Dishwater defense gave up per game last year. But the real news in Ohio is that former star linebacker A.J. Hawk married Brady Quinn's sister in a lovely courthouse ceremony this summer. Shotguns were not necessary, which is a good thing, because Maurice Clarett seems to have that market cornered in the greater Columbus area.


Would you marry a girl who wears a jirt?
Big 12
The Dan Hawkins era got off to a rousing start at Colorado as the Buffs lost to Division I-AA Montana State. Bha ha ha. Even Illinois defeated a I-AA team this week. ... The other ranked teams in the conference rolled to victories, although Oklahoma's path to triumph over UAB was not an easy one. Perhaps Sooner boosters should consider reverting to days of old, when they paid players for football accomplishments rather than cameos at car dealerships. Just a thought.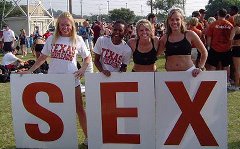 Hello, ladies. I will be in Austin until September 11th.
Texas rolled over North Texas in preparation for the #1 (tOSU) vs. #2 (UT) showdown in Austin on Saturday. I sold a kidney to secure funds to purchase tickets to the game. Expect a glorious A-Z recap sometime next week. Colt McCoy looked solid in his Longhorn debut. He has a QB legacy to uphold, what with bongo drum boy and Uncle Rico being out of eligibility.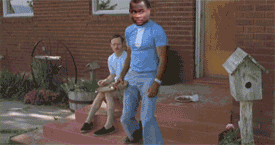 Quarterback U
I was going to pick Texas in our weekly football pool until cornerback Tarell Brown, the guy who was supposed to cover Ted Ginn, Jr., was arrested on drug and weapons charges. I don't understand the need for weed, but if you're gonna get busy with Mary Jane you might as well be packin' heat. Brotha's gotta protect his stash. Puff, puff, pass, motherfucker, or Tarell will put a cap in your ass. Just another example of a fine young football player exercising his 2nd amendment rights. But fear not, Longhorn fans. You may not have an experienced cornerback on the field, but Walker - Texas Ranger is on your side.
Big East
Unfortunately the only item of interest was a Tyrone Prothro moment in Louisville's win over Kentucky. The Cardinals' BCS hopes went down the drain the moment Michael Bush's fibia snapped in two. You can find the photo on the internets if you want to see it. ... Rutgers (SUNJ!) scored a road victory over UNC in Chapel Hill. Tune in on Saturday as they defend their home turf against the Illini in a game that promises to be craptastic.
SEC
Southern (don't call me the other USC) Cal roasted, toasted, seared, stuffed, food-analogied-of-your-choice Arkansas in Fayetteville. The Hogs looked like a high school team, which is not surprising given that they hired a high school coach to be their offensive coordinator. Freshman hotshot QB Mitch Mustain (no relation to Megadeth front man Dave Mustaine) saw playing time in mop-up duty. Nothing like a little QB controversy to unite a team, right Coach Nutt? <Coach Nutt>I learned it from watching ASU.</Coach Nutt>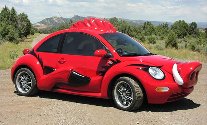 Ride home in style after yet another home loss
Pac-10
What is so special about this conference that they get to use a hyphen in their name? Seriously. It's 2:30 a.m. and this is keeping me awake. ... We've already talked about the Condoms. A team that was supposed to challenge them for the Pac-10 crown this year (Cal) got their asses handed to them by Tennessee in Knoxville. Looks like David Cutcliffe, not Jeff Tedford, is the quarterback guru. Everyone in the pool picked the Vols over the Bears, so no big surprise. ... The only team that looks capable of giving the Trojans a run for their money is Oregon. And that's a shame, because if there is one thing I need to see less of, it is Oregon's uniforms.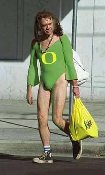 Phil Knight is aging well
On that disturbing note, I will bring this week's update to a close. Buena suerte to all, and Go Illini!
Dr. T