Welcome back, football fans.
(In my best Macho Man / Kool-Aid Man voice) - Oh Yeah! Another season of college football is about begin. To mark the occasion I've taken our running weekly commentary and unleashed it on the internets. w00t! Expect more of the biting, bitter, twisted comedy to which you've become accustomed as well as many links to other sites whose creators are funny (ha-ha) and are just as passionate as I am about college football. Also on tap will be a few reviews of my gameday experiences based on my travels during the season. First up will be a trip to Austin for tOSU-TU (yes, Longhorn fans, I know it's UT) during Week 02. Later in the year I'll be at ... The Swamp for LSU-Florida followed by a pilgrimage to Happy Valley for Michigan-Penn State. Additionally, the highly acclaimed rivalry week running journal will make an appearance on November 18th.
With that out of the way, it's time to dive right in to the traditional round of insults aimed at those participating in our weekly pick 'em pool. Nothing is off limits this year. If the thought of Ron Franklin relieving constipation with his soothing voice isn't crass enough for you, perhaps a list the things Brady Quinn would do to the Virgin Mary, Bill Brasky style, would be enough to offend. O.K. - I probably won't do the latter, but it would be a comedy goldmine sure to get Domers and Catholics all fired up. This year we move to a more link-centric list of flotsam and jetsam. Per tradition, the opening salvo is fired at my alma mater.
Illinois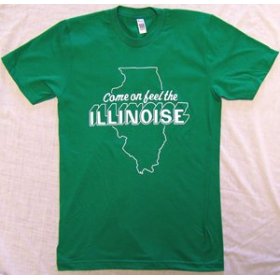 Come on feel the Illinoise!
Quite appropriate that the Illinoise T-shirt comes in Michigan State colors. It should be available in colors representative of all the Big Ten schools considering the way they've collectively kicked our asses up and down the football field the past three years. The team already plays like a bunch of ladies (apologies to the female fans in our audience), so Coach Zook decided to hold a football camp. No word on how many players showed up. Even if anybody did show up, they would not have seen the Zooker. Apparently he was busy preparing for the X-games.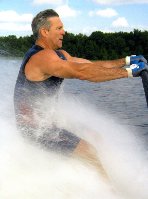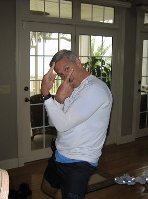 Extreme!
Florida
There's a brewing QB controversy in Gator Land. Thank goodness for SEC & Seminole fans that Urban is trying to pound a square peg (Leak) into a round hole (option attack). Nothing like going from the leading passer in the SEC to despised senior QB - good times! Look for heir apparent and anointed savior Tim Tebow to get significant PT this season. I do hope whoever (or whomever, I have no idea) is playing QB wears a flak jacket, because the only running game the Fighting Alberts can muster seems to be a flat sprint away from former Gator cornerback Dee Webb's apartment as players freely exercise their 2nd amendment rights in defending Dee's 800 square foot slice of territory in Gainesville.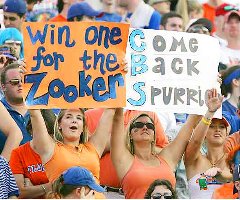 Would be funnier if these were the coaches' wives
Alabama
The elephants are looking to compete for the best three-name quarterback crown (currently held by Tennessee's Jim Bob Cooter), as John Parker Wilson was named the starter for this year's opener versus Hawaii. They're still having mascot identity issues in Tuscaloosa; the latest variation seems to be that Roll Tide refers to an elephant driving around a piece of construction equipment like his very own personalized lard cart. Slap on a Bear Bryant bumper sticker and that thing would sell for a mint on eBay. Speaking of the exalted one, what do worms and Alabama football fans have in common? Both have been living off the Bear for 2+ decades. Yikes! And oh noes! Some idiot is suing Warren St. John for using a photo of an RV on the front of his best selling book Rammer Jammer Yellow Hammer.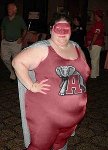 Some things you just can't unsee
LSU
Les Tigres are looking to ride the momentum of a 40-3 ass-whoopin' of Miami to another successful season. I've temporarily run out of Cajun jokes that don't involve the phrase "Bleaux Me" or Farmer Fran from The Waterboy. The situation was looking dire until I happened upon a site insisting that LSU fans smell like corndogs. That's it; I'm out - no way anything I come with is going to top that.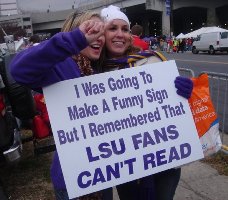 That's a lot less crass than "Will bleaux for blow"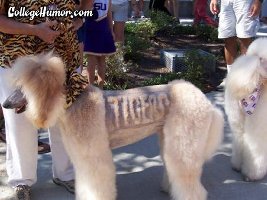 Mike the Tiger has slimmed down recently
Florida State
Once again the 'Noles open the season with The U (I'm going to start referring to Illinois as The I). The winner of that game moves into the driver's seat for the ACC title. For the sake of all involved, I hope the game doesn't come down to a field goal attempt. With Jeff Bowden running the offensive show (and believe me, it's mighty offensive to watch), expect a low-scoring game. Also expect to see a bunch of skinny, 6'5" hoodlums running around catching passes for FSU. Seriously - do the Seminoles have a patent on these players? They all run 4.4 40-yard dashes and have hands stickier than tree frogs (which, not surprisingly, also comes in handy when the team makes trips to Dillard's).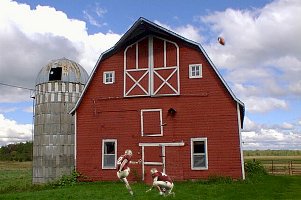 Not again!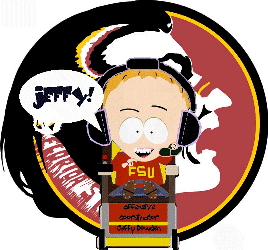 Jeffy suX0rZ OMG ROFLMAO!!!
Jenn Sterger - college lecturer, Playboy playmate, advice columnist. If anyone should be giving out advice, itís Jenn Sterger. Actually, the columns are quite good. I would like to subscribe to her newsletter. [ It's called a euphemism - look it up. :) ]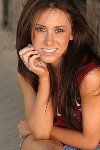 14:59 and counting
Wisconsin
The Badgers will battle for 4th place in the Big Eleven again this year. Of course I said that last year and they went and whooped 11-1 Auburn in a bowl game. Not too shabby. Of more concern to Wisconsin fans seems to be new coach Brett Bielema's tattoo of a hawkeye, left over from his playing days at Iowa. I'll admit that I could not be more indifferent about this team. The university is now officially promoting the whole Jump Around festivities between the third and fourth quarters after federal officials mandated that the cheeseheads get off their collective asses and get some exercise.

Pack it up, pack it in
Penn State
Combine this with the Stadium Pal or some Depends (JoePa & Bobby approved!) and you'll never have to leave Beaver Stadium. Let me be the first to say, "Dibs on the beer boobies patent." The Nittany Lions will look to continue the intimidation factor at their Happy Valley home this season. I don't know about you, but white T-shirts and crazy cat calls are skeery. It's amazing they don't make Joe Paterno soil his shorts and start screaming at the referees and opposing players to "Get the Hell off my lawn!" With any luck JoePa will go out in grand style, much like Woody Hayes did at Ohio State.


Grumpy Old Men
Michigan
Two main events in Ann Arbor (despite what people say, her morals are no more questionable than those of your Mom or your sister) garnered our attention in the offseason. First, there was a huge debate over the proposed Michigan Stadium renovations about whether the school should remain entrenched in the 1890's or become a walking MySpace ad (I refuse to link that site). The truth, as always, seems to lie somewhere in between. Second, the Michigan coaching staff underwent a major reorganization, as staffs seem to do when the head coach is on the hot seat. Importantly, the position of "special teams coach" has been eliminated, and the duties will be split amongst several members of the coaching staff. I hereby declare that these coaches now be called "special" coaches, as it befits their intelligence for using that Stupid Ass Punt Formation in the first place.

Garfield is a tOSU fan (pic credit to
Mzone
)
Ohio State
Any Buckeye fans in the audience? Alright then, I'll type slower. :) There isn't enough space on my web server to detail all of "the" Ohio State Penitentiary University incidents during the off season. The school, and I use that term loosely, had to hire a full-time staff member just to keep track of everything. With Raj and his family as notable exceptions, I think this site captures the general intelligence of the scarlet and gray fan base. Nevertheless, the Buckeyes have put their off-the-field troubles behind them and have set their sights on this year's BCS crown. Coach Sweatervest gets a pass for the summer, mainly because I ran out jokes about his Sears-style wardrobe. Fear not, though, loyal readers, Tressel bashing will be back in vogue next week after an unusually close game against the Northern Illinois Huskies. Go Directional Illinois!
In one of the most entertaining stories of the summer, an Ohio State fan goes to the library. That event alone is enough to be considered newsworthy, but when an investigative reporter shows up to document the issue, hilarity ensues. Possibly NSFW. Definitely Hilarious.
The most brilliant thing you'll see all day (via Deadspin)
What the Buckeyes really use the library for (via MZone)
OSU fans using the library (via EDSBS)
You know he could be behind you right now (via Deadspin)
Carl Monday will have you locked in jail with the key thrown away (via Deadspin)

Buckeye-in-training

Ted Ginn + Ram Jam + Andrew WK = Genius!
Northwestern
The other Wildcats get a Week 01 bye due to the untimely passing of their coach this summer. RIP, Randy Walker
Arizona State
Les Diables du Soleil have a new quarterback this year thanks to Dirk Diggler's Koetter's handling of the Carpenter/Keller sweepstakes. Rudy is apparently the man, and Sam has moved on to flatter pastures. Stay classy, Sam, stay classy. Speaking of classy, an ASU cheerleader decided it was time to take it up a notch. What will those crazy coeds in Tempe think of next? Whatever it is, please send me the exclusive pictures.
Nebraska
The Callahan Experiment (sounds like the Manhattan Project and will probably end with similar results) is entering its third year in Lincoln. It is only a matter of time before Coach ThroatSlash wears out his welcome and is run out of town. The guy is like a giant pigeon, swooping in with the news you think you need in order to turn around the football program before shitting all over everything and leaving a giant mess in his wake. The 'Huskers need to bring in / promote some more high-profile alumni to create a positive image, because Tom Osborne (yes, I'm sure Lawrence Phillips was just helping his girlfriend down the stairs) and Larry the Cable Guy just ain't gittin' 'er dun.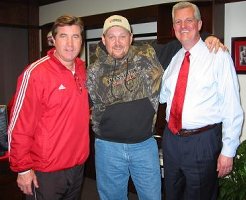 I don't care who you are, that's funny right there
Georgia Tech
Not much to say here. The resume jokes have run their course. Hope they beat the crap out of Notre Dame on Saturday.
Connecticut
I don't like the way the state is spelled. They should just change the state name to UConn, or maybe Westalkwomenbasketballplayers. Really can't think of any reason to trash the team. Inclusion in the Big (L)East should be punishment enough. Randy Edsall seems like a good coach. UConn fans should enjoy things before he makes the inevitable bolt to greener pastures, i.e. someplace that actually gives a rat's ass about football.
Notre Dame
Once again we don't have any Notre Dame grads in the football pool. I'll just assume that's because the pool consists of intelligent Big 10 amigos and other football friends smart enough to get into Top 10 grad schools. <sarcasm>That's a shame.</sarcasm> Seems that last season's Fiasco Bowl against the Buckeyes struck a nerve with some of the ND faithful. Or not - but I'll enjoy the commentary when Notre Dame gets several reality checks this season. As if you needed another reason to despise the Domers, check out the ridiculousness that is tailgating in South Bend. Wow. Just, wow. I will now gouge out my eyeballs with an icepick.
If you've made it this far, you are either a true fan or have too much time on your hands. Thanks and good night. I'll be here all season. Buena suerte to all, and Go Illini!
Dr. T