The A-Z of my trip to Austin for the Ohio State - Texas game last weekend:
A is for Austin, site of the September 9th, 2006, edition of the biggest game EVAR OMG ROFLMAO!!!
B is for Bevo. The bull has it made: eat as much as you want, gain up to 2000 pounds, be waited on by several servants, watch college football for free, and relieve yourself in the end zone without fear of reprisal. Kind of like Buckeye fans, except for the horns.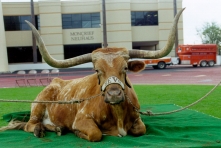 How do you moo?
B is also for bats. Jesus Krispy Kreme Christ bats everywhere. 1+ million flying rodents coming out from under a bridge at sundown. Nothing like the stench of fresh bat guano. It's the only thing in Austin that can overcome the smell of the wacky weed.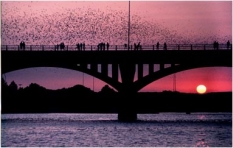 Where's Ace Ventura when you need him?
C is for cookie. C is also for contact high, which is what you get when walking around the city of Austin on any day ending in "y". It could also explain the Cookie Monster's insatiable hunger and neverending quest for more cookies.

He did it all for the cookie
D is for Dumb & Dumber, a.k.a. Tarell Brown and Tyrell Gatewood. It's hard to get arrested on weapons-related charges in Texas, where anything short of a rocket launcher qualifies as a personal defense weapon (and even that is up for debate).But when homies gotsta protect their stash, things can get crazy.And by crazy I mean passing out in a vehicle with Mary Jane and a handgun. So while these two took a hiatus the Buckeye receivers ran roughshod through the Longhorn secondary. At least Tarell & Tyrell got their names in the papers. Golf claps all around.
E is for Eyes of Texas, or as you know it, I've Been Working on the Railroad. Great halftime performance by the bands - Ohio State (TBDBITL) played a few Texas-themed songs and then performed Script Ohio. UT's Showband of the Southwest busted out a Script Texas; not quite as inspiring as tOSU's performance but very cool nonetheless.
F is for Freebirds World Burrito. One of their promotional spots has the statue of liberty riding a chopper while holding a burrito high above her head. God bless Texas.
G is for Godzillatron, a gigantic high-definition scoreboard befitting the state of Texas. To quote UT senior pharmacy major Jorge Pena, "The Jumbotron is like a $15 million investment in awesome." Well said, Jorge, well said.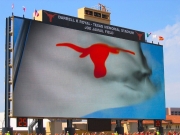 Where's the beef?
H is for Hook 'em Horns. The hook 'em hand sign ranks among my all time favorite prestidigitory gesticulations, alongside such greats as ASU chicks giving the shocker, Bill Callahan's throat slash, and Marcus Vick's one-finger salute.

ASU girls behaving badly? Shocking!
I is for inebriated, the state of most coeds and fans on Friday and Saturday before the game.
J is for Jenn Sterger, who was scheduled to be at the game but bailed at the last minute. She must have heard I was going to be in town garnering all the attention. Ladies love the orange (I have no idea what that means).

You cannot stop them. You can only hope to contain them.
K is for Keep Austin Weird. It's absolutely amazing that a liberal, eclectic city like Austin can exist in the state of Texas.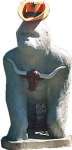 Done gone apeshit for the Longhorns
L is for Laurinaitis. The starting linebacker who replaced A.J. Hawk had an interception to start the 2nd half that led to a score. Bonus points for his dad being a member of the famous tag team wresting duo Road Warriors.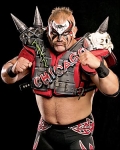 Buckeye role model
M is for Matthew McConaughey. Mack Brown must cower in fear when MM starts roaming the UT sideline. His antics often take former football player asshattery to new heights. I really think he's there to see where Tarell & Tyrell hid his ganja stash.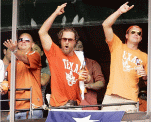 "No computer, no gadget, no trickery. I am an animal, it is a plant. I will beat the weed!"
N is for Ninja flash mob. What will those crazy college kids think of next?
O is for O-H...I-O. If you ever want to see a group of adults acting like proud 6-year olds with their ability to spell out four letter words, then attend any Ohio State function. Odds are quite high that "Ohio" isn't the only four letter word you will hear.
P is for Pennypacker. You've gotta love any bridge named after a Seinfeld character. OK - That may be a slight exaggeration, but Pennypacker is a bridge and was the name of a wealthy philanthropist that Kramer played in "The Puerto Rican Day" episode of Seinfeld.
Q is for queers, which according to Gunnery Sargeant Hartman, are the only thing besides steers to come from Texas.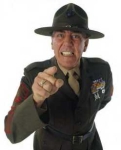 Looks like an A&M fan
R is for Rudy's. It's a combination gas station, convenience store, liquor store, & BBQ joint. My favorite feature was the "meat cam", a camera positioned over the cutting block so patrons could get a bird's eye view of their meat being sliced for serving.

Notre Dame fans not welcome here
S is for Sixth Street, party central for revelers in Austin.
T is for Texas turnovers, Troy Smith, Ted Ginn, Jr, and talent. The first three were the main reasons for the Buckeyes' triumph vs. the Longhorns. The latter made my stay in Austin quite enjoyable.

Talented ladies of Texas
U is for the University of Texas. Yeah, I know, that's a lame entry. But I can't think of anything else from my trip that starts with "U". Start your own blog and take a trip to a #1 vs. #2 matchup if you think you can do better.
V is for Viagra (and all the other erectile dysfunction drugs). <rant>There seems to be a propensity of ED drug ads during games this year. It's the ice skating equivalent of Massengale commercials. Look, advertisers, no one wants to watch some old fart get revved up after popping a pill (just like no one wants to hear about that "not-so-fresh" feeling). Get back to selling beer. I'll even take the occasional Jill from Nokia commercial but please, for the love of God, no more grandparents frolicking in a backyard pile of leaves.</rant>
W is for Willie Nelson. Willie is a legend in the great state of Texas. He even has his own brand of gasoline which is sold at a Mexican gasoline station called Mucho's. I am not kidding. Sometimes the material just writes itself.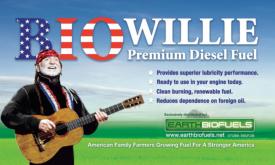 "I'll never smoke weed with Willie again"
X is for exes, who all live in Texas if George Strait is to be believed. It's also the name for the Texas Alumni Association.
Y is for Yellow Rose of Texas. Sounds like Ms. Arbor is not the only one with scrupulous morals.
Z is for zone blocking. Texas used it to perfection in the 1st half before Greg Davis developed acute amnesia. Jeffy Bowden has been trying to get Florida State to perfect it with predictably craptacular results, the most recent being a lackluster 7-point victory over Troy. "You're watching Troy football!" Good times.
In summary, Austin is a great place for an enjoyable college football weekend experience. Next week we return to our "normal" update style. The seven Top 25 matchups on tap for this Saturday should provide a wealth of material.
Dr. T