7th Floor Crew,
As promised, below is a running journal of my Week 12 college football Saturday. All entries were real-time, with the exception that hyperlinks were added after the fact. The ramblings are random and all over the place. On with the show!
07:29 - This is ridiculously early. I need to move a few thousand miles east.
07:30 - Thankfully my living room doubles as a bedroom, so I don't have to leave the couch or get dressed to watch College Football GameDay. And yes, I know I'm treading close to the "too much information" category. Why is GameDay in East Lansing? Sparty is collapsing faster than the Tacoma Narrows bridge in a stiff wind. Should've gone to Auburn or Ann Arbor.
08:00 - Breakfast. Chocolate glazed Krispy Kremes, chocolate milk, and orange juice. By far the most nutritious meal I will eat all weekend. Mom must be proud.
08:44 - Pardner! Brent Musburger will be calling the Ohio State - Michigan game. There is a God. Wonder how many hot toddies Brent has consumed this morning?
08:59 - Lee dons the Nittany Lion head. And now he's growling. Time for the ESPN doctors to adjust the dose or pull the plug.
09:07 - The 99th meeting of Northwestern-Illinois in the battle for the Sweet Sioux Tomahawk is underway.
09:16 - Illinois' first drive ended in a failed field goal attempt. That should just about do it for the Illini. Time for a shower.
09:26 - I'm back and dressed in my gameday gear. Also started the first load of laundry. This will be a running theme throughout the day.
09:33 - 7-0 Northwestern. Not good. Time for some internet surfing.
09:52 - 7-7. WooHoo!
10:00 - You're looking live at Michigan Stadium. But WTF?! I've got to listen to Gary Bender and Bill Curry on ESPN Alternate because this craphole state won't carry the ABC broadcast. Fuck Oregon and its granola-eating, tree-hugging, hairy, hippie freaks. Why can't ESPN just carry the ABC feed? They're both owned by Disney. I am not a happy camper.
10:03 - Why is it that every time I switch back to the NU-UI game the Wildcats are running into the end zone?
10:05 - Auburn-Alabama nursing home commercial on ESPN. Never grow up. Nice.
10:08 - 2nd load of laundry underway.
10:09 - The 102nd meeting between the Buckeyes & Wolverines is underway. Shout out to Sarah, who managed to score a ticket to the game. And I'm stuck on the couch listening to a 2nd rate announcer. Yes, I'm bitter.
10:19 - The UM(atador) defense just made the tOSU offense look like the 2nd coming of '94 Penn State. And then Luckeye kicker Josh Huston promptly missed the extra point. Ah, rivalry games.
10:21 - Another Purple Power touchdown. Perhaps if I stop changing the channel Northwestern will stop scoring. Or not.
10:24 - Completely unrelated to football, but important nonetheless. Your guide to alien abduction.
10:27 - tOSU linebacker Boby Carpenter is limping to the locker room. Uh oh.
10:31 - 4th & 1 Michigan on the tOSU 28. A shitty slant pass by Henne. Nice call, Lloyd!
10:32 - Good Ol' Boys Nokia commercial. Quality.
10:45 - 47 yard field goal by Josh Huston. Nice bounceback after the botched extra point.
10:58 - Fumble! I'm guessing that was Jonathan Wells' first and last play of the game.
11:00 - Luckeye linebacker Bobby Carpenter out for the year with a broken leg. Tough loss.
11:06 - Touchdown Michigan! They still can't run the ball against Brutus.
11:10 - 3rd load of laundry in progress.
11:23 - Buckeyes leading 12-7 at halftime. Virginia Tech killing the Cavaliers and Iowa thrashing Minnesota (and getting to keep the Floyd of Rosedale trophy - a big bronze pig). ThrIllinois down 31-21 to Northwestern. It's lunch time. On the menu: Large size quarter pounder extra value meal from McDonald's with a Coca-Cola.
11:26 - Phone call from Balijeet. He's bringing lunch, so I don't have to leave the couch.
11:33 - Vandy up 7 on Tennessee in the 3rd quarter. Latest rumors about the upcoming changes to the Tennessee coaching staff, taken from footballrumormill.com - "Sparky Woods, currently Mike Shula's Running Backs Coach at Alabama, will become the new Running Backs Coach at Tennessee, replacing Trooper Taylor (guy who's always chest-bumping and high-fiving players. David Cutcliffe will be announced shortly as Tennessee's new Associate Head Coach, Offensive Coordinator, and Quarterbacks Coach. Cutcliffe and Fulmer will hire Thomas (" T.D.") Woods, the former Tennessee Wide Receiver from Gallatin, and former Wide Receivers Coach at Ole Miss when Cutcliffe was the Head Coach there, as Wide Receivers Coach... As previously reported, Offensive Line Coach Jimmy Ray Stephens is unlikely to be back. Fulmer himself will assist Greg Adkins with the OL, being a more hands-on offensive line coach...."
11:43 - Balijeet in the hizzy! And he brought McDonald's. Sweet.
11:54 - Fumble! Michigan recovers. And I didn't get to see it because the ESPN broadcast went black during the play. $#@!
12:01 - I change the channel and Northwestern is kicking another extra point. 37-21 Mildcats. I'm done with this game. They should call what the Illini play "efense", because there definitely isn't any "D" involved. Perhaps a transfer to the Pac-10 is in order. At least the basketball team opened the season with a 25 point victory. ... Virginia Tech opened up a can on Virginia today. Too bad they layed an egg last weekend against the Hurricanes.
UVA - VT rivalry on the field, literally
Don't Fire Al Groh
12:13 - 4th load of laundry in progress.
12:14 - Fumble!!! 2nd one by Ted Ginn on a punt return today. Both recovered by tOSU.
12:21 - Touchdown Kevin Grady! 16-12 Blue. Dammit Lloyd. 18-12. Well, Lloyd avoided (for now) the first LCCMOTW when Chad Henne converted a 2-point conversion with a 3-yard scamper.
12:25 - Balijeet out.
12:26 - David Who? / Crazy break-up chick Nokia cell phone commercial. This is why I'm still single. O.k. Just one of many, many reasons.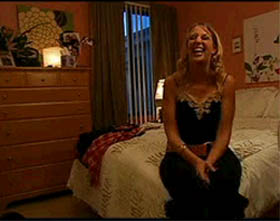 Yikes
12:32 - Missed field goal by Huston. SweaterVestBall doesn't work when your kicker comes down with a case of the Ray Finkles.
12:37 - War Eagle! Roll Tide! Iron Bowl time. CBS HDTV is glorious. What the hell was with the Alabama players singing before the start of the game? Please don't pollute the airwaves with that again.
12:38 - Michigan going for it on 4th and inches. Good.
12:43 - Another quarterback draw with Henne? Lloyd is morphing into Tressel. Maize & Blue up by 9.
12:50 - Touchdown Santonio Holmes! Buckeyes down by 2 with 6:40 to go. In other action, Texas Tech just downed Oklahoma on the last play of the game. The Sooners got jobbed big time. Glad to see getting screwed over by the officials is not limited to the Big Ten and the SEC. ... Syracuse up 3-0 on the Domers in the 2nd quarter in South Bend. Syracuse? ... Auburn just marched down the field against a great Alabama defense to take a 7-0 lead in the Iron Bowl.
12:58 - Touchdown Kenny Irons. 14-0 Tigers. At what point does Al Borges reach Norm Chow level? Seriously, this guy is very underrated. Nebraska should take a look when they finally pull the plug on the Callahan experiment (what the hell where the 'Huskers thinking?).
13:02 - I missed the goal line interception by Vandy (as time expired) in their victory over Tennessee. Dammit. I need Balijeet over here telling me when to switch channels. Not a good year to be a Vols fan.
13:16 - Awfully quiet for a crowd of 110,000+
13:17 - Touchdown Antonio Pittman! 25-21 Scarlet and gray. At least Lloyd wasn't saving his timeouts to ice the kicker.
13:22 - Michigan receiver fails to go out of bounds and is tackled short of the 1st down line. Can we give the LCCMOTW to a player? Game over. Buckeyes win.
Lloyd Wonka
iChoke
13:24 - 21-0 Auburn. Wow. Guess I'll be watching Penn State - Michigan State. When asked what his message would be to Michigan State fans upset with Coach John L. Smith and his Spartans, Joe Paterno replied, "Tell them to shut up." Awesome.
13:29 - Nokia break-up chick commercial again. This woman is scary.
13:48 - 5th load of laundry in progress.
13:49 - Directional updates: Eastern (Michigan) over Buffalo, Central (Michigan) over Ball State, Northern (Illinois) over Toledo.
13:58 - You don't see JoePa using the SAPF. You also don't see Penn State getting kicks blocked.
14:04 - Nittany Lions receivers dropping passes left and right. Auburn now up 28-7 on 'Bama. Nap time.
15:01 - Back from my nap. 6th (and final) load of laundry in progress. PSU up on MSU 17-0 at halftime. Another brilliant coaching job by John L. Smith. Auburn leading Alabama 28-10 in the 3rd quarter. I think it's time for another Krispy Kreme donut. O.k., two donuts. ... Harvard won The Game in a triple overtime thriller. Good thing it ended when it did, too, because Yale Stadium has no lighting for the field. Welcome to 1-AA football.
15:05 - Nine sacks already for Auburn, and we're only in the 3rd quarter. Punt, Bama, Punt!
15:13 - The Comcast high speed internet commercial with old people dancing has been one of, if not the most, disturbing images of the day.
15:16 - ESPN.com appears to be down. I NEED GameCast to figure out when to switch channels. Dammit.
15:53 - MSU botches another kick. I'm willing to bet Sparty's special teams coach gets fired soon. And if we're lucky, it will happen during an interview as El John runs off the field. At least Michigan State can look forward to basketball season. Oh wait, they're losing to Hawaii. Bha ha ha!
16:00 - Auburn wins 28-18
http://photos1.blogger.com/blogger/8101/307/1600/tubstoomer.jpg
16:00 - "Oh the band is out on the field!" ... for the national anthem at The Big Game in Palo Alto.
16:07 - Hugh Hefner, Queen Elizabeth, Alan Greenspan, Mel Brooks, Fidel Castro are all the same age as JoePa. Good company. He's won every major bowl game, so I give him the nod over the latter four in terms of overall achievement. He can pass Hugh when he moves to a So. Cal. mansion with his own personal harem. Nittany Lions take a 17 point lead in the 4th quarter over the Green & White. ESPN must really want Ohio State in a BCS game, because they won't shut up about the Buckeyes. Notre Dame (f'ing Domers) is headed to the Fiesta Bowl, so the Buckeyes need to pray for a Miami loss and some help from the computers.
16:08 - Somebody needs to administer a serious beating to the dumbass humming the Monday Night Football theme in the Domino's Pizza commercial.
16:30 - "Dad wanted an engineer. Mom wanted a doctor. All they got was a legend." Great Keith Jackson quote asked about Joe Paterno. Looking forward to Decmber 3rd when he's in Pasadena at the Rose Bowl calling the USC-UCLA game.
16:31 - The kid screaming outside of my apartment needs a beating and a trip inside to watch some football.
16:41 - The original USC leads Clemson 3-0. Go Cocks!
16:48 - LSU vs. Ole Miss is underway. Rumors flying around that it was the Ole Miss coaching staff contacting Tulane players about transferring after Hurricane Katrina. Big ethical and NCAA no-no. Seems par for the course for the Fighting Orgerons. Brilliant move in firing David Cutcliffe and bringing in a guy who belongs in the WWE.
17:10 - Safety. 2-0 LUS. :) At least they aren't kissing in the stands this week. I'm convinced the Mississippi quarterback cannot walk and chew gum at the same time. I'd probably be tripping all over myself, too, if I was constantly being distracted by the Ole Miss hotties.
17:46 - Joseph Addai touchdown run. 16-0 Tigers.
17:47 - Joel in the house. Time for a beer.
17:53 - Quite possibly the only thing more annoying that the Wildcat roar is the damn rooster sound they play at South Carolina games. I'd have a sound clip for you if the South Carolina message board didn't require me to give up my firstborn in order to register. I'll find it for next week if I'm not passed out from stuffing my face with turkey and pumpkin pie.
17:54 - Somebody explain to me why it's not a penalty when Clemson breaks the huddle with 12 men on the field. In any other game this is a penalty. Perhaps they have difficulty counting in South Carolina. Just ask the Gators. :)
18:02 - Holly Rowe showing some skin in a sparkly, low-cut shirt. She must be heading to South Beach after the game. Nice hat, too. I'll leave Joel's comments out of the blog. Can we please not see any more of that in HD?
18:07 - Touchdown Cal. Only 13-3? What in the name of the CraPAC-10 is going on?
18:13 - "Interception by Fudge." There's something you don't hear every day. That was the play-by-play announcer's call in the Clemson-SC game. ... Oregon up big in the Civil War. ... Hurricanes only leading the Yellow Jackets by three at halftime.
18:30 - Fumble! Clemson muffed a punt return. What the hell is wrong with punt/kickoff returners today?
18:37 - That damn Domino's Pizza commercial again. I've never changed the channel so fast in my life.
18:44 - Does anyone else find it ironic that KFC is sponsoring the game summary for the Clemson - South Carolina contest? ... Touchdown Tigers! Gimme my two points for the college football pool.
18:57 - We've got an upset brewing. Georgia Tech reclaims the lead against the Fighting 7th Floor Crew. In case anybody missed it last week (link definitely not safe for work):
http://gorillamask.net/Media/miamirap.mp3
19:12 - Final load of laundry completed. All clothes put away, and by put away I mean placed in neatly organized piles on my bedroom floor
19:14 - Fumble! This time by a Georgia Tech punt returner. "Secure the football!" - We'd be hearing this phrase for the next hour if Bill Curry was announcing the game.
19:20 - Clemson over South Carolina. Cocks Blow, (or Blow Cocks?!) O.k., that was uncalled for. Some of you are laughing, though. ... Oregon hung half-a-hundred+ on Oregon State. I'll leave out the obligatory Beaver joke. ... Wazzu wins the Apple Cup. And then promptly does a victory dance on the "W" at Husky Stadium. Idiots. ... Cal wins The Big Game.
19:29 - Twelve hours in the books.
19:34 - Yet another muffed punt by Georgia Tech. Why? Just why?
19:40 - Stuff on 4th & 1 by the Ramblin' Wreck! Sweet. A Miami loss would knock them out of the ACC title game (and likely a BCS game as well).
19:46 - Song girls. Nice. USC down 7-0 to Fresno State. Almost as nice.
19:47 - 7-7. Fucking Reggie Bush. I want USC to lose.
19:57 - Awesome 70+ yard punt by the Georgia Tech kicker. And dumbass play by Devin Hester. Should've let it roll into the end zone.
20:04 - Picked off by Georgia Tech! Kyle Wright is making the Peyton Manning playoff loss face.
20:11 - 14-10, Ramlin' Wreck over the Hurricanes. Wow! Things just got interesting for the 2nd at-large BCS bid.
20:20 - 14-7 Fresno State. Sweet.
20:24 - Out for dinner at the Owl Restaurant with BSB and JGR
21:55 - Back from Hooters and all liquored up. Highlights were a pregnant waitress and a guy wearing a wife beater yelling at the TV during the Fresno State vs. USC game. Classy. The Bulldogs have sucked it up in the 2nd half and are down 34-21.
21:59 - Hold the phone. 34-28.
22:10 - Picked! F'ing Paul Pinegar. That would have been the go-ahead score. The Trojans should make a Paul Pinegar shrine in the USC sports hall of fame.
22:14 - Another Reggie Bush touchdown run. 41-28. This is turning in a typical Crap-10 game.
22:21 - One quarter of football left in my college football Saturday (which, for some of you, is now Sunday)
22:29 - Balijeet out. Again. Have a safe trip to the South.
22:30 - Fumble! Tuck that shit away. Thankfully Fresno State recovered.
22:33 - And now a 5-yard penalty. F'ing Fresno State.
22:35 - Touchdown Bulldogs! Awesome catch. 41-35.
22:42 - Fumble! Choke on that, Reggie.
22:43 - Touchdown Fresno State. Woooooooooo!!!!!!!!!!! 42-41 Bulldogs.
22:46 - Whoa, throw the flag. Reggie's getting a little testy. Heisman-style meltdown.
22:56 - Touchdown Lendale White. Does anybody west of Texas play defense? 46-41 after the failed 2-point conversion attempt.
23:02 - Fumble! USC recovers. Dammit.
23:05 - 49-41 USC.
23:11 - What the hell is up with Reggie's 619 glare patches? That's the dumbest thing I've seen all day. Besides John L. Smith.
23:17 - Picked. That's ballgame. Warm up the bus. The trust fund babies are already busy erecting the PP shrine.
23:18 - Game over. Joel out.
And that brings to a close almost 16 hours of college football festivities at Casa de Treadway. Hope everyone enjoyed the Saturday as much as I did. I leave you with some random links before revealing the standings and games for next week's Top 25 action.
Not quite the same tattoo as a few weeks ago.
And the NCAA thought Chief Illiniwek was offensive.
http://i33.photobucket.com/albums/d69/HiFiGator/renegade25gi.jpg
And how come nobody told me that FSU has a Circus school? I'm disappointed in the Gator fans in our midst.
Video of the C130 flyover at the LSU-Bama game two weekends ago. On a somewhat related note, if you ever have the pleasure of being in Pasadena for the Rose Parade, be sure to get there by the 8 a.m. start time.
Bha ha ha. Got punt?
These Irish, Why Must They Fight?
Stanford Band