Greetings mötley college football fans! I am fresh off a trip to the blue turf in Boise, having arrived back in Portland at an ungodly late hour after witnessing the Broncos 61-10 beatdown of Fresno State on their way to a perfect 12-0 season. I figured since my team played themselves into Toilet Bowl contention that I would adopt another blue & orange team to root for this weekend. If you are asking "Why not Florida?" then you obviously haven't been paying attention.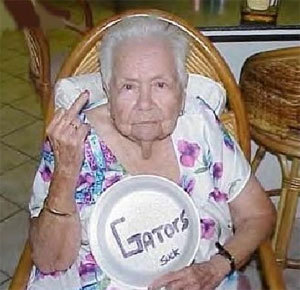 It is finally that time of year for me to fire up the live blog and chronicle the life of a crazy college football fan on rivalry Saturday. I will spend an entire day and a good portion of the evening watching games and throwing out my thoughts on the intarwebs for all see. My usual Saturday afternoon co-pilot (Balijeet) is on the other side of the country today, so I may be a little slow changing channels to catch the latest action. On a somewhat related note, I'll have to fetch my own lunch today. This is bordering on the unacceptable. Thankfully there are two McDonald's located within one mile of my apartment. Feel free to stop by my casa for the festivities and/or call/e-mail me your musings. All times listed are Pacific Standard Time. On with the show!
06:56 - Once again, you're looking live at ... me on the couch in my Scooby-Doo boxers. The blessed underwear is getting a little worn, shall we say, so let's just skip the associated imagery (eye and mind bleach not included).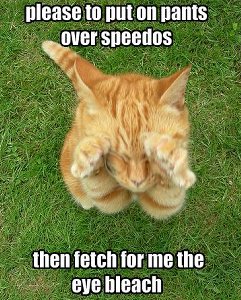 06:57 - Getting pumped for the 16+ hour journey by firing up a little "Crowd Chant" on the stereo. Apparently the infant next door does not agree with my choice of music to kick off the festivities. Little bastard should be up getting ready for College GameDay anyway. That's what he gets for raising hell when I was trying to get to sleep six hours ago.

Take that, Zombie Nation

07:00 - College GameDay begins. Kirk, Lee, Chris, Desmond, & crew are in Stillwater to witness the bedlam of the Oklahoma - Oklahoma State rivalry. One of these years I am going to move to a time zone where this show starts at a decent hour. Perhaps Greenwich.
07:08 - ESPN is trying to explain why Oklahoma should be ranked ahead of Texas. Do these pollsters even watch the games? I thought I had a short attention span. The reason we have two polls that are worth more combined in the BCS standing than the computers was because of the debacle in 2000 when a one-loss Florida State team was chosen to play for the national title over a Miami team the Seminoles lost to earlier in the season.
07:12 - Our first Bud Light "drinkability" commercial of the day. We'll keep a running count through the day.
07:14 - All of a sudden I'm hungry. I'll eschew the liquid breakfast for Krispy Kremes and chocolate milk.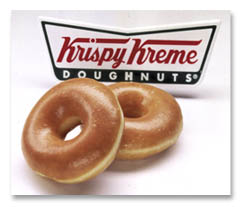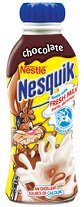 07:16 - Lee just called Ball State the best team in Indiana. It's funny because it's true.
07:16 - Fowler just threw out a Wannstache reference.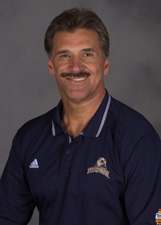 Fear the 'stache!
07:30 - Desmond appears to have discovered the library. Two shocking things here - (1) This may be the first time Desmond has been to a library on a college campus, and (2) Oklahoma actually has a library.
07:31 - It looks like the advertisement themes for the day will be beer, cars, diet products, mobile phone service, get/keep "it" up drugs, and promotions for other ESPN programming.
07:33 - LSU blew a 30-14 second half lead and lost to Arkansas yesterday. WTF? Expecting a phone call later today from long-time listener Balijeet bemoaning the state of the Tiger program.
07:40 - I am not sure how he did it, but Desmond Howard just demonstrated an entire punt block scheme by himself on the fake field next to the College GameDay set.
07:44 - Sign from the crowd touting "The original mobile home."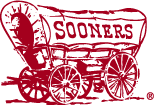 07:46 - Yay memories! T-rex is terrorizing the kids. I love that AT&T commercial.
07:53 - Lee is singing "Georgia", the tune made famous by Ray Charles. Please, God, make it stop.
07:55 - Herbstreit just called somebody "dude".
07:55 - Upcoming feature on the nerds behind the computer polls used in the BCS formula. Maybe somebody could explain how Sagarin has James Madison ranked in his Top 30.
08:02 - It is being reported that Lane Kiffin will be the next coach at Tennessee. I know he is the hot name and all that, but c'mon. I don't care if daddy is a superstar NFL coach. He is younger than I am and has zero ties on the eastern side of the country. Good luck.
08:06 - Quite possibly the first (and likely last) mention of Markov chains on GameDay.
08:12 - Lee is ranting about Texas and lamenting their drop in the polls. He just dropped a "What the hell?" and nearly fell out of his chair. Was it over when the Germans bombed Pearl Harbor?
08:18 - Civil War preview. If Oregon State wins they are Rose Bowl bound. Jacquizz Rogers is doubtful. Time to change my pick in the pool.
08:19 - Oregon State offensive lineman Andy Levitre just said on national TV that his girlfriend doesn't shave her armpits. I'm guessing he'll be relegated to sleeping on the couch for awhile.
08:27 - Fowler could not keep a straight face when wondering aloud if USC would have any problems with Notre Dame tonight.
08:29 - The OSU fans paddling the side of the GameDay wall remind me of "Thank you, sir. May I have another?" That's our second Animal House reference of the day.
08:38 - The first Chick-Fil-A reference of the day.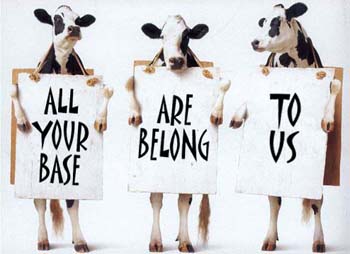 08:48 - Time for a quick bathroom break before Lee breaks out the headgear. I need the Idiocracy chair.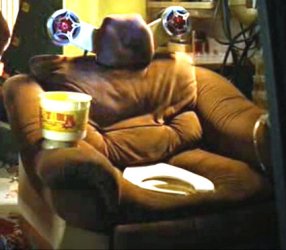 09:00 - Corso dons a horse head and starts screaming "Boomer Sooner!" At least he is not firing weapons into the air this morning.
09:00 - First set of games begins. Virginia Tech @ Virginia on ESPN and South Carolina @ Clemson on the Deuce. My primary game will be Georgia Tech @ Georgia on CBS with the occasional channel switch over to FSNWHD for Kansas vs. Missouri action. Game on!
09:07 - Our first fumble(!) of the day in the USC East - Clemson contest. CJ Spiller coughed it up at midfield. Smelley in at QB for the Gamecocks.
09:09 - Surprised it took over 2 hours into the day to hear some AC/DC.
09:14 - Knowshon Moreno already has 23 yards of rushing and Matthew Stafford just threw a 28-yard strike to AJ Green. Is it too late to change my upset pick? Yes? Dammit.
09:16 - Touchdown 'Dawgs! 7-0 Georgia.
09:16 - I have an inexplicable thing for the weird chick in the Progressive insurance commercials.

09:22 - UVA & VT tied up at 7-7.
09:24 - Paul Johnson decided to go for it on 4th down & 3. Bad decision.
09:30 - Moreno just got horse-collared right in front of a sideline official without a penalty. The official just shook his head from side-to-side when Knowshon pleaded for a flag. Why even have the rule if it is going to be selectively enforced?
09:32 - Chick-Fil-A commercial number 2.
09:34 - I just realized Trev Alberts is doing color commentary for the GT-UGA game. Awesome. I miss the abrasive smart alek. He should have some good insight into the triple option and how to defend it.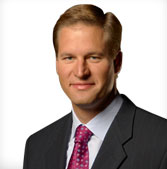 09:39 - Goal line stand by South Carolina forces a field goal. Clemson up 10-0.
09:42 - Pick six by Georgia Tech on a bad throw from Stafford. Then the Yellow Jackets botched the extra point. 7-6 Bulldogs.
09:44 - Chase Daniel picked off by the Jayhawks. I guess KU won't be handing out touchdowns like free candy. Fighting Manginos up 3-0 after a field goal.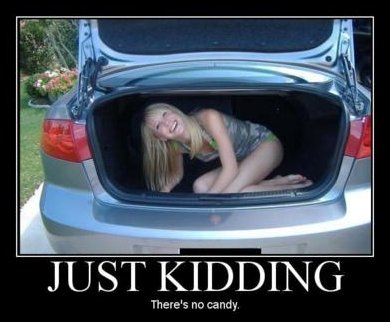 09:51 - A Bobby Bowden nacho cheese fountain in an All-State insurance commercial. That was sweet. I need to find a screen cap.
09:53 - Found the commercial.
09:57 - Touchdown Georgia. Stafford to Massaquoi. You know you watch too much college football when you can spell and pronounce MM's name without needing to look it up. 14-6 Classic City Canines.
10:06 - Georgia Tech answers with a touchdown then promptly botches a two-point conversion attempt. It is too early in the game to be chasing points. Just kick the damn extra point.
10:10 - Clemson is housing South Carolina 17-0 and Virginia Tech is laying a 14-7 egg against a team coached by Al Groh.
10:11 - I think Georgia runs about four plays as part of their base offense: (1) Knowshon right. (2) Knowshon left. (3) Stafford slant pass to Massaquoi or Green for a 25-yard gain. (4) Stafford sack.
10:12 - Of course as soon as I typed the last sentence the Bulldogs busted out a halfback pass. A little trickeration between the hedges.
10:13 - Touchdown Georgia on, surprise(!), a slant pass to Massaquoi. Get used to "Glory, Glory" Yellow Jacket fans. You are going to be hearing it a lot today.
10:15 - Chick-Fil-A commercial #3. I think we'll switch to counting these instead of the Bud Light commercials.
10:21 - Three Missouri possessions have resulted in two turnovers and one punt. 10-0 Rock Chalkers.
10:30 - Touchdown Tigers! Daniel to Coffman cuts the KU lead to 10-7.
10:38 - Touchdown Georgia! 3-yard slant pass to Massaquoi. 28-12 Georgia at the half.
10:42 - Intentional grounding in the end zone by Chase Daniel. Missouri down 12-7. Wonder if the Missouri folks would like to rethink that contract extension for coach Gary Pinkel?
10:46 - Taking a blogging break. Time for a shower and a little teeth brushing. Here is a how-to guide for you SEC fans unfamiliar with the concept.
11:04 - Cleaned up and fully clothed. The door is open, ladies. :)
11:09 - Goal line stand by Virginia. Cavaliers and Hokies all tied up 14-14. Mizzou is down 19-10 at halftime in Kansas City. South Carolina keeping it respectable at 24-14 in Clemson. Jonathan Dwyer just busted off a 60-yard touchdown run for the Yellow Flying Wasps. A two-point conversion finally worked. Bulldogs still lead 28-20.
11:13 - That was a whole lot of excitement for nothing. Matthew Stafford avoided being sacked twice and tackled in the end zone for a safety before lofting an incomplete pass down the sideline. The 230-pound quarterback looks like he could use a beer and a cigarette after all that running.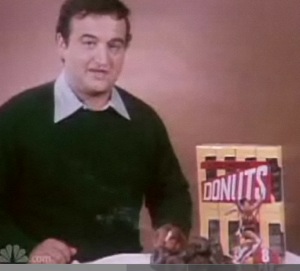 Breakfast of champions
11:30 - Touchdown Tech! Another two-point conversion. Paul Johnson in the new Les Miles. The nerds have tied the score 28-28.
11:31 - Chick-Fil-A commercial #4.
11:34 - Fumble(!) on the kickoff. Yellow Jacket ball on the Georgia 23.
11:35 - Wow. Touchdown run by Jonathan Dwyer on the first play. Surprised they didn't go for two. 35-28 Yellow Jackets.
11:36 - Out of here to grab lunch at McDonald's. I don't want to miss the end of the GT-UGA game or the start of the early afternoon contests. This wouldn't be a problem if a certain someone hadn't decided to travel all the way across country on rivalry weekend to spend some quality time with his better half.

12:01 - Back from lunch. #3, large size, followed by a Flintstones/aspirin chaser. The cute young lass working the McDonald's drive thru keeps calling me "Sir." It's a little disconcerting.

12:04 - Virginia has snatched defeat from the jaws of victory. That pretty much sums up the Al Groh coaching experience. The Cavaliers threw and end zone pick as they were marching for a potential game-winning score. They got the ball back with 1:51 to go but had an offensive series that could, at best, be described as putrid. Incomplete pass, incomplete pass, complete pass for zero gain, sack. Then Hokies defensive coordinator Bud Foster did his best Steve Ballmer impersonation and started running around the field like a madman.
12:17 - Knowshon busts off a 32-yard touchdown run to bring the 'Dawgs within 3. Kansas is up 26-23 on Missouri in craptacular weather at Arrowhead Stadium.
12:20 - South Carolina - Clemson final score: 31-14 Tigers. Spurrier might make a late afternoon tee time if he hurries through the post-game press conference.
12:25 - Roddy Jones answers for the Yellow Jackets with a 54-yard touchdown gallop. 45-35 Georgia Tech. The Ramblin' Wreck now have 400 yards rushing on the day. Yikes. Not a good day for Willie Martinez & crew.
12:32 - 30-26 Missouri after a Chase Coffman touchdown catch. I would like to see Florida play USC in a late November snowstorm somewhere north of the Mason-Dixon line.
12:35 - The Georgia Tech defense is vulnerable to the screen. It probably helps that Knowshon is the one matriculating the ball down the field.
12:37 - Stafford to Green. Another slant pass for a touchdown. 45-42 Yellow Jackets with 4:02 remaining in the 4th quarter.
12:40 - Touchdown Kansas! 33-30 Jayhawks. I need more televisions.
12:42 - Georgia Tech first down with 2:14 remaining in the game. Georgia has one timeout left. That could be it for the Bulldogs.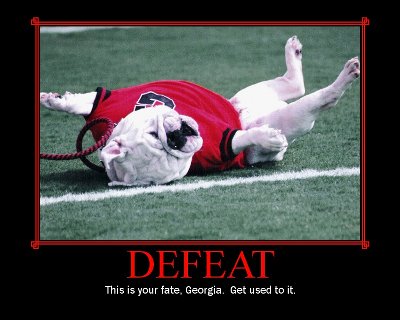 12:47 - GT-UGA final: 45-42 Yellow Jackets. Gimme my two points! Back to Mizzou - Kansas.
12:48 - Touchdown Missouri! 37-33 Tigers. 1:50 remaining.
12:54 - Iron Bowl underway in Tuscaloosa. Auburn punted after a failed offensive series. Expect a lot of that today.
12:59 - Punt 'Bama Punt.
13:01 - Touchdown Kansas! A 4th-and-7 touchdown pass puts the Jayhawks up by three with 27 seconds left on the clock.
13:03 - Why, Fat Man, why would you kick it to Jeremy Maclin? Mizzou ball on their own 38.
13:04 - One pass by Chase Daniel and now it's 1st down Missouri on the Kansas 36. Five seconds to go. 53-yard field goal or bust.
13:05 - No good! Kansas wins. I need a drink.
13:07 - Paul McGuire is in the booth for the Florida - Florida State game. Somebody please put this guy out to pasture. Gators up early 7-3.
13:13 - Touchdown Florida. That doesn't deserve an exclamation point because it wasn't all that exciting, especially for non-Florida fans. Gators up 14-3 after one quarter of action. It is pouring down rain in Tallahassee. Time for a wet T-shirt contest!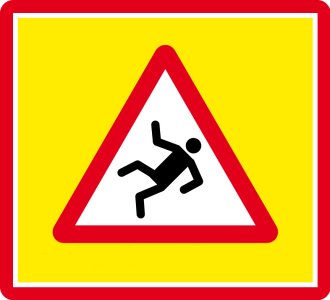 13:28 - Fumble! FSU ball in the red zone. I would be willing to wager they walk away with zero points.
13:30 - Chick-Fil-A commercial #5.
13:33 - Great Ozzy Osbourne commercial from the folks at Samsung.
13:36 - Field goal for the Seminoles. That's three more points than I thought they would score on that possession. 14-6 Gators.
13:41 - Alabama leading Auburn 10-0 in the second quarter. Florida marching down the field in Tallahassee. This early slate of games could get out of hand. The Gators should be developing a running game. It won't do any good to get Tebow hurt going into the SEC title game against Alabama.
13:46 - Percy Harvin goes down with an ankle injury. Uh ohs. Looks like a high ankle sprain. When I said develop a running game, I meant with actual running backs.
13:50 - Touchdown Gators. Short jaunt by Tebow into the end zone. 21-6 Gainesville reptiles.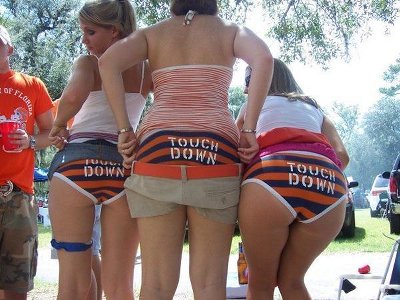 One, two, three Florida touchdowns ... ah ah ah!
13:55 - Sylvester Croom resigned from Mississippi State after a 45-0 beatdown by Ole Miss in the Egg Bowl yesterday. That's too bad for MSU. It's hard to build a consistent winner in Starkville, and Sly seemed to be going about things the right way. Well, except for getting clocked by your hated rival in the final game of the season.
13:57 - Chick-Fil-A commercial #6.
13:59 - Another field goal for the Seminoles. Three point trips to the red zone aren't going to cut it against Florida.
14:00 - Rob Stone, sideline reporter for ABC, just named his digestive tract as Performer of the Week. That falls into the too much information category.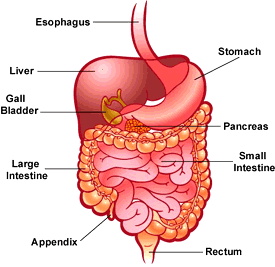 Rectum? Damn near killed him!
14:11 - Touchdown Gators! 28-9 Florida at the half after a failed fake field goal attempt by FSU. Alabama up 10-0 on Auburn. Texas Tech struggling with Baylor. It's 21-14 Baylor at halftime. A Texas Tech loss would give the Big 12 South crown to the Longhorns.
14:25 - "Texas Tech is messing it up. Baylor isn't." That's some fine commentary by the Versus color analyst. Crabtree is hobbled by an ankle sprain and Harrell injured his hand in the second quarter. Not good, unless you are a Texas fan.
14:37 - Touchdown Baylor! 28-14 Bears. Quite the barnburner in Lubbock.
14:45 - Gators rolling 35-9 over Florida State. Auburn just fumbled on their own 40, which of course was followed by a Tide touchdown toss on the next play. 16-0 Crimson Elephants after the extra point was blocked.
14:51 - I really did not to see a replay of Crabtree's ankle injury. Almost lost my lunch on the keyboard. Touchdown Red Raiders! Baylor lead has been cut to 28-21.
14:53 - Heineken Holiday Five Pack commercial. Classic.
14:58 - Florida State finally crossed the goal line during a trip to the red zone. And then promptly had the extra point blocked. Congratulations, Seminoles, you now trail 38-15.
15:00 - Onside kick try by Florida State. The Gators recover, and when the camera cut to the sideline he was jumping up an swinging his arms in victory like a kid at the Special Olympics.
15:10 - Things are bad enough for the Seminoles that Drew Weatherford is getting a shot at QB.
15:12 - Now D'Vontrey Richardson is in at QB. If you have three quarterbacks, it's really like having no quarterback. I think I could flourish in Jimbo Fisher's offense. Either handoff, get sacked, or chuck a jump ball up for one of the roboreceivers to grab.
15:14 - Fourth down fail by FSU. I'm switching back to Baylor vs. Texas Tech as my primary contest.
15:20 - Touchdown Red Raiders! Game tied at 28. C'mon Baylor. ... An 11 minute drive would be nice
15:27 - Dammit. An interception wasn't what I had in mind.
15:32 - And touchdown Texas Tech. 35-28. Baylor defense is gassed. Absolutely no pass rush whatsoever.
15:45 - Baylor turns it over on downs at their own 45. That should just about do it for the Bears. Gators and Crimson Tide cruising in the fourth quarter of their respective games. Kentucky - Tennessee now underway. Time for a quick catnap before the early evening games begin in earnest.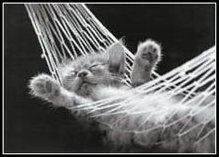 16:35 - Oregon has jumped out to a 10-0 lead in the Civil War oxymoron in Corvallis. I'd like to see the Beavers win but really need the points in the football pool.
16:43 - Touchdown Beavers! That's the Pac-10 defense I remember from my youth. 10-7 Oregon with 2:22 remaining in quarter numero uno.
16:47 - So much for Oregon State's momentum. Jeremiah Johnson ripped off a 79-yard run for the Ducks. One play later the OU-OSU score stands at 17-7.
16:59 - It took Tennessee seven tries to score a touchdown with the ball inside Kentucky 10 yard line. Volunteers lead 7-3 at intermission. Loser of this game finishes at the bottom of the SEC East standings.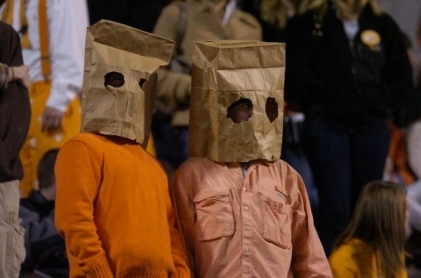 17:00 - Hello, Erin Andrews. How you doin'?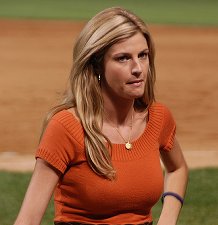 17:01 - Bedlam about to commence in Stillwater. Notre Dame ready to receive a beatdown in South Central L.A.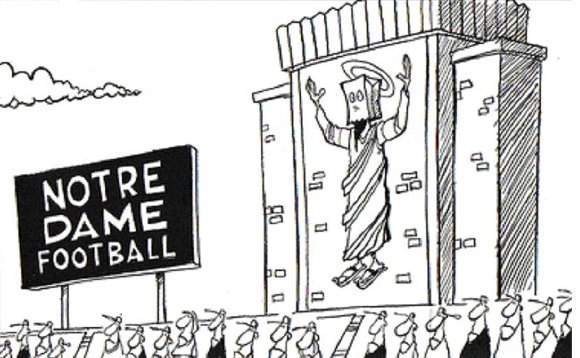 17:14 - Field goal to give Oregon a 20-7 lead. I think the Ducks are winning because they're not wearing the ridiculous uniforms with tread marks all over them. (Late edit - they actually are wearing the unis; it's just hard to see the tread marks on TV)
17:20 - Field goal for the Beavers. Now 20-10. I also appear to have lost the ability to upload images to my server. Dammit. This blog is going to be a lot less entertaining without cuadros.
17:26 - No Chick-Fil-A commercials yet on Versus. Oklahoma and USC leading their respective contests 7-0 in the first quarter.
17:41 - Ridiculously good punt by Oklahoma. 51 yards then a right turn out of bounds at the 1 yard line. Cowboys backed up, not unlike your toilet after a Taco Bell feast.
17:43 - Touchdown Ducks! 83-yard touchdown run by Jeremiah Johnson. Oregon State down 30-10. That's also bad news for the Big Ten, because Penn State is going to get pantsed by USC in the Rose Bowl. Switching over to Oklahoma @ Oklahoma State as my primary game.
17:47 - Holy shit! Oregon State threw a pick six and is now down 37-10. Wheels coming off for the Beavers.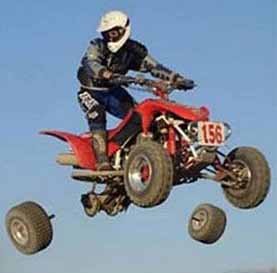 17:50 - Oregon State bounces back with a quick touchdown but is still down 37-17. Goodbye, Rose Bowl. Hello, Holiday Bowl.
17:52 - Finally back on track to upload pictures. Now it's time to go back to the Bedlam game. Sooners up 7-3 after one quarter.
17:59 - Touchdown Cowboys! The Fighting Boone Pickenses up 10-7 on the Land Squatters.
17:59 - Touchdown Oklahoma. That was rather mundane. A solid 14-play, 79-yard touchdown drive by the Sooners. 14-10 in the 2nd quarter.
18:15 - Tennessee has exploded for twenty third-quarter points to go up 27-3 on Kentucky. Did I miss Lane Kiffin's early arrival in Knoxville?
18:17 - Original USC takes a 24-0 lead into halftime. Sounds about right. Rumors swirling around the internets that current Cincinnati head coach will take over at Notre Dame after Charlie Weis gets thrown out on his rather large can.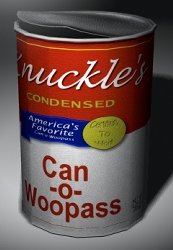 18:29 - Brent Musberger sounds like a man who knows a little too much about "Desperate Housewives."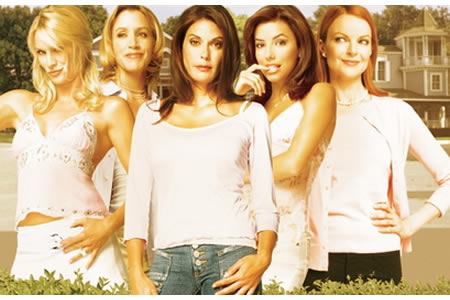 18:30 - Field goal by Oklahoma State. 14-13 with under three minutes to go in the first half.
18:43 - Oregon has jumped to a 44-24 lead in the Civil War. There are six minutes left in the third quarter, and the ducks already have over 500 yards of total offense. That deserves a "Yo!"
18:45 - Touchdown Sooners. A fumble nearly marred an impressive drive to close out the half. 21-13 OU. We're approaching the twelve hour mark of today's festivities. Burrito time.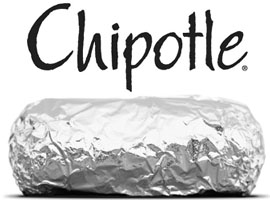 19:22 - Back from dinner, and it looks like I have missed a lot of excitement. Cowboys pulled to within 21-19 but then Oklahoma returned a botched two-point conversion attempt to take a 23-19 lead. Civil war stands at 51-38.
19:23 - Garbage touchdown by Oklahoma off a deflected pass. 30-19 Sooners.
19:29 - It took the Fighting Irish nearly three quarters to record a first down against the USC defense. So much for that decided schematic advantage.
19:36 - Zac Robinson answers with a touchdown to pull the Cowboys within four.
19:39 - Mack Brown lobbying for Texas. Might not matter too much if Oklahoma State beats OU, giving Texas Tech the Big 12 South title.
19:41 - Oregon State is down 65-38 in Corvallis. Sixty-five points is a new record for most points surrendered by the Beavers. Not the kind of record you want to be setting with a Rose Bowl berth on the line.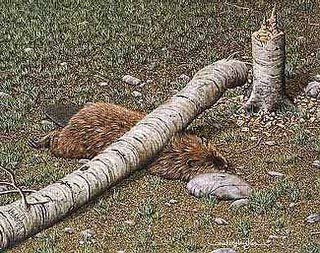 19:47 - Another fumble in the red zone for Sam Bradford, this time on 4th & goal. He recovered and ran it in for a touchdown, though. Sooners in control 37-26.
19:59 - Hey, Notre Dame scored! And so did USC. Trojans win 38-3. Fighting Irish were held to 91 yards of total offense. Ha ha ha ha ha ha ha. OK, I think I'm done ... nope. Ha ha ha ha ha ha ha. Let's celebrate with the Song Girls.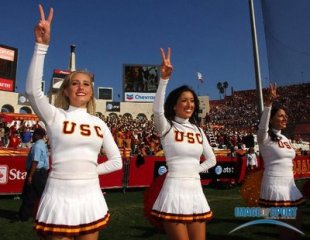 20:00 - Touchdown Oklahoma State. The Big 12 is the new Pac-10. 37-34 after a successful two-point conversion. Getting interesting in Stillwater.
20:05 - The final game of the evening, Washington State at Hawaii, is underway. But I can't seem to find it on TV. Why the hell am I paying for GamePlan then, ESPN? Get your crap together.
20:09 - Another 4th & goal touchdown by Oklahoma. Sooners take a 44-34 lead.
20:13 - Of course the Cowboys returned the kickoff for a touchdown. Lead back to three. 44-41 Sooners.
20:20 - Oklahoma lead back to ten, 51-41.
20:37 - And now it's 54-41 with two minutes left to play. OU just recovered a fumble with two minutes left in the fourth quarter. I'm calling this one. Let the BCS politicking begin.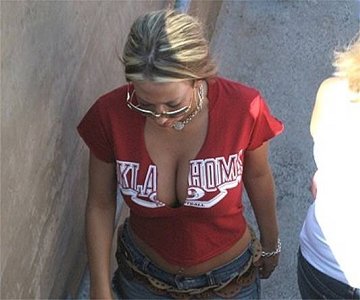 Boomer Sooner, indeed
20:39 - The Oklahoma mascot is breakdancing to the beat of Zombie Nation on the sideline. That was surprisingly disturbing.
20:45 - Final score: 61-41 Sooners. I need more football!
20:46 - I'm off to the internets in search of the Wazzu vs. Hawaii contest. The first step toward addiction recovery is admitting you have a problem.
20:57 - Haven't tracked down the game yet, but I did manage to find an article on the origin of jort insults toward Florida Gator fans.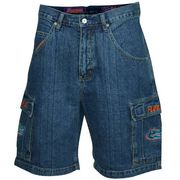 21:07 - Corso dropped a "What the hell were you thinking?" question during an interview with Sam Bradford when questioning his attempt to dive into the end zone for a touchdown.
21:08 - Hawaii leading the Cougars 14-3 in Honolulu.
21:21 - College Football Final underway. I still can't find the Rainbow Cougar Crapfest (that would make a great band name for some older lesbian rock group) on TV or the intarweb. Found the Shamwow guy, though.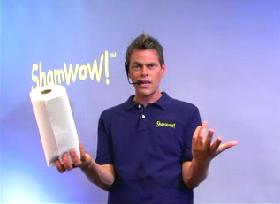 21:33 - "If you can't get a first down, you can't stay around!" should be the new rallying cry for firing Charlie Weis. Kudos to Mark May. Lou Holtz is a blathering idiot. Can't we just let bygones by bygones and bring back Trev?
21:34 - "If you can't compete in the show, Charlie you must go!" Another gem from Mr. May.
21:46 - Holtz says pollsters should ignore the head-to-head results when ranking Texas and Oklahoma. He wasn't singing that tune back in 1993 when being left out of the national title game despite beating Florida State in South Bend. The ironing is delicious.
21:48 - Time to take out the trash and make a mail run.
21:52 - Bills and bank statements. I should probably work up the Week 14 results for the college football pool.
22:02 - Andy and Sarah tied for Week 14 honors, followed closely by me and Daryl. Steve K is still killing everyone in the season standings.
22:10 - Why am I supposed to give a flying rat's ass about an All-American Rejects concert in Columbus? I liked the good ol' days when ESPN focused on sports instead of infotainment.
22:14 - College Football Final ends. Crap. I'm running out of things to watch.
22:15 - Kentucky @ Tennessee replay is showing on ESPN2. Fulmer's finale is an instant classic?
22:25 - Hawaii leading Wazzu 24-10 after three quarters of action.
22:26 - Tennessee's offense is ranked 116 out of 119 teams in Division 1-A football. The only three who are worse? Vanderbilt, Washington State, and Central Florida. Ouch.
22:29 - Do Auburn's independent study courses count toward making players eligible for the SEC Academic Honor Roll? Because that would explain the numbers spouted by Mike Slive in his latest conference-boasting commercial.
22:49 - Erin Andrews reporting that Peyton Manning and Phillip Fulmer have ridden horses up to Rocky Top. Nothing gay about that. No sir.
22:50 - Nothing gay about the Hawaii Rainbow football players, either. They hold a 24-10 lead over Washington State with under four minutes to go in the game.

22:55 - Does anybody else think the Bud Light "drinkability" commercial chick resembles Cameron Diaz in There's Something About Mary?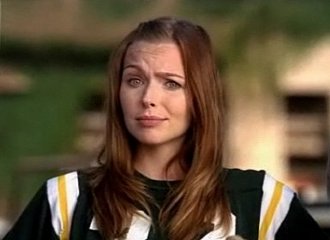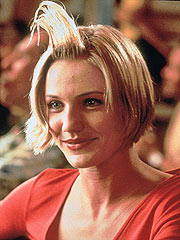 23:00 - Sixteen hours and counting. I think we'll wrap this up when the final gun sounds at Aloha Stadium.
23:10 - Final score from Hawaii: Cougars 10 - Rainbows 24. The brat next door is crying, so I think we've come full circle for the day. Time to call it quits. Hope everyone enjoyed today's exciting football action as much as I did.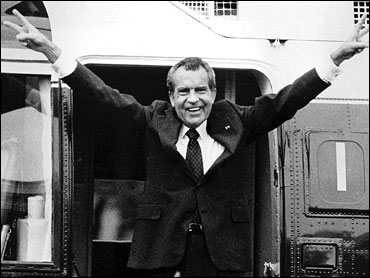 Dulces sueños, Buena suerte to all, and Go Illini!
Dr. T