The A-Z of my trips to Morgantown for Auburn vs. West Virginia and Tallahassee for Virginia Tech vs. Florida State.
A is for Archie. No, not Archie Manning. Not Archie Griffin, either. Archie Eversole. His "We Ready" anthem was the theme music for West Virginia's pregame team gathering / circle jerk / whatever the hell it is when the team huddles up before the game and then starts jumping around like banshees and waving their helmets. The song works. It's 3 a.m. and I'm getting fired up now just listening to it. Time to go down to the parking lot and find someone to tackle.
B is for Bobby Bowden. The septuagenarian head coach for the Florida State Seminoles ranks second all time in victories and bowl game wins. The elder statesman was at West Virginia for six years before taking over the reigns at FSU.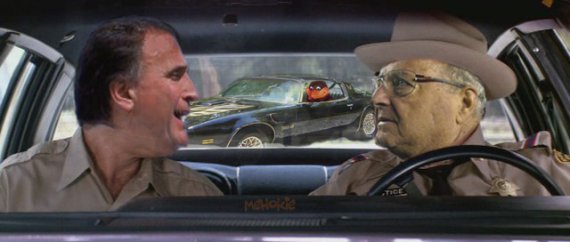 "There's no way, *no* way that you came from *my* loins.
Soon as I get home, first thing I'm gonna do is punch yo momma in da mouth!"
C, as always, is for Cookie.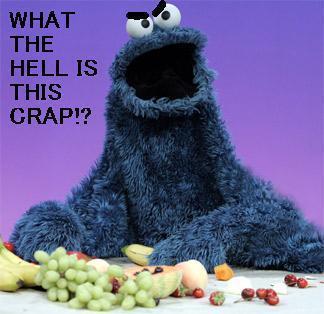 And C is, once again, for Crack-Fil-A. My vacation was filled with chicken sandwiches from the poultry mecca followed by a quick trip to McDonald's for fries & a Coca-Cola. Somebody should probably go ahead and book me for a preventative angioplasty in 2013.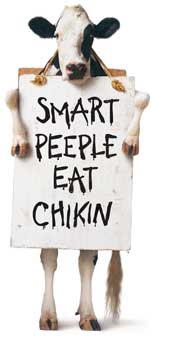 Ch (we're going Spanish alphabet today!) is for Chinook helicopters. Four of these bad boys made a low altitude flyover of Doak Campbell Stadium at the conclusion of the national anthem. Decorated with an FSU logo on the underbelly, the choppers thumped chests with their spinning rotors and worked the crowd into a frenzy. None, unfortunately, were decorated with naked lady camouflage. Perhaps next time.
Ch is also for Chocula. A case of the Count's finest will be awaiting me upon my return to Granola Land. It's hard to express how grateful and thankful I am that I can travel 3000 miles to watch college football then fire up the internets to order a case of cereal to be delivered at my doorstep for when I return home.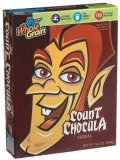 D is for Doak Campbell Stadium, home of the Florida State Seminoles.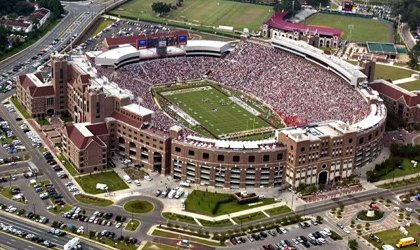 E is for Erin Andrews. My Thursday night streak of games with Miss Andrews in attendance continues, and likely will do so until the inevitable restraining order arrives in the mail.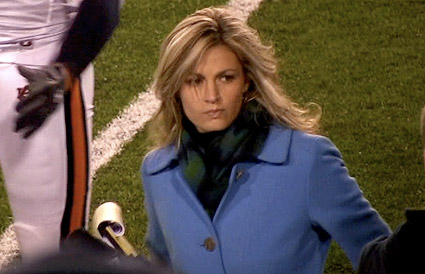 E is for Eat'n Park - Shouldn't it be Park'n Eat? This question nagged me for the entire duration of my glorious football vacation. I guess it would be kind of hard to rectify after they printed up signs and started advertising.

F is for Fireworks. In the West Virginia tradition of setting things on fire in hopes of big explosions, they had a fireworks display at the end of the band's halftime show. Coupled with the helicopters taking off from the adjacent West Virginia University Medical center, it led me into flashbacks of Red Dawn proportions. No crazy Commie bastards to be found in Morgantown, though. Please take note Madison and Ann Arbor.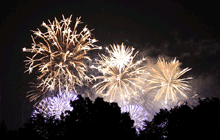 G is for Grill. No, not a George Foreman Grill. Noel Devine's grill. The West Virginia running back has enough bling in his pie hole to make third world countries jealous. Come to think of it, ND may have fathered enough chillen to start his own third world country. And they could all wear their grillz to support Noel as he does things like roll up 207 yards rushing against a stout SEC defense on national television.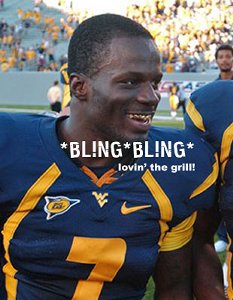 H is for Hot chicks with douchebags. Sorry to break it to you West Virginia fans. You could walk around Morgantown for a few hours with a camera and get a lifetime's worth of pictures for the infamous web site.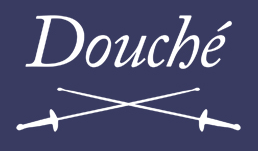 I is for incompetent officiating. Surprise! It's not the Pac-10 this time. This week's "award" goes to Big 10 replay officials, who clearly don't know the end zone out of bounds rules. Witness the video below of this debacle from the MSU @ Meeeeshigan game. Also note that Spartan fans aren't above a little gloating after defeating big brother in the Big House. And Michigan isn't above a little petulance. You know your program is small time when the score of a game against your rival is printed up on a T-shirt with a catchy little slogan.
J is for Jenn Sterger. Unfortunately for me (and by extension, you, dear readers), Miss Sterger was not in Tallahassee for the Virginia Tech vs. Florida State contest. But did you honestly think I could go to a Florida State game and not bring up this member of the triumvirate? Now that I think about it, we're going to expand it to a quadrumvirate - Stacy Dales is added to the list after going through the big D and dropping the hyphenated last name.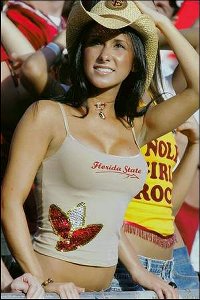 K is for Kickoff returns. Auburn and Virginia Tech both averaged over 30 yards on kickoff returns but ultimately failed to convert good field position into victory. Credit the West Virginia and Florida State defenses, respectively, for stepping up to keep their opponents in check.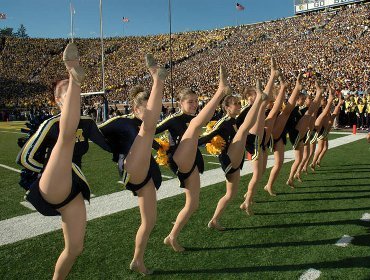 L is for Lottery. Powerball advertisements were prominently displayed inside Milan Puskar Stadium. They actually had a promotional giveaway where a row of people in one section were given $10 worth of Powerball tickets (each). It's not a good thing when your fanbase spends more money on the lottery than dental care.

LL is for Lloyd Carr Coaching Move of the Week (LCCMOTW). This week's "award" goes to Northwestern coach Pat Fitzgerald for leading the #23 Wildcats to defeat against Indiana. No particular boneheaded move on his part. It's more of a full game achievement award for losing to the Hoosiers. I give the Northwestern fans credit, though, for excessive oral celebration.

Behold the power of lesbians!

M is for Mountaineer Field at Milan Puskar Stadium in Morgantown, WV. More M&M's than specified in a Van Halen concert rider.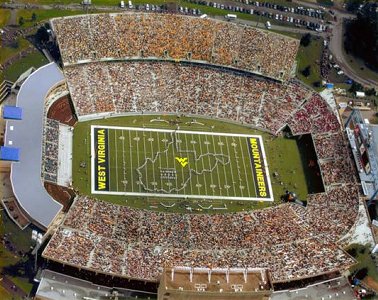 M is also for Myron Rolle. The Florida State safety had several pass breakups and key tackles for the Florida State defense. In addition to being an All-American candidate, he's also a potential Rhodes Scholar. And he's going to graduate in three years (insert Circus School joke here).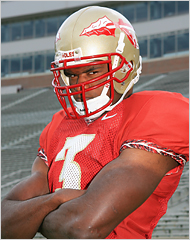 N is for Noel Devine. Packing a punch in a pint-sized package, the Mountaineers running back had six runs of 20 yards or more against (what was) the nation's 9th-ranked defense. S-E-C?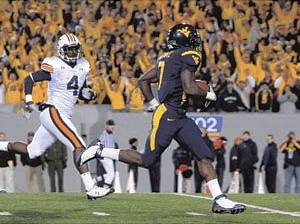 Ñ is for Ñanga (swampy, marsh-like ground). I saw a lot of this in Florida. Too much, really.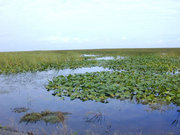 O is for Osceola. For the uninitiated - prior to the start of Florida State contests, a man dressed as an Indian rides a horse to midfield and throws a flaming spear into the ground. That's a nice big F' you to the PC crowd. It would be even better if the spear was thrown into a dummy dressed up with the opponents' uniform.
O is also for offense, but not at Seminole Field. Contests in Gainesville, Baton Rouge, Kansas, and Missouri made a mockery of defensive coordinators. Offense was in short supply for Virginia Tech and Florida State. Neither team rushed for 100 yards or topped 200 yards passing. FSU defensive coordinator Mickey Andrews has the Seminole D looking like some of those scary squads from the 80's and 90's. They put two quarterbacks out of the game with injuries. I wouldn't have even stepped on the field if I was the Hokies' third string quarterback. (I know the image below is from last year, but it is too funny not to post)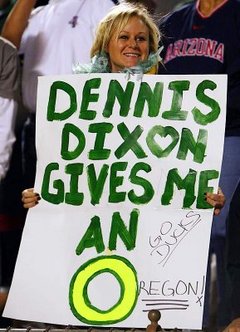 P is for Primanti Brothers. They shouldn't call what this restaurant serves a "sandwich". It should be called "The Destroyer", because that is exactly what you'll do to a toilet several hours after consuming one of these monstrosities. And, if you're lucky, it will be in the comfort of your humble abode and not in a rest stop along I-79 at 1 a.m. My sincerest apologies to the poor Pennsylvania state worker who had to deal with the aftermath.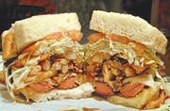 P is also for Patricks. West Virginia QB Pat White threw three touchdown tosses and kicker Pat McAfee booted two field goals and four extra points in the Mountaineers victory over the Auburn Tigers.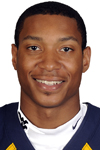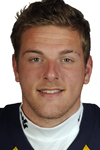 They're practically identical twins
Q is for Queen. The West Virginia Band's halftime show kicked off with Queen's "Bohemian Rhapsody" melody. I just assumed it was going to be constant John Denver and Rednex. Boy was I wrong (and disappointed).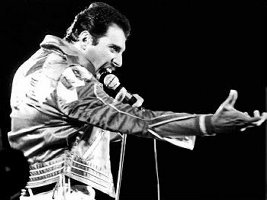 Definitely not John Denver
R is for Riverboat Gambler. Tommy Tuberville further cemented his Riverboat Gambler status with a successful onside kick after going up 17-3. Unfortunately for the Tigers it was all downhill after that, as the Mountaineers reeled off 31 straight points to seal the victory.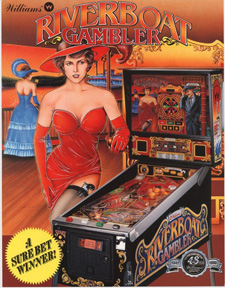 R is also for Renegade, the horse that Chief Osceola rides throughout the stadium.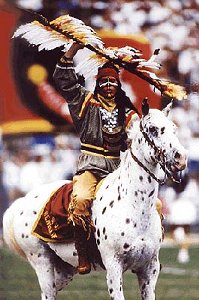 S is for Spongebob Squarepants. After every successful extra point or field goal by Mountaineer placekicker Pat McAfee, the scoreboard at Milan Puskar Stadium played the following clip from the "Something Smells" episode of Spongebob Squarepants.
T is for Tallahassee and tailgating. Thanks to Kim and her amigos/amigas for letting me crash their tailgate on Saturday. Plenty of adult beverages and quite possibly the best hamburger I've ever had. A few cervezas and a little sailing with the Captain contributed to the festive mood.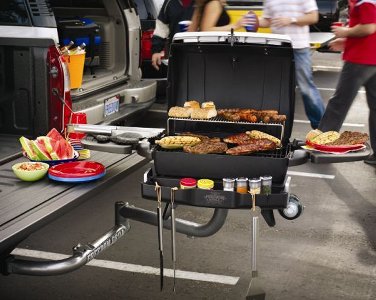 U is for Undisputed. Texas remains #1 in the nation after defeating their third straight Top 12 team. Their reward? A trip to Lubbock to take on Mike Leach's Red Raider squad. Guns up! ... Alabama remains a solid #2 after disposing of Tennessee on the 3rd Saturday in October. Crimson Tide fans are wondering why they haven't risen to the top of the polls and, Lord help us all, they seem to have discovered the internets.
V is for Voters. Whether it be the 2008 Presidential election or the teams vying for selection in the BCS title game, everybody has something about the one (or all) of the candidates that they don't like. So get out there and rock the vote (or start yourself a blog to make fun of other teams that are superior to yours - worked for me!).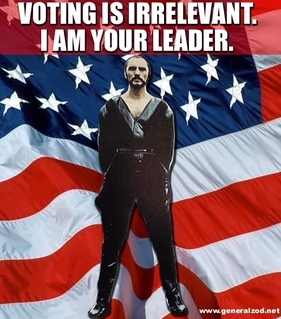 Kneel before Zod!
W is for War Chant. When done by yourself, the Seminole war chant and chopping motion (and the Gator chomp/clap, for that matter) make you look like the retarded cousin that everybody disowns at the family reunion. When done in unison with 90,000 other maniacs, it is quite an impressive spectacle. Holly's participation, or lack thereof, in the ritual is the main reason the game was in doubt until the 4th quarter.
W is also for West Fuckin' Virginia.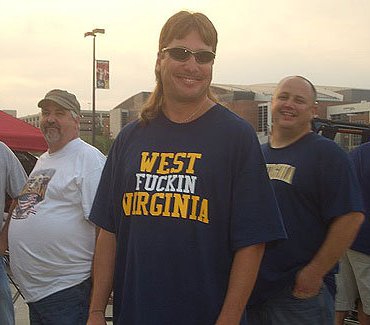 X is for Xavier Lee. The former Seminoles QB often frustrated coaches and fans with his flair for the dramatic and the disastrous, often within the same play. Mr. Lee signed with the Baltimore Ravens as an undrafted free agent in 2008 but was later released. He is currently listed as a wide receiver with Southern New Hampshire Beavers of the New England Football League.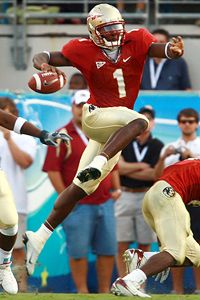 Y is for YMCA. At the 10:45 mark in the 3rd quarter (the exact time of the game is unfortunately engraved in my mind), the loudspeakers at Mountaineer field burst forth with the Village People. The cameras immediately cut to a rather portly fellow who proceeded to get jiggy and jiggly wit' it, much to the crowd's delight. The video, while technically safe for work, should not be viewed by women, children, or people with heart conditions.
Z is for Zoinks! Georgia hung 52 on Les Tigres in Death Valley. I was all set to make a fancy comment about how that had not happened since a guy named Curly was coaching the Bayou Bengals, but the intarwebs quickly reminded me that Arkansas dropped 50 on the Tigers last year when McFadden and Jones matriculated the ball up and down the field on Thanksgiving weekend. Knowshon Moreno had a good day, no doubt motivated by the LSU fans who called to wish him good luck prior to the game. After the loss, despondent LSU fans remained oh-so-classy and level-headed. At least somebody has finally gotten to the bottom of this corndog business.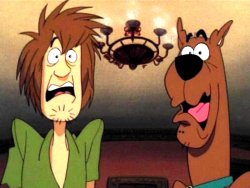 Zoinks!
Dulces sueños, Buena suerte to all, and Go Illini!
Dr. T