It's been a long offseason. Technically not any longer than previous years, but you know what I mean Captain Calendar Counter. It has been eight months since young lads have graced the gridiron, donning your favorite team's colors, causing young boys to dream, turning middle-aged women into cougars, bringing old men to tears, leading snarky college football fans/pseudo-bloggers to write run-on sentences with too many commas ... the usual rites of Fall passage. I assume everyone is ready. If not, please take this quiz to brush up on your college football traditions and to prepare for the ass-whoopin' I'm going to hand down (yet again) in our college football pick 'em pool.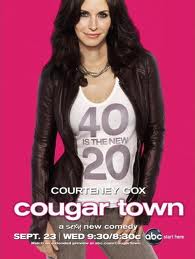 What a cougar may look like
My preparation is well underway for the start of college football season - 7:30 p.m. EST on Thursday, September 2, to be exact. Fridge is stocked, McDonald's coupons are in hand, DirecTV sports pack and ESPN GamePlan have been purchased, and I finally broke down and bought a DVR. Why, you ask? Because College Football GameDay now starts at 6 a.m. Pacific Time. Whiskey. Tango. Foxtrot? The lovely Erin Andrews will be hosting the first hour of programming. ESPN has thus succeeded in annoying their target audience (drunken college-aged males + me) by putting EA on the tube at the crack of dawn. At least the televising will be with Miss Andrews consent this time around (yeah, I went there - because if my career had been ripped apart, the first thing I would do would be to go on Dancing With the Stars and shake my goods for the cameras.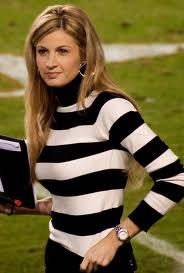 Where's Erin?
In spite of a late charge (pun intended) by Missouri, Georgia took home the 2010 Fulmer Cup crown. SEC! SEC! SEC! ... Offseason shenanigans were not the only things keeping fans entertained this summer. Jim Delaney, Big Ten Commissioner and The Right Hand of God - or Beelzebub, depending on your point of view - set the conference expansion wheels in motion by plucking Nebraska from the Big Twelve. Purdue and Indiana are looking forward to continuing their dominance over the Cornhuskers. Read this amusing and totally accurate narrative on the conference do-si-do. Allow me to summarize. Big Ten says time to expand. Every non-Catholic, non-SEC team within a 1000 mile radius of Lincoln Park, IL, shouts "Pick me!" Pipe dreams of Texas abound. Colorado says later Big 12 dudes. Missouri does everything short of public fellatio of Jim Delaney in an attempt to garner a Big Ten invite. Nebraska rattles their cornstalks/sabres. Dan Beebe issues ultimatums. Boise State moves to the MWC. Big Red bolts the Big Twelve for the bigger bucks of the Big Ten. Texas, Texas A&M, Oklahoma, and Oklahoma State flirt with the Pac-10. Everyone at Missouri, Kansas, Kansas State, Iowa State, Baylor, and Texas Tech freaks the fuck out. Texas A&M and Oklahoma flirt with SEC. Nevada and Fresno State bolt the WAC for the Mountain West Conference. BYU shuns the WAC for football independence. SEC sits around counting their piles of cash. Big East remains nervous. ACC is still trying to convince people they are a big boy football conference. Big Twelve stands pat at ten after the expansion dust settles. Big Ten will have twelve members. Utah bolts to Pac-10, who will have twelve members. Can't you people count?!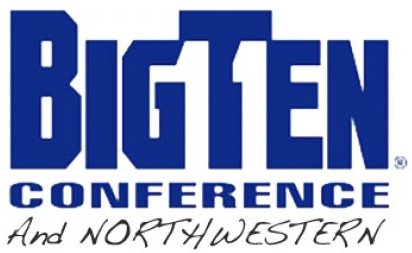 Proposal for the new Big Ten logo
Since my work sabbatical is over and Erin will be stuck doing Saturday shows at the GameDay locations, I'll no longer be stalking following her around the country to various college football venues. Tentative schedule has me penciled in for four contests - Miami @ Pittsburgh, Texas A&M @ Oklahoma State, Washington @ USC, and Illinois @ Fresno State. Game on! As dictated by the college football pool rule book, we kick off the year with a round of insults directed toward the home teams of all those diehards brave enough to participate in our pool. Tradition also dictates that we start with my alma mater. On with the show!
Illinois

Only things missing are the Illini uniforms
I didn't think it could get much worse after a craptacular 2008 season, but hoo boy!, the Fighting Illini coaching staff proved me wrong in 2009. Ninja QB Juice Williams finished with the 5th highest career yardage record in conference history but was reduced to a shell of his former self. Rejus Christ SuperStar decided that pursuing an NFL career would be better than catching football bullets fired at his ankles and three yards behind his head. The offense, along with the coaches brains, stalled. The defense could not stall anything. Red Grange rolled over in his grave. Dick Butkus tackled the checkout clerk at the local Save-a-lot. Just an ugly scene all around. The solution? Keep the head coach responsible for the mess (bad), fire the offensive coordinate (WTF?), demote the defensive coordinators (good), and hire two outsiders to be the brains of the operation (excellent). So remind me what the Zooker does again. Besides water ski, coach the worst special teams unit in the conference, and reel in increasingly subpar - even by Illinois standards - recruiting classes.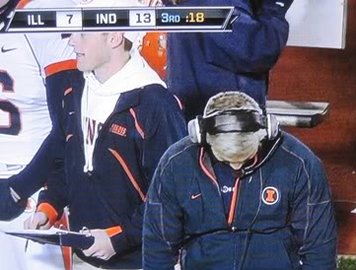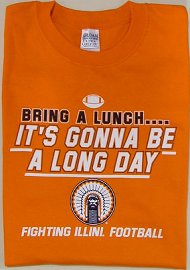 Long day? More like a long decade.
The Fighting Injuns kick off the 2010 campaign against Missouri in St. Louis. I hope they are checking IDs at the door, because it is going to be an NC-17 affair. The Illini are breaking in a new quarterback, a new linebacking corps, and oh by the way just lost two starters from the secondary. Mizzou QB Blaine Gabbert is going to become an instant Heisman contender. But cheer up, Illini fans. Things could be worse. For instance....
Michigan
Listen up, Blue people. I've been calling for a fight song change for a few years, with all my cries falling on deaf ears. Guess the UM officials are too busy ignoring NCAA rules and fending off lawsuits and whatnot. I understand, things are busy in Ann Arbor. Let the record note, however, that the ... cough ... fine folks ... cough ... at Kansas are finding a way to modify their fight song to account for the times. So wolverine up, men and women o' Maize, and tweak that catchy circus tune to reflect your current stature.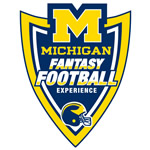 Fantasize back to a time when your team was relevant
I had a lengthy diatribe queued up and ready to roll about how the decline of the industrial industry in the Upper Midwest mirrors that of the Michigan football, but then I decided that the on-the-field record speaks for itself. Hail to something valiant, because it sure as hell ain't the victors. To resurrect the once proud Wolverine program, the UM brass went out and hired a Domino's Pizza employee. So I have a few questions. :) Will there be any guarantees that the season won't collapse within 30 minutes of taking the field in the season opener against Connecticut? Is the Noid going to be the new mascot? What happens if Michigan receives an invite to the Birmingham, formerly PapaJohns.com Bowl? Does the AD have enough clout to get Coach PaperShredder a new job after another 3-9 season?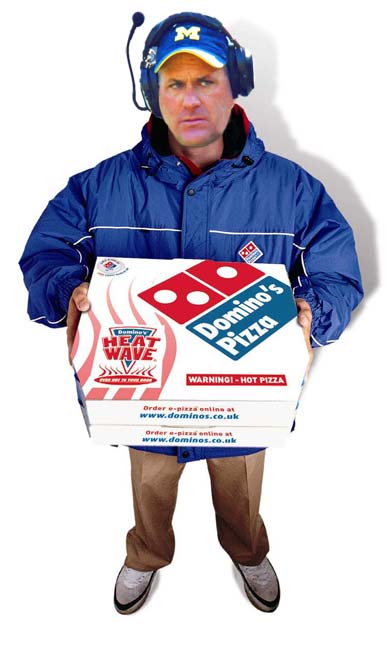 Under 30 minutes or your next NCAA violation is free
With an NCAA slap on the wrist looming and an 8-16 record as Michigan's embattled head coach, Rich Rodriguez needs to get his mierda together in a hurry. Good luck trying to do that with a secondary thinner than kids in a Sally Struthers commercial and choices at quarterback among (1) a true freshman - Devin Gardner, (2) a sophomore who seems to be unable to tie his shoes - Denard Robinson, and (3) the former incumbent sophomore QB who spent most of the summer in the doghouse due to his work ethic and interactions, or lack thereof, with the team - Tate Forcier. Good luck with that!
Northwestern
You people again? Despite making fistfuls of cash and employing servants who graduated from other Big Ten schools (SEC applicants didn't make it past the resume screening phase), the Wildcats are still having trouble filling up the seats at Ryan Field. Maybe it has something to do with that damn annoying sound. You would think they might show up just to brag about their trust funds and trophy wives. Nope. Not happening, sir. They've even taken to moving home games to Wrigley Field in order to drum up interest. I guess they figured they can lose there just as well as the Cubs can. At least one team from Illinois will win that game.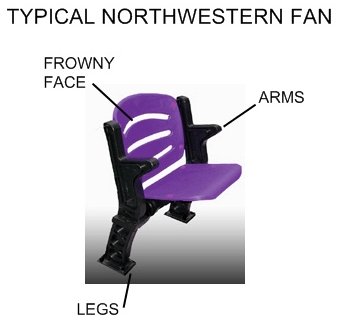 Not pictured - purple pullover, cell phone, fancy watch, ginormous wallet
The Ohio State University
Ohio State is bucking tradition and inaugurating the season at the Horseshoe on a Thursday evening. That should give the resident nutjobs plenty of time to get liquored up and in midseason, speech-slurring form. Marshall, Marshall, Marshall provides the opening night fodder. If you are in need of tickets and look good in a bikini, contact this fine, upstanding tOSU fan. And watch out for Maurice Clarett while you are on campus. The former scarlet & gray running back is fresh off a prison stint and is now enrolled in classes at tOSU. Some, including me, would argue that there is not much difference between those two situations.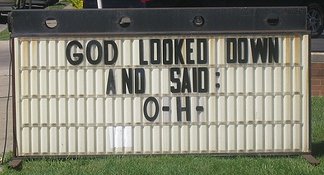 N-O?
The Buckeyes are the odds-on favorites to win the Big Ten this year. They will go as far as Terrelle Pryor's takes them. The next time he hits the second receiver in his progression will be the first, so it will be up to Coach SweaterVest to put him in a position to succeed. Either open up the offense like you did in the Rose Bowl against Oregon, or enjoy being the 2010 version of 2009 Nebraska - minus the friendly fan base. A Week 02 matchup against Miami (the real one, not the Zooker's alma mater) in Columbus looms large. Travels to Madison and Iowa City won't be picnics, either. And good luck in Champaign ... ha ha ha ... I almost said that with a straight face.
Penn State
I fully expect a more competitive Penn State team this year now that JoePa can finally see what in the tarnation is going on. Seriously, coach, please go back to using Coke bottle glasses. You're scaring your great-grandchildren, your players, Penn State fans, the TV audience, me, and pretty much everybody with 20/20 vision. I won't even post a picture here out of fear that it might melt the intarweb tubes. The guy who portrays Nittany Lion mascot was so freaked out that he inebriated himself into an arrest. That would have been much more awesome had he been wearing the costume at the time.

Holy cow!
The Youngstown State, Kent State, and Temple pupu platter should look familiar to PSU fans used to feasting on non-conference cupcakes. Someone at the printing press must have been in a practical joke sort of mode when the schedules were published, though, because there appears to be a game @ Alabama on the second Saturday in September. The Nittany Lions searched high and low for a new starting quarterback to replace the recently graduated Daryll Clark. JoePa settled on Robert Bolden, who will become the first true freshman QB to start for the Happy Valley contingent in almost twenty years. Two others should get playing time in the Week 01 tuneup. Better get the walk-on quarterbacks some reps, too, because you'll be down to Mickey Mouse after the Crimson Tide front seven have their way with you in Tuscaloosa next week.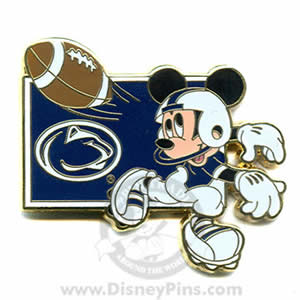 Wisconsin
Coach AnkleTattoo and his minions are a dark horse contender for the Big Ten title, assuming QB Scott Tolzien stays healthy, running back John Clay keeps his appetite in check, and the Badgers don't pull another November choke job in the state of Michigan. But enough about football. It's becoming increasingly difficult to ridicule Wiscosonites, especially when the Badgers are continually kicking FIB tail up and down the football field. I've already poked fun at their cheese, their politics, their women, their weight, and their women's weight. Although, let's face reality; I would not mind being a fat, old, rich politico who sits around watching football and eating blocks of cheese the size of car batteries. On a tangentially related note, for a limited time McDonald's is offering 50 McNuggets for $9.99. Epic deal of the century.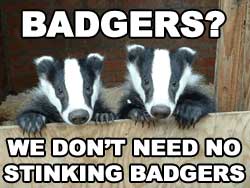 Alabama
Of course they're displaying the BCS national championship trophy at Walmarts in Tuscaloosa. Maybe the Crimson Tide ticket office was distracted by the sparkly trophy, because they forgot how to spell Mississippi. Or maybe Bryant-Denny Stadium is just full of mental midgets who are incapable of spelling any state with a name longer than four letters long (don't gloat, Ohio State fans - you've got your own issues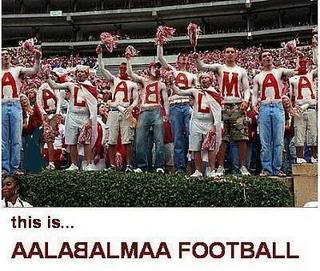 September contests vs. Penn State and at Arkansas will set the tone for the rest of the season. Circle November 18th on your calendars. That's when former Elephants coach Bill Curry brings his upstart Georgia State squad to Tuscaloosa for a late-season tussle. Last time Curry was coaching in Tuscaloosa County bricks were being chucked through his window after losses to conference rivals. Now his team gets to serve as tune-up fodder prior to the Iron Bowl.
Florida
No stealing?! No drugs?! No weapons?! What else is there to do in Gainesville on a Sunday morning? Besides smack around a few 'ho's to keep a party going. Perhaps if Coach FingerPointer wasn't on vacation so much the troops might be a little more disciplined. Of course, Urban might not need such vacations if he wasn't so stressed from choking (both on and off the football field). I'll refrain from the obligatory Tebow fellatio joke.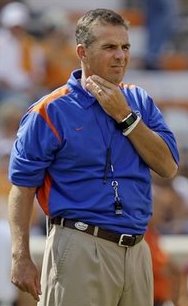 The 2010 Florida Gators season shall henceforth be known as Life After Jesus Christ TebowStar. John Brantley (sorry, ladies, no shirtless pics - I feel the overwhelming need to erase my Google search history after trying to track some down for you) takes over QB duties and should provide an upgrade in the passing department. The ...Swamp reptiles have plenty of weapons in the backfield but will need to find a workhorse to replace JCTS in short yardage situations. If past FingerPointer history is any indication, the defense and special teams will need to excel while the offense comes up to speed. Maybe they will unleash secret weapon Tom Treebow early and often to strike fear in the hearts of SEC opponents.
LSU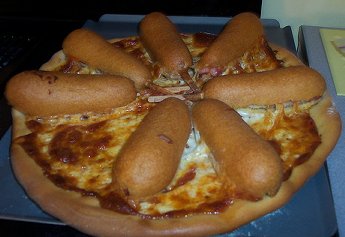 I love LSU season previews because a simple posting of a corndog or trucker hat picture will cause 95% of my readership to violently nod their heads in agreement. It also gives me a chance to type one of the best names in college football: T-Bob Hebert. T-Bob & Co. need to get it in gear this year on offense. The Bayou Bengals ranked 112th (out of 120) in total offense last year. Les Tigres return a bevy of NFL-caliber receivers, and quarterback Jordan Jefferson should improve with another year of experience under his belt. Playcalling and clock awaredness remain huge purple question marks. Hopefully Coach TruckerHat's game management abilities will improve by loosening a notch or two on his cap. Heading down to the local playground to get some tips is a good start.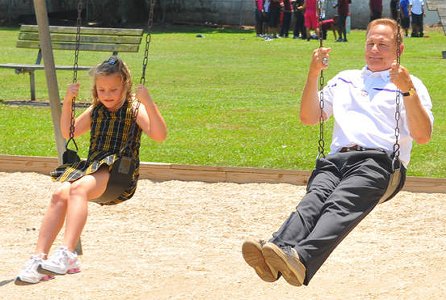 Tennessee
Former Volunteers head coach Lane Kiffin left proverbial scorched earth and literal tread marks on his way out to Southern Cal in January. New Volunteers head coach Derek Dooley's wife is a gynecologist, so he was the perfect coaching hire to placate the pussies in Tennessee who were lamenting their fall from prominence. Fans of the unnatural shade of orange are so desperate for a winner they are ignoring the fact that Double D is the son of rival Georgia icon Vince Dooley. Things will be o.k. if the football players show as much fight in September as they did during a July bar brawl. If not, then the new coaching staff needs to recruit, recruit, recruit. Rocky Top dwellers have already offered up a custom-made, candy-dispensing attention-grabber to lure young men to Knoxville.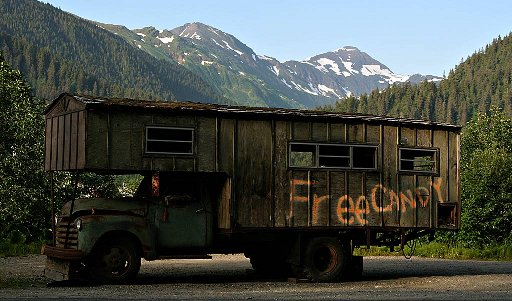 Free candy!
Missouri
An eventful offseason for the Tigers, what with all the player arrests. I understand why anyone in Columbia would be driven to drink, but drinkin' then drivin' has gotten plum out of control at Mizzou. Nevertheless, the Tigers are thin at running back but loaded at wide receiver. If cannon-armed QB Blaine Gabbert can fight off his Pokey Stix urge, Mizzou might be the fourth best team in the Big 12. That would be hilarious if (1) Gumby's was not responsible for the twenty pounds I gained during my freshman year in college, (2) the Fighting Illini were not vying to become the fourth best team in Illinois.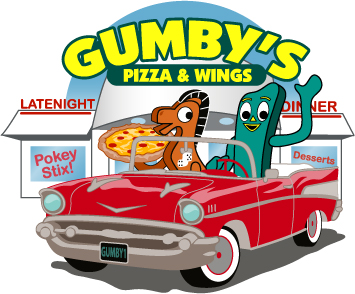 I'm Gumby, dammit!
Nebraska
While Dr. Tom was out whoring around with Big Ten officials the fine folks at Eastern Washington did what the Cornhuskers should have done ages ago - installed red turf at their stadium. It could have been epic; thanks for nothing. In order to regain your rightful spot atop all things red, it's time to announce a new mascot. I propose Kool-Aid man. Oh yeah!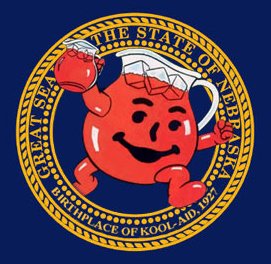 Former defensive superstar Ndamukong Suh is no longer around to anchor the defense, but head coach Bo Pelini should have them playing at traditional BlackShirts level once again this year. Incumbent quarterback Zac Lee frightens Nebraska faithful as much as Herbie the Husker scares the hell out of me. Seriously. I thought it was the constant bouncing around on his head - but, after much reflection, I think it might be because his permasmile reminds by of Bob from the Enzyte erectile dysfunction drug commercials. Creepy.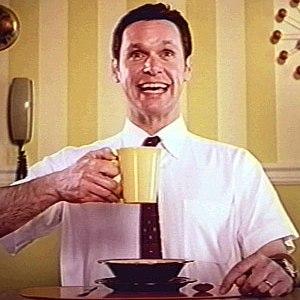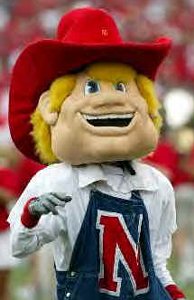 Texas
It's a sad commentary on the Oklahoma Sooners when the most derogatory UT photoshop I can find on the intarwebs is Iran president Mahmoud Ahmadinejad giving the hook 'em horns sign. I'm not sure the metaphor of Texas as college football's Iran is all that relevant or truthful, but I've started the theme and am going to run with it. I think if you combined Longhorns head coach Mack Brown and defensive coordinator Will Muschamp then stuck them in a tanning both for one week without a razor, you would end up with Mahmoud_Ahmadinejad. Able to schmooze amongst the people but batshit crazy enough that everyone with spitting distance keeps their hand on the trigger at all times. (That little diatribe almost guarantees this page will be the top entry in a Google search for "Iran college football")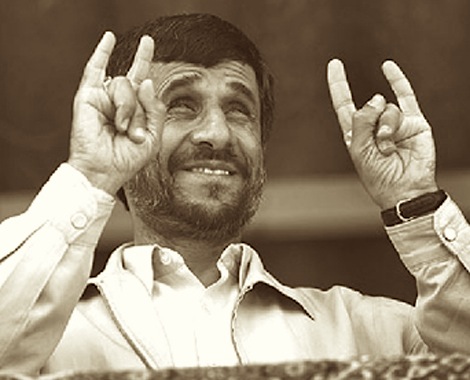 Texas lost QB Colt McCoy and several defensive stars from last year's national title game team but are still ranked in the Top 5 in most preseason polls. Not a surprise given that the Longhorns cherry pick the 4- and 5-star talent from the Lone Star State every year. Quarterback Garrett Gilbert will lead the return to a more traditional power offense. Look for more snaps under center if the running game is up to snuff. Look for Willie Nelson and Matthew McConaughey if your program has had as many marijuana-related incidents as any team in the country over the last decade.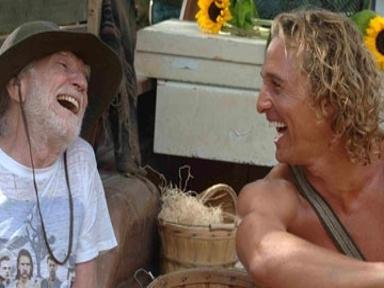 I'll never smoke weed with Willie again
Florida State
A moment of silence please for the passing of Jenn Sterger's implants. A nation (ok, an adolescent male and those who act like them) mourns. De-boob job recovery wasn't the only thing keeping Ms. Sterger in the news since last season. Seems a future NFL Hall of Fame QB was sending cock shots to Jenn while she was busy looking pretty on the NY Jets sidelines. Stay classy, Jenn and Brett.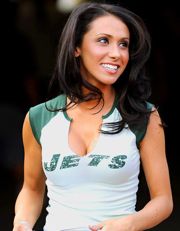 Last one this
year
post, I promise
Jimbo Fisher takes over the reigns after long-time coach Bobby Bowden resigned was fired after the end of the 2009 season. Some FSU players wasted no time getting back to their Criminole roots. Jimbo Fisher wasted no time dismissing Mr. Carr from the Seminole program, a discipline drastically different than the "run some stairs, get in shape for Miami and Florida" punishment frequently handed down during the Bowden era. Florida State fans are hoping on-field results are better, as well. Senior quarterback / Heisman hopeful Cristian Ponder leads a potent offensive attack. Defensive coordinator Mark Stoops was pilfered from Arizona in an effort to shore up the defense. The Garnet & Gold need all the help they can get on that side of the football, as they finished 110th (out of 120) in total defense for the 2009 season.
Hey look! An FSU preview without a Dillard's reference. :)
Arizona State
Once again Les Diables fans will be coming to the game to check out the talent in the stands instead of the players on the field. Steven Threet, a former Michigan reject, will start at quarterback for the Sun Devils. If he has studied film of the offensive line that will attempt to protect him, then I assume he's taken out a sizable life insurance policy. And since my brain hurts from trying to figure out why head coach Dennis Erickson was able to field more successful teams at Wyoming and Oregon State than in Tempe, here's a picture of some ASU hotties.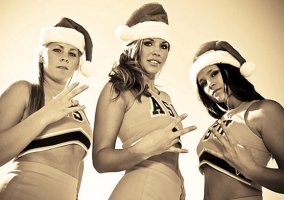 They were shocked to learn that Santa Clause isn't real
Oregon
Even if Oregon can't keep up with the big boys on the field - see the 2010 Rose Bowl results - I'll give them credit for trying to match pace with their extracurricular activities. The Ducks made unwanted headlines several times during the offseason, most notably for superstar QB Jeremiah Masoli's pilfering of a laptop computer from a fraternity house. That earned him a season-long suspension. Jeremiah celebrated by toking up and was promptly booted off the team. One man's delinquent ne'er-do-well is SEC coach's treasure (Masoli was picked up by Ole Miss and immediately hailed as a savior by Rebels fans). Good to see that Chip Kelly has things under control in Eugene.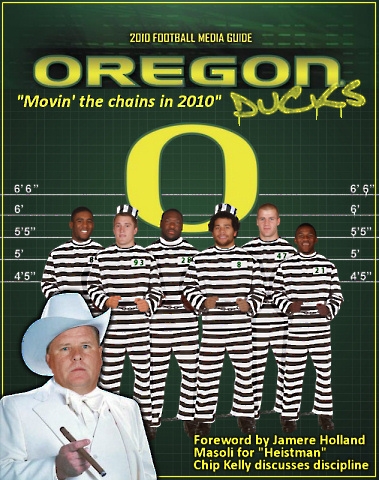 Oregon's up-tempo spread offense figures to roll on with who(m)ever gets inserted at quarterback, be it sophomore Darron Thomas or senior Nate Costa. The Ducks have an abundance of talent at running back with sophomores LaMichael James and Kenjon Barner. Incoming freshman Lache Seastrunk will also see playing time. The defense is a bit of a question mark, but coordinator Nick Aliotti always seems to get his troops to overachieve. The Ducks have a Week 01 glorified scrimmage against New Mexico before heading to Knoxville for a big boy football matchup vs. Tennessee.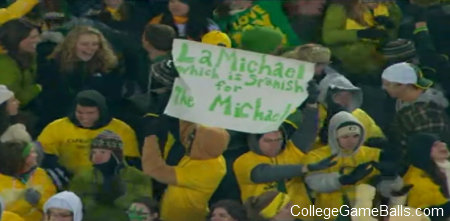 And thus concludes the 2010 Mötley College Football pool preview. I'm no Phil Steele, but the above info should be all you need to make sound decisions and logical arguments about your favorite team this year. Buena suerte to all, and Go Illini!
Dr. T