Greetings mötley college football fans! I survived a trip to College Station - where every Jim Bob and Billy Joe gets to feeling frisky every time A&M adds a tally to the scoreboard - and a journey to Boulder - where I was happy to escape Folsom Field without being eaten by one of the legion of "extra healthy" Nebraska fans in attendance.
It is finally that time of the year to fire up the live blog and chronicle the life of a crazy college football fan on rivalry Saturday. I will spend an entire day and a good portion of the evening watching games and throwing out my thoughts on the intarwebs for all see. My usual Saturday afternoon co-pilot (Balijeet) is, once again, 2000+ miles away today, so I may be a little slow changing channels to catch the latest action. Unacceptable. And that means I'll be fetching my own lunch and dinner today. Also unacceptable. Feel free to stop by my casa for the festivities and/or call/e-mail me your musings. All times listed are Pacific Standard Time. On with the show!
06:59 - Once again, you're looking live at ... me on the couch, surprisingly not in my Scooby Doo boxers. Rocking some shorts and a shirt. You're welcome. :)
07:00 - Go time. College GameDay begins. Kirk, Lee, Chris, Desmond, & crew are in Gainesville for some more Tebow fellating. It sure as hell isn't for the matchup, as the Gators are taking on a Seminole defense that is giving up 30+ points per game. Ouch. One of these years I will get a DVR so I can do this at a decent hour. Shout out to the Younkin clan, who are in Florida today for the UF-FSU festivities.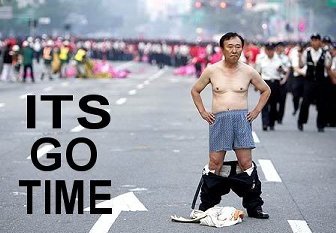 07:12 - What the hell is on the shoulder of the Florida uniforms? It's worse than the abominations that are the Oregon unis. It looks like a mutant five year-old with about eight fingers tried to draw a hand turkey.
07:14 - Herbstreit says, "Charlie Weis is wondering about his future." He already knows that he is going to be fired; maybe he is thinking about all the ways to spend his $18 million buyout. First point of action - purchase the local Old Country Buffet.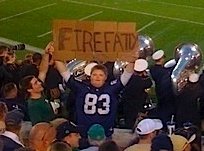 07:26 - Desmond is the most coherent and articulate and coherent man on the GameDay set besides Fowler this morning. Granted, that's like being the tallest midget.
07:26 - Herbstreit just signed himself up for death threats from South Bend; said the Domers haven't been relevant since 1993. Ha ha. Even my Illini have been to two BCS bowls since then.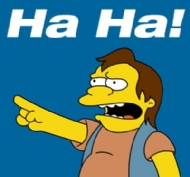 07:28 - Pat Forde reporting that potential Notre Dame coaching candidates are Bob Stoops, Brian Kelly, Tony Dungy, and Gary Patterson. One and three are pipe dreams; two and four would give their left testicles for the job. How does this guy get on TV? He's got a radio face and a frat-guy-reject personality.
07:32 - Chick-Fil-A commercial #1.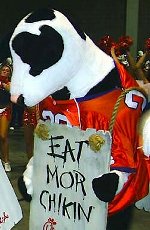 Eat mor chikin
07:53 - Turn your heads, children. Tebow lovefest is in full force. Tom Rinaldi reporting. This may be the only Rinaldi segment that has made me want to punch the television instead of wipe a tear away. Absolutely nothing new in that clip.
07:57 - Made Urban Meyer cry, though. Pussy.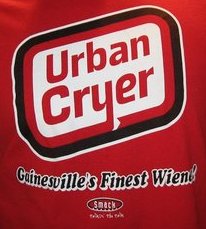 08:05 - Shelley Smith handling the sob story duties today. And surprise, surprise - it has a USC angle. Some poor little bastard is going to lose his sight due to nueroblastoma. Sad panda.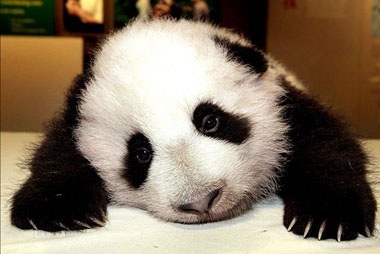 08:30 - Holly Rowe! Thankfully she is not rocking the clown lips this morning. Somebody really should warn me if she is going to be appearing on my 50" plasma at 8:30 a.m. I can think of many better ways to start a day.
08:32 - Heisman talk. Get Tebow off the list. Mediocre year while his main highlight is being knocked the fuck out against Kentucky. Florida's red zone offense stalls more than my 1995 Pontiac Grand Prix, which was found dead on the side of the road in December 2003.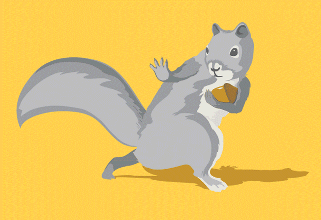 08:39 - Chick-Fil-A appearance #2.
08:41 - ESPN so reverential to Jesus AntiChrist TebowStar that they pulled Fowler out from behind the booth to do an interview with Double T in ... the Swamp.
08:45 - Doctors need to adjust Corso's medication today. A bunch of incoherent babbling followed by, "Don't forget, it's a rivalry game." Alrighty then.
08:48 - The Gators brought their band to GameDay to lead cheers. Seriously?
08:50 - Another gem from Lee. "If Florida State had a defense, they would have only lost one game this year." And if my aunt had balls she'd be my uncle.
08:50 - Nick Swisher is the celebrity on today's GameDay. WTF? He's an Ohio State guy. It is going to be awesome when he picks the Gators to lose and predicts a career-ending injury to JATS.
08:58 - Swisher does the Gator chomp. Herbstreit can barely keep a straight face when predicting it might be close. Corso dons the Gator head.
09:00 - Morning games begin. Our primary contest will be Clemson @ South Carolina with backup game Ole Miss @ Mississippi State.
09:03 - CJ Spiller runs back the opening kickoff for a touchdown. Hard to argue with his Heisman campaign. CJ is electric.
09:10 - Stephen Garcia throws a pick. That's eight turnovers in the last four games for USC East.
09:19 - Eric Norwood gets it back for South Carolina.
09:20 - The douchebag in the Ally Bank commercials looks like Pat Forde. Also, the girl in the pony commercial has a forehead so large it should be called a fivehead.
09:26 - What in the name of Malzahn is going on? Spurrier switched to the wildcat offense, and South Carolina promptly marched down the field for a touchdown. 7-7. The Clemson defense had no answer for that.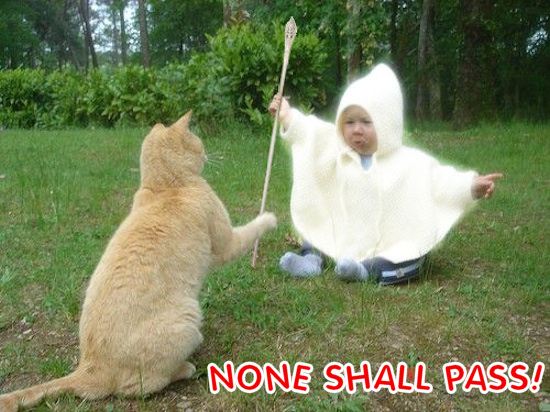 Wildcat defense?
09:30 - Gamecocks did not kick off to CJ Spiller. Genius. Shouldn't have done it the first time. How some of these coaches retain jobs is beyond me.
09:34 - Kyle Parker throws an interception. Only Jacoby Ford's jackrabbit speed kept that from being a pick six. All for naught, though, as South Carolina scored two plays later. 14-7 Gamecocks.
09:40 - Eastern Illinois is playing Southern Illinois in FCS action later today. Go Directional!
09:41 - Ally Bank commercial #2.
09:46 - The Clemson - South Carolina rivalry game is called the Palmetto Bowl. Really, that's the best they could come up with?
09:56 - South Carolina kicker banks in a field goal off the uprights for a 17-7 Gamecocks lead.
10:17 - Special teams foul-up by USC inside the Clemson 30 gives the ball back to the Tigers after a horrible punt. Spurrier not happy.
10:27 - I think the South Carolina kicker just gave an ass-slap to some girl on the sideline.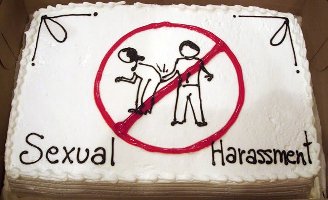 Giggity?
10:30 - Halftime. Also shower time, although I am not really sure why. It's not like Melissa in the drive thru window at McDonald's is going to care if I smell as fresh as an Irish spring.
11:00 - That was a long shower. I'm back and dressed in my CalTech sweatshirt. Gotta support the team.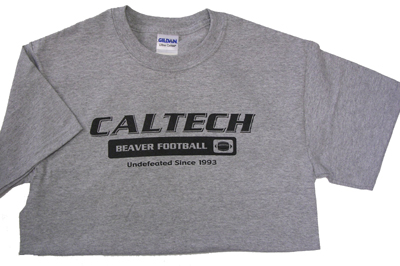 11:03 - Clemson blocks a field goal. Still 17-7 in favor of the Gamecocks.
11:12 - Touchdown USC. 24-7. Clemson is in trouble. Tigers are making Stephen Garcia look like Peyton Manning. Not even the best plastic surgeon in L.A. could pull off a transformation on that level.
11:16 - I'm switching over to the Egg Bowl. Ole Miss and Mississippi State are knotted at 13-13 in the 3rd quarter in Starkville. Bulldogs on the march in Rebels territory.
11:17 - 10 out of 12 teams from the SEC are bowl eligible this season. That doesn't mean you have a great conference. It means you have a mediocre conference where everybody likes to schedule three or four cupcakes to start the season. Alabama exception duly noted.
11:20 - MSU takes a 20-13 lead. I'm outta here for an early lunch - McDonald's, of course. #3 extra value meal, large size, followed by a Flintstones/aspirin chaser.

11:53 - Back with a full belly. It's going to be a battle to keep food coma from kicking in. Mississippi State is now up 34-20 in the Egg Bowl. NC State blocked a UNC field goal and is clinging to a 28-27 lead. (The proverbial) we will switch back and forth between these two contests until the 12:30 games begin.
11:53 - Pam Ward calling the UNC-NCSU game. It only took four minutes before some head-scratching comments; that surprisingly qualifies as progress.
12:03 - Mississippi State turns the ball over just shy of the goal line. Still some life left in the Rebels. ... Oklahoma up 10-0 on Oklahoma State. That flushing sound you hear is the Cowboys' BCS game hopes swirling down the toilet.
12:08 - "Listen to this crowd" quote by the announcer should have been "Listen to these cowbells." Even Christopher Walken thinks it's over the top.

For the love of Walken, Bulldog fans, no more cowbell

12:11 - NC State defeats North Carolina as TJ Yates throws an interception to end the game. That makes three straight years the Wolfpack have taken down the Tar Heels.
12:17 - Jevan Snead throws a pick six to hand MSU a 41-20 lead. Stick a fork in the Rebels. ... Also stick a fork in Clemson. The Head Ball Coach just dialed up a 4th down TD play to put South Carolina up 34-17. Not a good day for ranked teams in the SEC.
12:20 - No close games left from the early slate of college football action. I'm taking ten to pay some bills and regroup for the afternoon festivities. Our primary game will be FSU-UF with Arizona @ Les Diables serving as backup.
12:29 - Who's ready to march?
12:30 - Jesus AntiChrist TebowStar introduced on Senior Day. He got some flowers, loud cheers, a standing ovation, and a hug from Urban Meyer. After all he has done for Gator Nation, he should have demanded hookers and blow on every yard line culminating with a Caligulan orgy of epic proportions at the 50-yard line. And that stupid-ass John Williams-like score that CBS dubbed into the audio made me want to punch people.
12:31 - Speaking of punching people, Gary Danielson could use a good slobberknockin'. As much as I would like to smack some sense into GD, I would not clock him upside the head if we met. I was taught that it's not nice to hit retarded people.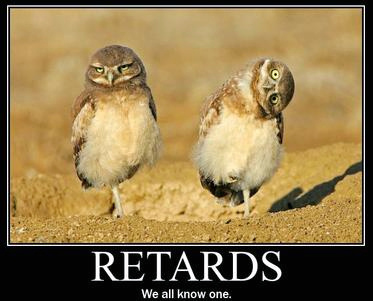 12:35 - Chick-Fil-A promo #3.
12:48 - The Bud Light Tailgate Approved commercial guy needs a good punching, too. I think this is going to become another running theme throughout the day: people who could use a good punching.
12:52 - I nominate outgoing Florida State defensive coordinator Mickey Andrews to do my punching for me.
12:55 - Shovel pass for a Gators touchdown. 7-0 Florida. Going to be a long day for the Seminoles if they can't stop the Crocs in the red zone.
12:57 - Chick-Fil-A commercial #4.
13:13 - Florida offense bogs down in the red zone (I get paid by the pun) near the end of the first quarter. 10-0 after a Gators field goal.
13:26 - I flipped over to UA-ASU. Arizona up 7-0 and the ABC announcers are talking about Waylon Jennings and The Dukes of Hazzard. That pretty much sums up the excitement, or lack thereof, emanating from the football field.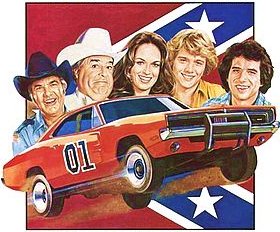 Good ol' boys
13:27 - Hello, Tracy Wolfson. You look like an idiot wearing eye black. Please remove those ridiculous strips.
13:39 - Touchdown AntiChrist. 17-0 Gators.
13:42 - JATS is wearing eye black patches with the abbreviation for bible verses Hebrew 12:1-2. Here's the scripture: "Therefore, since we are surrounded by such a great cloud of witnesses, let us throw off everything that hinders and the sin that so easily entangles, and let us run with perseverance the race marked out for us. Let us fix our eyes on Jesus, the author and perfecter of our faith, who for the joy set before him endured the cross, scorning its shame, and sat down at the right hand of the throne of God." First part is pretty good for football motivation. Second part is good for bible thumpers.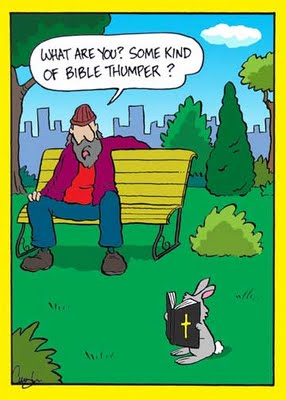 Pray. Pray that I don't thump you over the head with this bible.
13:50 - Another Florida touchdown. Game is getting out of hand. I'll continue watching in case Verne makes an inappropriate reference or Gary says something ridiculously stupid. Vegas bookies would give better than even odds on both of those things happening.
13:55 - Interception Gators. And what's this? Florida has three time outs and is electing to run out the clock in the first half. There must be an ulterior motive, because I find it hard to believe that Urban Meyer has all of a sudden become a classy coach. Someone should tell him that he does not get to carry those over to the second half.
14:05 - Most of the afternoon games are at halftime. Signing off for a catnap.
14:25 - 30-0 Gators after a JATS TD pass and a blocked extra point attempt. How high does the score have to go before Tebow gets yanked? I would give him one more series. Urban the Idiot will probably give him one more quarter.
14:38 - Chick-Fil-A commercial #5.
14:50 - Turnover Tebow. That's what JATS gets for dragging an FSU player to the ground by his face mask. Then Verne managed to quote the wrong scripture portrayed on the AntiChrist's eye black. Bang up job they're doing at CBS.
15:07 - Verne admits he screwed up the bible verse. I think he's reading my blog. :)
15:08 - Gary Danielson just said - and I'm paraphrasing here - that all the flashbulbs going off are Florida fans way of cheering in the dark. I shit you not. That man has the IQ of a doorknob.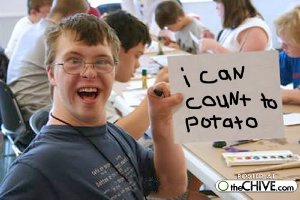 15:09 - Chick-Fil-A commercial #6.
15:11 - Fourth quarter and JATS is still in the game, getting pummeled by the FSU defense. And nobody in the CBS booth is calling out Urban for this idiocy.
15:13 - Bha ha ha. Jump pass fail. Nevermind that Hernandez was tackled as he went out for the pass.
15:14 - Touchdown AntiChrist. 37-3 Gators. Surprised Urban didn't keep JATS out there for a two-point conversion attempt. Jackass.
15:15 - More people that need punching: anyone in a Sonic TV commercial.
15:23 - Seminoles finally scored. 37-10 Gators.
15:29 - Hey look! Tebow still in at quarterback. I'm convinced Urban Meyer would trot out the AntiChrist's corpse if he thought it would help win a football game.
15:30 - JATS finally gets the hook. Better go start preparing for the Alabama defense. With his reported IQ, he'll need lots of time.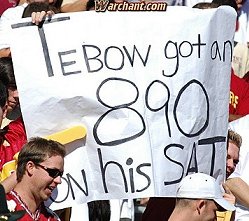 Tim Tebow can also count to potato
15:49 - Game over. Back to UA-ASU. Game tied at 17. Les Diables just fumbled a punt deep in their own territory. Doh! Early Christmas present for Mike Stoops & company.
15:56 - Field goal by the Wildcats. Final score: 20-17. I feel bad for Arizona State punt returner Kyle Williams. And as someone who mocks college football players mercilessly, that's saying something. ... Switching over to the Missouri vs. Kansas game. Jayhawks up 39-36 with four minutes left to go.
15:59 - Mizzou is wearing charcoal gray helmets with black lettering. Kansas coaching assistants are orbiting head coach Mark Mangino like planets orbit a star.
16:02 - Arkansas @ LSU about to kick off. Hello, Erin Andrews.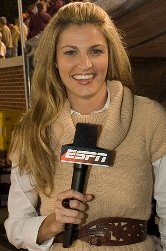 How you doin'?
16:04 - We have our first Lloyd Carr Coaching Move of the Week (LCCMOTW) today. Mark Mangino just elected to run three straight pass plays inside his own five yard line with under three minutes remaining in the fourth quarter and a three point lead. The result: Fifteen seconds of elapsed game time, two incompletions, and a safety. 39-38 Rock Chalkers. Mizzou with the ball near midfield with just over two minutes remaining.
16:15 - Say bye bye to bowl eligibility, Jayhawk fans. Missouri kicked a field goal as time expired for a 41-39 victory. Over to Arkansas @ LSU.
16:16 - Looks like I've already missed a Ryan Mallett interception and an LSU punt.
16:30 - Touchdown Tigers. 7-3 LSU with 5:21 left to go in the 1st quarter. Neither team looks particularly interested in playing defense thus far. Could make for an entertaining evening.
16:50 - Our second LCCMOTW, this one to Arkansas head coach Bobby Petrino for punting to LSU speedster Trindon Holliday. Of course the punt was returned for a touchdown. Tally stands at 17-3 LSU.
16:59 - And now the Razorbacks decide to punt out of bounds instead of kicking to Trindon Holliday. Golf claps all around for Arkansas special teams.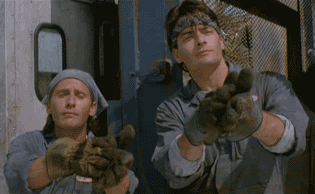 17:11 - Arkansas appears to be suffering from amnesia, as they just punted to Trindon Holliday from deep in their own territory. Luckily for the Razorbacks, they recovered Trindon's fumble after he bobbled the ball.
17:28 - Field goal Arkansas. 17-6 at the half. Georgia @ Georgia Tech and Notre Dame @ Stanford underway. Think I'll use this opportunity to grab some Chipotle. Burrito time.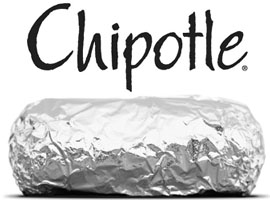 18:22 - Back in the saddle for the remainder of the evening games. LSU up 24-13 over Arkansas. Georgia leading Georgia Tech 10-3. Notre Dame beating Stanford 17-13. Utah wins the Holy War 26-23.
18:24 - Touchdown Razorbacks. 24-20 with 4:15 remaining in the 3rd quarter. Also just found out that I have to boil water at my apartment before use due to E. Coli concerns. WTF? I pay enough in rent that third world sanitary concerns should not be anything to worry about.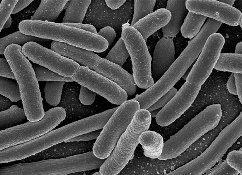 18:28 - End of the third quarter in Baton Rouge. Also, Notre Dame is leading Stanford 24-20 at halftime. I'm taking a quick break to clean up the HTML mess I've no doubt created while blogging today.
18:47 - An Arkansas field goal cuts the LSU lead to 24-23.
18:48 - First Progressive Insurance commercial of the day. Flo!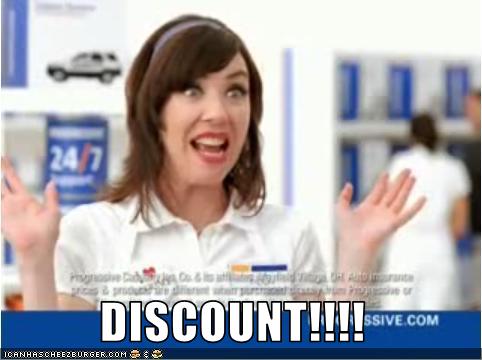 19:01 - LSU field goal stretches the lead to 27-23. Ryan Mallett and the Razorback offense will get the ball back with about four minutes remaining in the fourth quarter. ... Georgia and Georgia Tech traded 70+ yard touchdown plays on consecutive possessions. Dawgs leading 24-10 early in the third quarter.
19:02 - Chick-Fil-A commercial #7.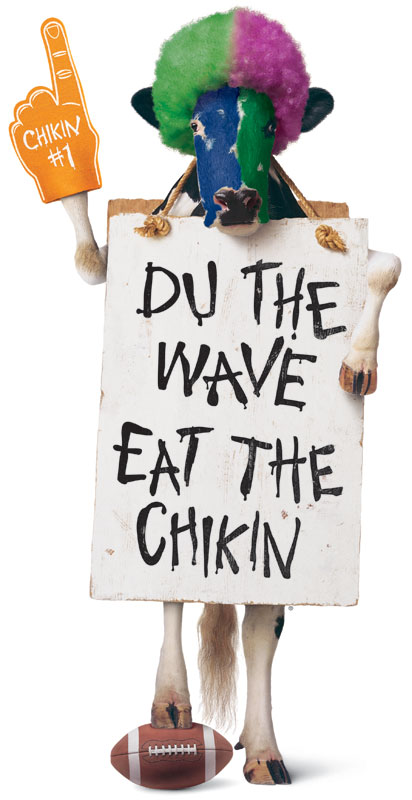 19:03 - Chick-Fil-A commercial #8.
19:03 - Chick-Fil-A commercial #9. This is getting ridiculous.
19:12 - Crazy Hawaiian Neighbor Chick (henceforth referred to as either CHNC or Marisa) in the house.
19:22 - Touchdown Arkansas! 30-27 Razorbacks. LSU will have the ball with just over one minute remaining.
19:32 - Field goal by LSU ties it at 30-30 with four seconds remaining. We're headed to overtime. Notre Dame and Stanford locked up in a 31-30 barnburner at the start of the fourth quarter.
19:34 - Chick-Fil-A commercial #10.
19:41 - Field goal by LSU to open overtime. Arkansas can win it with a touchdown.
19:42 - Erin Andrews just dissed Ryan Mallett on national television.
19:45 - Choke job by the Arkansas kicker. Cost me two points in the football pool. Dammit.
19:55 - Exciting 4th quarter action on the Farm in Palo Alto. Toby Gerhart's halfback pass and subsequent two-point conversion have tied the score at 38-38. ... Also quality action in Atlanta; the Ramblin' Wreck have pulled to within 30-24.
20:00 - We're at the 13-hour mark for the day. Georgia threatening to make it a two possession game against the Yellow Jackets. Stanford has the ball with 5:48 remaining in their game with Notre Dame.
20:06 - Bulldogs miss a 55-yard field goal attempt with 3:12 on the clock. Georgia Tech has the ball on their own 37 yard line. They need a touchdown to win. ... Stanford in Notre Dame territory. 1:44 remaining in the 4th quarter. Need more TVs!
20:09 - Toby Gerhart has over 200 yards rushing. He just plowed his way through the Notre Dame defense and drug would-be tacklers down to the Notre Dame four yard line.
20:12 - Notre Dame let Stanford score with 59 seconds remaining. 45-38 Cardinal. Actually good time management strategery by Fat Bastard.
20:15 - Georgia upsets Georgia Tech! Notre Dame is in Irish territory.
20:17 - Sack by Stanford. One play left for the Domers from the Cardinal 31 yard line.
20:18 - Incomplete! Stanford wins. If I was a smoker I'd be needing a cigarette about now.
20:25 - Only games remaining are Navy @ Hawaii and UCLA @ USC. About halftime in both games. Taking a break to run CHNC out to dinner.
21:18 - Back from the Vietnamese noodle place. USC just went up 14-0 on the Bruins. Midshipmen and Rainbow Warriors deadlocked at 17-17.
21:19 - The announcers in the Navy-Hawaii game managed to work in a Dr. Richard Kimball reference.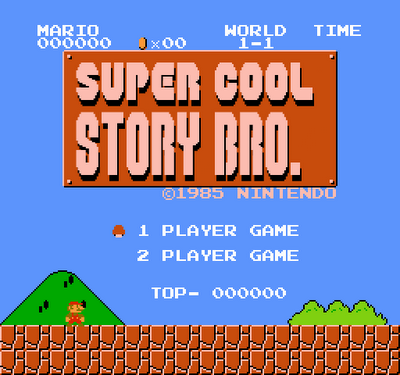 21:44 - Touchdown Hawaii. Rainbow Warriors up 24-17 at the end of the third quarter.
22:00 - We've reached the 15-hour mark in our marathon. Calling it quits at the end of these two late games.
22:09 - Touchdown Bruins. 14-7 with 5:32 left in the fourth quarter. ... Navy is down seven and has the ball with 5:27 left in the game.
22:19 - Two sacks by the Hawaii defense to end the game. Third LCCMOTW goes to Navy for trying to run the triple option at midfield with no timeouts and 59 seconds remaining in the game. Our first Tyler Ecker Dumbass Play of the Week (TEDPOTW) goes to the Navy quarterback for taking two straight sacks to end the game.
22:20 - Second TEDPOTW goes to the UCLA QB for throwing a pick six as the Bruins were marching down the field to tie the game.
22:27 - Pete Carroll throws a bomb to go up 28-7 with less than one minute to go in the game. Jackass. Everyone should remember that the next time PC whines about somebody running up the score on the Trojans.
22:29 - And now the teams are about to brawl at midfield. That would have been awesome. And Trojan fans wonder why everybody hates SC?

Let's get ready to rumble!

22:37 - Timeout UCLA. Down 28-7 with 0:13 seconds left. Classic. I guess Rick Neuheisel wanted to make full use of his allotted timeouts. :)
22:39 - That does it for the 2009 edition of the live mötley college football blog. Hope everyone enjoyed the festivities as much as I did. Dulces sueños, Buena suerte to all, and Go Illini!
Dr. T