Plasma TV shopping is distracting me from web site duties, so it's a rather tardy update this week. And sorry to disappoint the 23.9% of you that are here in search of Erin Andrews pics. EA is off limits until this whole naked peepshow thing blows over (or, even better, a new video is released). We'll revert to Jenn Sterger coverage - who, it should be noted, has already willingly shed her clothes in front of a still camera. Hands on the table, please.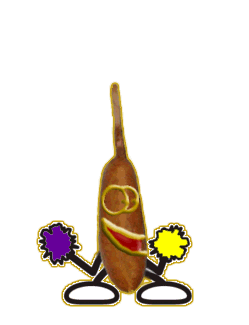 Yellow Mustard Corndog Time?
Last Friday afternoon the Mötley contingent (Balijeet, Todd, and I) loaded up the Bainsmobile and set course north to Seattle for the annual Corndog Convention LSU @ Washington contest. We arrived at the Westin Hotel without incident and grabbed a nap before hitting the town. First big stop on the itinerary - drinks and dinner at The Metropolitan Grill. A single malt scotch, Lagavulin 16-year to be specific, was our bar beverage of choice. It'll put some hair on your chest, so I would like to ask any female readers in the audience who I might potentially see topless to please stick to wine or martinis or cosmopolitans or whatever it is classy ladies drink these days. Moving on ... the steaks were retardedly expensive and phenomenally awesome. Turns out you get what you pay for. But the best part of the evening was learning that our waitress was Dennis Erickson's sister. Small college football world. Enjoyed hearing the story of Oregon State's beatdown of Notre Dame in the 2001 Fiesta Bowl. Didn't ask for scotchy scotch scotch recommendations; that would have been awesome.
After dinner we called it a night, since College Football GameDay starts at 7 a.m. on the West Coast. Stupid hippie time zone. Saturday rolled around, and we watched some of the early Big Ten heartstoppers at the hotel before venturing out in search of cerveza and sustenance. Landed at the Fox Sports Bar. Watched a boatload of games, drank a few beers, and chowed down before catching a cab to the Washington campus. A few more bars and a few more cervezas (including cheap beer in Washington/LSU-colored cans) followed before we made the trek to Husky Stadium. A game was played (more on that later), and we hopped on a shuttle bus just before the skies unleashed an uncharacteristically Northwest downpour. A quick bite to eat before crashing rounded out our weekend adventures.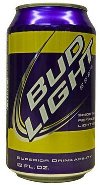 Not pictured: Coonass coozie
The return of Jenn Sterger and the Three Amigos' Seattle adventures weren't even the most exciting parts of college football's opening weekend. That distinction belongs to Oregon running back LeGarrette Blount's sucker punch of Boise State defensive lineman Byron Hout after the Ducks foul (fowl?) performance on the blue turf. Mr. Blount had insinuated some payback was in order for BSU's 2008 victory in Eugene; I believe his quote was "We owe this team an ass-whoopin'." After LG posted minus 5 yards rushing in the 19-8 loss, young Mr. Hout inquired how Mr. Blount liked that ass-whoopin'. LeGarrette then went batshit insane, sucker punching Byron, punching teammate Garrett Embry (maybe he was pissed their names are so similar?), tried to go into the stands to fight Boise State fans, had to be restrained by badass WR coach Scott Frost (yes, that Scott Frost), and was finally led to the locker room by a mixture of coaches, players, and police officers. Noted photoshop tomfoolerist LSUfreek captured the initial melee on tape. Yikes. On to the BCS conference summaries.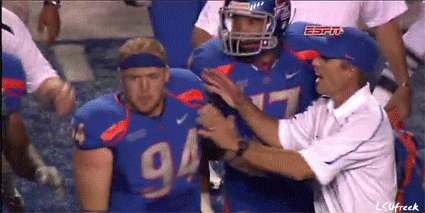 Falcon punch!
ACC
How does Al Groh still have a job? Seriously. His Virginia Cavaliers were dominated 26-14 by William & Mary. I had to look that up to make sure William & Mary was an actual school. Turns out they are an FCS school in Williamsburg, VA, with an undergraduate enrollment of approximately 6000 students. But Virginia was not the only ACC school to lose to an FCS opponent. Joining the Cavaliers on their walk of shame was Duke, 24-16 losers to Richmond. Duke sucks. That is all.
Other ACC schools did not fare much better in interconference play. Baylor (remember the name Robert Griffin when you're filling out your Heisman ballots this year) invaded Wake Forest and pulled off a 24-21 upset. North Carolina State dropped the season opener to South Carolina in one of the most boring football games I've ever had the displeasure to watch. Maryland got pasted 52-13 by the Boys from Berzerkely. Virginia Tech played well but was unable to sustain it at a high level for four quarters in a 34-24 loss to Alabama. At least their fans were able to get in a few shots at the Crimson Tiders.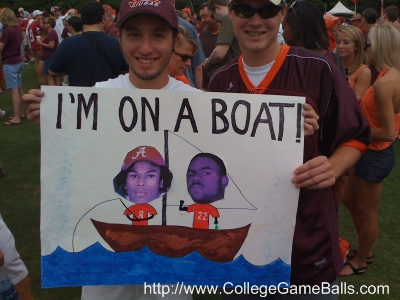 Take a good hard look at the motherfuckin' boat
In more encouraging conference news, North Carolina opened the season with a strong showing against Citadel. Yes, I know it was just Citadel. They still looked good. ... Boston College blanked Northeastern 54-0. Clemson and Georgia Tech both rolled up 37 points en route to victories over FCS teams. Congratulations to the Ramblin' Wreck who, for the first time in school history, have achieved an overall female student population percentage of 30%. Go Tech! :)
The final salvo of Week 01 ACC action was the Miami vs. Florida State clash of the titans in Tallahassee. The defenses of both teams were more than a little suspect (secondaries as porous as Swiss cheese, for example), but that made for an entertaining game. Miami QB Jacory Harris looks to be a star in the making, and FSU QB Christian Ponder is on his way to becoming the anti-Chris Rix. Miami pulled out a 38-34 victory because who(m)ever was calling plays for the FSU offense at the end of the game (I assume OC Jimbo Fisher) could not pull his head out of his hind side. The 'Noles had 2nd and 2 at the Miami 4 and called a run option, which of course netted a whopping -1 yards and caused FSU to burn their final timeout. Three incomplete passes later, not one of which was directed to the tight end, it was game over. Seminole fans can take comfort in knowing that their kicker didn't botch this one (although it should be noted that he tried - a missed extra point was later recovered with a successful 2-point conversion).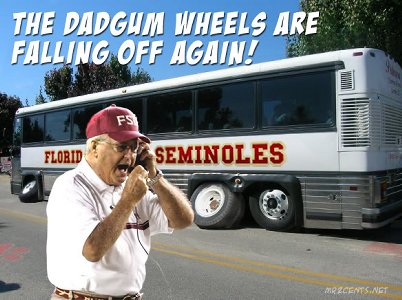 Big Ten
When I think of Michigan "traditions", the head coach showing some skin after a football victory is not at the top of the list. It's not at the middle or the bottom of the list either. It shouldn't be anywhere near the damn list. It looks like all that extra practice time paid off for the Wolverines. Big Blue cruised to a 31-7 over Western (Go Directional!) Michigan at the Big House last Saturday. Junior wide receiver Junior Hemingway (does he have to change his name to Senior next year?) caught two touchdown passes in the romp.
Red Grange has come back from the dead. Unfortunately he's spending his time Tweeting (Twittering? Twitting? Twatting? Whatever.) instead of shoring up a shaky Illini backfield. Illinois came out flat then was steamrolled even flatter by Missouri. The Illini efense (there was definitely no D) was exploited time and time again - they should just rename it the "Cover No One" instead of the "Cover 2" - and the supposedly potent offense managed a meager nine points. More talent + poor coaching + loss to 6.5 point underdog = angry fan base. Oh, and Rejus Christ SuperStar left the game in the first quarter with a high ankle sprain. Fuck. Me.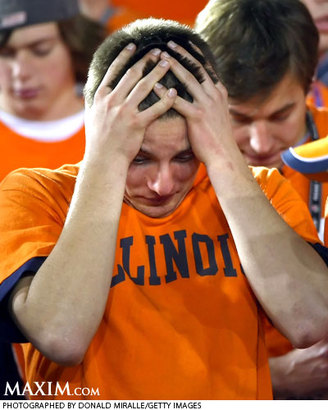 This looks depressingly familiar
The rest of the conference won their Saturday contests, but it wasn't pretty. Ohio State needed an interception on a 2-point conversion attempt by Navy to seal their win. After the game tOSU QB Terrelle Pryor put his Ohio education on display in defense of childhood hero Michael Vick by stating - and I quote - "Everyone does -- kills people, murders people, steals from you, steals from me." Wow. Just, wow. Moving on. Iowa had to block two field goal attempts as time expired to beat Northern Iowa. Indiana over Western Kentucky by six, Wisconsin over Northern (Go Directional!) Illinois by eight, and Minnesota over Syracuse by three (in OT - suck it Greg Paulus) did nothing to help the reputation of the conference. More concerning to me was the recent photo of Purdue's offensive (literally) line: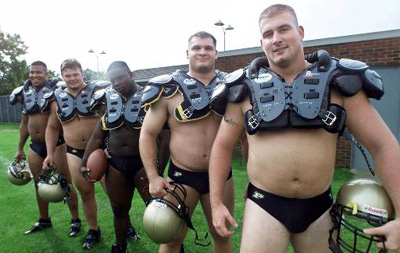 For the love of Wilford Brimley please put on some pants
Couple of big meteor games coming up this weekend - Notre Dame @ Michigan and USC @ Ohio State. If last weekend's debacles weren't enough to convince you of the Big Ten's ineptitude, these two contests should help bludgeon that point home with a hammer.
Big 12
That sound you hear is the national title hopes of Sooners fans, players, and coaches being flushed down the toilet. Sam Bradford injured his shoulder in the 14-13 loss to BYU, and it was later revealed that all-American tight end Jermaine Gresham will be out for the season due to a knee injury. Triple whammy. ... Or that sound could be the last few gurgles emanating from the Colorado ship before it sinks into oblivion. The Buffs lost to archrival Colorado State in Week 01 action. Dan Hawkins prediction of 10 (Division 1 football!) wins isn't looking probable.

The rest of the league fared quite well, highlighted by Oklahoma State's 24-10 intersectional triumph over the Georgia Bulldogs. Although the Classic City Canines fell to the Cowboys, the game produced a highlight-reel worthy hit from UGA safety Reshad Jones. I haven't seen that many flags flying since Memorial Day.
Big East
It's almost becoming a yearly tradition for me to ignore the Big Least after the first week of college football action. They've certainly given plenty of reason for that to continue in 2009. South Florida, Pittsburgh, and Cincy took care of business. Everybody else had issues. Of course which team has Illinois scheduled for Thanksgiving weekend? Bonus point if you said Cincinnati. Dammit. Is it too late to start up a series with Louisville?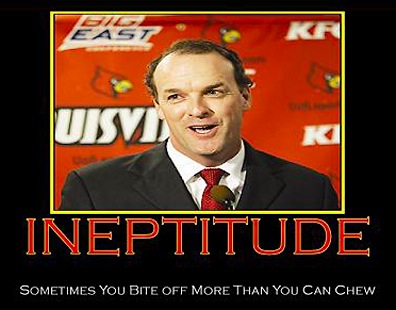 PAC-10
LSU trumped Washington despite giving up more yards (478 for those scoring at home) and more first downs than the Huskies. Looks like John Chavis has a little work to do in Baton Rouge. ... California thumped Maryland, and USC hammered San Jose State. Give credit to the Spartans, though, as they led 3-0 after one quarter. At that point they should have called timeout, taken a team photo, started up the bus, and cruised back up I-5 to Silicon Valley (not to be confused with Southern California's Silicone Valley). Instead they decided to finish the game at L.A. Memorial Coliseum. The final result? A 56-3 shellacking. Just another notch in Pete Carroll's proverbial coaching belt.

Turn down the volume. Trust me.
Oregon's debacle in Boise has already been covered, so let's go to the tape for some armchair psychoanalysis of LeGarrette Blount's post-game batshit craziness. Even though this guy's a Florida fan, I want him to be my counselor when I eventually check into rehab for my little internet / college football addiction "problem".
SEC
If you're going to rap about Jesus Antichrist TebowStar, shouldn't you at least be sporting a #15 jersey? All the relevant games have been covered already. Everyone else won big. So let's just skip to some good ol' fashioned Bammeroid entertainment.

Hide the furniture before Cletus goes WWE on grandma's table with a folding chair.
And since I feel the need to torque both Florida and Alabama fans, let me remind everyone who is the best player in the conference.

Eric Berry for Heisman.
Overall, it was an entertaining and action-packed week to kick off the college football season. Unless you are an Illinois, Virginia, Colorado, or Oklahoma fan. In that case it sucked donkey balls. But cheer up; there's a whole new set of games this Saturday to keep you entertained. Beuna suerte to all, and Go Illini!
Dr. T