I love sleeping in on Saturdays
And I love college football games
I love not acting my age
and good barbecue
Those Eric Church lyrics (country music woooo!!!) pretty much sum up my general attitude toward life. Unfortunately, living on the West Coast prevents the first item during college football season. The slop that passes for BBQ out here makes it hard to enjoy the last item. But I'm all over the middle two. In order to complete the quadfecta, I'll be setting sail this Fall to watch a record number of games. Tentative schedule has me pencilled in for twelve contests, minimum. First up on the itinerary is an opening weekend trip to the Emerald City with Todd & Balijeet to watch LSU @ Washington with the Husky faithful and a no-doubt boisterous Corndog Contingent. Expect a full report next week.

Before we take a look at the critical news nuggets from the offseason, let us observe a moment of silence to mourn the passing of BILLY MAYS. Pour out a little OxiClean for your homey, whose connections to the college football world include a stint as a walkon linebacker at West Fuckin' Virginia and pitching ESPN360 for the Worldwide Leader. RIP, you shouting, coke-fueled, magnificently-bearded bastard.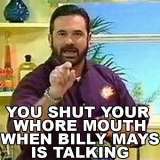 It's been three whole paragraphs since Erin Andrews has made an appearance, so it's time to bring everyone up to speed. Turns out the lovely Ms. Pageviews has a sister. Giggity. The mierda hit the fan in July when it was revealed someone videotaped the sideline princess walking around sin ropa in her hotel room. Now, don't get me wrong, I'm all for naked hot chicks, but this crossed the line. Not only was it illegal, but the subsequent hoopla damn near crashed the intarwebs. Unacceptable on both fronts. And as a point of clarification - Yes I watch the occasional Blazers game. Yes I went to the 2008 USC @ Oregon State game. No I did not make or upload the video of Erin Andrews prancing around naked in her hotel room. Somehow, I don't think wandering the sidelines of stadiums filled with alcohol-fueled college kids is going to help Erin heal her wounds.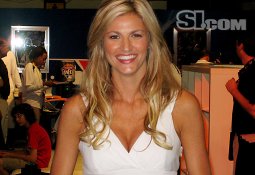 A mostly clothed EA
(Admit it, you were expecting nude video caps.)
Barring a major upset, South Florida is going to take home the 2009 Fulmer Cup crown. I'm absolutely shocked (more on that pun later) that Florida isn't in the Top 10. If offseason shenanigans are not entertaining enough to hold your interest, tune into an Arkansas game this year. The one, the only, inspiration for the JLSIJOTW award John L. Smith is back on the sidelines. His Razorback duties include coaching outside linebackers and special teams. Please, oh please, oh please let his team have a field goal blocked at the end of the half that gets returned for a touchdown.
Before embarking on the reasons your favorite glorified junior college is full of cheating thugs and criminals, take this quiz and bow down to my college football knowledge (12/12). As dictated by the college football pool rule book, we kick off the year with a round of insults directed toward the home teams of all those diehards brave enough to participate in our pool. Tradition also dictates that we start with my alma mater. On with the show!
Illinois
What the hell happened in 2008? I would use terms like turnover margin, injuries, and regression to the mean to describe that steaming pile of a season, but since only the Northwestern grads in the audience would understand, let's just skip right to the Zooker's analysis - "There was something I couldn't put my finger on last year." You mean things like coaching, defense, special teams, blitz pickup, and ball security?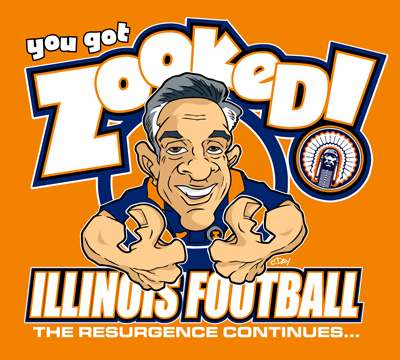 A lot catchier than "You got 2nd half soft-zoned!"
Perhaps the Zooker was distracted by the intensity of corn & soybeans. Or trying to sell his boat. Or maybe he's just too busy recruitin', recruitin', recruitin'. Not satisfied with 5-star football talent, Coach Zook is gauging interest of band geeks and deciduous specimens. And the Illini will need some of that talent after this year when all-Ninja QB Juice Williams graduates and all-American WR Rejus Christ SuperStar bolts for the NFL. The offense will need to put up some video game numbers this year to compensate for the loss of all-Big 10 performers Vontae Davis and Brit Miller. Speaking of video games....

Because Mario Paint will make your school's fight song more intimidating
Michigan
It is apparent to me that last year's calls to fix the fight song lyrics are going unheeded. The folks in charge obviously have plenty of time on their hands, as they couldn't be bothered to keep track of "voluntary" workout and practice times. A few comments here. This likely goes on at every major college football program in the country. The thing that should concern Big Blue fans is the players' willingness to throw the program under the bus. I can't imagine there was anything in any of the 2008 game films that was worth spending the whole day watching. And let's face it, no amount of extra film study or practice sessions was going to turn Steven Threet into Tom Brady. Or Chad Henne. Or John Navarre. Let me know when to stop ... Or Drew Henson. Or Brian Griese. ... I could go on all day. ... Or Scott Dreisbach. Or Todd Collins. ... Seriously. ... OK, I'll stop.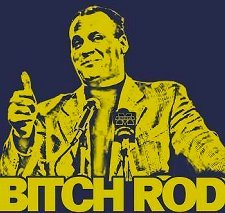 As for Coach PaperShredder's involvement in this fiasco, cry me a fucking river. When it rains, it pours. I wonder if Michigan fans would like a do-over. The Wolverines are looking to improve upon last season's 3-9 debacle. As much as I would like to hope that is possible, the only surefire bets for wins on the schedule appear to be Eastern Michigan, Indiana, and Delaware State. The situation at quarterback is not helping matters. Coach Rodriguez is expected to play three QBs in the season opener vs. Western (Go Directional!) Michigan. Hopefully one of those turns out to be better than former quarterback/receiver Justin Feagin. The former Wolverine couldn't complete a drug deal, let alone a forward pass. I say we let The Count pick the best (wo)man for the job.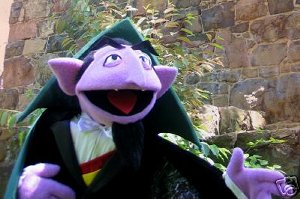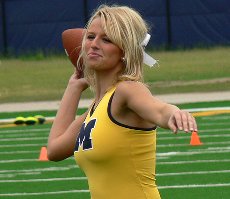 One. One hot Michigan quarterback ... ah, ah, ah.
Northwestern
Every season I struggle to come up with Mildcat material, so this year I called my NU alumnus buddy. After exchanging pleasantries, he agreed that it's possible Northwestern may suck. Not. Very. Helpful. Especially since the nerds from the north have a winning record against my beloved Illini over the last 15 years. Sigh. With no football-related trash talk to fall back on, I switched gears to academic taunting, claiming that he will one day be working for a U. of Chicago grad (side note - UC was charter member of what is now the Big Ten conference). His reply? "I'm getting my MBA from there." Dammit. I give up. Just lose that stupid growl, drop your Itchy & Scratchy look-alike mascot, and put Grimace at the front and center of your program.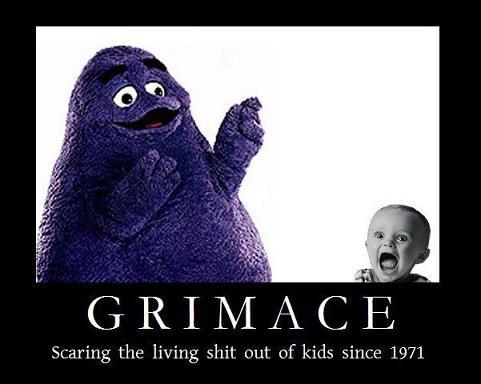 The Ohio State University
After The Count finished tallying up hot Michigan coeds (it didn't take long - exceptions in our audience duly noted), he cruised on down to the tOSU Athletic Compliance Office to sum up the number of violations at the penitentiary. The grand total? 375 since the year 2000. Most Buckeye fans don't even change underwear that often. The damning report barely registered on the Scarlet and Gray Richter scale, as fans were too busy summoning outrage over John Cooper being enshrined in the College Football Hall of Fame. Apparently that's what 2-10-1 against your hated rival will get you.

I'm pretty confident they should just go ahead and print up 2365
Coach SweaterVest has recruited at Cooper-like levels and managed to turn the tables upside down against TSUN. But with a top 10 recruiting class every year should you really have to resort to pulling cheerleaders off the squad to play wide receiver? ... Fresh off another BCS beating, the Buckeyes are anxious to prove they still belong atop the conference and the college football world. A huge matchup against USC looms in Week 2 of the season. The traditional first game fodder will be supplied by the Naval Academy, who visit Columbus on September 5th. Ohio State fans, like many at other schools across the country, will do their best to give the visiting team a hero's welcome. This enhanced sportsmanship is all well and good until Miami plays FIU and A'Mod Ned hobbles out on the field, swinging his crutch like some sort of crippled Samurai swordsman.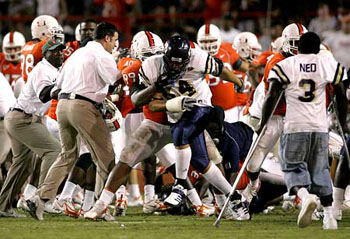 Penn State
As much as I like to make fun of the "We are ... Penn State" chant, here's an excellent article on its origins.

Drinking Blue Kool-Aid?
The Nittany Lions are the odds-on favorite to take home the Big Ten crown. Sean Lee returns from a knee injury to lead the defense. 2008 Big 11 Offensive Player of the Year Daryll Clark and tailback Evan Royster return to lead the offense. And as has been the case for the past 43 seasons, the khaki-wearin', Nike black shoes-sportin', bespectacled Joe Paterno will be roaming the sidelines. So how does the octogenarian feel these days? JoePa says he is excited to be alive. Hell, I'm 35, and I am downright fucking ecstatic to be alive. JoePa ought to be in some sort of nirvanic delirium.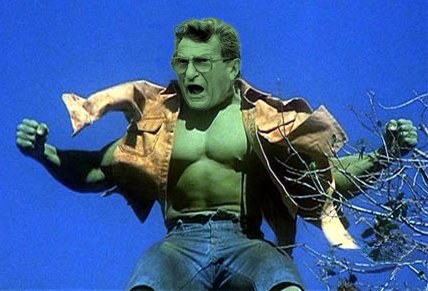 You really don't want to make him angry
Wisconsin
After the putrid performances put forth in the 2008 campaign, swine flu should be the last of the Badgers' worries. As predecessor Barry Alvarez's talent bleeds out of the system, the Badgers appear to be headed on a downhill track. Coach AnkleTattoo is on the hot seat. John Clay will shoulder the load at RB. Let's hope he doesn't fall pray to the druggies or the drinkies, because Dustin Sherer returns as the guy chucking around the passes in the general direction of Wisconsin receivers and opponents' defensive backs. Bucky is not a happy camper....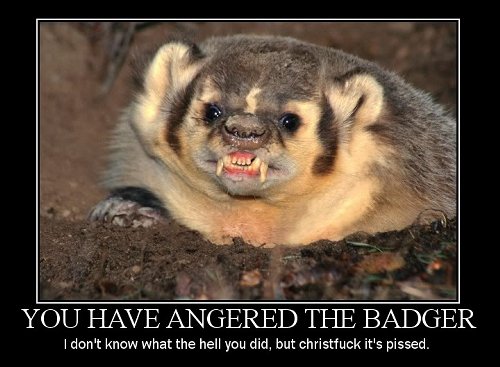 Alabama
I'll try to keep the lengthy paragraphs to a minimum for the Crimson Tide's preview. I want to make sure that Alabama fans, along with the average fifth-grader, understand what has transpired (I'll wait while you look it up) in the offseason. Of recent concern in Tuscaloosa is the swine flu. No, it doesn't involve playing sick so the cattle that passes for coeds will leave the football players alone. It is about keeping Crimson Tide players healthy headed into the opening week game vs. Virginia Tech. There's a joke in there somewhere about a fat man coming down with the swine flu, but I'll leave it to the peanut gallery because Terrance Cody could kick my Yankee ass.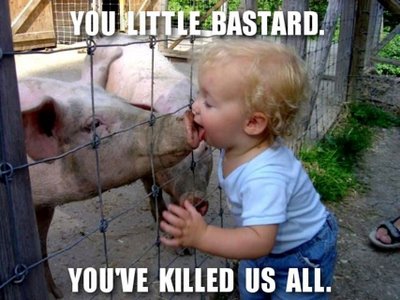 With the H1N1 crisis averted, fans turned their attention to the major matter of player eligibility. Everything's coming up Milhouse. Linebacker Courtney Upshaw's arrest for smacking around his lady friend does not appear to be as serious as first believed. Of course it was self defense. Even the girl's father (who, not coincidentally, happens to be a huge Alabama fan) said so. Courtney could not be reached for comment, but I suspect his thoughts are somewhere along the line of "bitch is crazy." That's not a good excuse for a little smacky shovey, but it was good enough to keep Coach Satan from doling out a suspension. Star WR Julio Jones and RB Mark Ingram were also spared Nick Saban and the NCAA's wrath after taking a little fishing trip. They would have joined the Crimson Tide Bass Anglers but where scared away by the minimum GPA requirement. I kid, I kid.
Speaking of kids, getting signed by a Nick Saban sharpie is going to be the high point in this toddler's life. Mom and Dad actually have more teeth than the baby. I'd consider this a victory if I were a Crimson Tide fan. ... And as further proof that some folks in Alabama are a few cards short of a full deck, some AP writer from Montgomery tabbed the Illini as the 12th best team in the nation.
Florida
Q: How do you circumcise Tim Tebow?
A: Kick Gary Danielson in the chin.
Since the women in the audience have endured a plethora of Erin Andrews and Jenn Sterger pics over the years, I thought I would give a little something back. I present to you - Tebow porn. Sample photo below, with my photo commentary to the immediate right. :)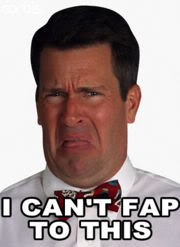 And exciting news ladies - now you can get some Tebow in your crotch. Because, according to the AntiChrist himself, that's the only way TT is getting close to your vajayjay. Double T is going about this all wrong. If I was the star QB at Florida, my nickname would be John Deere after I plowed through all the coed trim on campus. The 50-yard line of The Swamp would be my own giant Sealy Posturepedic; Tucker Max already has the goal line covered.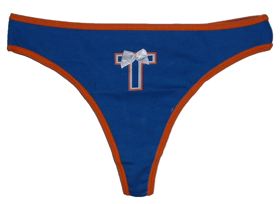 In case you've been living under a rock for the past eight months, you should by now be aware that Jesus Antichrist TebowStar is returning for his senior season at Florida. Far be it from me to pick on one of the best college football players of all time, but great leaders actually will their teams to victory over double-digit underdogs at home, not fail to convert on 4th-and-2 then give a speech indicating you weren't trying your hardest up until that moment in the season. When you are Tim Treebow, however, they post of plaque of your ramblings on a brick wall outside the football stadium.
JATS returning at QB pretty much solidifies Florida as a favorite to win the SEC, despite some questions at wide receiver and running back. So who will Coach Urban Meyer get to replace Percy Harvin in the Gator offense? Probably another herb-smokin', no-class-goin', jackrabbit runnin' freak of nature. Jeff Demps, Chris Rainey, Deonte Thompson, Brandon James, and Aaron Hernandez immediately come to mind. On the off chance the Gator offense falters, the defense should be more than capable of picking up the slack. Linebacker Brandon Spikes anchors Charlie Strong's unit (that's not a euphemism), with 21 out of 22 in the two-deep defensive rotation returning for the 2009 season. That makes me a sad panda. Should I ever get forced at gunpoint by aliens to sign up for one of these worthless social networking sites, this would be the first "group" that I joined.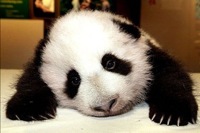 In spite (or perhaps because) of two national titles in the past three years, the natives in Alachua County have managed to find something to bitch about. The complaints mainly involve football players running amok and violating various penal codes. Take cornerback Janoris Jenkins, for instance. He got a little punchy and then the PoPo got a little Tasery. This prompted a tally of the infractions during Coach FingerPointer's reign atop Gator Nation. The grand conclusion? It's all Ron Zook's fault. In an effort by the Gainesville Police Department to keep the hoodlums under control, a ride-along program has been initiated. That should cut down on the police response time that seems to be needed a little too frequently in Gainesville. (Insert comment about glass houses and stones here).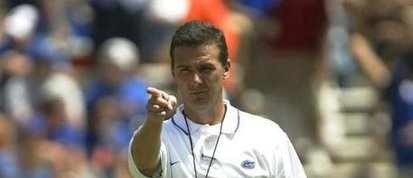 For the love of Tebow stop pointing
In conclusion, Tebow is an abstinent AntiChrist, the Gator defense is good, Urban Meyer is a prick and a good coach, Florida is still blaming Ron Zook for any shortcomings, and the Gators will probably play in another BCS title game this year.
LSU
How is National Corndog Day not held on the first Fall football Saturday in Baton Rouge?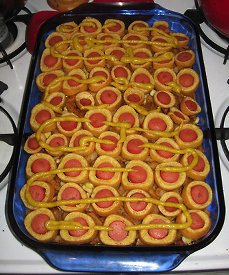 The Bayou Bengals open the 2009 campaign in the unusual position of SEC West underdog. Helping anchor the defense will be sixth-year defensive tackle Charles Alexander, this year's winner of the coveted BCOGHSHIHEGTGA (Brodie Croyle Oh God He's Still Here Is He Ever Going to Graduate Award). Seven starters return on a defense that will be overhauled and upgraded by former Tennessee DC John Chavis. There are a few more question marks on the offensive side of the ball. The Jordan Jefferson, Jarrett Lee, and Russell Shephard three-headed quarterback should make things interesting. The Tigers will not be able to fall back on Andrew Hatch, part-time starter from years gone by who returned to Harvard this year for a real edumacation. Let's just skip to the most glorious quote in the NY Times article - "...And because Harvard did not count any of his L.S.U. credits, it made him a sophomore."
Coach TruckerHat is still running the show in Baton Rouge. Like many other college coaches, he hopped on the Twitter bandwagon this summer. I imagine his Tweets are something along the lines of "Here comes a fake punt on 4th down. Nick Saban sucks. My testicles are huge" and "How about that new Eau de Corndog cologne?" Up first for the Purple & Gold is a long road trip to Seattle for a matchup with the Washington Huskies. Balijeet, Todd, and I are cruising up for the action and hoping to catch a glimpse of the Golden Girls.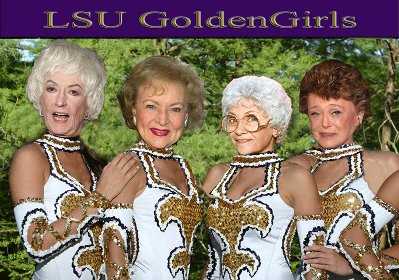 Tennessee
Whiskey. Tango. Foxtrot? The only explanation possible for that bizarre team photo shoot is that Lane Kiffin thought Lamborghinis were cool when he was growing up. The Volunteers brought in an army of experienced coaches, including old man Monte and former Ole Miss head honcho Ed Orgeron, to prevent stuff like that; apparently the photo shoot slipped through the cracks. Coach Kiffin (the younger moron, not the long-time defensive coordinator of the Tampa Bay Buccaneers who popularized the Cover 2) has generally been acting like a spoiled rich kid whose daddy just gave him the keys to a new Corvette. He has already engaged in some verbal sparring with Urban Meyer and Steve Spurrier, all part of some master plan to garner publicity for Big Orange in the offseason. Job well done, I guess, even if it makes the head coach seem like a pompous little jackass.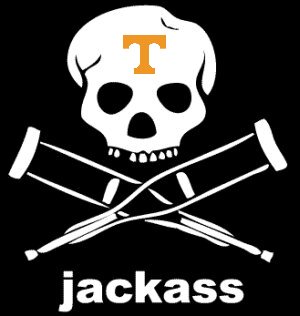 The one thing Volunteer fans have to look forward to this year - it sure as hell won't be the performance of Tennessee quarterbacks - is the play of safety Eric Berry. The über-talented DB is the best defensive player in the SEC, if not the country. Mr. Berry has a 13-year-old brother who was offered a scholarship by Lane Kiffin this past June. Coach Kiffin (I'm still searching for a good nickname) demonstrates his recruiting pitch....

ROFLMAO at the 1:42 and 1:58 minute marks
Missouri
A Missouri Tiger football player was almost killed in a tragic horseback riding accident. He fell from the horse and was nearly trampled to death. Luckily the manager of the WalMart came out and unplugged it in time.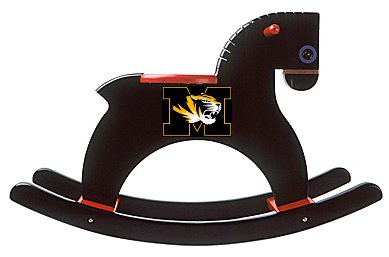 Giddy up!
Head coach Gary Pinkel turned down overtures from Washington (where he was an assistant under Husky legend Don James) to return to his perch atop the Big 12 North. Maybe he figures it's better to take regular beatings from Texas and Oklahoma than USC. Expect the beatings to continue this year; gone from the offense are record setting QB Chase Daniel, TE Chase Coffman, and WR/KR/PR Chase Jeremy Maclin. RB Derrick Washington will need to carry the load. Things aren't looking much better on the other side of the ball. The MU defense loses three all-conference performers, most notably safety William Moore - owner of one sweet, pimped-out ride.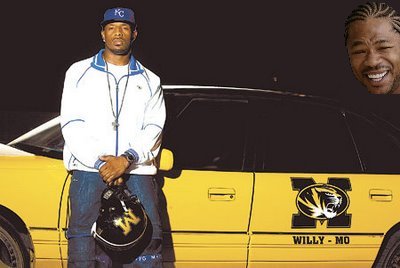 Yo Dawg!
The Tigers kick off the 2009 with an interconference game against the Fighting Zookers. The Illini have dominated Mizzou, winning the last nine meetings in a row. What's that? Oh yeah. I guess we're not talking about basketball. In that case, the Illini have been dominated by Mizzou over the last three decades, with the Tigers taking nine out of the last twelve contests on the gridiron. Dammit.
Nebraska
A guy took his blonde girlfriend to a Nebraska football game for the first time. After the game he asked his girlfriend how she liked the game. "Oh, I really liked it," she said, "but I just couldn't understand why they were killing each other for 25 cents." "What on earth do you mean?" he quizzed. "Well, I saw them flip a coin and one team got it and then for the rest of the game all they kept screaming was: Get the quarter back! Get the quarter back!"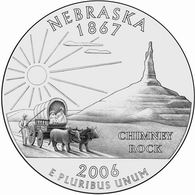 Fresh off a successful 9-3 campaign under first year head coach Bo Pelini, the Corn Kids return with Big 12 North title expectations. I realize that's barely a notch above "Sun Belt Conference title expectations", but at least it is a step in the right direction. Six years ago it was enough to get Frank Solich fired. Now they're happy to have a shot at an Insight Bowl bid. It's all about perspective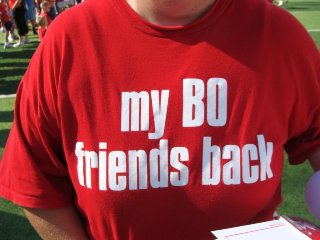 And there's going to be trouble?
Texas
I can't even get the phrase "45-35" out of my mouth in casual conversation before some fat man in a Boss Hogg suit starts having a conniption. Yes, yes, everyone is well aware that Texas defeated Oklahoma on a neutral field last season. The transitive property of college football wins & losses does not apply to the BCS system. You don't see/hear Texas Tech fans screaming 39-33 at ransom passersby. All of this ridiculousness would be a moot point if Blake "Butterfingers" Gideon could catch a pass thrown directly into his breadbasket. But then all the psychoanalysts in the greater Austin area would be out of business (and I wouldn't have a lifetime's worth of material with which to ridicule Longhorn fans).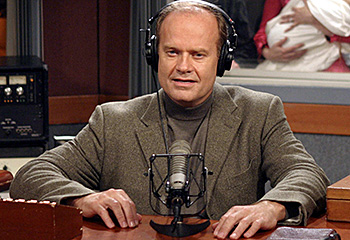 I'm listening.
When Julio Jones and Mark Ingram go on a fishing trip, the Crimson Tide worry about the NCAA hammer coming down and ruining their season. When Colt McCoy and Jordan Shipley go on a fishing trip, hijinks, hilarity, and good times ensue - and all is well as long as the compliance officer gets invited to the fish fry.
With Colt McCoy (holy pornstache, Batman) at the helm, the Texas offense should continue to put up big numbers this season. Defensive coordinator Will "Boom Motherfucker!" Muschamp will rely heavily on athletic freak Sergio Kindle to slow down opponents. If he is able to wreak as much havoc in opponents' backfields as he did on the streets of Austin this summer, the Longhorns will remain the favorite to capture the Big 12 South title. ... And I think I've finally found somebody to bump Jenn Sterger from superfan status.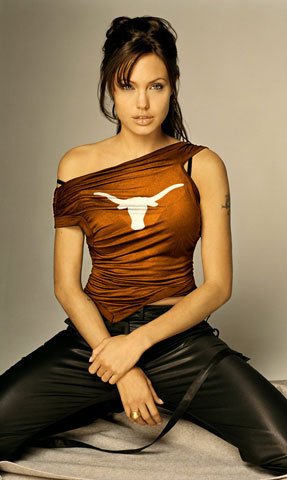 Yellow rose of Texas?
Florida State
Why do we need someone to usurp the fetching Ms. Sterger? Because she's hanging up her football obligations and aspiring to be an actress. I would like to see a casting couch-off between Jenn and Megan Fox. That would probably garner higher ratings than any Florida State football game this year.
Plenty of change taking place this year in Tallahassee. Opposing quarterbacks' prayers were answered when long time defensive coordinator Mickey Andrews announced he is calling it quits after the season. Also on the moveout is FSU president (and ardent Seminole athletics supporter) T.K. Wetherell. Enterprising grad student Justin de la Cruz has come up with the perfect candidate to replace TKW as Clown College Director.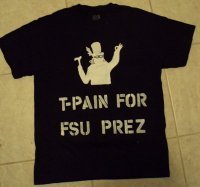 On a boat?!
There was also some recent NCAA violatin' happening in Tallahassee, but the antics were not limited to the football program. The particulars have been known for a few seasons; the result of a few lost scholarships, vacated wins, and probation is not all that surprising (unless you consider it surprisingly lax). In the irony of all ironies, the fiasco came to light in 2007 when several football players were suspended for the Music City Bowl for receiving improper assistance for an online music course. I am not really sure what "improper assistance" means, but it sounds like something I would like to receive.
Arizona State
Several Les Diables du Soleil were suspended for the opening game against Idaho State due to the oh-so-specific "violation of team rules." I don't live in Arizona, nor am I a member of the ASU football team, but if I lived anywhere near the campus in Tempe I would be violating the hell out of some team rules.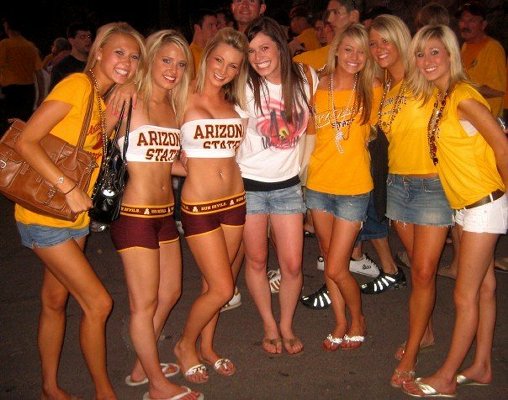 A few of these ladies seem to have misplaced their clothing
I'm not even going to try to predict how the Sun Devils will fare on the field this year. It would just devolve into jokes about the French, Dennis Erickson scotch recommendations, retardedly hot coeds, the shocker, the spocker, the rocker, and the showstopper. Instead, let us bask in the awesome glory of the long, lost video of Sparky jamming to AC/DC's "Thunderstruck" and crushing an Iowa Hawkeyes bus. All hail YouTube.
Oregon
Coach PornStache moved up to the athletic director position and turned the keys to the program over to offensive coordinator/guru Chip Kelly. The mallards depth at QB is a little thin, and the offensive line is young, but expect them to put up big numbers yet again this year. It's almost plug and play at this point. The California blog Bears Necessity has the inside scoop on the simplistic genius of Chip Kelly's offensive schemes.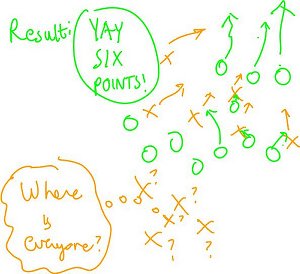 Also new for this year are more hideous uniform combinations. The new unis feature wings on the shoulder pads instead of tread marks. Guess the hippies finally figured it was better to make ducks look like they were flying instead of getting run over by monster trucks. Can't wait to get a glimpse of the new wardrobe when Oregon opens the season on the blue turf at Boise State. Combine this orange, blue, white, & whatever-the-hell-color-out with the Ducks' ridiculous uniforms and you have a recipe for seizures of epic proportions.
Hawaii
I've got nothin'. But neither to the Rainbow Warriors. Zing! June Jones bolted to SMU and there are constantly questions swirling about the solvency of the athletic department. In order to help out my favorite islanders, I propose dropping the colorful rainbow references and changing your nickname to the Fighting Leprechauns (sponsored by Lucky Charms). So what if you're not really Irish. General Mills will no doubt be happy (apologies to the grammar Nazis for butchering that infinitive) to give you a makeover in exchange for the free advertising.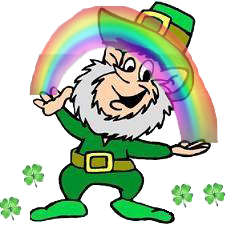 And thus ends the 2009 Mötley College Football pool preview. Buena suerte to all, and Go Illini!
Dr. T