The calm before the storm. It's Friday night. I am home ahead of curfew and gearing up for another 15 hours on the couch for Week 04 college football action. Ice Cube playlist queued up in Winamp (I'm old school; none of this iTunes crap). We'll stick with with a quick analysis of last week's notable games from each major conference, with a smattering of links, pics, and vids. Basically the same as every other week, except a little light on the content. No Jenn Sterger to start off the festivities. The ladies are no doubt appreciative. No manly photos for the chicas, either. This is a college football web site, not a sausagefest. Strap in, because here we ... go.
ACC
Rutgers was dressed down 44-12 by North Carolina in front of a prime time national audience. I'm guessing Greg Schiano is rethinking his decision to turn down jobs at Miami and Michigan over the past few years. The defense sure as hell hasn't been chopping wood this year. Possible new action slogans - missing tackles. Blowing assignments. Costing the head coach a high profile future job and millions of dollars. How do Rutgers fans feel about the direction their program is taking?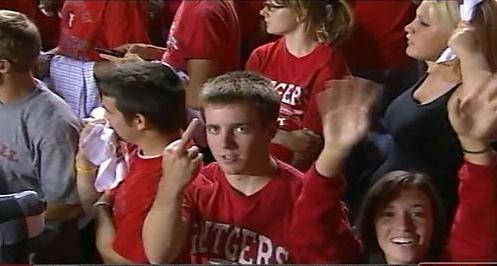 SUNJ salute
Virginia Tech defeated Georgia tech 20-17. The Sean Glennon era looks to be over, much to the delight of Virginia Tech fans. Hokies head coach Frank Beamer bristled at the thought his offensive coordinator is an inept buffoon. Hard to argue with the numbers, though. ... In Tallahassee, Florida State offensive coordinator Jimbo Fisher has the Seminoles looking like the anti-Hokies. The five-finger discounters rang up 46 points in a victory over powerhouse FCS team Chattanooga. ... After I pronounced Maryland dead last week, they came out Saturday and went berserk on the California Golden Bears. Cal usually waits until the middle of the Pac-10 season before crapping the bed, so it could be a long year for the Fighting Tedfords. It certainly was a long day for Cal receiver Jahvid Best, who ralphed up his Gatorade after being clobbered by a Maryland defender.

If Linda Blair played football
Big Ten
The Wolverines' performance in the Michigan @ Notre Dame contest is best summed up in the following "Yakety Sax" video from the House that Rock Built. Big Blue had six turnovers, one for each time Bo turned over in his grave as the result of the crapfest that has been the Michigan offense this season. Freshman RB Sam McGuffie did manage 131 yards rushing on 25 carries; he should excel in Coach PaperShredder's offense assuming a competent quarterback and offensive line emerge sometime during the next three years in Ann Arbor.
Penn state rolled over Syracuse. ... Javon Ringer rushed for 282 yards in a 17-0 shutout of FU FAU. ... Minnesota avenged last year's loss to Montana State (that must feel awfully cathartic, Gopher fans). ... Iowa won their civil war against Iowa State. ... The Badgers rolled into Fresno and escaped with a 13-10 victory. The game was in doubt well into the fourth quarter thanks to gutter-level WAC officiating. Wisconsin linebacker Jonathan Casillas requests that you please get away from his scooter. ... Northwestern is taking themselves a little too seriously after a victory over Southern (Directional!) Illinois.
Purdue did not boiler up enough in a 32-26 loss to Oregon. The Boilermakers held a 20-3 second half lead before losing in double overtime. Coach WilfordBrimley's squad has not defeated a ranked opponent since 2003. ... ThrIllinois needed a 4th quarter field goal to defeat the ULL Ragin' Cajuns. Eek. Oh well, a win is a win.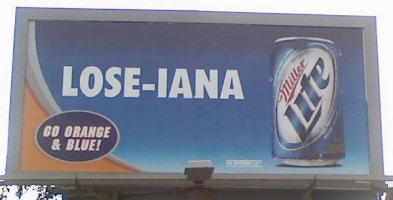 I saved something for last, and it definitely wasn't the best. Ohio State was outclassed 35-3 by USC in this year's game of the century of the season of the month of the week. Beanie Wells did not play due to a big toe owie. Buckeye QB Todd Boeckman might as well not have played. His performance, or lack thereof, did nothing to quiet the calls to replace him with freshman phenom Terrelle Pryor. The following quote from USC linebacker Rey Maualuga should scare the sweatervest right off Ohio State fans - "They did everything we saw on film, nothing changed." It's like Lloyd Carr has been reincarnated and is driving the short bus at The Ohio State Penitentiary.
Big 12
The Fighting Manginos fell to South Florida 37-34 despite a great performance by Jayhawks quarterback Todd Reesing. Missouri QB Chase Daniels and Oklahoma signal caller Sam Bradford were equally brilliant in victories over Nevada and Washington, respectively. Most definitely respectively in Washington's case, as the Ty Willingham funeral farewell tour appears headed toward its inevitable conclusion. But please, oh please, let the Huskies demolish Notre Dame when the Irish visit Seattle in two weeks.
Don't look now, but the Cornhuskers are 3-0. Bo Pellini's squad hosts Virginia Tech this week. That game should provide a good litmus test (woooooo! chemistry) before reality comes calling in the form of an October 4th contest against #5 Missouri. ... Texas A&M had a bye week, but that didn't stop Mötley College Football favorite Joe Kines from dispensing wisdom. Not to be outdone, Texas Tech head coach Mike Leach offers up some advice to young lads wishing trying to earn the affections of pretty ladies (video courtesy The Wiz of Odds).

Matchmaker Leach
Big East
All games of relevance have already been discussed, so here's a picture of a bunny with a pancake on its head.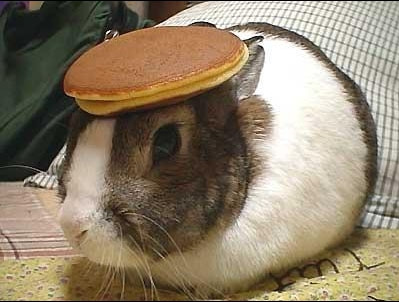 Pac-10
15th-ranked Arizona State lost an overtime stunner to UNLV. Perhaps Les Diables were looking ahead to their game against Georgia. Or perhaps someone with connections in Vegas offered Dennis Erickson a suite at the Palms with all-you-can drink scotchy scotch scotch. The latter has to be the more logical explanation, as the Runnin' Rebels had lost 21 out of 22 prior to their trip to Tempe. Maybe their experience with the ladies of Sin City prevented them from being distracted by the all hot ASU chicks in the stands. I get distracted by them while I'm sitting on the couch 1300+ miles away, so I can only imagine what it is like being on the field right next to them. Kudos to UNLV coach Mike Sanford for preparing his team to block out the distractions.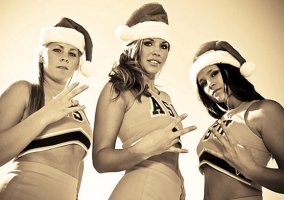 Shocking distractions
In his first 90 games at USC, Pete Carroll lost 14 times by a grand total of 59 points. In his second game as head coach at UCLA, Rick Neuheisel lost to BYU 59-0. That's gonna leave a mark. So much for the offensive genius of Norm Chow. Granted, the Bruins are playing their third-string quarterback and a host of other backups due to numerous injuries, but c'mon. A goose egg against the Stormin' Mormons? Football fans in Los Angeles are wondering if Pete Carroll should just coach both squads.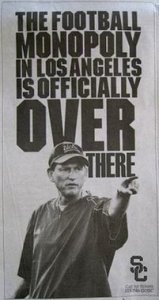 SEC
Kentucky almost got Bluegrass Miracled at the end of their 20-14 victory over Middle Tennessee. Vanderbilt defeated Rice 38-21. The Wildcats and the Commodores are both 3-0. ... In what may charitably be called a defensive struggle, Auburn scored all the points in a 3-2 win against Mississippi State. That sort of offensive outburst is not going to cut it this week against LSU. MCF would like to take a moment to welcome the Bayou Bengals (and quarterbacks Andrew Hatch and Jarrett Lee, in particular) back the land of big boy football. Les Tigres were 41-3 winners over North Texas last week.
Georgia and South Carolina engaged in their typical slugfest in Columbia to kick off the SEC campaign. The Bulldogs 14-7 victory got the job done but wasn't enough to impress pollsters. Plenty of time to do that later in the schedule. ... Tennessee, Mississippi, and Alabama feasted on cupcakes. The SEC should lump all these subpar teams they are playing into a conference called the SECCC, the SouthEastern Crappy Cupcake Conference. You can even throw in Ohio State. That way they can take their annual big-game beating and it will revert the number of Big Ten teams back to 10. Genius. ... No Week 03 game for Florida. As far as I know, Timmay Tebow didn't cure heart disease or cancer during the Gators' time off. The week's not over yet, though, so I plan on indulging and imbibing in case Jesus AntiChrist TebowStar comes through in the clutch.

Timmay!
Dulces sueños, Buena suerte to all, and Go Illini!
Dr. T