Did somebody from Florida take over the music promotion duties at ESPN/ABC? It appears there will be an abundance of AC/DC accompanying college football productions this year on the WorldWide Leader. Just an observation - I'm not complaining. I know you didn't come here for an in-depth analysis on Australian rock bands, so here's a Jenn Sterger update. And she has a blog. So now you don't need to rely on my updates for your cyberstalking. This small paragraph and the photo below will quadruple my internet traffic. I'll just keep telling myself that you are really coming here to read the witty insight / hard-hitting analysis.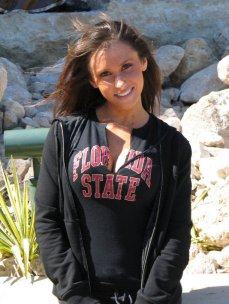 ACC
You know your conference is in the crapper when you make the Big Ten look stellar by comparison. And, surprise, Clemson is once again leading the charge. The Tigers rolled into the Georgia Dome with a Top 10 ranking, a potentially potent offense, and hopes of a national title run. Unfortunately they also rolled in with Tommy Bowden as their head coach. Alabama held the Thunder and Lightning rushing attach (James Davis and CJ Spiller) to a grand total of 20 yards. That performance vaulted them to the cover of this week's Sports Illustrated.The vaunted Clemson offense only ran the ball 14 times. I would love to give out a Lloyd Carr Coaching Move of the Week, but the Tigers implode so often in early season games that this kind of performance is expected. About the only battle they could compete in was to see which fanbase had the nutjob with the most ridiculous set of tattoos.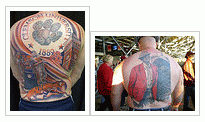 Need a sniglet for the college football equivalent of a tramp stamp
Virginia Tech was sunk 27-22 by the East Carolina Pirates. The Hokies offense was offensive, and the Pirates actually out-Beamerballed the begoitered one. As you might imagine, VT's offensive coordinator is not very popular around Blacksburg this week. And it didn't take long for Frank Beamer to lift the redshirt on promising sophomore QB Tyrod Taylor. Not exactly a vote of confidence for senior quarterback Sean Glennon.
Virginia got throttled 52-7 by USC. Not much to say other than it was a good, ol' fashion ass whoopin'. The ever-so-classy Pete Carroll played his starters well into the 2nd half, and the final score was good enough for poll voters to vault USC to the #1 ranking this week. On a somewhat related note, I'd like to rent a Song Girl to hang out with me (and fetch me beer and McDonald's) while watching college football on Saturdays. ... Maryland struggled to defeat Delaware (who should change their team nickname to the Original Winged Helmets) 14-7. Tough times for Ralph Friedgen; it's about time to recall that "offensive genius" label. Next week the Terrapins (why any school would choose a turtle as a mascot is beyond me) will shake things up at quarterback in an attempt to kickstart the offense. The new starting QB is the son of the original drummer from Ratt. Way cool. Sometimes the headlines just write themselves.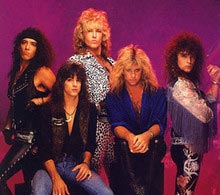 On a brighter note for the conference, Georgia Tech looked good in Paul Johnson's first game as head coach. The Yellow Jackets busted out the triple option attack in their victory over Jacksonville State (hello, Ryan Perrilloux!). ... The David Cutcliffe era got off to a good start at Duke with a 31-7 victory over James Madison. I'm not sure the NCAA should be counting victories over schools named after people (I'll spot you BYU). The most interesting part of the day in Durham was a skydiving crew parachuting into the stadium with the game ball. Only problem is that they landed in the wrong stadium. Whoopsie. And Go Tar Heels!
Big Ten
The Big Ten's season opened up with Northwestern taking on Syracuse in a 9 a.m. PST matchup in Evanston with 20,000 people in attendance and Pam Ward announcing on ESPN. How fitting. Purple Power racked up 484 yards of total offense in a 30-10 victory. That should be enough to place Orange head coach Greg Robinson on the hot seat.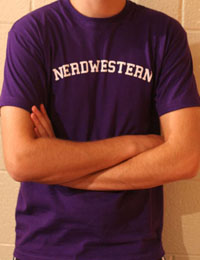 The PaperShredder era is off to an auspicious start in Ann Arbor. Utah invaded the Big House and came away with a 25-23 victory. Quarterback play is an obvious concern going forward. Things look so bad that a heralded high school recruit committed despite the offensive ineptitude. I tried to watch the horror but could not finish the game - the Wolverine Liberation Army drinking game had me plastered by the end of the first quarter.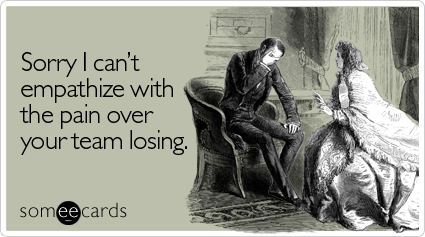 Other out of conference losses provided nothing to help the Big Ten's reputation around the college football world. Missouri rang up 549 yards of total offense and added a touchdown on a kickoff return for good measure in a shootout with the Illini. Juice Williams actually won the QB battle against Chase Daniel in setting career highs of 5 touchdowns and 451 yards passing. The Illini seem to have developed their own little set of roboreceivers in the Florida State mold, although they're shorter and less prone to five-finger discounts at local department stores. Missouri receiver/returner Jeremy Maclin put himself on the Heisman list with an impressive performance in the return game. The Tigers could easily run the table to face Oklahoma in the Big 12 title game if they can straighten out their pass defense. ... Michigan State fell 38-31 to California in a prime time Berkeley battle. Up next for Mark Dantonio and the Spartans are the Eastern Michigan Eagles. Go Directional! Even Shaq-Fu has jumped on the directional bandwagon.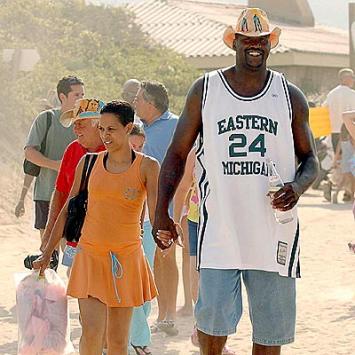 I see your War Eagle and raise you one Shaq Eagle
Elsewhere around the league ... tOSU took care of Youngstown State in Columbus. Beanie Wells was injured in the 3rd quarter, leading to the most publicized stubbed toe in the history of college football. All reports indicate he will be back in time for the Buckeyes' matchup against USC on September 13th. ... All the other Big Ten conference power and wannabes ran over cupcake opponents on their way to victory. No use rehashing. A few notable items below round out the Big 11 recap.
Ganja time for football players in State College. Because the Nittany Lions could use some more off-the-field drama this year. Three players, including star defensive end Maurice Evans, are suspended for this Saturday's game against the Oregon State Beavers at Beaver Stadium. In Happy Valley. It's all so confusing. Go Beavers?
IU football believe train. What. The. Fuck? Nice background music, though.
Big 12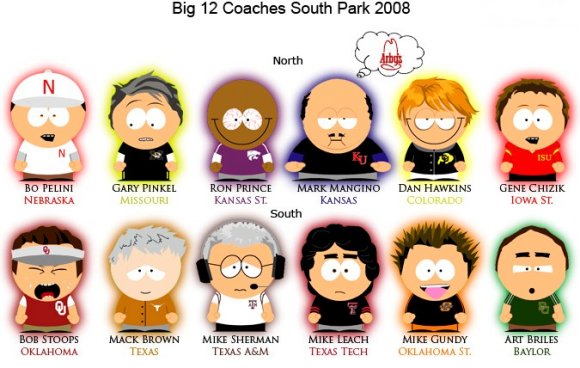 Mizzou's victory over ThrIllinois, which has already been chronicled, highlighted the conference slate last weekend. Oklahoma and Texas both won big then earned a place in the police blotters. A quick scenario - You're the starting defensive tackle for the University of Texas Longhorns. So how do you celebrate an opening-game victory over Florida Atlantic? By partying until 3 a.m. then getting in an accident which leads to a DUI charge, of course. Idiot. ... I guess Oklahoma felt left out and decided a little attention of their own was warranted. Two players were injured at a nightclub when they were injured during a brawl that allegedly involved knives, guns, and tire irons. Did the Big 12 take their stupid pills this week?
Kansas (their coach can eat your coach) and Texas Tech flexed their quarterback muscles in easy victories over non-conference opponents. Of particular note was Red Raiders QB Graham Harrell's 536 yards passing. That puts him on pace to reach his goal of a 6000 passing yards season.
New coaching debuts were the theme of the week in College Station and Lincoln. Mike Sherman's Texas A&M squad lost to Arkansas State. Uh oh. The Aggies have T. Boone Pickens-like alumni donations but can't ever seem to reach elite status. Expect Mike Sherman to be on the hot seat rather quickly if he can't right the ship. Maybe we can get defensive coordinator (and MCF favorite) Joe Kines to take over the reigns. ... At Nebraska Bo Pelini led the 'Huskers to a 47-24 victory over Western Michigan. Big Red gave up 350 yards to the Broncos, so they aren't quite back to the Blackshirt glory days. Give it time, though. Bo has to clean up the mess left behind by Coach ThroatSlash, and the offense is prolific enough to keep them in games.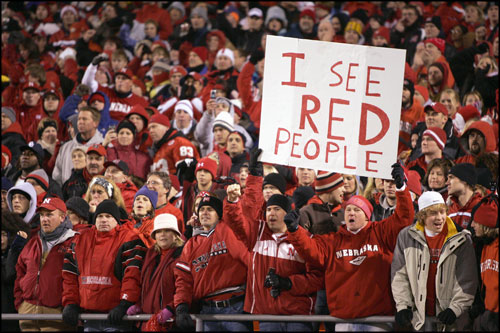 Big East
Not a lot to write home about for the conference as a whole this week. West Virginia looked impressive in Bill Stewart's regular season coaching debut. The Mountaineers featured a passing attack that had lagged somewhat in recent years. Pat White, known mainly as a running QB, proved he is an extremely accurate passer. WVA should be at the top of the conference along with fellow Week 01 winner South Florida. The Bulls hammered lowly Tennessee-Martin. Next up for El Toros is Central Florida. I would have more to tell you about that matchup if UCF's scheduled Monday press conference had not turned in to an advertisement for ladies of the night.
And now for some Big East YouTube goodness. First up is the Cincinnati mascot having some landing issues. Looks like parachute problems are not restricted to the state of North Carolina.
Up next is a fat man running a football in Kentucky's 27-2 victory over the Louisville Cardinals. God bless defensive tackles on their runs (and I use that term loosely) to touchdown glory.
PAC-10
Da Fuhrer was none too happy with the outcome of of the Tennessee-UCLA contest in Pasadena. UCLA scored a 27-24 overtime victory against Tennessee to open their 2008 campaign. The Bruins can thank offensive coordinator Norm Fucking Chow for the stunning upset. I'm jealous he's not coaching the Fighting Gay Indians (even after we tallied 500+ yards of total offense). He turned third-string quarterback Kevin Craft's 1st half, 4-interception debacle into a 2nd half masterpiece. Kid went from looking like Uncle Rico to Joe Montana. Everything NFC touches turns to gold. I would like to take him to a bar and start hitting on hot chicks. He would have me going from zero to sleeping with supermodels (while using trusty Bruins condoms, of course) in about two hours. All hail Chow.
Sorry, my ADHD kicked in there for a minute. The Volunteers did not gain an insurmountable advantage in the first half despite picking off four errant passes. UCLA's defense, a strong suit last year, kept the Vols in check. Once again, Arian Foster fumbled the ball away in the red zone at a critical juncture. And why, for the love of General Robert Neyland, did Phil decide it would be a good idea to use the SAPF. The dumbass formation resulted in the inevitable blocked punt returned for a touchdown. The move earned Phat Phil a Week 01 LCCMOTW, which is not too far fetched considering Tennessee fans consider Phil Fulmer to be Lloyd 2.0.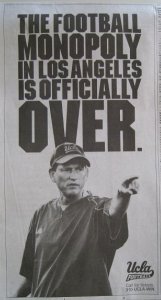 The USC and California victories have already been discussed. ... Washington State fell 39-13 to Oklahoma State in scenic Pullman, WA. ... Arizona hung 70 on Idaho in a shutout victory over the Vandals. ... Arizona State cruised to victory over Northern Arizona. Les Diables will have to find someplace else to practice this season, as their new, fancy practice facility was damaged by a monsoon that recently swept through the Phoenix area. ... Oregon kept Washington's running game in check and handed the Huskies a 44-10 defeat at Autzen Stadium. It doesn't get any easier for Washington, as their next two games are against #15 BYU and #4 Oklahoma. Not looking good for Ty Willingham supporters. I say fire the AD. That schedule is ricockulous.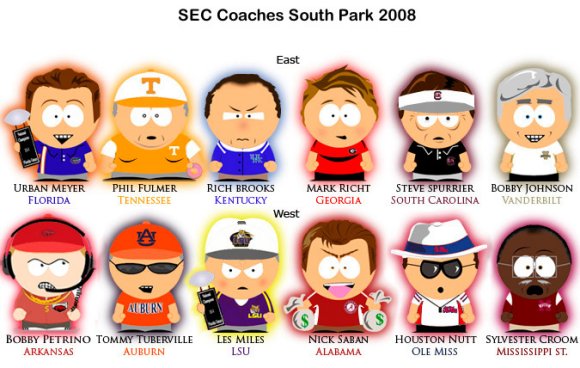 Other than Alabama's dismantling of of Clemson, it was cupcake city for SEC teams in Week 01. Guess they needed the tuneups for all the cupcakes they'll be playing in Week 02. For the second week in a row, Nick Saban earns a JLSIJOTW award. Perhaps we should rename this to the NSIJOTW award. Maybe the irritability is magnified if a coach has ever been at Michigan State. Alabama hosts Tulane this week, but - for God's sake - don't ask Nick Saban about the depth chart.
The (at the time) #1 ranked Georgia Bulldogs opened the Uga VII era with a 45-21 win over Georgia Southern. With the rash of Bulldog injuries, including left tackle Trinton Sturdivant and defensive tackle Jeff Owens, fans are thinking it might be a good idea to appoint a Vice Uga in case the unthinkable should happen.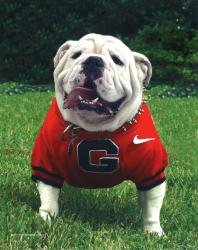 Uga VII
No BCS-busting by Appalachian State or Hawaii this year, as they were handled rather easily by LSU and Florida, respectively. The Corndog Contingent gets an unexpected bye week this Saturday due to Hurricane Gustav (since when did we start naming hurricanes after 19th century composers?). Florida will take on the U in Gainesville. That would be much more awesome if it was 1992. ... Sylvester Croom got Croom'd (he really shouldn't have disable the torpedo's safety devices) by Louisiana Tech. Mississippi State needs to straighten out their offense in short order or it is going to be a rapid, nasty fall back to the SEC West cellar. The Starkville Bulldogs might have some Razorback company if Arkansas can't get their act together. Team Petrino needed a fourth-and-ten conversion plus a last-minute touchdown to score a victory over Western Illinois (shout out to the Division II directional team, where my dad once matriculated for one semester). Yikes.

That will do it for our weekly recap. It's high time I hit the sack in preparation for Saturday's Week 02 contests. Roll call, complete with chocolate milk and a Flintstones vitamin, is at 7 a.m. sharp. Dulces sueños, Buena suerte to all, and Go Illini!
Dr. T