Oh yeah! It was a super-duper-califragilistic-expiari-Zookous Saturday for Illini fans. Not so much for Michigan, Ohio State, and Notre Dame fans. All teams should adopt Notre Dame's tactic of scheduling the service academies for non-conference games. That way when you lose, you can focus on the brave men and women serving our country instead of the craptastic coaching that led to your shellacking.
Oh Yeah!
ACC
In Miami's final game at the Orange Bowl, the Hurricanes suffered a 48-0 beatdown at the hands of Virginia. Ouch. Talking heads are wondering aloud if Randy Shannon has bitten off more than he can chew. ... Boston College continued their late-season collapse with a 42-35 loss at Maryland. The Eagles were just happy to get out of College Park without being eaten by Terps coach Ralph Friedgen. ... Clemson appears to be on track for their traditional late-season push to save Tommy Bowden's job. Big game next week for the Tigers when BC invades town with division title aspirations on the line. That's about all I paid attention to this week in the ACC, as their teams are eliminated from the national title picture, and there was this little game taking place in Columbus with major BCS implications.
Big 11
Bad football weekend for Ohio State fans, exact-opposite-of-the-Holocaust football weekend for me. I was a nervous wreck by the 4th quarter of the Illinois game. I just curled up on the couch in the fetal position and started rocking back and forth. It was really quite pathetic. This is what happens when your favorite football team wins eight games over the previous four years then has a chance to knock off the #1 team in the nation. Ron Zook channeled his inner Les Miles; Jim Tressel channeled his inner John Cooper; Juice Williams channeled his inner Vince Young; Todd Boeckman channeled his inner Anthony Morelli; the result of all that channeling was a 28-21 Illinois victory at the Horseshoe in Columbus. Illini senior LB J Leman had 12 tackles to match his OSU JL counterpart. It should be noted, however, that Mr. Leman only played about three quarters worth of football - the Illinois offense held the ball for 13:46 of the 4th quarter (including an 8:09 drive to run out the clock). Should I just go ahead and order BCS bowl tickets now?
The Fighting Illini controlled the line of scrimmage for most of the day and racked up 400 yards against the nation's #1 defense. Oh, and there may have been a few blown calls that cost the Buckeyes the game. <Illinois fan>Nothing to see here. Move along.</Illinois fan> After the game there was a bit of a skirmish as the Fighting Gay Indians celebrated on the "O" at midfield. It was the toughest defense the Buckeyes could muster on the afternoon. And I'm generally not one to condone such celebrations, but someone sent me this little karma nugget during the week; you stay classy, tOSU!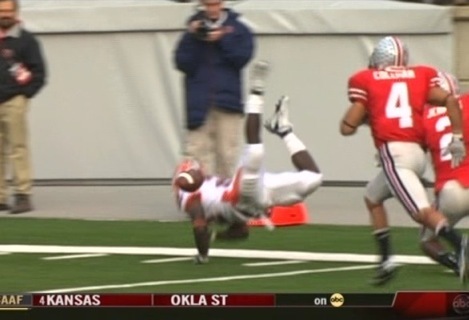 Fumblllllllllllleeeeeeee! Unless you are a Big Ten referee. Then it's Illinois football at the 3.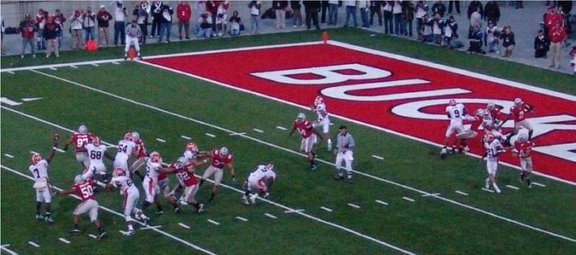 What pick? :)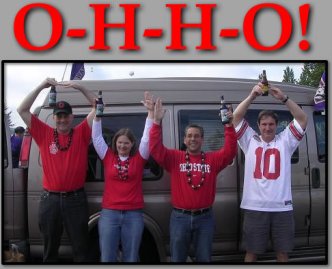 It's fun to stay at the ...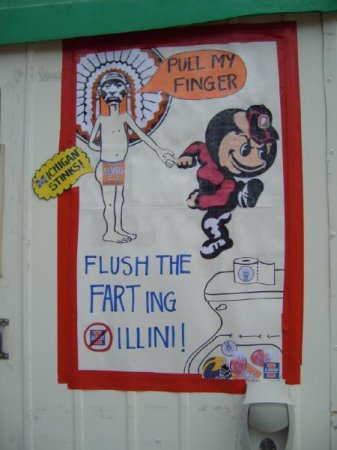 Farting Illini! Great idea for a new mascot/nickname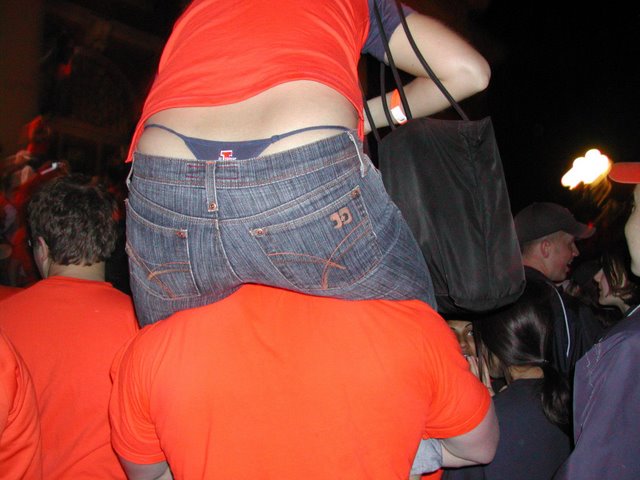 The future Mrs. Mötley College Football celebrating an Illini victory
Not wanting to let Ohio State steal the thunder, Michigan went to Wisconsin and stunk up Camp Randall as LLLoyd earned his third "L" of the season. Chad Henne and Mike Hart were limited, and freshman QB Ryan Mallett looked like a young John Navarre. That's not a good thing. Also nice to see Michigan's wide receivers supporting their QB. Expect to see Super Mario Manningham and Adrian Arrington dip their toes in the pro waters this Spring. Hart and Henne were obviously being rested for next week's game against the Buckeyes. That's not a bad thing, especially if it means we don't have see Chad Henne doing a little Soulja Boy mambo.
Big game next weekend in Ann Arbor for all the Big Ten marbles. The team that lost to Appalachian State has a chance to beat the team that lost to the team that lost to Iowa, all with a trip to the Rose Bowl on the line. As if that story didn't make the fierce rivalry newsworthy, Brian over at MGoBlog broke the news that Michigan head coach LLLoyd Carr would be announcing his retirement after the game against the Buckeyes. Score one for the internets. Meanwhile, The Detroit News reported that the Dead Schembechlers may be taking their lives into their own hands for a coming-out-of-retirement party in Communist Washtenaw County.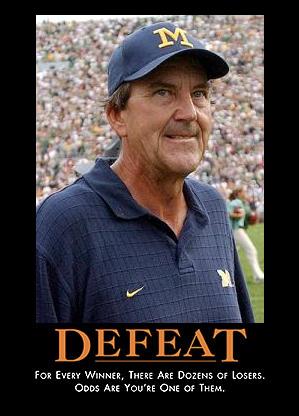 Elsewhere around the Big Eleven, Indiana scored a victory over Purple Power and became bowl eligible for the first time in decades. Literally. ... Penn State trounced Temple. The Nittany Lions get just as much fight out of random students they attack at off-campus apartment parties. ... Iowa squeaked by Minnesota, dropping the Golden Gophers to 1-10 on the season. After the game Minnesota announced that Dairy Queen would be the sponsor of their new on-campus stadium. Only in the Midwest. Fans better be able to order a peanut buster parfait. ... Finally, Purdue continued their late-season slide with a loss to Michigan State. The Boilermakers are on their way to another 7-5 patented Coach WilfordBrimley finish.
Big 12
Everything went according to script for the ranked teams in the Big 12, keeping things on track for an end-of-season, three-team showdown to see which one get to play in the national title game (Missouri, Kansas, or Oklahoma). Colorado managed to lose to Division 1 football team (although that bestowed moniker is debatable) Iowa State. Nebraska, one week after giving up 76 to Kansas, rolled up 73 on Kansas State. Doesn't really matter if they score 150; Coach ThroatSlash is still going to lose his job when the season ends.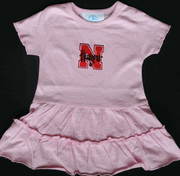 New unis for NU
Big East
Two games of note: West Virginia defeated Louisville 38-31, and Cincinnati upended UConn 27-3. Big East: The new MAC. I just can't get excited about this conference. They need some more quality OOC wins. A team that shows a pulse on defense against non-conference BCS opponents would also be nice.
SEC
Alabama got Croomed in Starkville by Mississippi State. Fantastic job by Sylvester in taking MSU from SEC doormat to bowl eligibility. Perhaps the lackluster performance of Saban's crew (especially QB Sarah Jessica Parker Wilson) can be traced to the mesmerizing, high-tech flyover that took place before the game.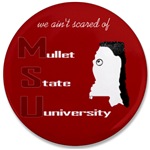 Speaking of putrid performances, Arkansas dropped to 2-4 in the SEC after a 34-13 loss to Tennessee in Knoxville. Only Houston Nutt could make Phil Fulmer look like a genius. Area restaurateurs are happy that Phat Phil's fortunes are improving, as his presence is good for their bottom line. The Volunteers still control their own destiny in the SEC East.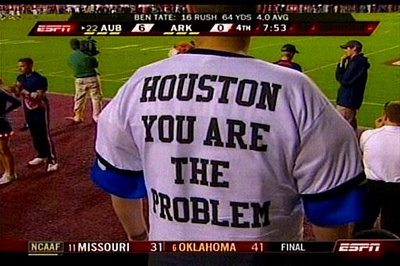 A quick tour around the rest of the league: Kentucky slipped by Vanderbilt 27-20. ... Georgia blacked out Auburn 45-20. The Classic City Canines may be playing the best football in the country right now. I still can't figure out how this team got blown out by Tennessee. It makes no sense. ... LSU went out of conference to hammer Louisiana Tech 58-10. The purple and gold Tigers clinched the SEC West thanks to the Auburn and Alabama losses earlier in the day. ... Jesus Christ Tebowstar rushed for five touchdowns in a 51-31 victory over the Fighting GamePhalli in Columbia. This absolutely, positively needs to be South Carolina's new intro song. Bubb Rubb FTW.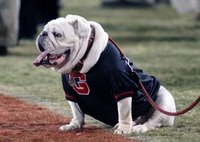 Back in black
PAC-10
Les Diables du Soleil escaped Pasadena with a 24-20 win over UCLA. That doesn't bode well for the matchup next week with USC. ... Wazzu scored 13 fourth quarter points to pull away from Stanford for a 33-17 victory. ... Oregon State defeated Washington, but not before Pac-10 officials succeeded in out-doing their Big Ten counterparts for the worst call of the week. ... A downpour in the Bay Area was the story for USC's 24-17 triumph over Cal. The Bears are slowly swirling down the proverbial Pac-10 toilet. But hey, at least their band is keeping things fresh. Crazy band geeks.
A few pieces non-BCS flotsam and jetsam to tide you over for the week: (1) Wyoming head coach Joe Glenn gives the one finger salute in response to Utah trying an onside kick while up 43-0. (2) Fresno State defender Marcus Riley introduces himself to Hawaii QB Colt Brennan. That's gonna leave a mark.
Buena suerte to all, and Go Illini!
Dr. T