Another week, another web site update. I've been holding out, hoping some glorious Grantland Rice lightning bolt would strike, allowing me to provide blue-gray sky analogies that would bring a smile to your face and a tear to your eye. No such luck. There will be no Grantland Rice. Hell, there won't even be any Ann Rice. You're stuck with a third-rate writer on a second-rate web site spitting out first-class written college football diarrhea. There might even be a mention of a football game or two. For the second week in a row, we will not be featuring a photo of Erin Andrews or Jenn Sterger. This is causing my search engine traffic to swirl rapidly down the proverbial toilet. Kinda like Notre Dame's season. Bha ha ha.

SupermanRam Vela
Three essential rules: (1) Never get involved in a land war in Asia. (2) Never invade Russia in the winter. (3) NEVER GO IN AGAINST NAVY WHEN OVERTIME IS ON THE LINE.
http://mgoblog.blogspot.com/2007/11/nothing-goes-away-on-internet.html
ACC
Not feeling it this week for the ACC recap portion of my web site. Apparently Boston College wasn't feeling it Saturday night, either, as they lost 27-17 to Florida State in prime time on national television. Goodbye BCS title game. Goodbye Heisman Trophy. Hello Chick-fil-A Bowl. Mmmm, Chick-fil-A. The only other ACC game I was paying attention to was Wake Forest vs. Virginia. F'ing Demon Deacons cost me two points in the pool when they missed a last-second field goal that would have won the game. Al Groh's team has been skating on thin ice all year yet continues to pile up the victories. I fart in their general direction.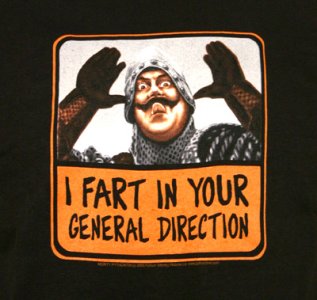 Big 11
Do not adjust your computer monitors. Indiana joins Illinois, amongst others, as a bowl eligible Big Ten team. ... Michigan State channeled their inner John L. Smith in a 4th quarter collapse to big brother from Ann Arbor. The meltdown continued after the game when MSU head coach and Michigan RB Mike Hart engaged in some verbal midgetry (I don't even know what that means). It's like El John never left. Good times, good times. ... tOSU got a bit of a scare from the Badgers. Wisconsin was up 17-10 in the third quarter until Coach AnkleTattoo decided to fake punt his team back into the Stone Age. Final Score: Poisonous Nuts 37 - Feral Rabies Carriers 17. ... All three people I know who get the Big Ten Network saw ThrIllinois rack up 655 total yards of offense in a 44-17 demolition of Minnesota. Up next for the Fighting Pirates Illini - a trip to Columbus to hear TBDBITL.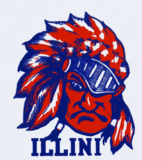 Arrr!
Big 12
The biggest news in conference this week wasn't the 76 points the Kansas Jayhawks hung on the defense formerly known as the Blackshirts. Rather, it was that Cornhusker head coach Bill Callahan and defensive coordinator Kevin Cosgrove were still employed by the University of Nebraska after the debacle. Loyal readers should be absolutely thrilled that Kansas didn't finish with 69 points, as I had a whole slew of inappropriate Mark Mangino jokes ready to go. Those will be put on dry ice in anticipation of next year's clash in Lincoln.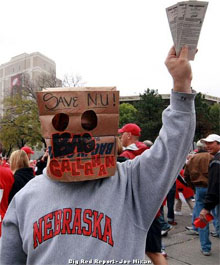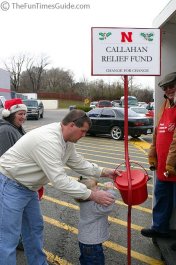 Kansas travels to Stillwater this week to take on Oklahoma State, who choked away another 2nd half lead to Texas in Week 10 action. The Longhorns kicked a field goal with time winding down for the 38-35 victory. The Cowboys missed a field goal prior to that, leaving the barn door wide open and costing me (once again) two points in the football pool. F' you, 40 year old virgin man. ... Oklahoma and Missouri rolled to easy victories, continuing to set up the stage for some late-season fireworks with BCS implications. Should Missouri win out, I'd like to see some more Chase Daniel for Heisman talk. He's been as good as Dennis Dixon without the funny green uniforms.
Big East
South Florida lost to Cincinnati, Pittsburgh edged out Syracuse, and Connecticut is still undefeated. Yet the most important thing this week for Big East fans was the start of college basketball season. Outside of West Virginia, they don't seem to care as much about football. Therefore, I don't care as much about the brevity of this conference recap.
SEC
The SEC, on the other hand, cares a lot about college football. A little too much, really. I admire that. Practice that. Preach that. Condone that (unless you have a wife or lady friend who will yell at me). Ahem. I was searching for a segue to lead in to a story about football revelers causing problems in the drought-plagued Southeastern US, but I came up empty. Click on over to The Jaunt to find out why real fans don't flush.
On the field, Florida took out their frustrations on Vandy to the tune of 49-22. Jesus Christ Tebowstar returned to early-season form and Percy Harvin had over 100 yards rushing and receiving. I still think it's problem when your leading rushers are a quarterback and a wide receiver. That's the only explanation I can come with for why the basketball coach makes more money than the football coach at Florida. Recockulous. I think I hear the Head Ball Coach laughing up in Columbia. Not too loudly, though, as his GamePhalli were obliterated by Arkansas last week. Darren McFadden ran his way, Forrest Gump style, back into the Heisman race with a 321 yard rushing performance. That tied an SEC record. Felix Jones tacked on an additional 163 yards rushing for good measure, and the Razorbacks cruised to a 48-36 victory. Arkansas is the anti-Florida, with an abundant plethora of rushing goodness but Dick for quarterback. The Gators and Cocks collide this Saturday in South Carolina for a pivotal SEC East contest.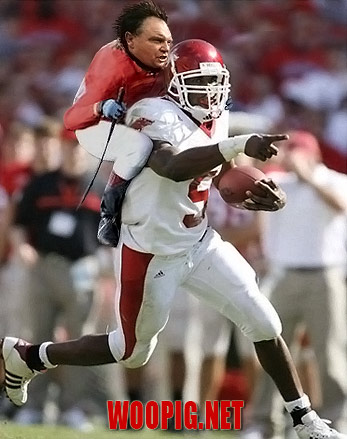 Not even Les Miles' bumbling hijinks could deny LSU a victory over Alabama in the inaugural Saban Bowl. The Tigers once again overcame a 10-point deficit in the second half to take down a conference foe. Les Tigres outgained the Crimson Tide by a 475-254 yard margin but were penalized 14 times for 130 yards and threw 3 interceptions. Matt Flynn recovered from the turnovers and the defense stepped up to lead the late-game rally. Alabama travels to Mississippi State and LSU welcomes Louisiana Tech this Saturday.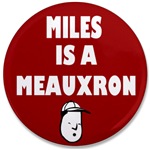 This was disturbingly absent from my tailgating experience at LSU. WTF, Balijeet?
http://www.youtube.com/watch?v=_Jl1Ss_UCK0
Former LSU star Jamarcus Russell supporting 'Bama. Wait, what?
http://sports.aol.com/fanhouse/2007/06/29/jamarcus-russell-bama-boy/
It was Cupcake City for the rest of the SEC in Week 10. Mississippi beat Northwestern State 38-31 despite giving up nearly 500 yards of offense to the Demons. Somewhere, David Cutcliffe is laughing. That somewhere is likely Knoxville, where Tennessee hammered Louisiana-Lafayette 59-7. Volunteers center Josh McNeil celebrated the victory with a little ménage à quatre action. Or not. ... Auburn stomped Tennessee Tech (apparently ITT Tech and DeVry were unavailable) 35-3. Georgia got all they could handle from Troy (You're watching Troy football!) before pulling away for a 44-34 win. The Tigers and Dawgs meet between the hedges this week for the 2007 version of the South's oldest rivalry.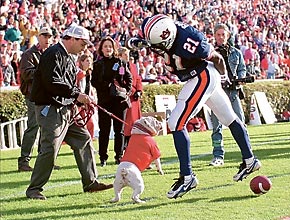 Robert Baker, make-
Uga
-angry maker
PAC-10
UCLA lost to Arizona. I'm not really sure why that seems so surprising considering the Bruins lost to Notre Dame this year, as well. ... Washington thumped Stanford, USC beat Oregon State, and California edged out Wazzu. The big game of the week, both on conference and national levels, was Arizona State at Oregon. Les Diables invaded Autzen for a Top 5 matchup but couldn't pull off the upset. The Ducks seemed in control from start to finish of their 35-23 triumph. Dennis Dixon tweaked his knee in the 4th quarter but will have plenty of time to rest before the Ducks next contest on November 15th vs. Arizona. The Sun Devils must regroup quickly for a Saturday matchup with UCLA. Hopefully Sparky can make an appointment with a urologist before then....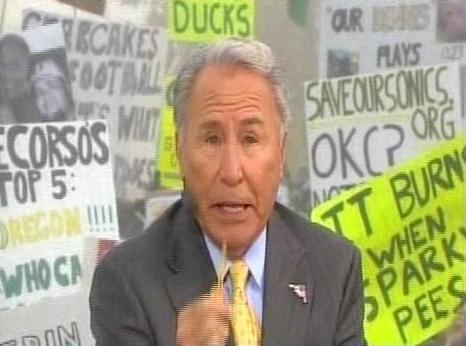 Sparky better get that checked out
Three Oregon students died in an accident and went to heaven. When they got there, St. Peter said, "We only have one rule in heaven. Don't step on the ducks!" So they entered heaven and sure enough, there were ducks all over the place. It was almost impossible not to step on a duck and although they tried their best to avoid them, the first OU guy accidentally stepped on one. Along came St. Peter with the ugliest woman he ever saw. St. Peter chained them together and said, "Your punishment for stepping on a duck is to spend eternity chained to this ugly woman."
The next day, the second OU student accidentally stepped on a duck and along came St. Peter, who didn't miss a thing, and with him was another extremely ugly woman. He chained them together with the same admonishment as the first. The third Oregon student had observed all this and not wanting to be chained for all eternity to an ugly woman, was very careful where he stepped. He managed to go for months without stepping on any ducks. But one day, St. Peter came up to him with a former ASU cheerleader, the most gorgeous woman he had ever laid eyes on. St. Peter chained them together without saying a word. The guy remarked, "I wonder what I did to deserve being chained to you for all eternity?" She replied, "I don't know about you, but I stepped on a duck!"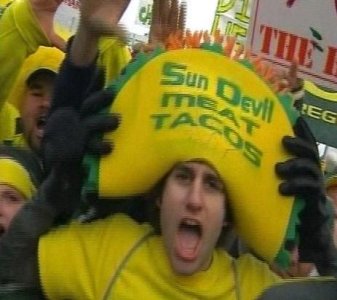 I have no idea what this means
Jesus Christ, it's Suge Knight, get in the car. (That's a much funnier reference if you are familiar with this.)
http://latimesblogs.latimes.com/allthingstrojan/2007/11/the-suge-knight.html
Buena suerte to all, and Go Illini!
Dr. T