Week 10 Saturday games have already kicked off, so let's just cut to the chase. Some exciting and not-so-exciting games last week. Somebody must have put something in the water supply, because players and fans from several schools were on anything but their best behavior over the past week. I could write pages on the Bulldogs' Cocktail Party touchdown celebration or the frat party in State College. But I won't, mainly because everybody coming to this site via the tubes and the eBays and the internets is in search of Erin Andrews or Jenn Sterger. Surprisingly, no photos of either this week. So read on, loyal reader (readers?), for the lowlights, highlights, and more lowlights of Week 09 action, presented mainly in hyperlink and pictorial form.
Let's start off with the good. Trinity Tigers vs. Millsaps Majors. Division III football (take that, Dan Hawkins). Trinity with the ball down by two with :02 on the clock. Then, a Benny Hill skit breaks out. Surprisingly, the band was not out on the field. Final score: Trinity 28 - Millsaps 24.

Insanity, laterally
And apparently I'm not the only one who is all for the existence of the revered TEDPOTW (Tyler Ecker Dumbass Play Of The Week).
http://michiganzone.blogspot.com/2007/10/move-over-stanford-cal.html
ACC
For 58 minutes Boston College laid a monster-sized egg on national television against Virginia Tech. Then Matt Ryan remembered he was a Heisman candidate and played like a QB possessed (no, not like Chris Rix). Mr. Ryan led the Eagles back from a 10-0 deficit to a 14-10 victory, highlighted by a 3rd and forever touchdown pass to take the lead with time winding down. But hey, at least Virginia Tech won something. Mr. 2 Cents summed it up best:
Virginia Tech Chokies
Virginia lost to North Carolina State, providing renewed ammunition to the Fire Al Groh contingent. Since Coach ManBoobs was forced to (not necessarily) greener pastures at FSU, I don't have anything of comedic value to add about this game. And since every other team in the ACC not discussed thus far is unranked, on to the Big Ten we go.
Big 11
Penn State's "white out" served as a rather symbolic prime-time surrender flag for the 37-17 beating handed down by the Buckeyes. (The royal) We here at MCF would like to welcome the Ohio State University to Division 1 football. It's been awhile. tOSU controlled the game throughout despite a pumped-up and rowdy crowd. One of the reasons this post is coming so late in the week is the inordinate amount of time I spent searching for a photo of the PSU student dressed up as Count von Count from Sesame Street. I was, ashamedly, unsuccessful in my attempts to locate a picture. As electric as the atmosphere was inside the stadium, the happenings outside the stadium were bush league. A quick summary: people at the Penn State Pi Kappa Alpha frat house pelt OSU fans with beer cans. Un-fucking-believable. Little Mr. BamaBangs from Pittsburgh was eventually cited for disorderly conduct and the fraternity is likely on some sort of double secret probation.

Asshattery of the nth degree
In happier news (for me, at least), the Illinois is now bowl eligible. That deserves a Wooooooooooooooooooooooo! The Illini defeated Ball State by a 28-17 tally, thanks in large part to 189 yards rushing by Rashard Fumblehall (nickname is back after he coughed one up this weekend).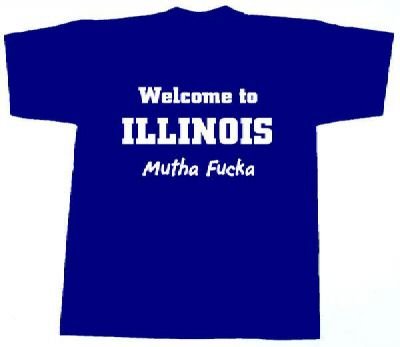 Salute!
Wisconsin downed Indiana 33-3 in workmanlike fashion. Great for Badger fans, blah for everyone else. Big game for Bucky this week, as Coach AnkleTattoo takes his team to Columbus for a clash against the Buckeyes. ... Michigan rumbled a victory over hapless Minnesota at the Big House under the watchful eyes of Mini-Me. Next up for the Wolverines is a rivalry game against Sparty in East Lansing. Be sure to bring along your Appalachian State and Grand Valley State gameday attire.
Big 12
Nebraska found a new and exciting way to lose in Austin last week. The 'Huskers were up 17-9 after three quarters, then promptly surrendered 216 rushing yards and three touchdowns to Texas running back Jamaal Charles in the fourth quarter. It's easy to hate Nebraska when they're beating everybody by 50 or Coach ThroatSlash is roaming the sidelines. But what the hell am I going to do when a likeable coach comes in to clean up the mess? Probably crack jokes and continue to be a smart ass. ... Missouri defeated Iowa State 42-18 and is still on track for a late-season showdown against Kansas for all the Big 12 North marbles. ... Kansas visited Texas A&M and came away with a 19-11 victory. I won't subject anyone to photos of the velour track suit that Mark Mangino was wearing on the sidelines. Quadruple yikes! Perhaps the Aggies would have fared better if Comedian Franchione had taken more time to prepare for the Jayhawks and less time commenting on Oklahoma. Oh well. As suspended tight end Martellus Bennett aptly demonstrated a few weeks ago, if you can't go to the game then you might as well go shopping.

More chins than a Chinese phone book
Big East
Only three contests last weekend in the Big (L)East. Louisville won at Pittsburgh by a touchdown. Not looking good for Coach Mustache. UConn continues to surprise. Their 22-15 win vs. South Florida leaves them undefeated in conference play. SUNJ comes to Storrs this weekend in search of redemption after the beatdown administered by West (Fuckin') Virginia on national television. Freshman phenom Noel Devine dressed but did not play. Unconfirmed speculation had him in Rich Rodriguez's doghouse after an excused absence to visit one of his two babymamas. I wish I was making that up.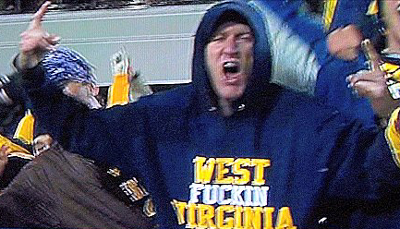 SEC
The World's Largest Outdoor Cocktail Party (attempts to rename it will forever be met with derision on this site) in Jacksonville, FL, was an entertaining barnburner. After Georgia's first touchdown, the entire team ran on the field to celebrate. It was quite a scene that, understandably, irked many Florida fans. I say let ye without sin cast the first stone.

You stay classy, Georgia.
The emotional display fired up the Bulldogs, and they were able to maintain that intensity on the way to a 42-30 victory. The Dawgs were helped (in part) by a shoulder injury to Jesus Christ Tebowstar that limited his running effectiveness. That sent the Gator rushing game into the toilet. Florida fans had difficulty coming to grips with the defeat after having won the previous 15 out of 17 in the series. You can thank the fine folks over at EDSBS for introducing us to the phrase "Wilford Brimley Bukkake Party." John Radcliff over at AOL Fanhouse TV has the Georgia response: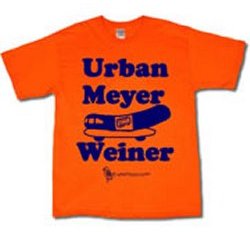 My bologna has a first name, it's U-R-B-A-N
Good thing the Texas Tech bell ringer wasn't around to do more damage.
http://www.ajc.com/sports/content/sports/uga/stories/2007/11/01/ugabell_1102.html
I can't imagine this would be good unless your name is Lindsay Scott (Lindsay Scott! Lindsay Scott!)
http://georgiasports.blogspot.com/2007/04/this-wedding-didnt-suck.html

Lindsay Scott! Lindsay Scott! Lindsay Scott!
Auburn, Arkansas, and Vandy were all victorious. Kentucky got Croomed by Mississippi at home. That's gonna leave a mark. Rich Brooks isn't going to dwell on the loss, because he doesn't have time for that bullshit. The events earlier in the day opened up the door for the winner of the South Carolina - Tennessee game to take control of the SEC East. The Volunteers jumped out to a 21-0 first-half lead then nearly choked it away. As time was winding down and Tennessee was lining up for a game-tying field goal, the Volunteers had a false start penalty. Good thing, as the field goal attempt was shanked badly. Tennessee tied up the game on the retry and went on to win in overtime. If the Volunteers win out, they'll be in the SEC title game.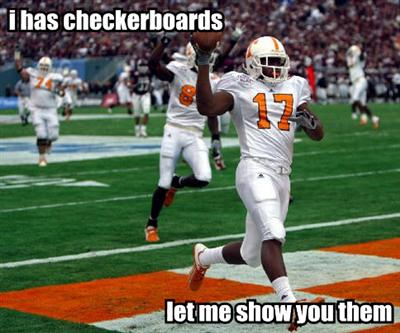 LOLvolunteers
In case the Colquitt name wasn't already synonymous with punting at Tennessee.
http://www.tennessean.com/apps/pbcs.dll/article?AID=/20071027/SPORTS0601/710270376/1345/SPORTS
Both LSU and Alabama had a bye in Week 09. That gave the Crimson Tide plenty of time to contemplate their NCAA defense for doling out free textbooks to "student"-athletes. Not to be outdone by 'Bama shenanigans, several LSU players were involved in a late-night melee outside the Varsity Theater in Baton Rouge. Expect a high intensity atmosphere and game in Tuscaloosa this week. Alabama fans are crazy about Savior Saban, and the LSU fans are not too thrilled that he is coaching at an SEC West rival school.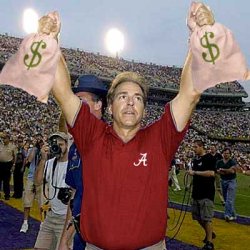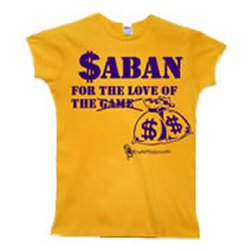 Don't you want me Saban?
PAC-10
The ugly: Washington remained winless after a loss to Washington. The Fighting Willinghams blew a 15-point 4th quarter lead to Arizona to drop to 0-5 in the conference. ... Even more shocking than the Huskies' collapse was UCLA dropping a 27-7 decision to Washington State. Not looking good for Karl Dorrell. The best support Bruins' athletic director Dan Guerrero could muster was "I'll be very interested to see how we finish the season." Uh ohs.
The bad: Stanford, the same team that defeated the University of South Central, scored a whopping six points in a loss to Oregon State. The sophomore in me finds it difficult to root against any team using a beaver as a mascot.
The good: Speaking of beaver...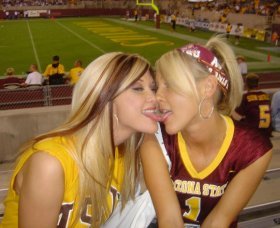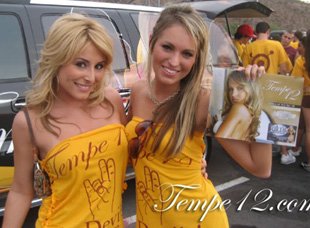 I propose the term lesdiables to describe lesbian girls from Arizona State. Behind the strength of such a display - or maybe it was Dennis Erickson's halftime adjustments and Rudy Carpenter's QB play - the Sun Devils used a strong second-half performance to defeat Cal 31-20 in Tempe. That's three straight losses for the Fighting Tedfords. Coach Erickson was so fired up that he grabbed Sparky's pitchfork after the game and drove it into the turf at Sun Devil Stadium.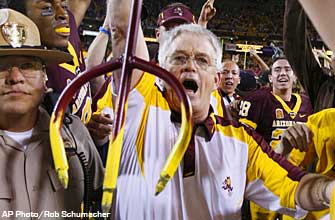 The power of Satan compels you
Up in Eugene, the Quack Attack rolled to a 24-17 victory over West Coast USC. The Oregon offense was limited to about 1/2 their total yardage average, due in large part to the Trojans' ability to prevent the big play. Yet the Ducks controlled the line of scrimmage on both sides of the ball to remain in the national title hunt. Up next for Oregon: Les Diables come to Autzen for a late afternoon Top 5 matchup.
Stay classy, Mrs. Bellotti.
http://blog.oregonlive.com/johncanzano/2007/10/colleen_bellotti_is_spitting_a.html
OK. I lied. It's impossible to go an entire post without mentioning Erin Andrews or Jenn Sterger. Here's a link to an interview by the folks over at One More Dying Qual (the self-proclaimed "quite possibly the worst source of sports information on the Internet") with the lovely Miss Andrews.
http://onemoredyingquail.blogspot.com/2007/10/following-my-interview-with-tina.html
College Football Monkey's take on Week 09 action. He also responds to reader e-mails. NSFW good times. If you don't want to sift through all of them, just skip to the response to the Michael Crabtree question.

Buena suerte to all, and Go Illini!
Dr. T