Read below for the A-Z recap of my trips to Columbia for Kentucky vs. Original USC and to Baton Rouge for Florida vs. LSU. This week's content, much like Dolly Parton, is a little top-heavy. Lots of "B" and "C" entries, not so much "X" and "Y" material.
A is for Alligator. The Florida mascot was the comida of choice at many a tailgate party around the LSU campus on Saturday. By the time I arrived at my fiesta, the delicious white meat was gone. I had to settle for grilled shark and bacon-wrapped mushrooms. Not that I'm complaining about free food.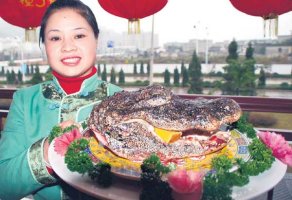 The other white meat
B is for Bait, both Tiger and Gator. Please come up with some new trash talk. While slightly better than "Fuck Michigan!", the robotic chants lack creativity and do nothing to dispel the notions people have about education in the South.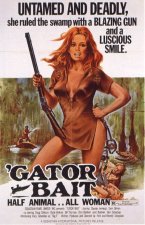 Gator bait, indeed
B is for Baton Rouge, Louisiana capital and home to the LSU campus.
B is for Bourbon, both the street and the beverage. Tourists enjoy both, while the locals load up on the latter. It's quite a scene. Pictures and stories don't really do it justice; you need to experience it for yourself.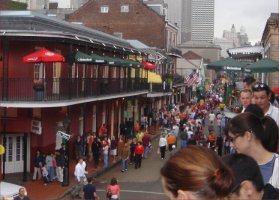 Rum
Vodka
Whiskey
Bourbon Street
B is for Butterfingers, also known as Brandon LaFell. The Tigers went to the talented sophomore early and often, with decidedly mixed results. Two first-down catches mixed with three dropped passes and a missed tackle on a punt return in the first half. Yikes. The playmaker bounced back with a better second half of football against the Gators, but Tiger fans are glad that WR Early Doucett is returning from injury next week.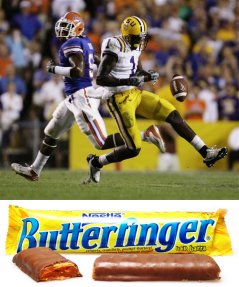 Brandon certainly didn't lay a finger on it in the first half
C is for Chick-Fil-A. The crack rock addictive chicken goodness was all over the South, and I was able to have my own little chicken chowdown many times throughout the week. They even served it at Williams-Brice Stadium. In a word - awesome!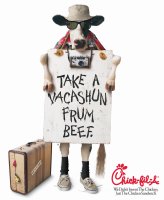 Eat Mor Chikin
C is for Chinese Bandits. Nothing like a little racial stereotype to get the crowd excited about another defensive stop. Not only do Tiger fans bow to the defense, they do so while listening to the band play this culturally sensitive tune. Stay classy, LSU!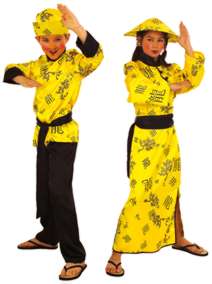 Me play joke
C is for Cocky, Cock-a-doodle-doo, Go Cocks, Party Like a Cockstar, My Cock is Smelley, and all the other penis-related entendres employed by South Carolina fans to cheer on their team and express their sexuality (if you can call drunken rednecks screaming "Come get some of this right here" sexuality). From this point forward the Fighting Gamecocks shall be known as the Fighting Phalli.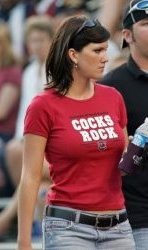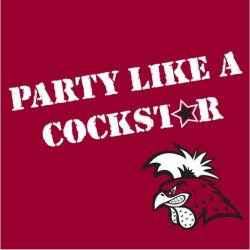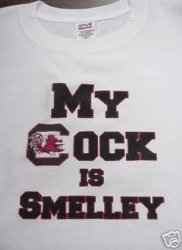 The Fighting Phalli
C is for Columbia, the capital of South Carolina and home to the original USC.
C, as always, is for Cookie.
C is for Corndogs. I can confirm. LSU fans do indeed smell like corndogs. The air around the stadium is fine mix of corndog, gumbo, bourbon, and urine odors. I'm sure you can add vomit at some point, but I may have missed that since I entered the stadium over one hour before kickoff.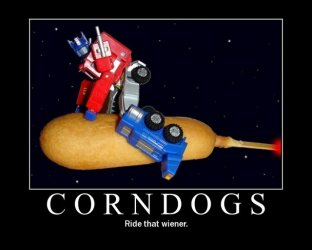 Your new LSU mascot ... Optimus Prime
D is for Death Valley. It gets a little crazy at night on the Bayou, no doubt fueled by the amount of time during the day for recreational (and professional) imbibing of alcoholic beverages. Definitely the most raucous stadium atmosphere I experienced - and that was sitting nowhere near the student section - one feels lucky to escape Baton Rouge with their life after attending a night game at Tiger Stadium.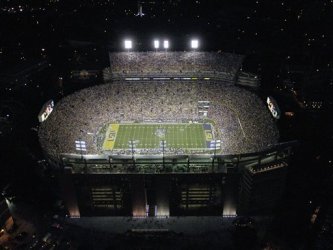 Death Valley
D is for Directional. Tough week for the Michigan directional schools. Eastern dropped a 33-22 decision versus the Wolverines at the Big House. Central did manage a victory over Ball State. Western, however, lost a heartbreaker to Akron when the Zips returned a free kick (following a safety) on the final play of the game. It was so bad that the band played "Amazing Grace" immediately following the loss. No joke.

How sweet the sound
E is for Erin Andrews. I have no idea what happened during the latter half of the 1st quarter in Columbia because Miss Andrews was walking back and forth across the end zone right in front of my seats. I may have proposed to her at one point. Technically, she didn't say no. She never really said anything. Perhaps I should have pulled out a cubic zirconia diamond ring.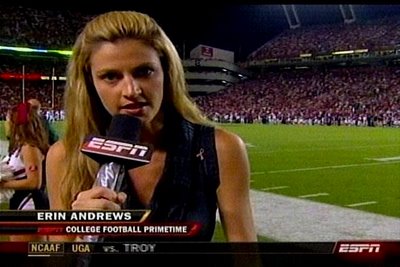 I don't know why they even bother to show the football game
EA's vitals. The highlights: They're real; She's 5'10"; She uses a trapper keeper (oh the joke possibilities are endless); And most importantly, she's single. Somebody hook a brotha up!
F is for Fried Apple Pie. The fruity, fried pastries were available at McDonald's restaurants in Tampa. Score! They don't have qualms about serving this fatty goodness in the South, because you will have sweated off the excess calories by the time you walk from the door to your car.

Giving a whole new meaning to the term FAP
G is for Geaux Tigers. Expecting anything ending with the letter "O" to be spelled with "eaux" instead. Pompous French bastards.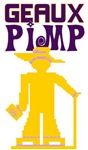 Party like a pimpstar
G is for Glenn Dorsey, monstrous defensive tackle for the Bayou Bengals. If you spell Glenn Dorsey wrong on Google it doesn't say, "Did you mean Glenn Dorsey?" It simply replies, "Run while you still have the chance." Glenn Dorsey doesn't play "hide-and-seek." He plays "hide-and-pray-I-don't-find-you." When the boogie man goes to sleep he checks under the bed for Glen Dorsey. Expect to see & hear his name prominently littered amongst the postseason awards and 1st round NFL draft talk.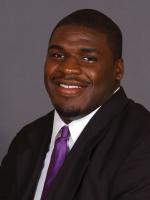 If he asks, let him dance with your dates
G is for Golden Girls. No, not those Golden Girls. These Golden Girls: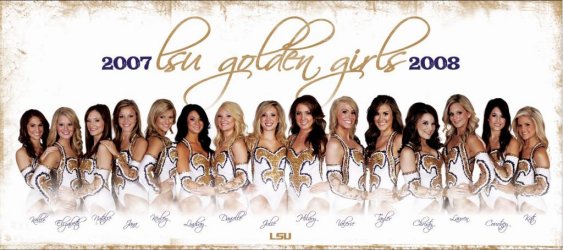 Golden Girls
H is for Hootie & the Blowfish. The bandmates met during their freshman year on the South Carolina campus. The minor league baseball team in Columbia (the Blowfish) was named in their honor. Now you know (and knowing is half the battle).

Tender Crisp Bacon Cheddar Ranch
H is for Humidity. After last year's endless parade in Gainesville between the liquor store, the water fountain, and the bathroom, I swore off SEC day games in October. Might have to include night games as well. It was just a wee bit humid down on the bayou. I lost about 10 pounds on Saturday, mainly by eating light and not drinking as much water as one needs in retardedly hot weather. I did, however, drink a lot of Natty Light at the tailgate. That's almost like drinking water. And no derision over my drink of choice - it was beer and it was free. By the end of the festivities I was retaining water like a pregnant woman, minus the cravings for ice cream and pickles.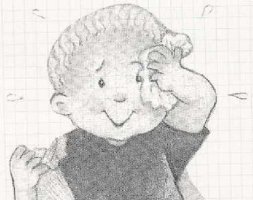 I is for Illini, upset winners over Wisconsin. Don't look now, but the Fighting Gay Indians are in the Top 25 for the first time since 2002. Their 3 conference wins surpasses Illinois' total Big Ten conference victories over the last two years. That deserves a Lee Corso-like "Yo!"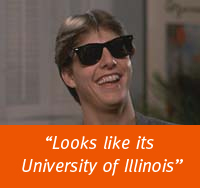 J is for Jacob Hester. The senior tailback rushed for 106 punishing yards on 23 attempts, including the game-winning score with 1:09 left to play in the 4th quarter.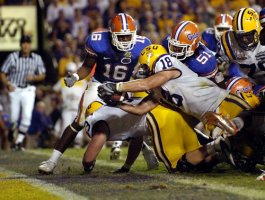 J is for Jackaroo. Not only an announcer, but a BBQ sauce as well.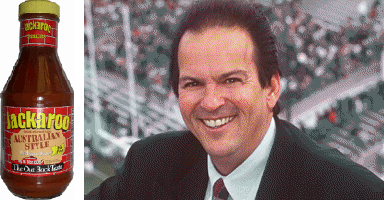 Jackaroo
J is for Jesus Christ Tebowstar. Don't let the numbers fool you - that was the most impressive 12-26 passing, 67-yard rushing performance you'll ever see. The sophomore savior led Florida on four touchdown drives and was only sacked once (intentional grounding call during the game's final drive). He was rock solid steady as Florida matriculated the ball up and down the field against the vaunted LSU defense. And he was a giant crybaby when the game ended with a 2nd straight Gator loss. There's no crying in football, Timmy.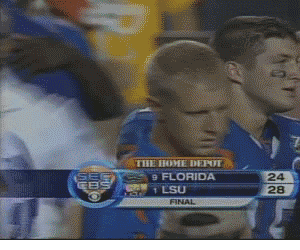 Better call the waaaambulance!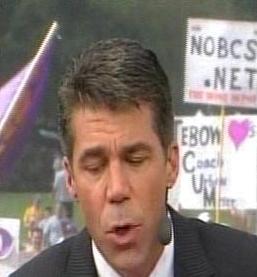 Don't make me spell it out for you
J is for John L. Smith Interview Jackass Of The Week. The two latest candidates for the award:
1. Phil Fulmer
2. Mike Gundy (a repeat offender)


Mike Gundy's favorite car dealership?
J is for Jorts. Gator fans love them some jorts and were rockin' the fashion faux pas in full force last weekend.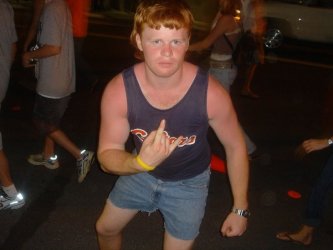 Rock on, redheaded Beavis
K is for Katrina. No explanation needed. Two years later the state is still on the long road to recovery. Pictures are too depressing, so let's move on to the next letter.
L is for Louisiana.

M is for Mark Mangino, head coach for the Kansas Jayhawks.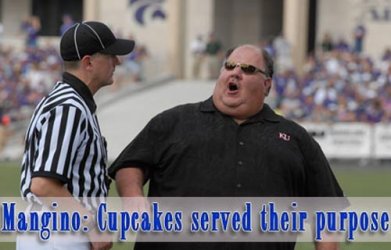 Yes. Yes, they did.
M is for Mike the Tiger. Mike VI made his first appearance in Tiger Stadium on Saturday night, sending the crowd into a frenzy as he was paraded around the field.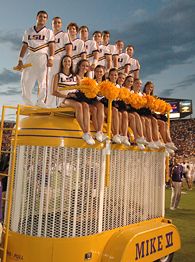 Mike VI
M is for Mistake #1 by the Gators: Stomping on the eye of the tiger at midfield before the game. Don't they know this usually results in a beating for the offending team? Dumbasses.
N is for Nature Boy. Wooooo! Ric Flair made an appearance at Williams-Brice Stadium on Thursday night. He was a guest of Herr Spurrier on the South Carolina sideline. It was entertaining hearing the crowd scream out Flair's trademark "Wooooo!" scream when he was shown on the scoreboard video screen during the 4th quarter. Fans of this site (hello again, Mom!) will remember he was also at last year's LSU vs. Florida contest in Gainesville. The Nature Boy definitely loves SEC football.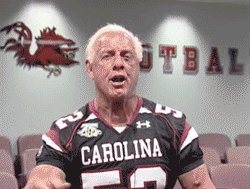 Wooooo!
N is for 92910, the attendance at Tiger Stadium and largest crowd ever to watch a football game in the state of Louisiana.
N is for 904-708-5089. Seems that some enterprising young LSU lads discovered Jesus Christ Tebowstar's cell phone number. So, in what was no doubt a gentlemanly sporting gesture, they printed up T-shirts and wore them around campus so that others could share this knowledge and maybe call Timmy T. to wish him good luck. Such nice young boys.
O is for Oysters, the food of choice for my Friday night dinner in N'awlins.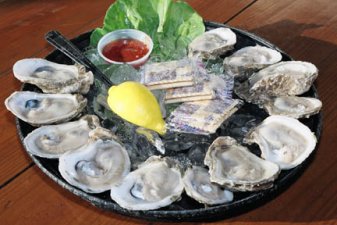 Oysters in a half shell. (Turtle power?)
P is for Perrilloux. The 6'3", 222-pound quarterback provided a nice change of pace to starter Matt Flynn. The LaPlace, LA, native rumbled his way to 23 yards rushing and one touchdown when the Tigers went to their triple-option attack. Can't wait to see him and Tebow square off as seniors, assuming they both stick around that long.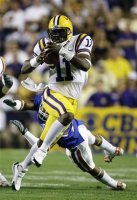 P is for Pick. Here's Tommy Bowden up to his elbow.
Q is for questionable calls. From my Uecker vantage point in the south end zone, it appeared Florida was the benefactor of more than a few questionable calls.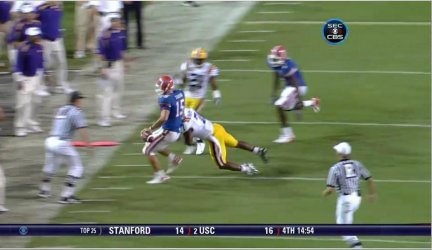 Star QB? Check. In bounds? Check. Late hit? Check. Wait, what?
R is for Rooster call. I only heard this stupid sound 10 times at the Kentucky - Original USC game, but it immediately vaults to the top of the charts as the most annoying ditty in college football. It surpasses such favorites as the lion/wildcat roar, It's Great to be a Florida Gator, Rocky Top, and Hail to the Victors.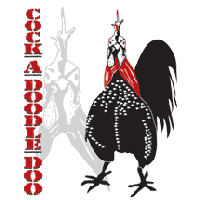 Any cock'll do?
R is for Real Men of Genius. Today we salute you, Mr. Delusional, Irrational Notre Dame fan. Despite scraping together a victory against a UCLA team that had 6 turnovers and was completely obliterated by Utah earlier this year, you think the Week 06 victory in Westwood is the turning point of the season. Good luck with that. You can exhume all the dead Domer superstars in the world; it's not going to help.
R is for Road Rage. Not only does JoePa want you do get off his damn lawn, he wants you off his damn road, too. Follow up details here, with an hilarious quip from JoePa to the lady driver's husband. Image below courtesy Mr. 2 Cents.
Get the %#@! out of my way you worthless piece of $|-|1t!
S is for Steve Spurrier. Don't look now, but the Head Ball Coach has South Carolina in the Top 10 and at the top of the SEC East standings. Extra props to the HBC for questioning the low rank of my beloved Illini.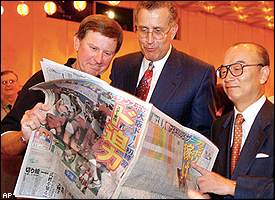 No idea what the hell is going on here
S is for Safety (Craig) Steltz. The LSU defensive back racked up 16 tackles against the Gators. Needs to work on his mullet, though, to join the J Leman pantheon.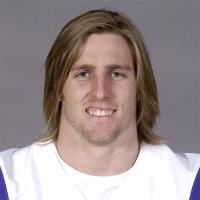 Billy Idol/Billy Squier/Brady Quinn's sister's 3-way love child & football star
S is for Song Girls. Just because.
T is for Tony Joiner. The Florida safety was not charged with a crime after swiping his girlfriend's car from an impound lot at pre-dawn hours, due mainly to the kindness of the towing company owner's heart the towing company owner getting the bejesus scared out of him after receiving death threats from UF fanatics. You stay classy, Gator fans. Florida coach Urban Meyer stripped Joiner of his captain status and made him sit out the first defensive series. Whoopty doo! That'll learn him.
T is for Trucker Hat. Coach Les Miles pulled out all the stops, going for it five times on 4th down (including one fake field goal). The Tigers converted all five attempts on their way to a come-from-behind victory. Let me be the first to congratulate the Mad Hatter on his eventual move to Michigan, which we all know is coming when LLoyd gets shitcanned after losing yet another game to the Buckeyes.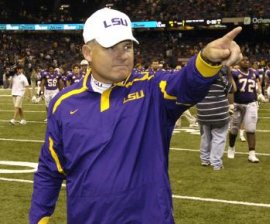 I learned it from watching you, Urban
T is for Tracy Wolfson, CBS sideline reporter who covered the UF-LSU contest. No explanation needed.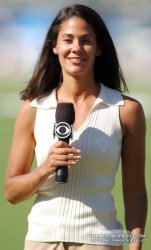 Hello, Tracy
U is for Urban Meyer. Coach FingerPointer came up with a great game plan and had the Gators ready to play in Death Valley. Then he went Stone Cold Stupid (earning a well-deserved LCCMOTW) as the game wound down in the 4th quarter, mismanaging the clock situation and costing Jesus Christ Tebowstar a few more cracks at the end zone. Note to Urban: Timeouts are not like poker chips - you can't cash them in at the casino in Ocala if you have any left when the game is over.

Pointer Brothers
V is for Victory formation, especially in Baton Rouge, Columbia, Knoxville, Champaign, Lawrence, and Dallas. Not so much in Los Angeles, where John David Booty's chokefest contributed to Stanford's stunning upset over Southern Cal. News of the pending upset spread like wildfire through the crowd at Tiger Stadium. The final score was announced before a post-TD LSU kickoff, and the crowd went completely apeshit insane (115-120 db sound levels). See the videos below for reactions from the Stanford campus and LSU crowd - I love college football.

Stanford students watching the final plays of the USC game

LSU fans' reaction to Stanford's upset win over the Fighting Condoms
W is for Williams-Brice Stadium. Nicknamed the Cockpit (stay classy, South Carolina!) by Gamecock fans, the venue is set next to the state fairgrounds and provides a unique pre- and post-game tailgating atmosphere, including the Cockaboose railroad cars for those with more money than sense. Plus, they serve Chick-Fil-A at the concession stands. I'm not sure why they don't call it Cock-Fil-A, since everything else is given a penis-related undertone and overtone.

Running a 22-man train all up in here?
X is for Xenophobia. How to put this nicely? If you are not exactly the same as the typical LSU fan, expect to be treated a bit differently.

Y is for YAC (yards after catch or yards after contact). Both defenses did a good job of limiting YAC, leading to fewer big plays. The offenses adapted well, however, with sustained scoring drives being the norm for the evening. (That's as close to analysis that you will ever see on this site)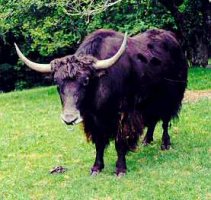 Yakety
Z is for Zook. After consecutive two-win seasons in Champaign, the Zooker has the Illini on the verge of bowl eligibility after back-to-back wins over Top 25 teams. Time to build a statue outside Memorial Stadium on (ironically enough) Florida Avenue.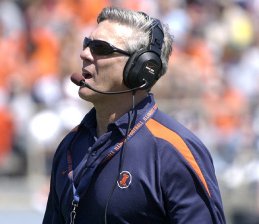 Illinoise in the system
Z is for Zehyoue, Zenon, and Zinger. Three LSU players have last names that start with "Z". And thank goodness, because it's hard to come up with letter Z references about football not related to the Zooker.
Random question, why are cornerbacks not called cornerbackers, or linebackers called linebacks? These are the things that come to mind after being on the road for 16 days with nothing but college football on the brain. Can't wait to do it again next year.
Buena suerte to all, and Go Illini!
Dr. T