You're looking live at ... the Holiday Inn Express in Charlotte, NC. A lot of miles traveled and a lot of beers imbibed since last week's recap. Week 05 was filled with upsets galore, as five of the top 10 teams went down. Burnt Orange Nation summed up the events quite nicely with this picture: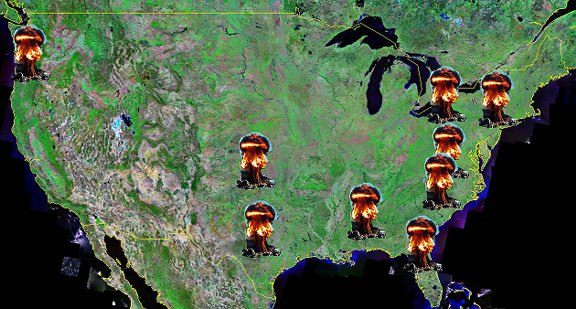 Upsets galore lead to asplosions in college town across the country
Follow-up on the flag football girl in the YouTube video I posted last week. Even though she's 25 now, I still say sign her up.
ACC
Miami defeated Duke by a 24-14 tally. That's actually not too bad for the Dookies. And look - You could be the next Blue Devils place kicker! Check out Hurricanes mascot Sebastian the Ibis dancing to Soulja Boy's "Crank That." Good stuff.
It took Clemson five games, but they finally crapped themselves in a 13-3 loss to Georgia Tech. If past seasons are indicative of future performance, expect a losing streak followed by a winning streak, with a big win thrown in to save Bowden's job after the orange & purple Tigers umpteenth 8-4 season. Great if you're Illinois, not so much if you're Clemson. ... More on Maryland's contest vs. SUNJ in a little bit. ... Florida State defeated Alabama (a school where you can now debate the reasons why Han shot first) after the 'Noles coaching staff finally realized that Drew Weatherford is an unathletic version of Chris Rix. They rolled out Xavier Lee in the 2nd half and looked like a different team. Let's just cut to the chase: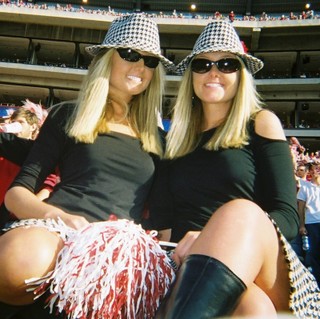 Suddenly, I have a hankering for some Doublemint gum
Big 11
Another week of action did nothing to dispel the image of the Big Televen as a weak conference. The Fighting Gay Indians upset Penn State in Champaign, thanks in large part to Nittany Lion QB Anthony Morelli's best Chris Rix impersonation. Mr. Morelli was responsible for at least 3 turnovers in the red zone. Ouch. I can't remember the last time Illinois defeated a ranked opponent. Rejus Chris Superstar was instrumental in the victory, running back kickoff for a touchdown and taking a pass to the house while deflowering the majority of the Penn State defense.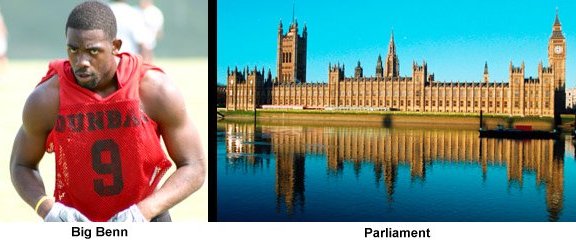 Wisconsin held Michigan State to 564 yards of total offense in a 37-34 victory over the Spartans. Yikes. Up next for Coach AnkleTattoo and the Badgers is a trip to Champaign to take on the Fighting Zookers. Bring it! The Illini actually opened as a 3-point favorite. That's not good for coaches and nervous fans like me. Also of note from the Sparty-Wisky contest: According the NCAA rule book, you cannot have a defensive holding call if the quarterback does not throw the ball. Interesting. ... Michigan trailed Northwester at the half before coming back to win. Ryan Mallett is looking like John Navarre reincarnated. Michael Hart continues to pound out yards and move the pile forward while matriculating the ball up the field. ... Iowa lost to Indiana. By 18. At home. Time for another Ferentz contract extension? ... Ohio State took care of business at Minnesota in a pedestrian 30-7 win. ... Notre Dame (0-5 and counting!) lost to Purdue in West Lafayette. At least the Domers managed a few touchdowns, no thanks to Emu Clausen, who was pulled in the 2nd half in favor of backup QB Evan Sharpley. After another goose egg in the first half, Touchdown Jesus was happy just to get a first down.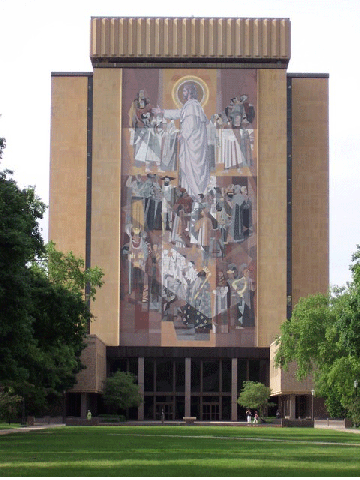 First Down Jesus
Either one of these two would make a fine addition to the Chippendales family
Big 12
Oklahoma lost to Colorado (It's Division 1 football!). The Sooners were up 24-10 heading into the 4th quarter. A muffed punt was instrumental in the disaster. Perhaps Oklahoma was looking forward to the Red River Shootout against Texas. Vice versa for the Longhorns, who were hammered 41-21 @ home by Kansas State. ... All the other Big 12 favorites were able to hold serve, including Texas A&M. The Aggies get special mention, once again, because Coach Fran (I'm still working on a two-word combo nickname) continues to put the "dumb" in dumbass. Seems a TAMU booster finally got ticked off and reported the coach's secret $1200/year newsletter to the media. Not necessarily a big deal until it was determined the coach was giving blunt assessments of players and injury information not available to the rest of the public. That's a big uh oh, as the NCAA isn't too fond of selectively giving out information to anyone who might be in a position to wager on games.
Big East
Rutgers shat the bed (I've been waiting all year to use that phrase) at home against Maryland. Maryland? ... The marquee game of the week for the conference was the Friday night contest between West (Fuckin') Virginia and South Florida at Raymond James Stadium in Tampa. Los Toros forced 6 (six!) turnovers and needed every last one of them, as WVA dominated both the offensive and defensive stats. Only the end result matters, however: 21-13 USF. Students stormed the field after the victory. I would've stormed Mons Venus, but to each their own.
Stay classy, Tampa
SEC
LSU struggled early against Tulane, but Les Tigres pulled away in the 2nd half for the 34-9 victory. Likewise for South Carolina, who put away the Fighting Croomsters in Columbia by a 38-21 tally. ... Georgia, Kentucky, & Arkansas all won big. ... We've already discussed Alabama's performance, or lack thereof, against Florida State. ... Which leaves us with Auburn @ Florida. You do remember Auburn, right? The Tigers/Eagles/DumboEars lost to South Florida and Mississippi State while QB Brandon Cox did his best Anthony Morelli impersonation. Whatever was wrong, they fixed it before arriving at ... The Swamp on Saturday evening. Solid defense with good tackling prevented the Gators offense from rolling up yards and points. A nice mix of run and pass plays kept the Gators defense from getting too comfortable. Jesus Christ Tebowstar led Florida back from a 14 point deficit in the fourth quarter, but Wes Bynum's 43-yard field goal as time expired gave the Tigers a 20-17 victory. Congratulations, Wes, you'll be scoring with hot coeds from now until you die (or pull a John Vaughn, whichever comes first). Lots of content on the internets about this game and Florida football in general, so without further ado....
Apparently SEC speed doesn't help you outrun the po-po.
Chris Rainey is out for the year...
... and is wondering where da white women at.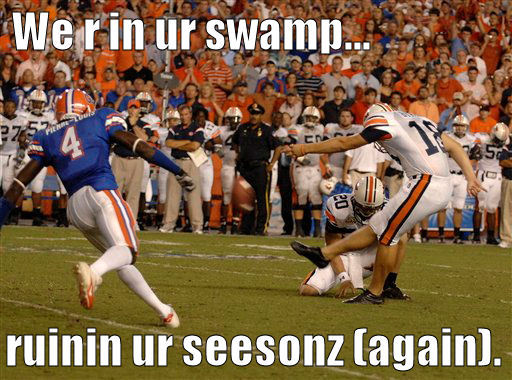 LOLgatorz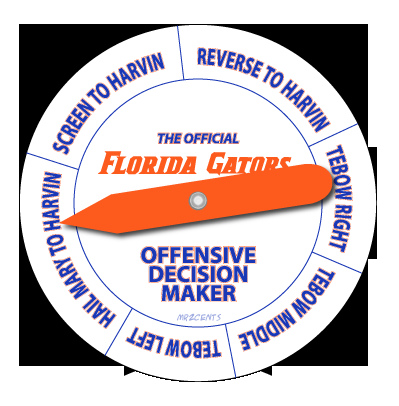 Photo courtesy
Mr. 2 Cents

Cover the kids' ears, this one is NSFW

Todd?
PAC-10
UCLA and Arizona scored easy victories over Oregon State and Washington State, respectively. Actually, that last sentence could apply to just about any sport in which those schools compete against each other. ... Arizona State celebrated their entrance to the Top 25 by pasting Stanford 41-3 down (over? up?) on the Farm. ... USC struggled (three turnovers and 16 penalties - that's not a misprint - sixteen penalties) against Washington. The Trojans were able to pull out (I love subtle metaphors) a 27-24 victory after covering a late onside kick by the Huskies and running out the clock. Their performance cost them the #1 spot in the AP poll, allowing LSU to assume the proverbial position. That poll and a quarter will get you a big ol' cup of jack squat when it comes to BCS rankings, as those are determined in part from the Coaches poll and the Harris poll. Remind me again why we can't have a playoff?
The biggest game of the day featured the Fighting Tedfords taking on Oregon in Eugene. I'd love to offer all sorts of insight about this game, but the vast majority of the country didn't see it thanks to ABC regional coverage and shitty Pac-10 TV contracts. From what I can gather off the intarweb, DeSean Jackson had a big day, with 11 receptions for 161 yards and 2 touchdowns. On a somewhat related note, I'm thinking of changing my name to DeChristopher. But I digress. Oregon outplayed the Bears in most phases of the games but had four turnovers, the most costly being a fumble through the end zone for a touchback as the Ducks were driving to tie the score near the end of the 4th quarter. The 31-24 victory paved the way for the Bears to jump to #3 in the polls and sets up late-season showdowns against current unbeatens Arizona State and USC.
And finally, when you've gotta go, you've gotta go.
Free and easy down the road I go. Buena suerte to all, and Go Illini!
Dr. T