You're looking live at ... gate G1B in Chicago's O'Hare airport. Wait, what? All hell was breaking loose at work, so I did what any red-blooded American football fanatic does during times of crisis in the Fall - packed my suitcase and bolted out of town for a 16-day, 12-city, 3-game extravaganza. Basically, I'm getting paid to watch college football for the next two weeks. Clearly, the terrorists have not won.
Not a lot of content in this week's post, partly because I've been busy with work and preparing for my trip, partly because the other sites that provide much of the content you read here in a weekly summary were slacking as well. Or maybe they weren't slacking and their jokes went over like a fart in a crowded elevator. Either way, it results in filler paragraphs like this one and less content for you, loyal reader (Hi Mom!).
ACC
Do they still play football in this conference? If so, somebody forgot to tell Northwestern. The Duke Blue Devils defeated the Wildcats to end a 22-game losing streak. I'm going to attribute the victory to a bit of karmic payback for that incessantly annoying rowr! sound they pipe through the speakers at home games. Penn State, you're up next.
In the Battle of Boring Coaches Bowl, Boston College upset Georgia Tech in the A-T-L. We need to get a Ramblin' Wreck vs. Cornhuskers game scheduled immediately to determine which former NFL coach is the crappiest college coach. Well, other than Chuck Weis, who is making his living after a loss in 2005 to the Trojan team led by a former crappy NFL coach. The mind, it boggles. ... In a rematch of last year's brawl-marred Miami victory, the Hurricanes defeated Florida International University ("We put the FU in FIU"). Running back Ned rushed for 87 yards on 18 carries.
The most important ACC news of the week comes from Tallahassee. No, not the Seminoles lackluster victory in Boulder over a rebuilding Colorado program. I'm talking about the revelation that Jenn Sterger wasn't actually fired from SI. I know I'll sleep better at night. Here's a picture in case you're one of the two people on the internet (hello again, Mom!) who doesn't know Ms. Jennifer Sterger.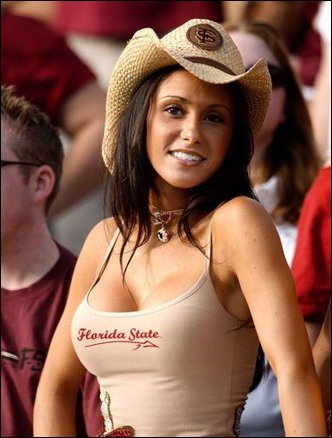 Save a horse, ride a cowgirl.
Big 11 (the football pool welcomes Michigan back to the conference)
Notre Dame's offense made the Michigan defense look like the 2nd coming of '95 Nebraska. That's quite an accomplishment given the Wolverines' performance in games against Appalachian State (it's going to be challenging to work in a mention of that school every time I talk about Michigan) and Oregon. A 34-0 victory gives Big Blue some confidence heading into this Saturday's contest with Penn State at the Big House. I'll be there, minus corn-colored apparel.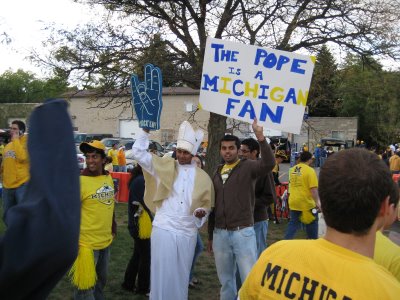 Shocking news from the Vatican - the Pope is a Michigan fan.
Syracuse made the Fighting Illini offense look like the 2nd coming of '94 Penn State. The victory was Illinois' second of the season, equaling the win total from each of the last two years. Motor City Bowl here we come! ... Wisconsin gave up 31 points to The Citadel but still came away with a victory. ... Ohio State once again had a whopping three points heading into halftime. At least they were playing a quality team on the road (U-Dub in Seattle). A blocked field goal and ensuing touchdown pass early in the 2nd half set the tone for a 33-14 Buckeyes victory. I'm not sure who kidnapped Jim Tressel at intermission, but please return him to the sidelines before my beloved team visits Columbus in November.
Iowa lost the Iowa State Championship when they fell to the Cyclones. Not. Good. Kirk should have bolted for the NFL when he had the chance. That was only the 3rd worst loss for the conference that week, what with the Dookies taking down Purple Power and Minnesota losing to Florida Atlantic University ("We put the FU in FAU"). ... Don't look now, but Sparty is 3-0 and a two-touchdown favorite heading into next week's matchup with Notre Dame. I miss John L. Smith. We're unlikely to see a flagplanting incident, screaming at sideline reporters about coaching mistakes, or a monumental meltdown at a press conference with Mark Dantonio at the helm.
Big 12
As predicted, Coach ThroatSlash and the Cornjerkers (shout out to Hoopeston!) had difficulty adjusting to moves made by his SC counterpart. The Fighting Condoms ran over, around, and through this year's version of the Blackshirts. I'm not even sure running was really required, because Christopher Reeve could have waltzed through these holes (why yes, I do have a ticket for the short bus express to Hell, thanks for asking).
Troy (you're watching Troy football!) took down Oklahoma State. The, but not the, OSU AD should be fired for scheduling an away game with Troy. Iowa State's surprise victory against Iowa and Texas' slim win over Central Florida were the only remaining games of note. Everything else went according to script.
Big East
Thanks for playing, Louisville. We'll see you in the Music City Bowl in December. ... Cincinnati is looking pretty good. Rutgers and WVA still rolling. We'll see how good these teams are when they start playing each other later in the season (Captain Obvious statement of the week).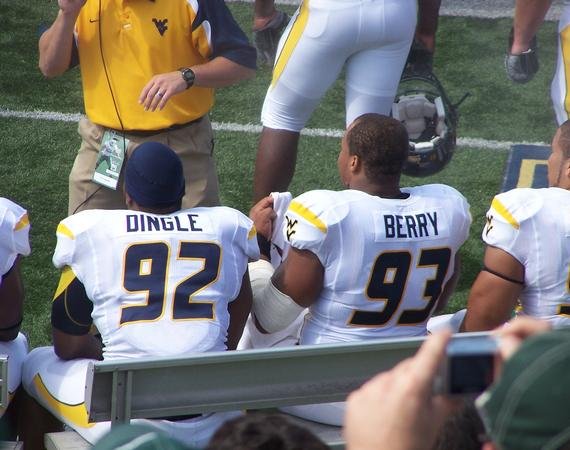 A rather unfortunate seating arrangement. There's a Joe Paterno joke in here somewhere, too.
SEC
Kentucky upset Louisville, and Sly and the Family Croomsters took down Auburn. Everyone else took care of business. The week's two most anticipated matchups, Tennessee @ Florida and Arkansas @ Alabama, can be summarized pictorially: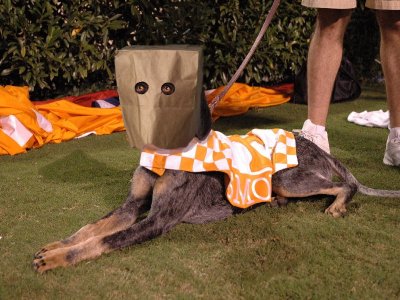 I didn't know Smokey was a Saints fan.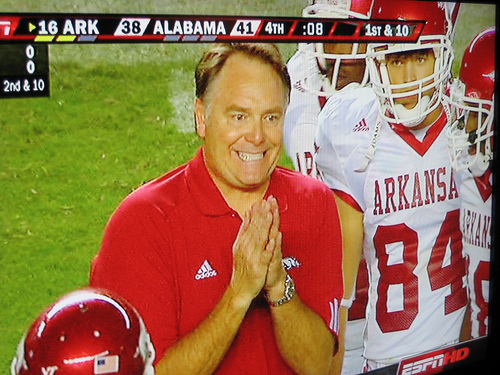 Dear Lord Baby Jesus, thank you for blessing me with Darren McFadden.
PAC-10
I'm usually running on fumes by the time I get to this point in the post. This update is no different. We've already discussed the big non-conference games, with the exception of Oregon's victory over Fresno State. The Quack Attack are near the top of several offensive statistical categories. It would be nice to see them play someone with a defense (USC, for example. No, Michigan doesn't count). ... UCLA coach Karl Dorrell must have compromising photos of someone in the UCLA administration, because he still has his job after a 44-6 loss to Utah. But hey, at least he didn't lose to Duke.
Buena suerte to all, and Go Illini!
Dr. T