Not strictly related to college football, but useful information nonetheless: How to get your wives/girlfriends to watch football with you. Ladies, if you're having trouble getting your husbands/boyfriends to watch football with you, my number is ... :) Not a whole lot to say this week, but there are plenty of amusing pictures for your perusal. Black & white photos courtesy MGoBlog; South Park coaches swiped from Georgia Sports Blog.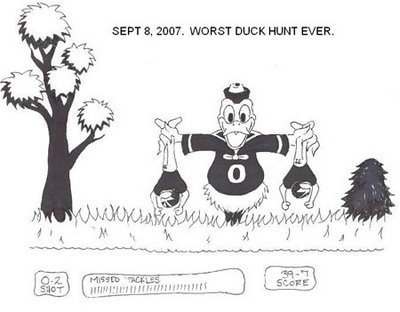 Another week, another "L" added to LLoyd Carr's resume. Raj would like to know "If I-AA teams can be ranked in the I-A poll, can I-A teams be ranked in the I-AA poll? If so, would Michigan be ranked? Just wondering." It's a valid point. The good news after last Saturday's 39-7 shellacking by the Quack Attack is that Notre Dame brings their 119th ranked offense to Ann Arbor. Normally I would consider this a meteor game, but I'd like to see things remain intact since I'm going to the Big House next weekend to see Joe Paterno run off the field in search of a bathroom match wits with LLoyd in the Battle of Crotchety Old Men.
There really isn't much left to say about the Wolverines. Things are so bad that it's time to start promoting the punter for Heisman candidacy. Chad Henne (I think that's the name of the current, 6'5", slow, immobile, white QB) is out with a leg injury, so touted freshman Ryan Mallett gets the nod this coming week against the Domers. Even with a loss to Fat Bastard, Michigan still could - in theory - run the table in the Big Ten (roughly akin to being the tallest midget based on the first few weeks of college football action) and play in a BCS bowl.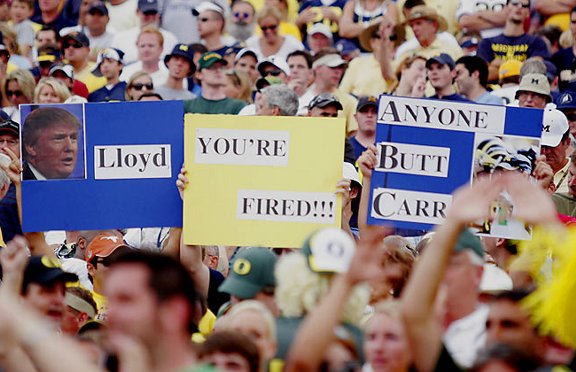 No Jackson 5 reference?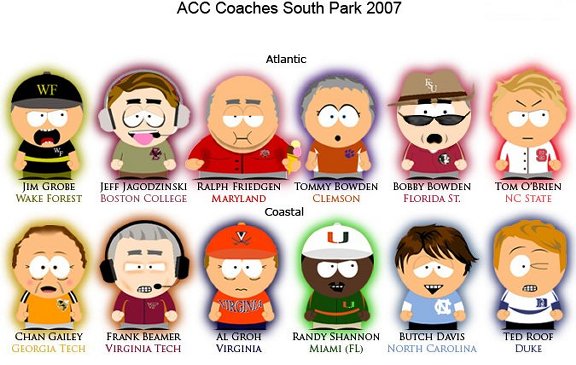 It appears Jenn and her fabulous, fake funbags have been fired from SI. We've gone two weeks without a mention of Ms. Sterger, no doubt a record for MCF since Brent Musburger nearly popped wood on national TV a few years ago during the Miami-FSU game. Florida State should hire her to help out with the offense. Just stick her on a moveable track that runs up and down the sideline like the electric bunny at the dog track. Then you'd see video game-like numbers from the Seminoles.
Wake Forest, Miami, and Virginia Tech all lost games against BCS conference big name foes. Just please don't make me watch another one of these teams in a BCS bowl game at the end of the year. Brutal. This conference might be worse than the Big Ten. In fact, that should be the Big Ten's new motto: "We may suck, but at least we're not the ACC."
Big 10 (down from 11 - Michigan still M.I.A.)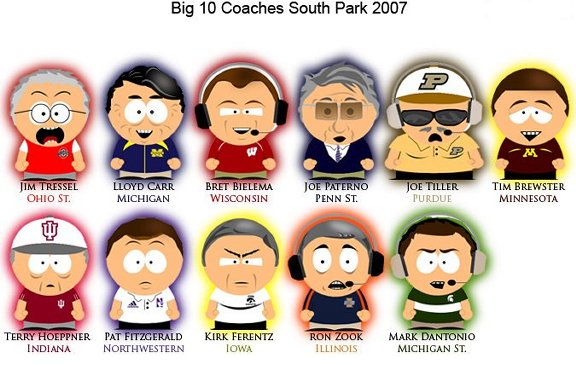 Raj was kind enough to bring Krispy Kremes over to Casa de Treadway on Saturday morning. That gesture would have won him brownie points in the football pool had we not been coerced into watching a 9 a.m. Akron-tOSU matchup. The Zips & Buckeyes opened up their offenses on the way to a 3-2 halftime score. Offensive, indeed. Thankfully the Luckeyes don't play in a real conference and could easily fake their way into the Rose Bowl. ... Penn State throttled Notre Dame 31-10 in Happy Valley. Coach FatBastard turned over the reigns to future four time Heisman winner punching bag Jimmy Clausen. There's really nothing nice I can say about this emu, so let's move on. ... The remaining Big Ten teams took care of business in non-conference play.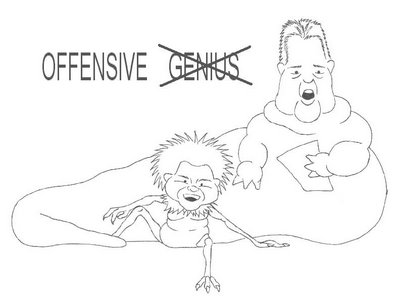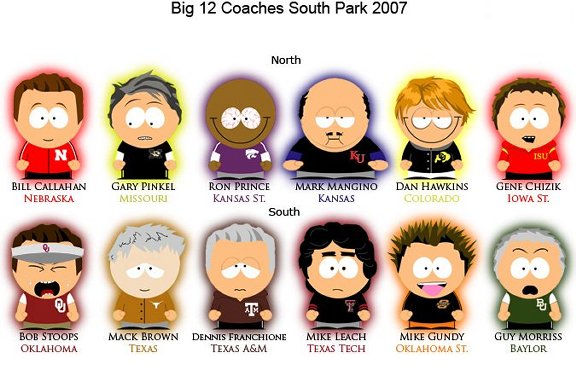 Nebraska squeaked by Wake Forest 20-17. The 'Huskers better step up their play post-haste, as USC invades Lincoln on Saturday for a prime time matchup on ABC. I'm hoping for a close game but am having a hard time envisioning Coach ThroatSlash outscheming his counterpart from the Fighting Condoms. ... Oklahoma obliterated Miami, vaulting the Sooners into the Top 3. If I had a ballot, they'd be at #2 behind Les Tigres from Baton Rouge. ... Texas used a 2nd half surge to defeat TCU. The Longhorns are turning into Nebraska South, what with all the player arrests. No dragging girlfriends down the stairs by their hair (yet), so for now my ridicule of their off-the-field issues will be curtailed. ... Texas A&M outlasted Fresno State in overtime. The Aggies were distracted by the absence of their sideline mascot Reveille, who was suspended for biting the hand that feeds her.
Big East
No fancy pictures or witty comments here (although it's hard to resist taking shots at Louisville's porous defense). The top three - West Virginia, Louisville, and Rutgers - all rolled. Two upsets vs. non-conference BCS foes bolstered the league's image. Cincinnati pounded Oregon State 34-3 and South Florida defeated Auburn (@ Auburn!) 26-23.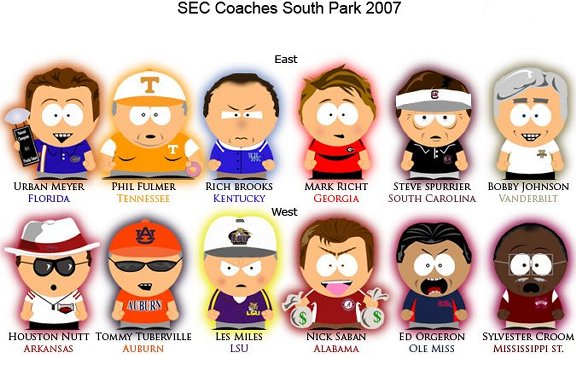 Auburn and Georgia stunk up their respective joints. Everyone else performed as expected. LSU looked like the #1 team in the nation during their 48-7 trouncing of Virginia Tech. Tough to win in Death Valley at night. Shaq Fu even made an appearance, rolling into Baton Rouge in style. Those that couldn't make it to the game staged their own pre-game ritual:

Mike the kitty cat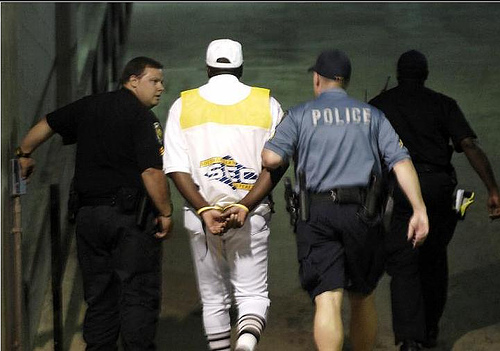 Where the hell was this after the 2000 Michigan-Illinois game? No, I'm not bitter - why do you ask?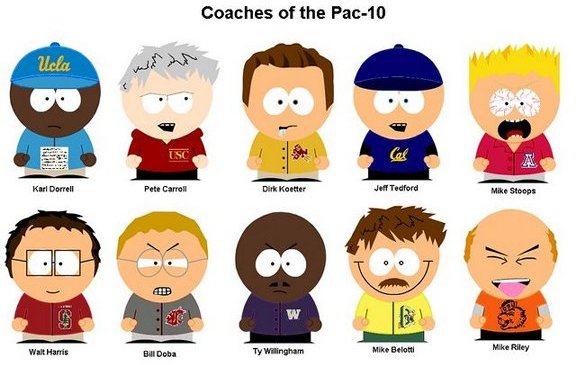 Washington earned a surprise victory over Boise State. Looks like Ty is starting to turn things around. Good for him - he got screwed by Notre Dame and will thus earn a free pass more often than not around this site. The real test for the Huskies comes this week when the Buckeyes come to town. ... With the exception of Oregon State (perhaps they were too busy thinking about Skyline chili) choking at Cincinnati, the rest of the league held serve in Week 02. ... The biggest showing for the conference was Oregon's dominance of Michigan. The Ducks travel back to Eugene this week for a home game against Fresno State. Like Texas A&M last week, the Ducks will be without a mascot roaming the sidelines, thanks to the following incident:
Buena suerte to all, and Go Illini!
Dr. T