Before we get to the debacle in Ann Arbor, please take the time to review the rules for college football fandom.
Appalachian State vs. Michigan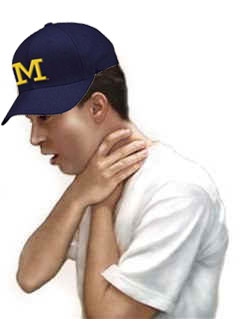 So special it deserves its own section. Unless you've been hiding under a rock since Saturday afternoon, you already know that 1-AA Appalachian State invaded the Big House [on Michigan's dime - 4,000,000 of them to be exact (that's $400,000 for you English majors)] and waltzed out with a 34-32 victory. L?oyd earns his first "L" of the season while continuing to invent new ways to disappoint the Wolverine faithful. Poor Brian over at MGoBlog was reduced to this. And no one has been able to explain to me why AD Bill Martin is off the hook for this disaster. Schedule a directional Michigan or a directional Illinois team, not the back-to-back 1-AA national champions. Moron. He should get together with Illini AD Ron Guenther and compare notes on how to run a football program into the ground.
This game gave us two Lloyd Carr Coaching Moves of the Week (LCCMOTW). The first one goes to L?oyd himself for attempting a two point conversion when down 31-26 in the 3rd quarter. Take the damn points! The inevitable failure led to another two point conversion attempt (which also failed) when leading 32-31 in the 4th quarter. Once again, I don't even root for the Wolverines and those decisions made me hurl expletive-filled obscenities at the TV. L?oyd getting canned would be the worst possible outcome for fans of other Big Ten schools. My biggest fear is that someone competent like Jeff Tedford takes over the program. But with Bill Martin at the helm, I predict another "Michigan Man" hire. That should bode well for me and LSU fans (seriously - you can do much, much better than Les Miles).
The second LCCMOTW goes to Appalachian State head coach Jerry Moore. Instead of running down the clock and centering the ball for a field goal in the 4th quarter, he elected to boot a field goal from the hash marks on first down. What. The. Fuck? Instead of icing the game he gave the Wolverines one final shot - which, of course, they squandered in "make benefit for most glorious tOSU" fashion. ... But what's bad for a Top 5 a Top 25 an "also receiving votes" team is good for your entertainment. Kudos to MGoBlog, MZone, Every Day Should Be Saturday, and Deadspin for the content below.
They need to start selling a beat Appalachian State countdown clock.
http://www.greatrivalriesusa.com/catalog/index.php?main_page=product_info&products_id=3
Adam Sandler weighs in with his thoughts.
http://michiganzone.blogspot.com/2007/09/to-put-it-in-perspective.html
Now I'm just piling on.
http://www.gump4heisman.com/my_weblog/2007/09/aa-batteries-ba.html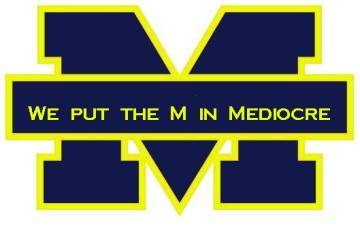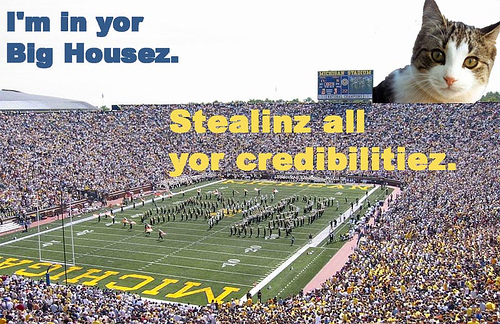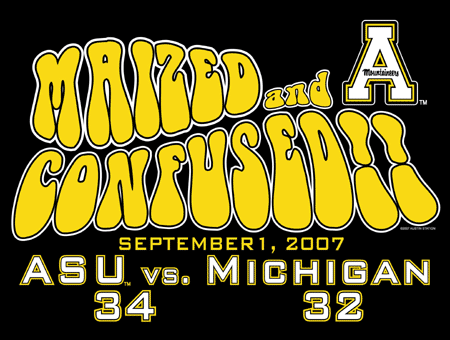 Appalachian State is HOT, HOT, HOT!
ACC
A quarterback who couldn't beat out Reggie Ball last year led Georgia Tech to a 33-3 victory over the Domers. Just more proof that God hates Ireland. It doesn't get any easier for ND next week, as they travel to Happy Valley for a night game against the Nittany Lions. Rawr!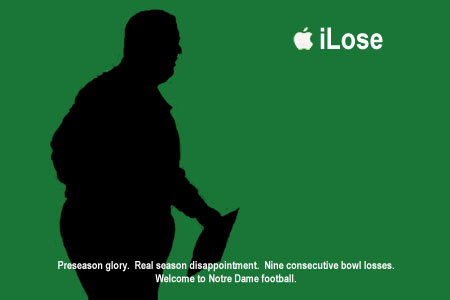 Kudos to
Run Up the Score
for the Apple/Coach FatBastard parody
Only a few ACC other games of significance during Week 01. The healing began at Virginia Tech with a solemn tribute to the April 16, 2007, shooting victims. The Hokies looked a little sluggish in a 17-7 win over East Carolina and will need to pick things up for their trip to Baton Rouge in Week 02. ... Boston College defeated Wake Forest 38-28, in a game that will likely have implications down the road. I'm just to tired to care or think about them now. ... Jimbo Fisher made his offensive coordinator coaching debut with the Seminoles. They looked like the SameOldNoles for the first half, as the offense put a whopping 3 points on the board. Halftime adjustments made the game interesting until Drew Weatherford took a sack with time winding down and no timeouts remaining, thus earning him the season's first Tyler Ecker Dumbass Play of the Week (TEDPOTW) award.
Big 10 (down from 11 - I'm disowning Michigan for the week)
Missourah jumped out to a 37-13 lead over my beloved Illini then nearly blew it in the 4th quarter, thanks in part to our 3rd LCCMOTW, awarded to Tigers coach Gary Pinkel. Illinois was in trouble after starting QB Juice Williams went out with an injury in the first half. Backup quarterback Eddie McGee played surprisingly well, but the impression he left upon fans looked a lot like this. Rejus Christ Superstar had a good game and needs to touch the ball more often. And for those who didn't believe my comments about J Leman, I present Exhibit A.

Other than the Michigan disaster and Minnesota (F.U. Tim Brewster) losing to Bowling Green, things went according to conventional wisdom on Saturday. Wisconsin, Ohio State, and Penn State all rolled. True to his word, JoePa had the Nittany Lions cleaning Beaver Stadium on Sunday morning. I wish more coaches had the stones to dole out that type of punishment. Sparty couldn't make it down to State College for the festivities, as he had more pressing things to do...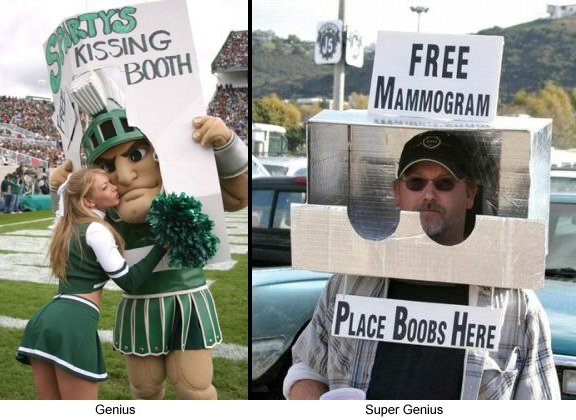 Big 12
Iowa State started the Gene Chizik (MCF is now accepting nickname applications) era off with a bang by losing to Kent State. Yikes. Normally that would be a major cause for concern, but the Cyclones play in the Big 12 North. ... Kansas State hung tough with Auburn but fell to the Tigers/War Eagles/Chupacabras by a 23-13 count. ... Colorado edged Colorado State. Buffaloes coach Dan Hawkins would like to remind you it takes a high level of effort and commitment to play Division 1-A football. If you can't handle that, go play intramurals, brother! ... Nebraska rolled over Nevada, we've discussed Missourah's triumph over the Fighting Zookers, TCU shut out Baylor, Georgia methodically dismantled a decent Oklahoma State team, and Oklahoma looked dominant (as they should) against North Texas. The Sooners will need to keep that momentum rolling, because the 7th Floor Crew is invading Norman for a Week 02 matchup.
All the other Big 12 teams were victorious. Which brings us to Texas. The Longhorns needed to recover a 4th quarter onside kick by North Arkansas to secure the win. North Arkansas recovered the kick, but the Big 12 referees botched the call. Not good. Three theories on why this happened: (1) Many Longhorns were suspended due to offseason hijinks and asshattery; (2) Texas was looking ahead to their Week 02 matchup against TCU; (3) They were distracted by this (link possibly NSFW). God bless Texas.
Big East
Louisville, SUNJ, and West (Fuckin') Virginia all rolled. Speaking of WVU...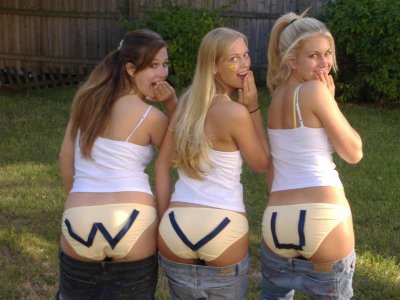 SEC
Good article from a Mississippi (23-21 winners over Memphis) fan on the anticipation leading up to the opening of college football season. Strangely missing is the characterization of Coach Orgeron as completely batshit insane.
http://sports.espn.go.com/espn/eticket/story?page=southernfootball
Biggest matchup of Week 01 was the Saturday Night prime time game featuring Tennessee @ California. The Golden Bears were victorious by a 45-31 tally thanks in large part to the Volunteers' inability to stop the run and our 4th LCCMOTW (jointly awarded to Tenn. coach Phil Fulmer and whoever is coaching his "special" teams - I'm too lazy to look it up). I know - let's kick it to the most dangerous punt returner in the country because our "special" teams are teh awsum OMG WTF ROFLOLCOPTER!!! It's like they got drunk and decided it was time for a "hey y'all, watch this!" play by DeSean Jackson.
#2 LSU steamrolled Mississippi State on the first stop of the Sylvester Croom farewell tour. Big game next week against Virginia Tech for the Tigers. ... Jesus Christ Tebowstar three for 300 yards and 3 TDs in leading Florida to a win over Directional Kentucky. The Gators' offense is much improved with TT at the helm, but let's wait to pass final judgement until he has to make some snap decisions against quality SEC defenses on 3rd & long. ... In Columbia, the Ol' (Whip Out Your) Ball Coach drew up some ball plays and used his 2nd string QB to defeat Louisiana-Lafayette. Their opponent's talent level goes up a notch in Week 02 when they take on the Georgia Bulldogs. Gamecock fans are still crying for respect. ... Arkansas and Heisman candidate Darren McFadden picked up where they left off last year. Run DMC had 151 yards rushing and also threw a touchdown pass. From Losers With Socks - Arkansas fans are, um, interesting. Video clip is your standard SEC home team highlight fare, complete with hair band music, until about the 1:18 mark.
The Nick Saban era began in Tuscaloosa with a win over Directional Carolina. Vandy provides another tune-up before we see how much of a miracle work Coach Saban is on September 15 (vs. Arkansas).
Because throwing bricks through coaches windows and putting toilet paper and laundry detergent on a stick isn't crazy enough, Crimson Tide fans have resorted to quoting scripture in support of their team.
http://bible.cc/ezekiel/20-29.htm
Perfectly normal, perfectly healthy.
http://www.rollcrimsontide.com/Crimson.html
Brodie Croyle seems to be doing o.k.
http://www.withleather.com/post.phtml?pk=3793
PAC-10
So I don't have to explain it yet again: PAC-10 is often last in the list because many of their games are played late in the day. We've already discussed the Golden Bears triumph over the Volunteers. USC and UCLA started slow but pulled away in the 2nd half for easy victories. Arizona lost to BYU and Wazzu took their beating at Camp Randall. Usually when I get to this point in the weekly update I'm too tired to care about what happened in the conference. This week is no different. Read the box scores if you need the game details. Let's get to the content you really came here to see.
This is the kind of campaign I can get behind (thanks to CFR for the link). If only they had done something similar for former Easter Illinois linebacker Lucious Pusey.
Do we have any UCLA fans in the audience? Care to rethink your stance after watching this video?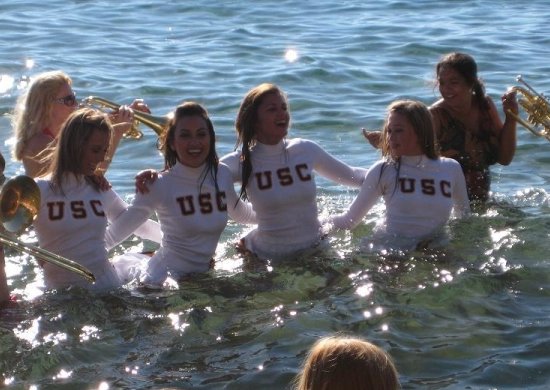 Surf's up
Buena suerte to all, and Go Illini!
Dr. T