Dear Lord Baby Jesus, thank you for smiting ESPN and placing Ron Franklin back in the Fall Saturday Night prime time game location where he belongs.
http://ncaafootball.aolsportsblog.com/2007/01/15/ron-franklins-exile-to-texas-rice-over/
I'm getting to the age where it takes something really special to get me fired up. Things like a smooth single malt scotch, a night of drinking & storytelling with Brent Musberger, some boobs in my grill on my birthday - you know, the finer things in life. But the one thing I most look forward to every year is the start of college football season. I've had a full eight months of sitting around, anticipating, pondering, and pontificating on what 2007 season holds in store for college football fans. As we prepare (you are preparing, right?) for the start of the college football campaign, think of me as a sober Brent Musberger, a Joe Friday-like Keith Jackson, an excitable Ron Franklin, a svelte Beano Cook, Holly Rowe's backdoor man, or just some schmoe with a web page (hello Stewart Mandel!), bursting at the seams to provide you with the best flotsam and jetsam from around the college football world. Basically - you won't hear it from me first and, if you do, it sure as hell won't help you beat me in our weekly college football pool.
But consider yourselves part of the elite. The poor folks in China can't even access my site without some 1337 h4X0ring skilz. Seems the People's Republic of China is a little sensitive to phrases used on this site (the term "Commie bastards" immediately comes to mind). Perhaps they should use Google as a proxy to translate my site into Chinese.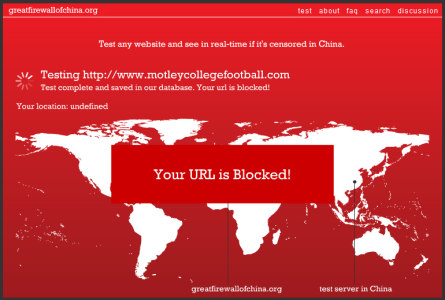 Enough with the formalities. I know you're all here to see what sort of insults I'm going to hurl at [insert your favorite team here]. Tradition dictates that we start with my alma mater. Let the expatiation begin! (I'll wait while you look it up.)
Illinois
"The Joy of Coaching" with Ron Zook. Watching the Zooker coach a football game is not unlike watching Bob Ross paint a nature scene. Both events start off with a clean slate. The goals of the day are laid out, and you think you know what you're going to get. A frenetic burst of energy kicks off the action (RZ running up and down the sidelines or BR beating his 2" brush like a red-headed stepchild - apologies to the firecrotches in the audience). After the first few minutes, things are looking good. Then a few odd decisions are made, and things are looking less rosy (although still promising). Then things start looking a lot better. A perfect sunset here, a touchdown there. And just as orgasmic painting bliss or apparent football victory (whichever gets you most excited) is within reach, he goes and puts a big fucking tree right in the middle of the masterpiece, irrevocably fouling things up beyond repair. In the end, the events are chalked up to happy little accidents with the promise that his next performance will be better and better.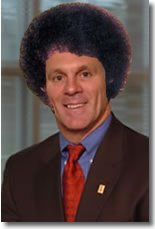 Happy coaching, and God bless, my friend
There absolutely needs to be a Wikiquote page for the Zooker (the Bob Ross page would be an excellent starting point). This would be a great idea for the fine folks over at EDSBS.
And to beat the analogy into the ground, the colors typically used in the paintings would make a great all-name team in college football. Tell me this starting 11 wouldn't strike fear into the hearts of opponents:
Van Dyke Brown
Alizarin Crimson
Titanium White
Phthalo Blue
Dark Sienna
Sap Green
Midnight Black
Yellow Ochre
Cadmium Red
Indian Yellow
Burnt Umber
The Illini return multiple starters on offense and defense, which is both a good and a bad thing. Notably missing will be wide receivers Derrick McPhearson and Jody Ellis. They were caught liberating wallets, cell phones, computers, and other electronic items from the oppressive regimes of coeds in the greater Champaign-Urbana area. Coach 2ndHalfSoftZone gave them the boot, but the Fighting Gay Indians still finished atop the Fulmer Cup standings. We're #1! ... Back to returning players ... Juice Williams and newcomer Arrelious Benn - nickname Rejus (rhymes with "Jesus" and will henceforth be referred to as Rejus Christ Superstar) - should make things exciting on offense. Middle linebacker J Leman anchors the defense and is better than those getting more press (cough, Laurinaitis, cough). J has, quite possibly, the best media guide photo in the history of college football.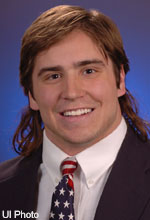 J Leman,
real American
The Ohio State University
What the fuck was that? Seriously. Next time you're going to lay a gift-wrapped turd on national television, please do it a little earlier in the season so I don't have to be inundated with the latest in sweater vest fashion trends and Carl Monday immortalized masturbaters at the local public library. I've seen better game planning from college freshmen hitting on Playboy models. Last year's high-scoring machine should revert to historical Tresselball standards this year. Fans are praying the new kicker is more like Mike Nugent, less like Ted Nugent. The schedule makers have laid out a slate that should lead to an 8-0 start. Then reality calls in the form of @ Penn State, Wisconsin, Illinois (!), @ Michigan, and a bowl game.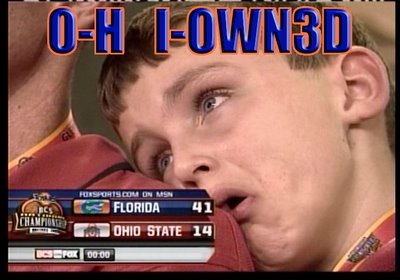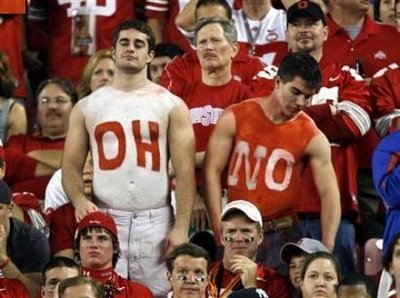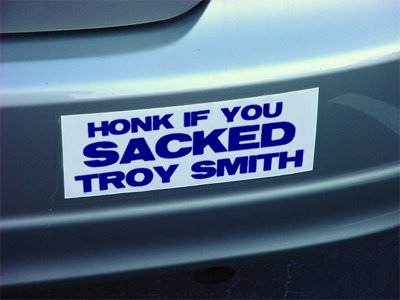 I can't even begin to do this next clip justice. An Ohio State fan thought it would be a great idea to make a montage of his crappy Pontiac set to Bette Midler's Wind Beneath My Wings. Head over to the Mzone for the video.
Michigan
R.I.P. Bob Ufer. ... Great news for fans of other Big 11 teams - ??oyd Carr is back for his 13th season as head coach of the Wolverines. Plenty of firepower returns on offense in the form of WR Mario Manningham, RB Mike Hart, and QB Chad Henne. Henne is this year's winner of the "Brodie Croyle Oh God He's Still Here Is He Ever Going to Graduate" Award (BCOGHSHIHEGTGA). ... I'm not sure Verne Troyer is the best person to be inviting out to practice after his performance on the Surreal Life. We should all be thankful the group didn't drop trau and relieve themselves in the end zone after the photo was taken. The last thing the Wolverines need is another indecent exposure indictment.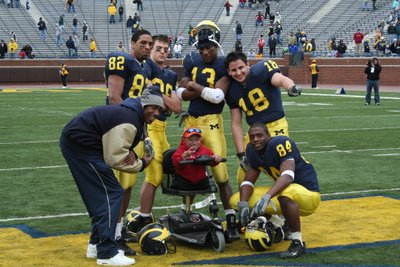 Mini Me & the Mental Midgets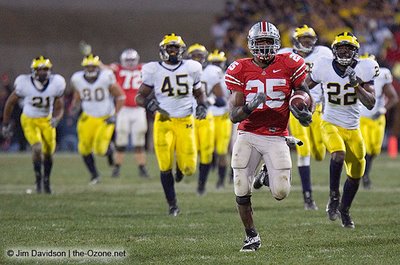 2006 Michigan team photo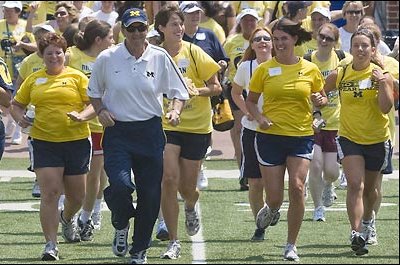 Your 2007 Michigan Wolverines (Hail to the Soccer Moms!)
Penn State
After being insulted by a few drunken idiots on the street in State College, PA, do you (a) Ignore them and move along, (b) Toss a few insults back at the losers, or (c) Round up a posse of your enormously badass friends, track down the punks to an apartment party, and bust in the place to start administering beatdowns to everyone in sight? If you answered "c", then congratulations! You're qualified to be a Penn State football player. As part of the punishment for said beatdown, all Penn State football players will be forced to pick up the trash in the stadium after home games this season. I'll let you make up your own JoePa/Depends joke to insert at this point in the post. ... Speaking of the old codger, I think he should motor around the sidelines this year on a Cruzin' Cooler. It would provide mobility and a place to keep his Metamucil drinks cold. And in case he comes down with another case of the poop smoothies, I'd like to propose that we attach a Port-a-Potty on wheels to the back of the Cruzin' Cooler. It would be a win-win situation for all involved.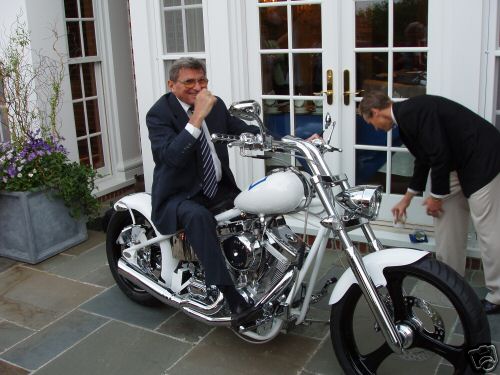 Pennsylvanian Chopper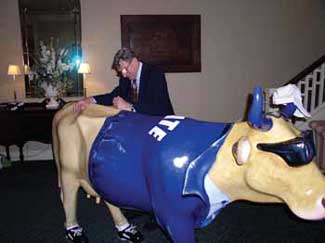 Biologists have finally cloned JoePa. They even have the same shoes!
Wisconsin
Year 2 of the Brett Bielema experience is underway in the Land O' Cheese. His manipulation of the kickoff timing rules near halftime of the Penn State game last year prompted a rule change and immediately made him more likeable than I ever thought a Badger coach could be. I remain skeptical, however, until he loses that Hawkeye tattoo on his ankle. I have yet to meet any man with an ankle tattoo that is trustworthy. Douchebag, yes. Trustworthy, no.

Let's not kid ourselves - this is a cry for help
Northwestern
Honeymoon's over, sweetheart. Purple Power coach Pat Fitzgerald got a free pass last year due to the untimely passing of Randy Walker. Junior RB Tyrell Sutton is one of 7 running back from the Big 11 who made the Doak Walker Award watch list. Hopefully for NU fans he is as intimidating as the Purple Power-clad Wildcat shown below (which served as the team logo from 1959-1967). Notice the striking resemblance to Scratchy from the Itchy and Scratchy cartoon series featured in the Simpsons.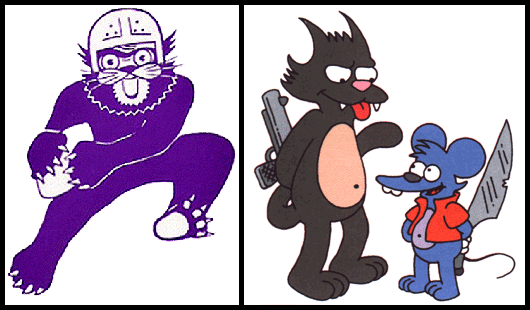 Fight fight fight, Fight fight fight
Florida
Next person who tells me how great it is to be a Florida Gator gets a Chuck Norris-style, grade-A certified, gun show ass-whooping. Two things: (1) You were one blocked field goal by a player who should have been suspended away from another trip to the Outback Bowl. (2) Congratulations, you won a national title - now please stop acting like you invented the game of football. You people are flocking to the football pool like old folks invading the Sunshine State during the winter. It's not like I'm selling time shares, AC/DC shirts, or jorts.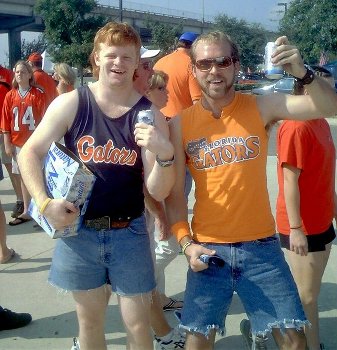 A few beers short of a 12-pack
The Gators lose a lot of experience on defense and will rely heavily on Jesus Christ Tebowstar to lead the offense. His ability to handle 3rd and long situations will be the key to the Gators season. Judging by the picture below, though, does it really matter?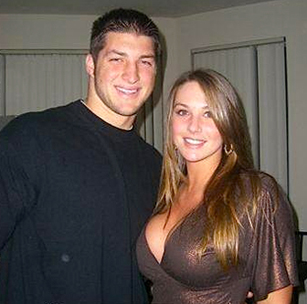 Double T and the Double D's
LSU
Coach TruckerHat had a busy offseason, what with the insulting 'Bammers & Trojans and keeping track of Ryan Perrilloux's exploits. I turn the floor over to the esteemed Mr. Snoop Dogg.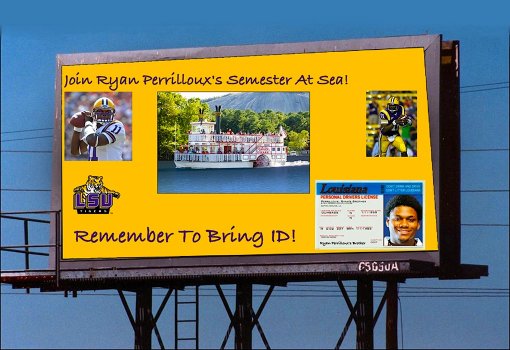 Apparently what happens in Baton Rouge doesn't stay in Baton Rouge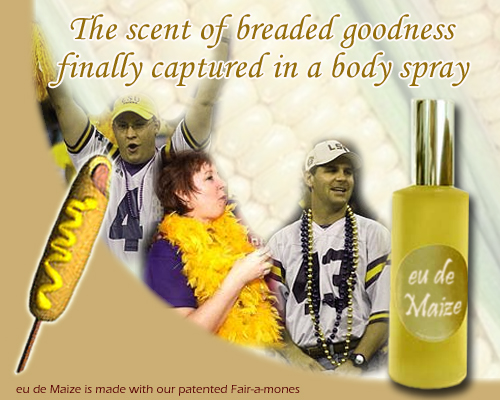 Eau de Corndog
Alabama
Breaking news - Paul "Bear" Bryant is still dead. That will come as a shock to some Crimson Tide fans. And while we're dusting off the dirt, let's clean up that fight song. Truman was in office the last time Alabama went to the Rose Bowl. Hell, even Illinois has been to a BCS bowl game more recently than 'Bama. Sure, they got pasted by LSU in Louisiana - just like 'Bama does every other year! ... But that's all in the past. Alabama dug up hired gun Nick Saban to run the show. Enjoy his three years in Tuscaloosa. His well-deserved standoffish reputation with the media makes him a prime candidate to take over sponsorship of the JLSIJOTW (John L. Smith Interview Jackass Of The Week) Award.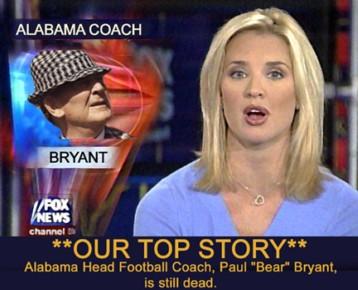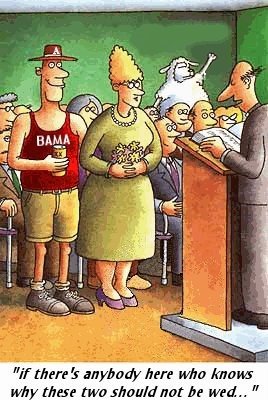 Janice?

Doug?
Nebraska
Trev found a job, and it's not at McDonald's! ... We're entering year 4 of the Callahan Experiment in Lincoln. As one might expect, 'Husker fans are getting a little impatient with Coach ThroatSlash. A September 15th matchup with USC is looming large after the woodshed beating Big Red took in South Central last year. First things first, however - Down with the Wolfpack!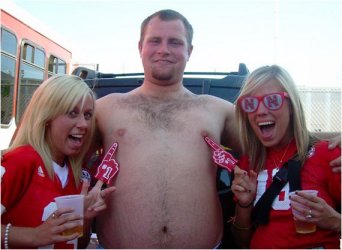 Joel?
Florida State
Papa Bowden gave the boot to Jeffy and hired a competent offensive coordinator (Jimbo Fisher) away from Coach TruckerHat at LSU. I expect the Seminoles to be much improved on offense. I also expect to win the Powerball jackpot every week, so perhaps my perceptions are a tad off kilter. Nevertheless, Jimbo joins Coach ManBoobs (after his dismissal from NC State) and Mickey Andrews to make up one of the most formidable coaching staffs in the country.
Seminole Firewater sounds so much catchier than Gatorade. Bonus points for being politically incorrect, too.
Sometimes the pictures really do tell the whole story. Ms. Sterger's 15 minutes of fame are up, but I intend to extend those to a full three or four decades (basically until she exits MILFhood). The second photo below seems like a good excuse to break out the Darius Rucker / BK commercial. Sing it with me - "The tender crisp bacon cheddar ranch."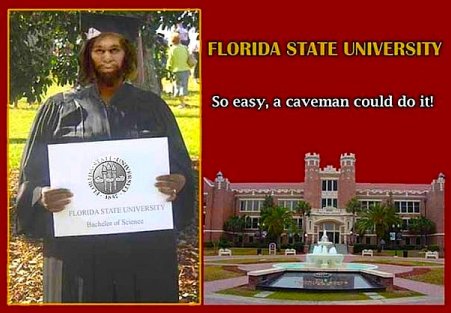 They'll need the cheaper auto insurance after all the parking tickets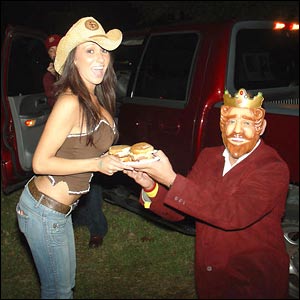 There's a king who wants Jenn to have it his way
Georgia Tech
The good news: Reggie Ball ran out of eligibility. The bad news: Calvin Johnson bolted to the NFL. To add insult to injury, a trailer hauling the Georgia Tech Ramblin' Wreck car crashed over the summer. Photos sure to please Bulldog fans were served up by Paul Westerdawg.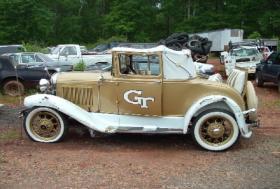 Chitty Chitty Bang Bang
Connecticut
A little baby mama drama spicing things up in Storrs. Good to know they're still playing football at UConn.
Arizona State
Les Diables have a new leader in town, presumably one that will squash team infighting, make firm decisions, recruit junior college thugs, and generally run the football program like Hugh Hefner on an all-night bender at the Mansion (minus, unfortunately, bunny outfits for the cheerleaders). Fortunately for the male population, the cheerleaders have eschewed uniforms altogether and are starring in porn films. Good times all around.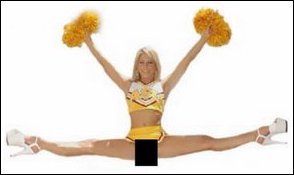 Oregon
Can somebody check to see if Tim Donaghy worked any Oregon home games over the past decade? At least once per year the Ducks are involved in some sort of officiating controversy that usually works out in their favor. Just sayin'....
Q. What do marijuana and Notre Dame have in common?
A. They both get smoked in bowls.
Buena suerte to all, and Go Illini!
Dr. T