I'm back in Portland after an exciting two weekends of college football action. Now that my extremities have thawed and my testicles have re-descended to their rightful resting place, I'm ready to give you a "by the numbers" recap of my trip to State College, PA, for the UM-PSU matchup. Let the record state that the reason the Nittany Lions lost to the Wolverines is because Carisa did not make the trip to Happy Valley to root for her beloved alma mater. :)
-16 - Total yards rushing for the Nittany Lions. Yikes.
0 - Number of insults directed at me for wearing Illinois gear during my college football road trips this year. That's when you know how shitty your favorite team is - when they suck so bad that people just nod at you politely like you just got back from a funeral (or the Ohio-Illinois football game, whichever is more depressing).
1 - Number of fans, including me, staging their own personal orange-out amidst a sea of white in Beaver Stadium. I had one guy believing that I was an advance scout for Illinois. Next week the Illini travel to Happy Valley for Penn State's homecoming, making this the third or fourth homecoming game the Fighting Gay Indians have played in this year. Funny how that works.
1.50 - Cost, in dollars, of one 16 oz. cup of hot chocolate at Beaver Stadium. The concessions people obviously never played the lemonade stand game ("The Gettys and Rockefellers salute you!") as kids. With temperatures plummeting into the 30's after kickoff they could have sold hot beverages for $6 and made a fortune.
2 - Number of Nittany Lion quarterbacks knocked out of the game with concussions by the Michigan defense. A big personal F.U. from me to the Michigan fans in attendance for cheering wildly when it was clear the backup QB had been knocked silly. Not cool, and not classy. And while we're on the F.U. subject, let's send a big one out to all the WAL*MARTs between Ann Arbor and State College for not having long underwear in my size (insert enormous package / shrinkage jokes here). And the first person to ask why I didn't stop at Target gets five points deducted from their pool point total. I'm not kidding.
4 - Total number of gates opened to accomodate the entry & exit of 110,000+ people from the stadium. I don't know what sort of fucked up barnyard math they're teaching in Pennsylvania, but that is not nearly enough.
5 - Times I counted that starting Penn State QB Anthony Morelli took a sack instead of chucking the ball into the eighth row. I realize things happen quickly on the field and that you don't have much time to think when 270 pound defensive ends who run sub-5.0 40's are chasing you down, but for the love of your favorite deity, please get rid of the football.
10 - Number of points scored by the Nittany Lions in a losing effort.
15 - Cost, in dollars, to park a car in a grass lot several blocks from the stadium.
17 - Number of points scored by the Wolverines in a victorious effort.
37 - Temperature, in degrees Fahrenheit, at the end of the game.
38 - Number of times I heard this annoying noise on Saturday.
44 - Temperature, in degrees Fahrenheit, at the beginning of the game.
2516 - Total number of miles driven during my 11 days of college football fun.
110,007 - Official attendance for Saturday night's contest.
And I thought I was dedicated. Check out this story about a blind man who was been "watching" BYU games at LaVell Edwards Stadium for 24 years. Link courtesy RJYH. ... With that feel-good story out of the way, we turn our attention to the rest of the good, bad, & ugly from around the college football world.
ACC
Virginia Tech lost to Boston College by a 22-3 count. The Chokies should have been fired up to play at home yet layed a major egg against the Eagles (figuratively speaking, since it's hard for castrated male turkeys to actually lay eggs). They can now kiss their Top 25 ranking and ACC title hopes goodbye.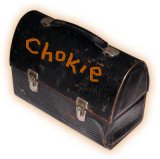 Perhaps a McDonald's sack would provide more motivation
The only other notable news from the ACC was Miami's 35-0 victory over Florida International. The game itself was a rather mundane blowout victory for the Hurricanes. Things got entertaining in the 3rd quarter, though. Miami kicked an extra point after their 2nd TD to go up 14-0. An FIU player body-slammed the Miami kick holder to the ground, and then it was on! Highlights (or lowlights, depending on your perspective) included Miami safety Anthony Reddick swinging his helmet like a Samurai sword and injured FIU running back A'mon Ned hobbling to field on crutches and then swinging them around like world-class hammer thrower. Adding to the excitement, former Miami player Lamar Thomas (more on him in a minute) was one of the announcers and was openly voicing his support of the melee. Lamar Thomas, Alabama fans may remember, was the Miami receiver who had the ball stripped from him on the way to the end zone by Crimson Tide defender George Teague during the 1993 Sugar Bowl.

Let's get ready to rumble!
With the debacle in the Orange Bowl and the train wreck that is the current state of affairs in Tallahassee, MCF favorite Jenn Sterger weighed in on the State of the Florida Football Union. The article is better than most I've seen on similar topics from the mainstream media, which means writers are doling out the same ol' crappy drivel or I'm too mesmerized by the twin T-shirt puppets to appropriately critique Ms. Sterger's article. Probably a little of both. Jenn was on assignment with the FSU band this week, for those stalkers amongst you keeping track of her activities. I would provide more detail but am limited by local, state, and federal court orders.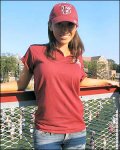 Insert your own band camp joke here
Big 11
Things were going according to script until Iowa (UFI - University of Freakin' Iowa) choked away a game to the Hoosiers in Bloomington. Only a life-threatening brain surgery to Indiana head coach Terry Hoeppner is keeping me from making crass jokes about the Crimson & Cream comeback. I'd be embarrassed if I was an Iowa fan, if not for the game then for the idiot in the picture below. Guess I can't make too much fun of the Hawkeyes, because Illinois lost to Ohio in Champaign. Not THE Ohio State University (although that's coming later in the season). Ohio. GHB-boy Frank Solich-led, MAC conference doormat Ohio. Not good.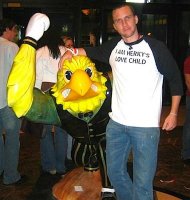 Herky's love child and Hoosiers' bitch
tOSU easily defeated Michigan State in East Lansing, robbing us of the opportunity to witness another John L. Smith meltdown. At this point, JLS should just change his name. We would then change our jackass interview award to the JASIJOTW. Meanwhile, Buckeye fans are just passing the time until the November 18th showdown with the Wolverines at the Horseshoe.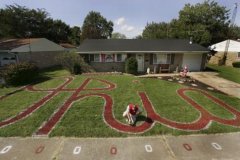 Guess he didn't have enough room for "Fuck Michigan" (image courtesy
RJYH
)
The only way you can teach tOSU fans anything - have Coach
SweaterVest make an instructional video (courtesy
Deadspin
)
You've already seen my recap of the Michigan - Penn State game. Something to ponder - What if Michigan had hired Joe instead of Bo? I'd probably dislike Michigan a lot less, for one thing. The real question, though, is would it have led to a mariachi version of "The Victors"?

ĦEl granizo! A los Vencedores
Big 12
Three main items of interest from the Big 12 this week: (1) Texas A&M upset Missouri in College Station, ending the Tigers undefeated season aspirations. Both teams are 6-1 and bowl eligible. (2) Oklahoma defeated Iowa State but lost Adrian Peterson for the season after he broke his collarbone while diving into the end zone for a touchdown. Ironically (not really, but I'm not sure what term best describes it - maybe karma-icly?) it was the first time AP's father got to see him play after being released from prison. (3) An Oklahoma State representative spit on a Kansas player during the Cowboys victory over the Jayhawks. I guess they figure that acting like thugs will allow them to compete with the thugs. Lowlight at the 0:30 mark.

Staying classy in Stillwater
Big East
Everything went according to script on Saturday, although Louisville struggled to triumph over Cincinnati. The Cardinals' troubles were not the talk of the town, however. Of much more concern to the Midwestern bible thumpers were the costumes (or lack thereof) chosen by Louisville cheerleaders for their Halloween attire.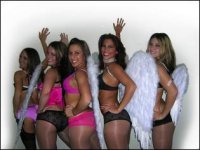 Go Cardinals!
Apparently Connecticut head coach Randy Edsall has had enough of the kids trampling on his damn lawn. He kicked five players off the team for having a little too much fun with the cerveza in Tampa when the Huskies visited USF. The beverages in question were Corona and Heineken, for those of you concerned with such details. So the moral of the story from Storrs is: Steal laptops and get probation + return to the basketball team in time for conference games; have a little Friday night drinky and get booted from the football team. ... Syracuse QB Perry Patterson flipped the bird to West Virginia fans during the beating administered to the Orange by the Mountaineers. He should be glad Mountaineer fans didn't retaliate by torching his couch. When asked to comment on the situation, PP responded with, "I learned it by watching Marcus Vick." ... Speaking of WVA, are they in search of a new fight song?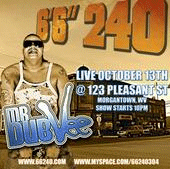 The new face of West Virginia football
Pac-10
ASU coach Dirk Koetter whizzed away Les Diables last chance to defeat USC, earning the highly coveted LCCMOTW. Golf claps all around for a coaching job not-so-well done. ... During the Bruins vs. Ducks contest, another UCLA QB was the victim of a cheap shot. Did all of the Miami rejects end up in the Pac-10?
SEC
The most shocking upset of the day in the SEC was Georgia losing to Vanderbilt. At home. The 'Dawgs are simply not good this year. Nevertheless, people weren't expecting a loss to the Commodores. Not sure what to say about this, and since I can't think of anything funny/derogatory or come up with any amusing pictures, let's just move on to the next topic.
The biggest game of the day took place down on the Plains. Auburn overcame a solid first-half effort by Florida and defeated the Gators 27-17, despite furious pointing by Florida head coach Urban Meyer. A key play in Auburn's victory was an apparent incomplete pass by Gator QB Chris Leak that was ruled a fumble. Where are these officials when Illinois needs a call to go their way? At least we won't have to hear the ridiculous "Leak for Heisman" chant anymore. Somebody should ask Urban why future President/Neurosurgeon/Oscar Winner Tim Tebow wasn't taking all the snaps in the red zone. Urban wins our 2nd LCCMOTW for using the SAPF and having another kick blocked. That's two weeks in a row with the SAPF leading to a blocked punt. ??oyd managed to figure out the SAPF doesn't work by the 3rd game (after the oregon and Iowa debacles in 2003). We'll see next week if Urban is that bright. If not, someone should send him a copy of this video, courtesy of the Zooker.
A man walks into a store and says, "I would like an orange hat, blue pants, a green sweater, and white shoes."
The clerk says, "Are you a Gator fan?"
"Yes," replies the man, "How did you guess - by the color combination?"
"No," answers the clerk, "because this is a hardware store."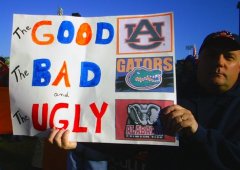 True dat
It's been a tough year for Mississippi State football fans. The team has struggled in the 3rd year of Sylvester Croom's regime, and the natives are getting restless. In an obvious effort to liven things up and light a fire under their beloved team's collective butt, fans and hecklers are proposing new fight songs. The first one comes from the Mississippi State marching band; the second one arrives via Memphis radio personality Chris Vernon. Both have merit. Check out the videos below.

Dueling cowbells don't fear The Reaper

The cowbells ain't ringin' like before
This coming week's action marks the 3rd Saturday in October, meaning that Alabama - Tennessee will be headlining the action. If we're lucky, CBS won't subject us to the annoying, screaming lady Vol fan.
Dr. T