I wasn't going to do this, because I've posted one A-Z recap already this season. But when you have as much fun as Todd & I did in Florida during the weekend of the Tigers-Gators matchup then hop in the car for a multi-day road trip spanning several states, your mind tends to wander and you want give the rest of your remaining friends (the ones who still understand that important life events - including weddings, births, deaths, and organ transplants - need to be scheduled around college football Saturdays) insight into the mind of a college football fanatic.
Before we begin, please bow your heads for a moment of silence to commemorate the passing of Bevo XIII.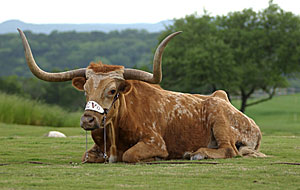 R.I.P. #13
A is for Apocalypse, which is surely on its way when I can drive from Tampa, FL, to Ann Arbor, MI, without finding a single fried apple pie at a WAL*MART along the way. And believe me, I stopped at every damn one of them in search the fried, fruity goodness. Who is McDonald's kidding, anyway? No one in the South is eating health food.

Gimme the good stuff
A is also for AC/DC. Floridians love them some AC/DC. The "Thunderstruck" intro before kickoff was a nice touch. Playing "Big Balls" after running a trick play to score on 4th and goal was a bit much, however. OK, maybe that didn't happen. They should let me pick in-game music. Guaranteed hours of entertainment, thousands of dollars in FCC fines, and a lifetime ban from arenas around the country.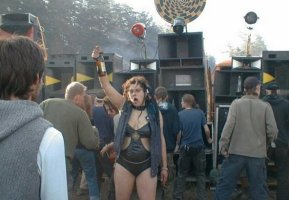 Florida fans celebrate Saturday's win over LSU
B is for Ben Hill Griffin Stadium at Florida Field, or as you know it ... The Swamp. I've got $1 for anyone who can explain to me why the Gators named their stadium after a slapstick comedian. Perhaps they were standing too close to a grass fire laced with burning wacky weed. Given the Gators' kicking woes, perhaps they should drop the "Thunderstruck" kickoff intro and adopt the Benny Hill Show theme song Yakety Sax.

C is for Chick-fil-A. They should call it Crack-fil-A, because it's that good. And how the hell can I "Eat Mor Chikin" if they are closed on Sundays. If they want to be churchy, they should sell me chicken sandwiches and donate the profits to whatever God they worship. It should be noted that this God is causing me to commit many of the seven deadly sins in search of said sandwiches on Sunday afternoons during my travels to/from the southeastern U.S.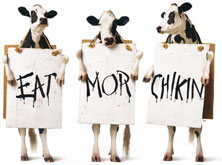 Crazy bovines
C is also for Cruzin Coolers. I've linked to them before, but they deserve another mention after being the hit of the tailgating scene. A few were motoring around the parking lot with their owners handing out free rides like candy. We would have a photo to show you but Todd & Balijeet were too busy yapping on the phone to snap a quick pic with Todd's cell phone.
And C, as always, is for Cookie.

C is for cookie
D is for Distillery. I stopped at the Jack Daniel's Distillery in Lynchburg, TN, for a tour of their facilities on Monday, October 9th. It was informative and fascinating. The distillery is actually located in a "dry" county, meaning liquor cannot be sold there. Jack Daniel's was granted a special exception in 1996 that allows them to sell bottles of hooch on-site. So do they sell the good shit (Single Barrel or Gentleman Jack)? Of course not. That would be too easy and profitable. All they had was Old No. 7. I left thirsty and empty-handed.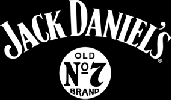 Too much No. 7 leads to frequent No. 1
E is for Eye candy. Remember what I said about the lovely ladies of Texas? Well, move over Longhorns. The new leader for the hotness crown is Florida (although I am holding out high hopes for FSU and Ole Miss.). Even the ugly girls in Gainesville are hot. And they can drink you under the table while hurling insults about your mother, your manhood, and your favorite non-Gator football team - often in the same sentence. Stay classy, Florida!

Gator alum Erin Andrews
F is for Football Hall of Fame, specifically the College Football Hall of Fame in South Bend, IN. I stopped there on my way from Indianapolis to Ann Arbor. Surprisingly, there are Illini-related items located inside. And they aren't just highlights of other team's triumphs. ... The museum was small but designed well. I enjoyed the panoramic theater that played a time-lapse montage of Michigan Stadium filling up to capacity on game day. Fight song music was constantly pumped in via the many speakers throughout the museum, and there were several interactive trivia terminals. I kicked ass. And by kicked ass I mean ruled over some 7-year old punk and 80-year old grandma. Nevertheless, I was victorious. ... Also stopped by the Notre Dame campus before heading out of town. The weather was gloomy, but I managed to snap a few photos of the Golden Dome and Touchdown Jesus. I'm sure I'll photoshop those in disparaging fashion at some point in the season. Might as well punch my ticket on the express train to hell in grand fashion.
G is for GameDay. Chris, Lee, Kirk, and crew were on location in Gainesville for the day. These guys are the media rock stars of the college football world. Herbstreit wore a suit while watching the game on the sidelines (for the love of God why?!); he even caught an errant pass. Corso predicted a Gator victory and got the student section fired up with a Gator chomp. But not everyone is a Corso fan, as you can see below.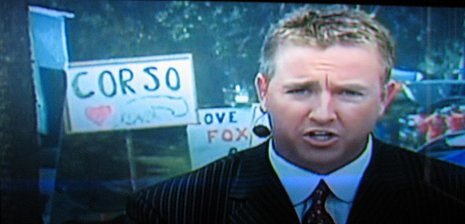 Lee loves the twig-n-berries?
H is for H2O. I've never imbibed so much water in my life. No more SEC day games in September or October. We sat in the sun, and the weather is what I will charitably call retardedly hot (as in, it's so hot it makes you retarded). My grand H2O intake total for Saturday from dawn until well after dusk was a shade under two gallons. Two freakin' gallons! The 1/2 gallon of beer probably didn't help matters. I didn't buy the beer so much as rent it. If anyone from the University of Florida administration is reading this blog, thanks oh so much for not placing port-a-potties at several convenient locations near the tailgating festivities. I enjoyed the walk to the center of campus multiple times in search of a restroom. I would've brought along a Stadium Pal, but that would have looked downright silly sticking out of my shorts.
I is for It's Great to Be a Florida Gator, quickly moving up the list on the most annoying cheers/chants college football. If it's so damn great why do you need to tell everyone about it? And where the hell is it when Leak pees down his leg in the pocket and airmails a pass out of bounds? That's what I thought. And now that Michigan has copied it, the annoyance factor is quickly headed off the charts.
J is for Jorts. Gator fans disappointed me on Saturday, as I spotted only 28 pairs of Jorts from the time I entered Gainesville until I left for the evening. Weak. Very weak. Many of the lovely ladies in attendance, however, were wearing jirts. I tried to count those but lost track at #13 after getting distracted by all the long legs and midriffs. Let's just say the number was well over 30.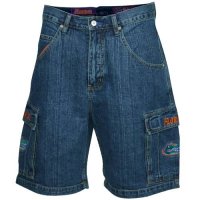 Official Gator gameday attire
K is for Kicking game, which produced all sorts of craziness on Saturday. The Gators have not yet successfully kicked a field goal this year. LSU punt returner Chevis Jackson fumbled a punt return, leading to a Gator TD. LSU kickoff returner Early Doucet muffed a kickoff in the end zone, leading to a safety. At times it looked like a 9 a.m. PST Big Ten game on ESPN2, complete with (wo)man announcer Pam Ward, coeds in pajamas, and obligatory blimp-cam shots of the cows and corn fields next to the stadium.
L is for Lloyd Carr Coaching Move of the Week (LCCMOTW). This one goes to Urban Meyer for using the SAPF (on a quick snap because Florida thought LSU wasn't ready at the line of scrimmage). How many blocked punts is it going to take for this insanity to stop? My head is exploding in anticipation of the first time a Frank Beamer-led Virginia Tech squad plays a team that tries to execute the SAPF with any regularity. Hilarity will definitely ensue.
M is for Mr. Two Bits. During the pregame festivities at ... The Swamp they trot out an old fart (sadly, not Joe Paterno) to lead the Gator faithful in a two bits, four bits, yada yada yada cheer. And the lemmings go nuts for this. It's almost as dumb as the Michigan train cheer (Sarah, you know what I'm talking about). Almost. Where I'm from people get put into nursing homes for such activities. In Gainesville they roll you out to the 50-yard line. I just hope at that age I'm not gumming my food and bitching about Matlock reruns.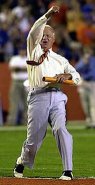 George Edmunson, Jr., a.k.a. Mr. Two Bits
N is for Nature Boy. Wooooo!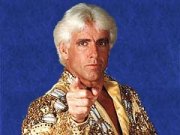 The Nature Boy wants you! Creepy.
O is for this One time, at band camp.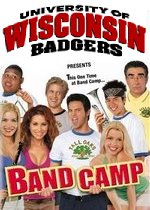 Must...resist...urge...to make...flute joke
P is for Pac-10 officiating, or lack thereof. Again. They had more issues at the end of the Washington-USC game, costing the Huskies a chance at the upset.
Q is for Queen Nina Vaghaiwalla, the young lady presiding over the Gators' 2006 Homecoming.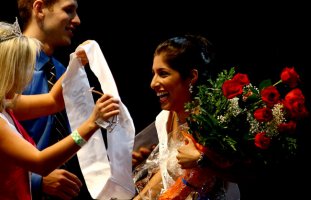 2006 UF Homecoming Queen
R is for Red River Shootout. Oklahoma's woes continued as the Sooners lost to Texas at the Cotton Bowl. Our first Tyler Ecker Dumbass Play of the Week (TEDPOTW) goes to Heisman hopeful sooner running back Adrian Peterson, who did not chase down a dropped lateral pass which was eventually recovered by the Longhorns and run back for a touchdown. Nice effort. He's still the best running back not named Garrett Wolfe.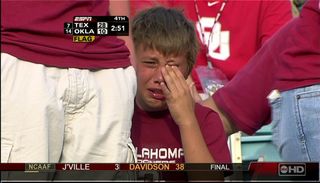 Red River Cryvalry
S is for Stupid Ass Punt Formation (SAPF). I finally got to see it in person and, yes, it's as dumb as it looks on TV. Idiots.
S is also for Stalker. One was arrested this week for threatening ??oyd Carr and trespassing on university property. Probably payback for ??oyd telling all those kids to get off his damn lawn.

You kids get the hell off my lawn!
T is for Tim Tebow. 9 rushes for 35 yards and 2/2 passing with 2 TD's. Not a bad day at the office for a freshman. But can we not elect him Governor just yet? Let's see how he does on a regular basis when having to call audibles and look for his third receiver. Florida fans, guys included, are ready to have Tim's children and he has yet to start a game at quarterback. He may very well be the 2nd coming of Christ, which would give me much less to write about than were he the 2nd coming of, say, Chris Rix or Ron Powlus.
U is for upset. Arkansas' 27-10 triumph over the Auburn Tigers was the talk of the tailgate. The Hogs now lead the SEC Western division. Perhaps Auburn couldn't understand their playbook, which was returned to them after their laptop was stolen before the Auburn-South Carolina contest last week.
V is for Vacation. It's been over one week since my journey began in Beaverton, OR. This weekend is my last hurrah before crashing back to reality on Tuesday. :(
W is for "We are the Boys from Old Florida", the gayest college song in the land. They should just rename it "Check Your Penis at the Door". It is cool, however, to see 90,000+ sway in unison while singing. I may or may not have participated.
W is also for We Bare All, the adult superstore south of Gainesville with enough billboard ads to blanket I-75 all throughout Florida. Couples welcome!

Of course you do
X is for Xavier Carter, the former LSU wide receiver. I can't think of anything else relevant to this weekend starting with the letter X.
Y is for Ybor City, party central during my stay in Tampa. Girls dress for warm weather. Bars don't close until 3 a.m. I'm still hoarse from two nights of partying here last weekend. Things can (and in my case, did) get pretty crazy. Let's just say that if you're female then you probably shouldn't go to Coyote Ugly on your birthday. Just a tip from your friendly football pool coordinator.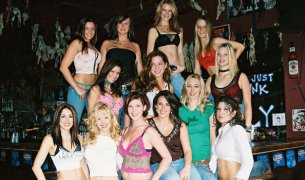 Ugly is not the first word that comes to mind
Z is for Zook. Quite shockingly, I didn't hear one comment about the Zooker while in Florida. That's assuming you don't count my outburst in Tampa after hearing how the Illini choked away the game vs. Indiana. So much for those bowl hopes. I can't remember the last time the Illini beat a Division-1A opponent at home. Does the NCAA fine teams for planting the flag on their own field? Illinois should give it a try if they ever win another Big Ten game in Champaign.
Friday afternoon I roll out of Ann Arbor on my way to the Keystone State. Forecasted temperature for the 8 p.m. EST UM-PSU kickoff is 40 degrees F. Holy schnikes! Expect a "by the numbers" recap next week.
Dr. T