Greetings from Florida, ladies. It's H-O-T hot. I feel like Daffy Duck on a mission in the desert in search of water. I'm drinking more H2O than cerveza; quite frankly, that's unacceptable for a vacation. My travels have left little time for web site work, so this week's update will be a bit on the lite side. Next week's post will include a recap of my adventures in Tampa and Gainesville. As always, enjoy
ACC
The Ramblin' Wreck from Georgia Tech thumped the Hokies, knocking Virginia Tech from the ranks of the undefeated. If you haven't had the chance to catch a Yellow Jackets game this year, tune in for a glimpse of Calvin Johnson. He's the best wide receiver in the country. ... Everything else went according to form, although Miami nearly lost to Houston. Not looking good for the Fighting Cokers of Coral Gables. With any luck the players will have another team building exercise this year on the order of last year's 7th Floor Crew scandal. "What's your name. What you do? How you do it?" If I may quote Bill Simmons, "Good times all around."
Big 11
Woooooooooooooooooooooooooooooooooooooooooooooo! Illinois won a game. On the road. In the Big Ten. Against an actual Division-1A opponent. No, seriously. We won't even talk about the blown instant replay call that overturned a Spartan fumble in the 4th quarter. I forgot how one is supposed to feel when rooting for a team to pull out a 4th quarter victory. Excited as the Texas Tech bell ringer? Nervous enough to make JoePa-like visits to the can between plays? Ambivalent, just waiting for the usual letdown? After the field goal put the Illini up 23-20 and the ensuing kickoff ran out the remaining time on the clock, I just sat there in stunned silence. I'm so used to losing that even a glorious, unexpected win produced no emotion. Some overzealous fans jumped on the bowl bandwagon (Motor City Bowl here we come!), but I say <Corso>not so fast my friends</Corso>. Miracle worker is not a phrase I would use to describe the Zooker, but if he gets Illinois to a bowl game this year they will build a bronzed statue of him outside Memorial Stadium.
As soon as the game was over, the Fighting Gay Indians stormed the field with a big-ass "I" flag in hand, ready to plant that fucker on the 50-yard line. Normally I frown upon such asshattery, but MSU rang up 70 on the Illini last year (while throwing the football well into the 2nd half) and did their own little banner plant at Notre Dame. The Spartans defended their turf with vigor, making me once again wonder why they couldn't show that same intensity during the game.

Not exactly Iwo Jima, but inspiring nonetheless
As an added bonus, Illinois' victory over Sparty allowed us to hand out our first JLSIJOTW (John L. Smith Interview Jackass of the Week) award of the 2006 season. Check out the video of his post-game interview below. Stay tuned to the end, when he slaps himself in the face. I'll repeat that - he slaps himself in the face. The guy has lost it. And not just "I forgot where I put my keys" lost it. More like "completely batshit crazy" lost it. Fortunately for everyone who is not a Michigan State fan, we have half of the season left to watch the train wreck unfold.

Captain Slappy reporting for duty, Sir
In other news around the Big Ten, Michigan avenged last year's loss to the other UM in a win at the Metrodome. The annual Gopher collapse is in full swing. ... In Iowa City, the biggest event in years (if you don't count the time Winger's tour bus broke down on the way from Ames to Des Moines - o.k. not really but it's funny enough to be true) ended with a Buckeye thrashing of the Hawkeyes on national television. Kirk Ferentz can only take so much before moving along to greener pastures. I'm quite shocked he hasn't done so already.
Big 12
Nebraska outlasted Kansas 39-32 in overtime in Lincoln. Oh, how the mighty have fallen. Big Red is trying to drum up school spirit by having Larry the Cable Guy host a tailgate - Git 'R Dun, Cornhuskers. Git 'R Dun.
Perhaps this is why they are having trouble winning games at Texas A&M (video link courtesy EDSBS).
Big East
Not much happening here last weekend. The State University of New Jersey almost lost to South Florida. I'm guessing they were distracted by the scantily clad coeds parading around Ybor City.
SEC
Jenn and her fabulous fake funbags made a scouting trip to Gainesville last week. She must have been checking things out for my visit to ... The Swamp on Saturday. Speaking of the LSU-UF game, Florida defensive tackle Marcus Thomas will be playing for the Gators despite testing positive twice for marijuana use. Fool Urban once, shame on you. Fool Urban twice, suit up for the Gators against a Top 10 opponent because your offense is going to struggle to score points.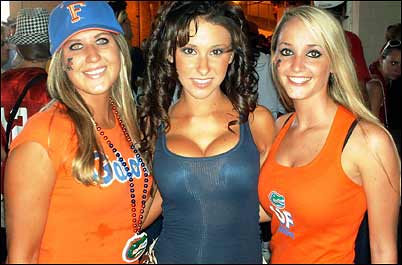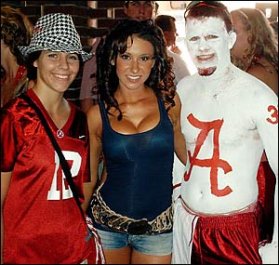 Rammer Jammer Highbeam Hammer
Even Kentucky fans are excited about Ms. Sterger's appearance at an SEC venue.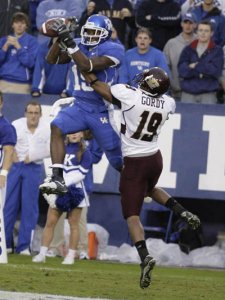 This is my rifle, this is my gun...
Pac-10
Does it even matter?
Dr. T