Biakabatukas,
The Pool welcomes (exactly "Who Are" you again?) Penn State back to national relevance. While I don't expect to see JoePa in any future Soul Train episodes, he sure put on an entertaining show at the tOSU-PSU pep rally on Friday night. On Saturday night he looked like a Coke bottle glasses-wearing Bernie (of Weekend at Bernie's fame). I was half expecting to see Frank Oz trailing him around the sideline. (That's one 70's reference, one 80's Brat Pack reference, and one Star Wars reference if you're scoring at home.) Kudos to the Nittany Lions for their inspired and mistake-free play. On the other side of the field, I think Bernie could have come up with a better game plan than the one Tressel put together. Baldwin-Wallace College called The Ohio State University's athletic department this week to request that their name be removed from Coach SweaterVest's bio. The next time Troy Smith finds the 2nd receiver on a route progression will be the first time. Suddenly Justin Zwick doesn't look so bad. Better find an offense in a hurry, because Sparty is coming to Columbus this Saturday. When MSU played the top-ranked Luckeyes in 1998, this was the post-game scene at Ohio Stadium.
Cry me an Olentangy
The Pool, once again, bids adieu to Michigan's Top 25 ranking. Nothing like a Lloyd Carr / Garrett Rivas combo to bring a screeching halt to Minnesota's annual collapse. The Gophers tried to plant their flag on Michigan's M at the 50-yard line before realizing that the field at Michigan Stadium is no longer natural grass. Morons. With a suddenly resurgent Nittany Lion squad coming to Ann Arbor this week, Lloyd, Garrett, and Chad better undo their respective rectal-cranial inversions; a sub-0.500 conference record is quickly becoming a realistic possibility. Make your reservations to San Antonio now to avoid the rush in late December for the Alamo Bowl.
In other news from around the Big Ten: Northwestern rolled up 674 yards of total offense in an upset of the Badgers. Perhaps Barry is rethinking that decision to name the defensive coordinator as his successor. Can't wait to see the Mildcats roll up 1000 yards when taking on the Illini later next month. Speaking of ThrIllinois, they were destroyed in the battle of Big 11 doormats by the Hoosiers. Not Good. That's one victory in the last 19 attempts during Big Ten play. I don't see another victory on the horizon until Eastern (Directional Illinois!) comes to town next September. In more uplifting news (for me anyway), basketball season kicks off in Champaign with Midnight Madness this weekend. WooHoo!
Kyle Orton is an Old No. 7 fan. And a sloppy drunk.
Georgia made it 3-for-3 in the Mark Richt era at Neyland Stadium against a downward-spiraling Vols team. Randy Sanders should get together with Carr and Tressel for one grand incompetent coaching clinic. The highlight of the afternoon was Kenny Rogers performance at halftime. He must have been cruising through Eastern Tennessee for a hookup with Dolly Parton before making the cameo in Knoxville. Kenny hasn't played in front of that many fans since performing at the Colorado State Fair. ... Florida downed Mississippi State in less-than-impressive fashion. The spread option offense is still not hitting on all cylinders, and I'm not sure it will with Florida's current personnel. Gator fans were happy to beat the Bulldogs and thrilled that they didn't have to listen to incessant cowbell noise in the Swamp. ... LSU struggled offensively but knocked off Vanderbilt in Nashville. The defense played quite well. The real test comes this week when the Gators invade Death Valley for a Saturday afternoon matchup. Meanwhile, Vandy's once promising bowl aspirations are quickly going down the toilet. ... Kitten gets to keep her clothes on for another week, as Kentucky lost to South Carolina this weekend. With Ole Miss and Miss. St. on the schedule, we might see some skin by the end of October. Go Wildcats!
I needed these SEC photoshops for the Week 06 e-mail.
http://img375.imageshack.us/img375/3245/lescheauxke9vp.jpg
http://www.everydayshouldbesaturday.com/?p=1092
http://www.everydayshouldbesaturday.com/?p=1113#more-1113
http://img362.imageshack.us/img362/7607/fatphillooter6is.jpg
For the technology-impaired: Mississippi coach Ed Orgeron looking like a 'roided freak in a commercial trying to sell Hummers for a car dealership. That's gold, Jerry. Gold!
Because a chopper will fix what's wrong with Ole Miss.
No one can make sense of the Pac 10. Stanford, who lost to a Division I-AA opponent a few weeks ago, managed to defeat Wazzu in Pullman. Cal blew a 4th quarter lead against the Bruins in the Rose Bowl (must've been distracted by hot Southern California women and brutally ugly baby blue UCLA uniforms). Les Diables du Soleil laid another egg at home against the Quack Attack. I still contend that's instant Karma for using that stupid ass punt formation (on a related note, I'm applying to the USPTO for a trademark on the phrase "stupid ass punt formation" - can't wait for Keith Jackson to use that on the air). USC led Arizona by 7 points (that's not a typo) at the end of the 3rd quarter. Pathetic. When is one of these CRAP 10 teams going to step up and take these hoodlums to the woodshed? In case the media forgets to remind you this week, the Trojans are travelling to South Bend to take on Notre Dame. I'm rooting for a sloppy 17-14 struggle with more turnovers and missed kicks than a Directional Michigan clash.
Speaking of Directional Michigan, Central defeated Army to even their record at 3-3 for the year. Perhaps they should schedule a game with Big Sister over in Ann Arbor? Eastern got pasted 30-3 by Toledo. Battle of interstate directional this weekend as Eastern Michigan takes on Northern Illinois (the second best team in the state of IL, behind Northwestern). And finally, Western fell to Ball State in a 60-57 defensive struggle.
Not much other notable news from around the Top 25. As expected, Texas trounced Oklahoma in the Cotton Bowl. Potential trap game in Austin this Saturday when an improved Colorado squad comes to town. ... Nebraska keeps finding new and exciting ways to lose during the Bill Callahan era. Husker fans were grateful the game was in doubt well into the 4th quarter after last year's debacle in Lubbock. ... Florida State and Virginia Tech appear to be headed for a showdown in the first ACC conference title game. Don't be surprised if the winner of that contest vaults Texas for the #2 ranking in the final BCS poll (assuming, and that's a big if after last week's performance, that USC holds on to the #1 spot).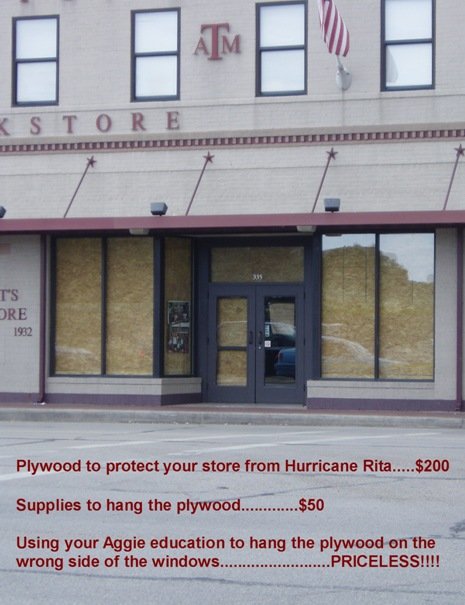 Good to see A&M alums putting their education to good use
Buena suerte to all, and Go Illini!