Not so fast my college football friends,
That sacred, glorious time of the year is once again upon us. No, not a new season of Desperate Housewives. The 2005 college football season. A time when athletic students collide on the gridiron under blue-gray October skies much to the delight of Chi-O's, Tri-Delt's, school alumni, Beano & his three chins, and hundreds of thousands of drunken morons who can barely spell G.E.D. Take that Grantland Rice.
With the season about to get underway, I figured it was time to get off my ass and revive the 3rd annual edition of our weekly college football pool. Rules will be about the same as they were last year (only differences are that I am changing what constitutes an upset and removing Top 10 matchup points). We will only cover games involving teams in the Top 25 of the Associated Press Poll. Every week I will send out a link to an Excel file that you need to download to your computer. Simply use the drop-down menus to pick the winner of each matchup, and then e-mail the file back to me. I know I said last year that I'd create a web interface for making your weekly picks, but The Man has been keeping me down. For files returned to me after the games start, I will automatically assume you picked the higher ranked team. Every game is worth 1 point EXCEPT upsets (defined as a win by a team ranked 5 or more places below the team that it defeats), which are worth 2 points each.
If you don't submit picks for more than (a total of) 4 weeks, I'll boot your sorry butt out of the pool. There is too much overhead for me to carry dead weight. And no piecemeal submitting of picks. When everybody does that I waste a good 30 minutes per week that would be better spent surfing the internet or thinking up Lloyd Carr and Gary Barnett jokes. In honor of Lloyd and his game clock management techniques, I'm keeping the rest of my Michigan jokes on ice until the end of the e-mail. You're welcome, Sarah! :)
Picking the favorites each week would not have won you the grand prize last season, so don't do that unless you want to be ridiculed. Last year's champion, Joel Roberts, brought the title back to Nebraska after holding up steady during the bowl season while everyone else around him pulled choke jobs of Mack Brown proportions. Or LSU vs. Iowa proportions if you're sick of Cajuns who can't spell the word "Go".
As dictated by the college football pool rule book, we kick off the year with a round of insults directed toward the home teams of all those diehards brave enough to participate in our pool. Tradition also dictates that we start with my alma mater. On to the show.
To recap the offseason at Illinois: loyal coach with a history of sending players to the NFL is fired. Starting quarterback graduates, potential replacement QB gets caught with enough ganja to make Bob Marley jealous, and the current placekicker acts like he's booting one for the Seminoles in the Annual Wide Right Game. New coach with questionable in-game adjustment ability and an affinity for some frat boy asskicking jumps at the chance to take the reins at the school with one of the largest Greek systems in the nation. What could possibly go wrong? And when does basketball season start?
Here's to hoping Gator fans enjoy another 7-5 season at Florida (oh wait, that'll be Illinois this year - WooHoo!). Circle November 12th on your calendars, as that is when the Urbanator gets to match wits with the Ol' Ball Coach up in Columbia. Another big matchup occurs on September 17th when the Vols come to town - Note to Dallas Baker: Keep your hands to yourself when your team is up by 1 with less than one minute to go in the 4th quarter. Unless, of course, you want to be singing Rocky Top with the Tennessee faithful for the rest of your life (and then some).
Down in Tuscaloosa Brodie Coyle is entering his 9th season as the leading signal caller for the Crimson Tide. Only in Alabama can one figure out why an elephant seemed like a good mascot for a team nicknamed the Crimson Tide. God bless the public school system in the South. On a more somber note, one of the Roll Tide guys (Jerry Bogle - bonus points if you knew his name) passed away last year. Street spotters in Phoenix saw Doug & Janice shopping for suspenders, laundry detergent, and toilet paper. The competition to select the new sacred fanatic will be fierce, especially with some of Bama's finest cleaning up for the competition.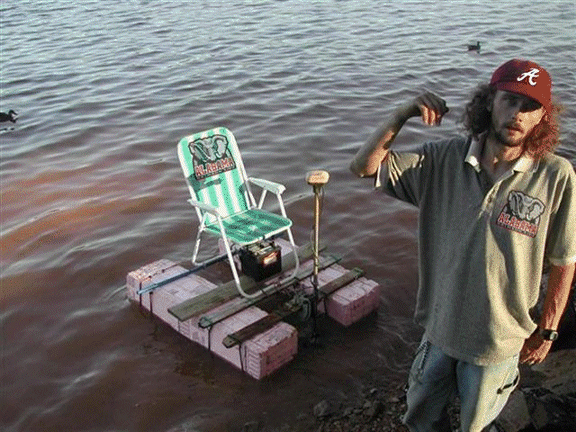 Alabama bass boat
Plenty to build upon down on the Bayou as LSU tries to recover from the shock of a last-second Hail Mary touchdown catch and victory by the Squawkeyes. Kentucky fans would like to remind the Creoles that Karma is a coldhearted bitch. For Les's sake, I hope he's got a better defensive scheme than the one that gave up 396 yards/game in the Big 12 last year. And before the Brothers Bains start screaming "Bo Pelini...!", don't forget he helped come up with the defensive game plan that was instrumental in stopping (err, attempting to stop) the USC Trojan offense in the Orange Bowl last season. Not good.
In Tallahassee the Seminoles open the season with another Monday night matchup against the Miami Hurricanes. I read a story in the offseason about how Bobby Bowden occasionally speaks with a friend, who just happens to be a urologist, after tough losses. Perhaps he should consult with his proctologist in an effort to locate the part of his brain responsible for letting Chris Rix lead the Seminoles into battle against top-ranked competition last year. On a positive note, there should be more handicapped parking spaces available in Tallahassee this year. Perfect timing, too, as the heir apparent at QB (Wyatt Sexton) got ticked and went Section 8 this summer, and the paddy wagon needs a place to park outside the psych ward.
I was trying to come up with something clever to say about Wisconsin but broke out in an hysterical coughing/laughing fit over the Badgers performance in East Lansing last year. There hasn't been a collapse that big in Madison since the Sizzler Steakhouse shut down after Barry went on his SlimFast kick. Good luck to the Cheeseheads this year on their way to a 4th place finish in the Big 11 during Senor Alvarez's farewell season.
Can one of you biology wizards clone JoePa? Because college football needs more old men wearing high pants, white socks, and coke-bottle glasses. I think it's time to get that prescription checked, Mr. Paterno. The only athletes in Happy Valley are the fans sprinting out of the stadium during a Big Ten beatdown. Linebacker U = Linebacker Pew in recent years.
I don't even know where to start regarding Ohio State. Sounds like every day was "Free Frosty Day" until Dave kicked the bucket. Someone needs to tell the Buckeyes that LOI stands for "Letter Of Intent" and not "Lack Of Institutional" control. I'm looking forward to the day things get so crazy in Columbus that the tuba player drives out on the field to dot the "i" in a car procured by Jim Tressel. The only people in the country who think Teflon Tressel is running a tight ship are Luckeye fans and the local Sears manager (who, coincidentally, appears to provide Jimbo's wardrobe for all university functions).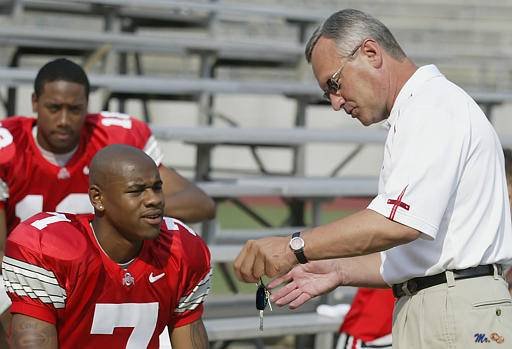 Baby you can drive my car
Things at Northwestern appear to be approaching historical standards. I'm sure that when Randy Walker jumps ship there will be another coach from the MAC ready to come aboard and lead the Wildcats to a berth in the prestigious Motor City Bowl. Actually, if things continue down the current course, Gary Barnett might be available in a year or two.
Over in Boulder the Buffs are hoping to outlast the other underachievers in the Big 12 North so they can take the field in December for what is quickly becoming an annual beatdown by the Longhorns or Sooners. Colorado petitioned the Big 12 league office in hopes of being allowed five plays to gain a new set of downs but was told the league no longer honored such requests after the infamous CU vs. Mizzou game 15 years ago. Gary Barnett went to share the bad news with his fellow coaches but realized they had all resigned or been fired while taking the fall for his superb management of the football program.
Word in Lincoln is that Texas Tech called up the Nebraska A.D. and asked to donate to a fund that would give a raise and a contract extension to Bill Callahan. And if you can have a West Coast offense, how about an East Coast defense? Or a Gulf Coast special teams? Or a Gold Coast cheerleading squad? These are the things that keep me up at night.
It's much harder to come up with Georgia Tech jokes now that we are a few years removed from the George O'Leary era. Trivia tidbit for the week: In the 1970's Head Coach Chan Gailey spent two years as an assistant at Troy State (You're watching Troy football!). The biggest concern amongst Yellow Jacket alumni is whether or not Chan can lead the Ramblin' Wreck to victory over their in-state rivals from Athens. If not, I'm sure the Georgia Tech AD can direct Mr. Gailey to an excellent resume checking service.
Down in P-hoe-nix, Les Diables du Soleil are looking to build upon last year's victory over Purdon't in the Sun Bowl. Speaking of The Sun Devil, check out Sparky in the 2004 ASU football promo vid linked below. In Tuscaloosa you get grainy video footage of Alabama's 12 national championship teams narrated by the houndstooth hat master, perhaps the greatest coach in college football history. In Tempe you get an oversized mascot running around with a pitchfork to the sounds of AC/DC, perhaps the greatest hard rock band in recent musical history. Comedy gold.
http://www.asuathleticsmarketing.com/introvideo.html
When a UConn grad decided to join our pool I had to search the internet to make sure the school actually had a football team. Turns out the team actually exists, although their popularity is way down the totem pole in Storrs, behind events such as men's & women's college basketball, worshipping at the altar of Rebecca Lobo, and the bingo tournament at the local senior center (side joke - How do you get a sweet little 80-year old lady to say "Fuck!"? Get another sweet little 80 year old lady to yell "Bingo!").
Although we don't have any Notre Dame grads in the audience, if Charlie Weis is the answer then the Domers are asking the wrong question.
And finally:
Q. What do Lloyd Carr and Billy Graham have in common?
A. Both can get people to stand up and yell "Jesus Christ!"

Ha ha ha. Thanks and good night. I'll be here all season.
Buena suerte to all, and Go Illini!
Dr. T